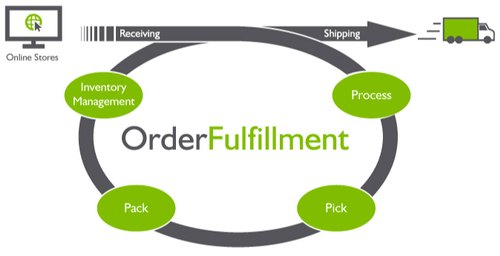 Dropshipping is a business model that allows merchants to stay 100% focused on selling products to customers while their wholesalers are all in charge of order fulfillment.
To help merchants have clear understandings of what order fulfillment is, we will illustrate an ordering process by taking an example of W&B, a dropshipping business selling women's bags and its wholesaler.
1. Step 1: A customer orders W&B goods
You, an 18-year-old girl, are looking for a handbag to give your mother on her birthday. Luckily, you find a bag of W&B which you are very satisfied with. So, you place an order. Right after that, you get a confirmation email of the new order and in return, W&B gets your deposit.
2. Step 2: W&B places the order with its wholesaler.
After receiving your deposit, W&B transfers your order confirmation email to its wholesaler. In addition, in this step, the order information is saved by the wholesaler to ensure that it will get paid after the handbag is delivered successfully to you.
3. Step 3: Wholesaler ships the order
The wholesaler starts packing and then delivers the package of handbag directly to you on behalf of W&B. The business then gets the tracking number of the package from the wholesaler to keep track of its shipment status.
4. Step 4: Customers get tracking number
The tracking number of the package is also sent to you by W&B via email. Thereby, you can track its shipment status and know when it arrives at your address. When it does, the dropshipping fulfillment process is completed, and W&B gets your payment and pay fees for the wholesaler. The fees include product cost, packing cost, shipping cost, and processing cost of the handbag.
After all, what W&B did was marketing their handbag and attracting you to its website. However, to have the handbag got into your hands, it is the wholesaler who did packing and shipping. All of what the wholesaler did is order fulfillment, and the process of order fulfillment starts when the wholesaler receives the order information and ends when the product arrives you successfully.
You may be also interested in: