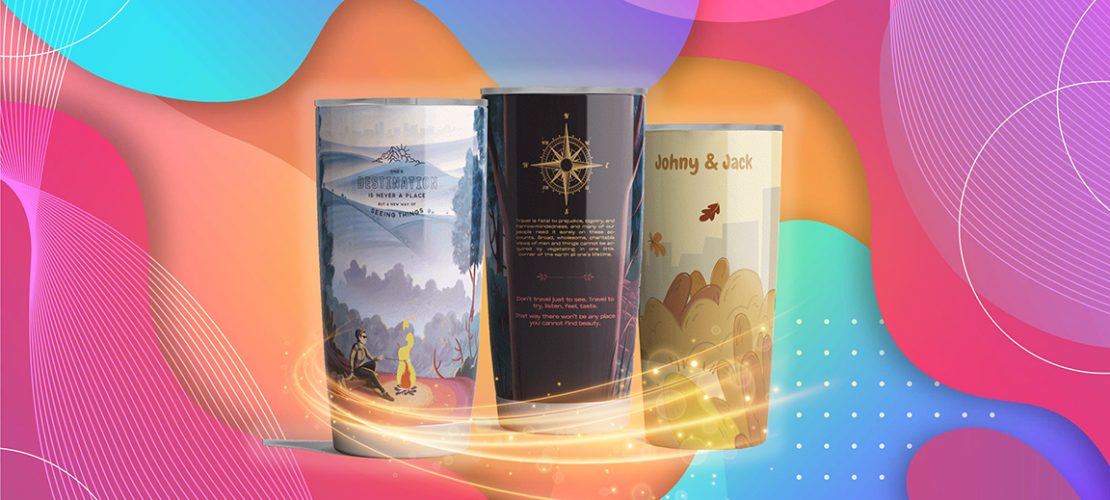 The ultimate guide to get all your tumblers sold out this holiday!!!
The rise of green consumption has driven a positive change in the way today's consumers shop. They tend to prefer recyclable and reusable items over single-use plastic ones. It's why recently, we've witnessed a huge surge in the market value of eco-friendly personal items, in which tumblers are perhaps the best-selling items.
Therefore, don't let this chance go out of your hand by catching up with PrintBase tumbler selling guides. This ultimate guide will show you how to make the most of tumblers and skyrocket your sales!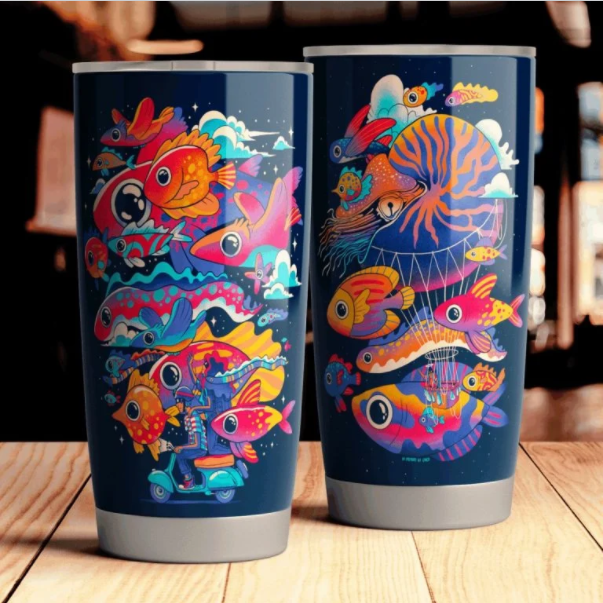 1. Overview of Tumbler – must-have item of every POD store
1.1. Product details
3 types of PrintBase tumblers are all made of high-grade stainless steel, well-insulated, and portable. Especially, they all come with handy travel shapes and leak-free and spill-free caps that make it convenient for you to take them wherever you go.
Information of 3 tumbler types we supply are as follows: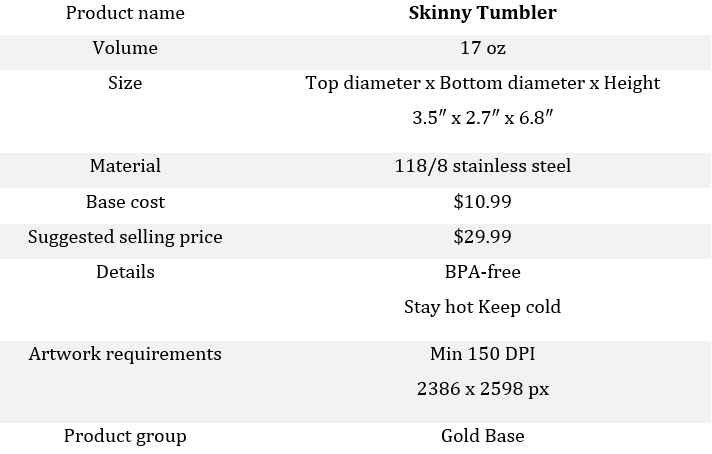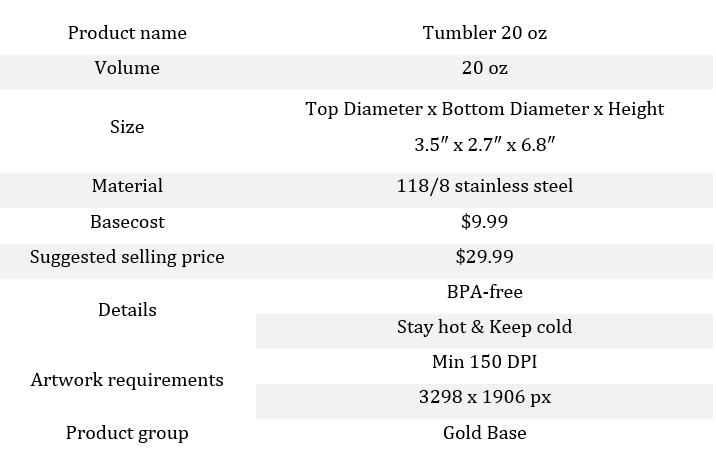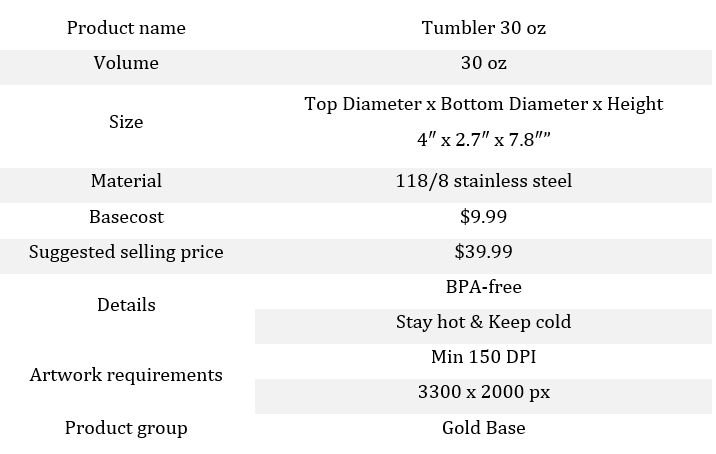 1.2. Market demand
According to Research and Market, the tumbler's market value is estimated to hit $2.3B by 2023, in which the US is valued at $1B, accounting for approximately 50%.
This incredible surge is mainly made by an increase in outsides activities (e.g., camping, cycling, jogging) and the emergence of the green lifestyle.
According to Google Trends, the search volume of keyword "tumbler" remains stable throughout the whole year and surges during big holidays, such as Halloween (31/10), Noel (24/12), Mother's Day (10/5), and Father's Day (21/6).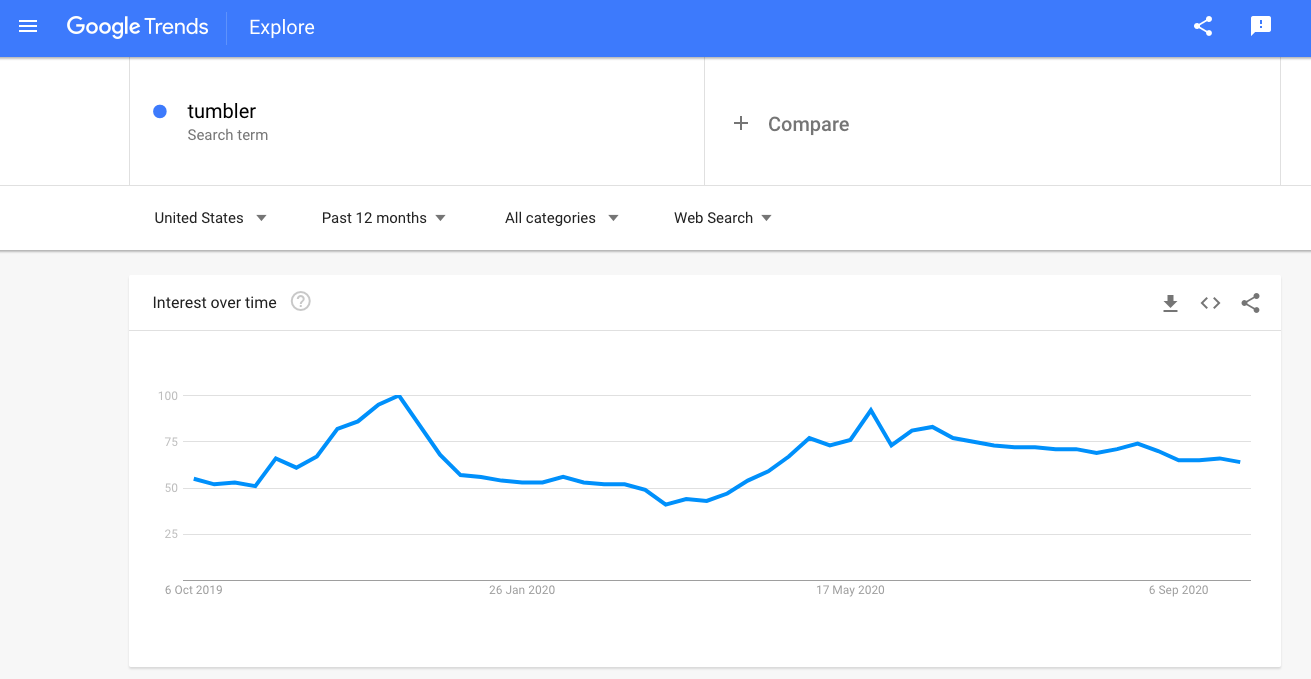 2. Target customers and purchasing purposes
The rise in the market value of tumbler leads to a higher level of competition among POD sellers. That's why you need to have an ultimate understanding of your target customers, as well as their purchasing purposes.
Once you get the right portrait of your customers, you'll find the right niche, together with winning designs, that can help you make billions from tumblers.
2.1. Daily use
Often made of stainless steel, tumblers are durable, suitable for daily use. Also, today's customers prefer tumbler over other types of drink containers because of its portability. It comes with a handy travel shape, allowing you to carry along all the time.
Moreover, your customers find it super-convenient because well-insulated tumblers do a great job in keeping their favorite beverages hot/cold all day long. Tumbler is perfect for busy customers who can't cut a little time out of work/family to sip a bit of their favorite drink.
Target customer segment recommendations for you:
Office workers
Teachers
Tea/coffee lovers
Drivers/travelers
Athletes
Drinking water is essential for everyone, but some want to do it in style. That's why impressively-designed tumblers easily find a place in the heart of those customers.
Besides, some tend to pick up those tumblers that can silently speak up their interest/preferences. For example, a cat lover will prefer a cat-printed tumbler.
Target customer segment recommendations for you:
Pet lovers
Sport players (cyclers, trekkers, joggers, runners)
Pursuers of a specific lifestyle (green lifestyle, vegetarian)
Workers of a particular profession
Design idea suggestions: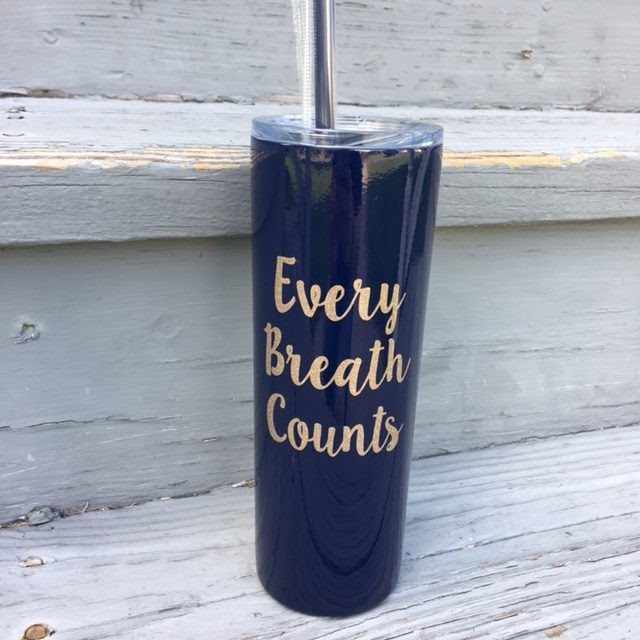 Profession-relating design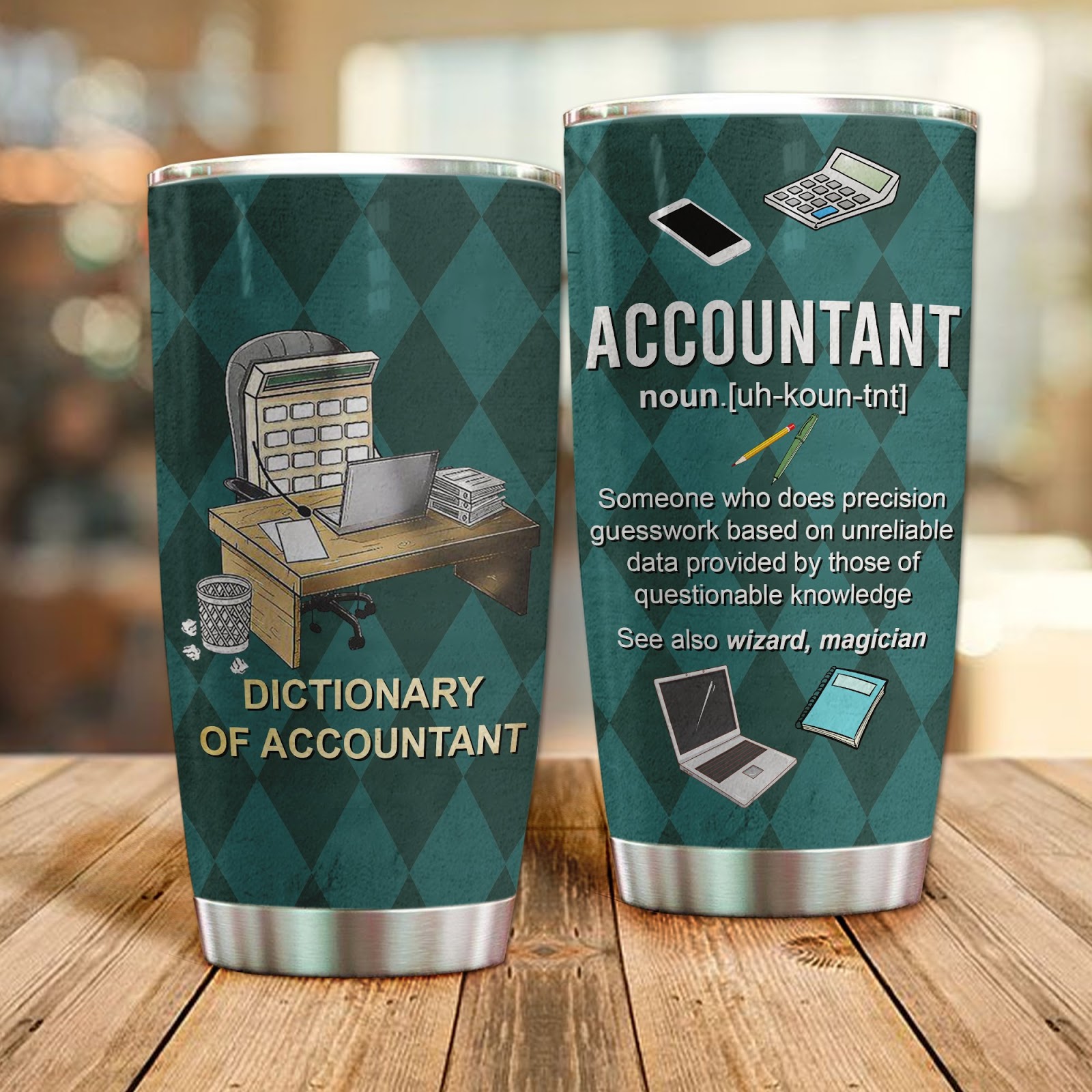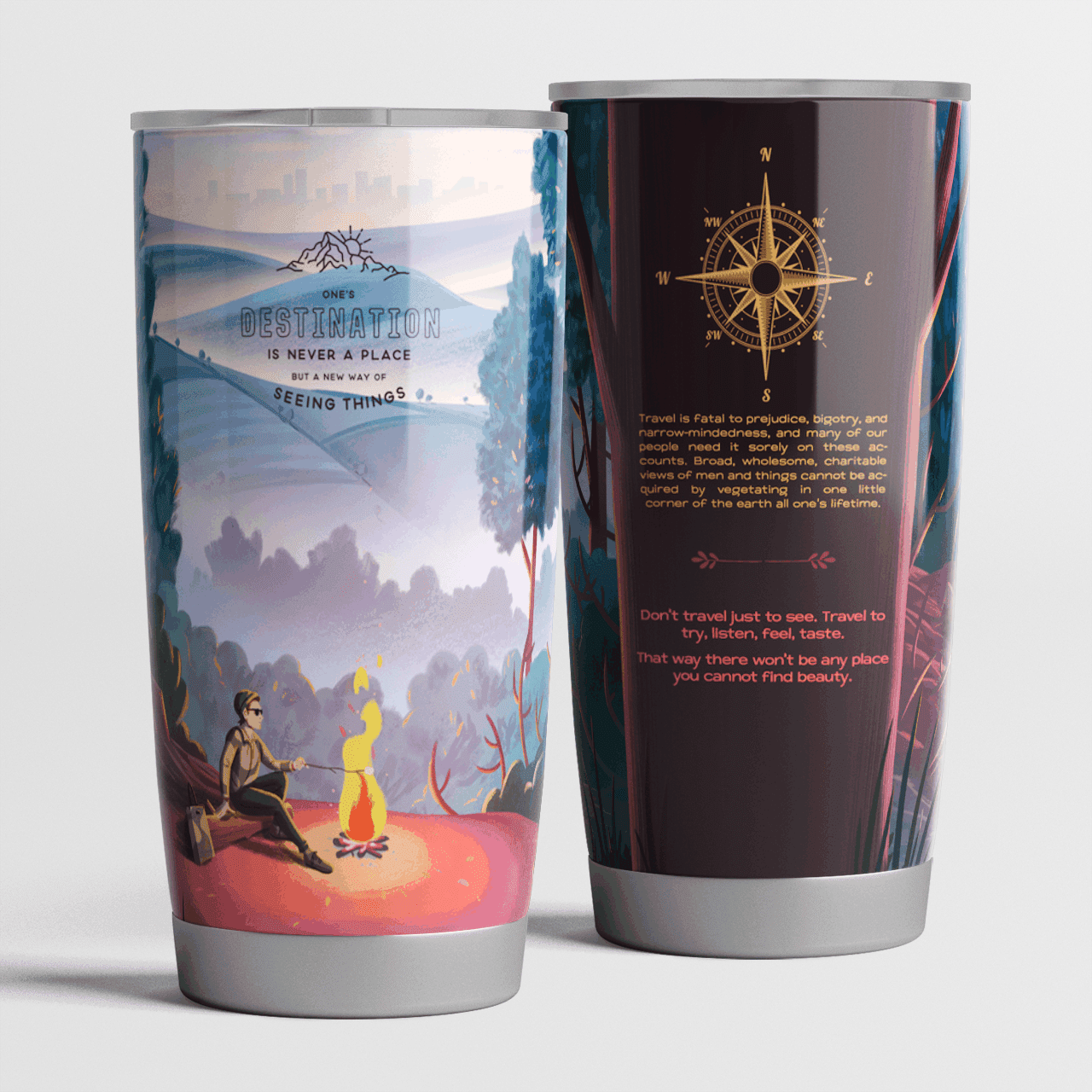 2.2. Gifts
A tumbler is a perfect, thoughtful gift your customers can give their beloved ones. The search volume of tumbler climbs up on big holidays like Mother's Day, Father's Day, Teacher's Day.
To create a winning holiday ad campaigns for tumbler, you need to know:
What is that holiday about? Where did it come from?

Who buys it, and who uses it? – These two questions play an important role in deciding which niche you should target and which design you should opt for.

What does it mean to the giver and the receiver? (apart from its obvious functions – a water container)
Recommended occasions to sell tumblers are Christmas, Mother's Day, Father's Day, Teacher's Day, Wedding Day.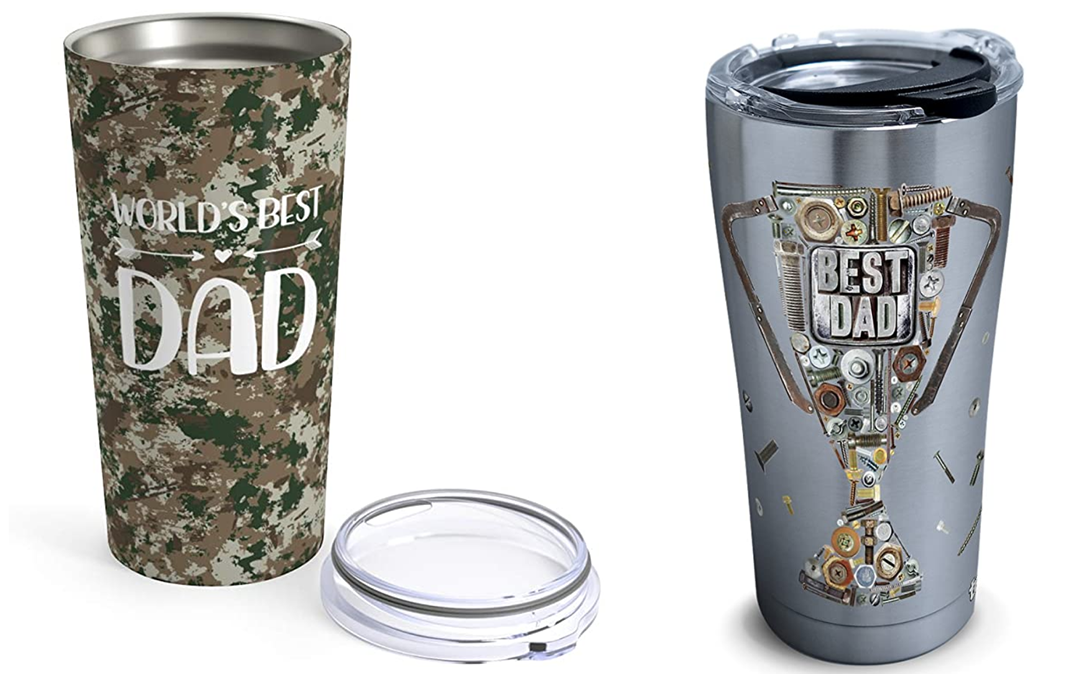 Tumblers for Dad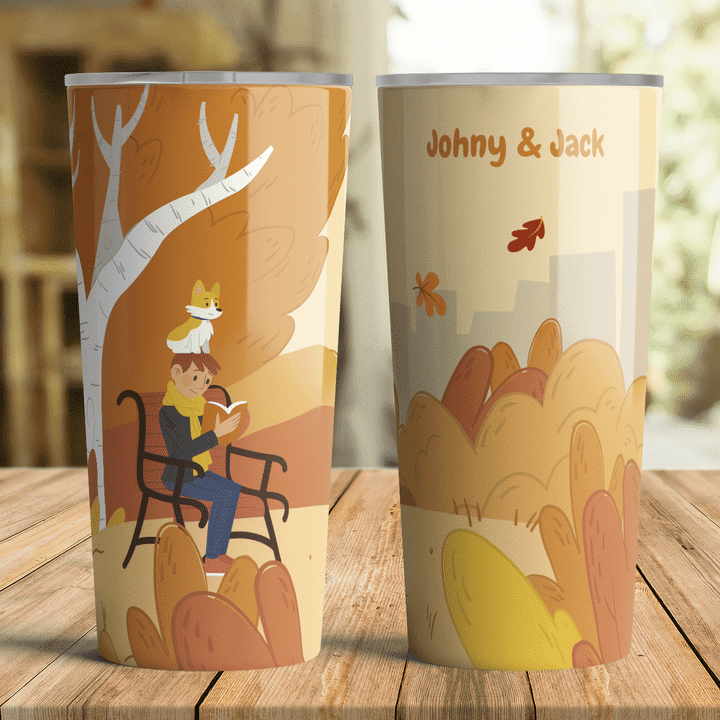 Tumblers for little brothers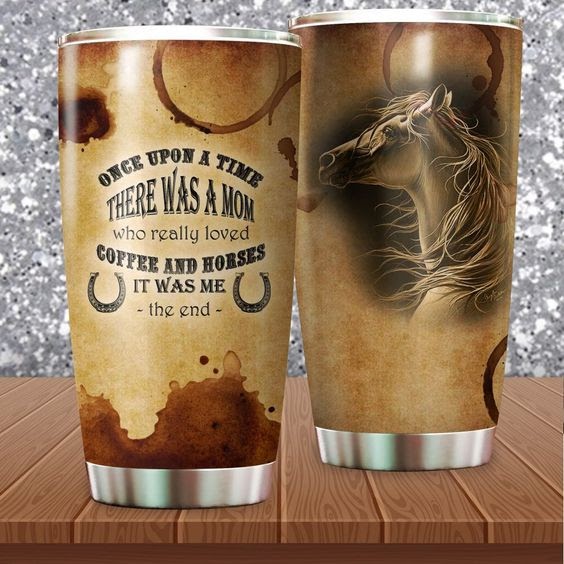 Tumblers for Mom
3. Designing guidelines
3.1. Personalization
According to Google Trends, the market demand for personalized products has witnessed a surge throughout the last year, especially during big holidays, like Noel (24/12), Mother day (10/5), Father day (21/6), Halloween (31/10), Easter day (12/4), Valentine (14/2).
In addition, the product search for keyword "personalized tumbler for mom" has over 8B results on Google Search Engine.
It's undeniable that personalized products are going to dominate the gift market.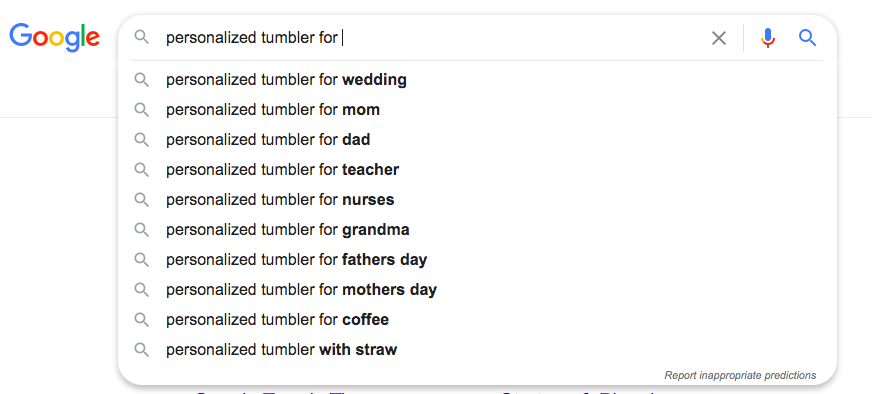 3.2. Winning design ideas suggestions
Dual-printed tumblers: It's better if both sides of your tumblers are printed with distinct artworks that mean something even then they are put separately.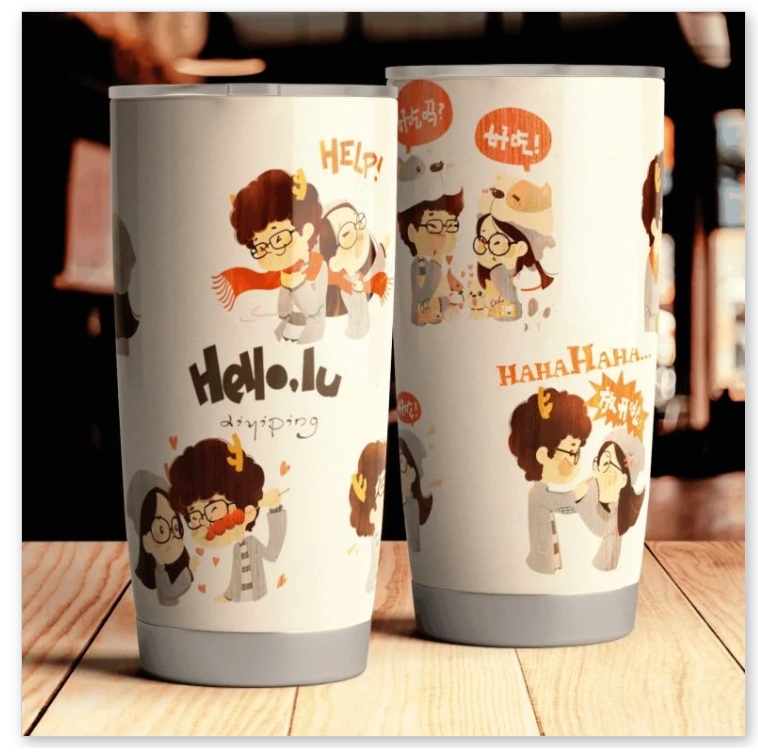 Personalized tumblers: One side of your tumblers should be printed with beautiful photos, and the other one reads the name/short text written by customers.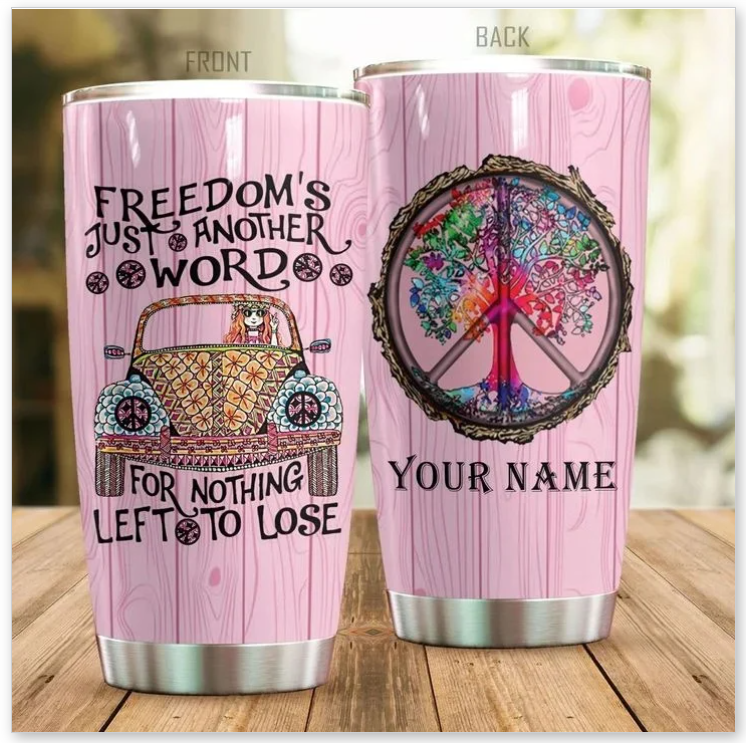 >> Sell personalized tumblers today with TopBase!!!
4. Ad campaign setting guideline
4.1. CTA templates
Ditch the plastic bottle, level-up to a sustainable, stainless steel tumbler cup today. Browse designs!

Take your favorite drink on the go with our insulated, spill-proof tumbler cup. Pick yours today!

Enjoy your favorite beverage like a boss with our signature tumbler. Check our designs!

A cold drink is always better served in a tumbler. Shop now!

First Coffee, Then Proposal!

Spice up your water intake.

Design your very own tumbler collection today!
>> Extra tips: Use different CTAs suitable for different holidays, and add in  a discount
You'll never get thirsty – BUY 1 GET 1 HALF OFF!

BLACK FRIDAY FLASH DEAL: Pick your tumbler from a wide selection of styles, colors, sizes, and more- only from $XX.XX!

How to show your mom you care? Buy her the best Tumbler for Mother's Day!
4.2. Product description
Title: (Adjective) Custom Designed (Name of Design) [Type of Tumbler]
Option 1:
Whether you're on a camping adventure or jumping into your car for your morning commute, you can keep your thirst under control with our drinkware. Our insulated tumblers deliver the ultimate combination of personality and performance for pure drinking enjoyment. Lead-free and durable, rust-proof, easy wash, and unbreakable, these are all of our products that were proudly made in the USA that you can pass on for future generations to enjoy.
Lifetime Guarantee & BPA free

Great for both hot & cold liquids

Reduces condensation

Fits most cup holders

Available in 20 Oz/ 30 Oz Double-walled Stainless-Steel Tumbler
Option 2:
Our 20oz stainless steel tumbler is a portable, insulated bottle that prevents spills. It keeps drinks at the ideal temperature: cold beverages nice and cool and hot beverages warm and nurturing.
BPA-free, Not Dishwasher Safe

Double-Wall Vacuum Insulation to keep hot drinks hot and cold drinks cold

Holds up to 30 oz of liquid

Top Diameter x Bottom Diameter x Height: 4″ x 2.7″ x 7.8″

Premium grade copper lined 18/8 stainless steel

Can bring anywhere: indoors, outdoors, sports, traveling, camping, driving & office
Option 3: 
Our Tumbler comes with the Straw Lid to prevent spills. This will soon become your favorite to-go tumbler cup. Double-Wall Vacuum Insulation keeps contents hot up to 4 hours or iced up to 20 hours. No more plastic – just your favorite drinks on the go in a stainless-steel tumbler.
5. Up-sell/cross-sell techniques
5.1 Quantity discount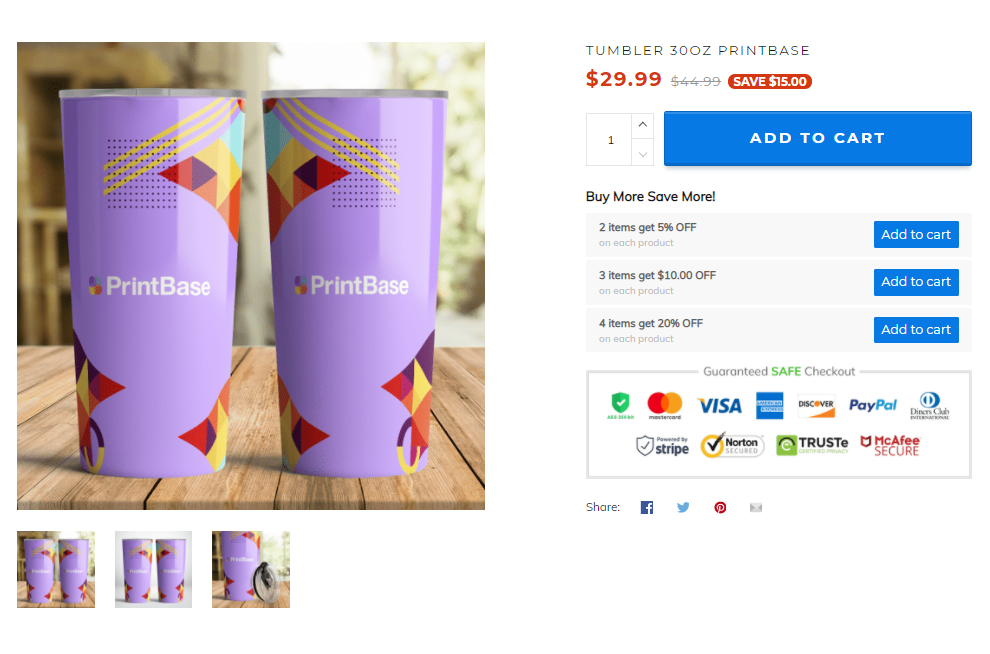 Sell bundles (frequently bought together)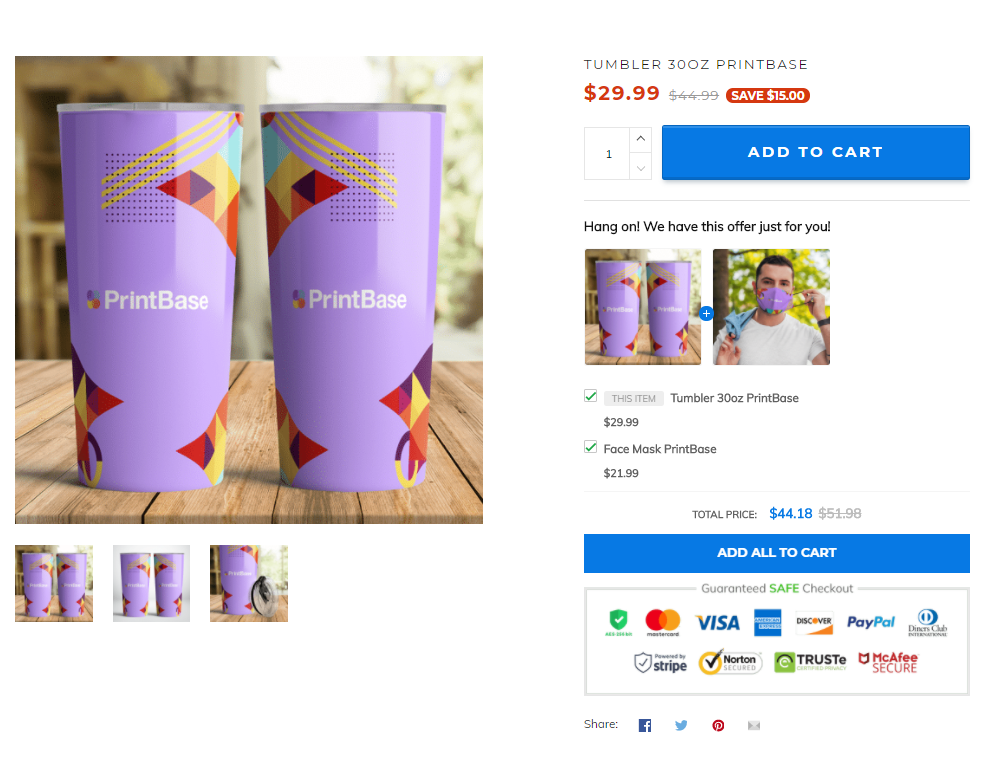 5.2. Upsell tumbler with other items
Sell tumbler together with reusable/recycle items (garment bag, mug).
Sell tumbler together with other items sharing the same design (T-shirt, mask, shoes).
Sell tumbler together with other items sharing the same niche.
Travellers/Outdoor/Camping (Tumbler + Mask/Tumbler)

BBQ experts (Tumbler + Apron)

Green (Tumbler +Tote Bag)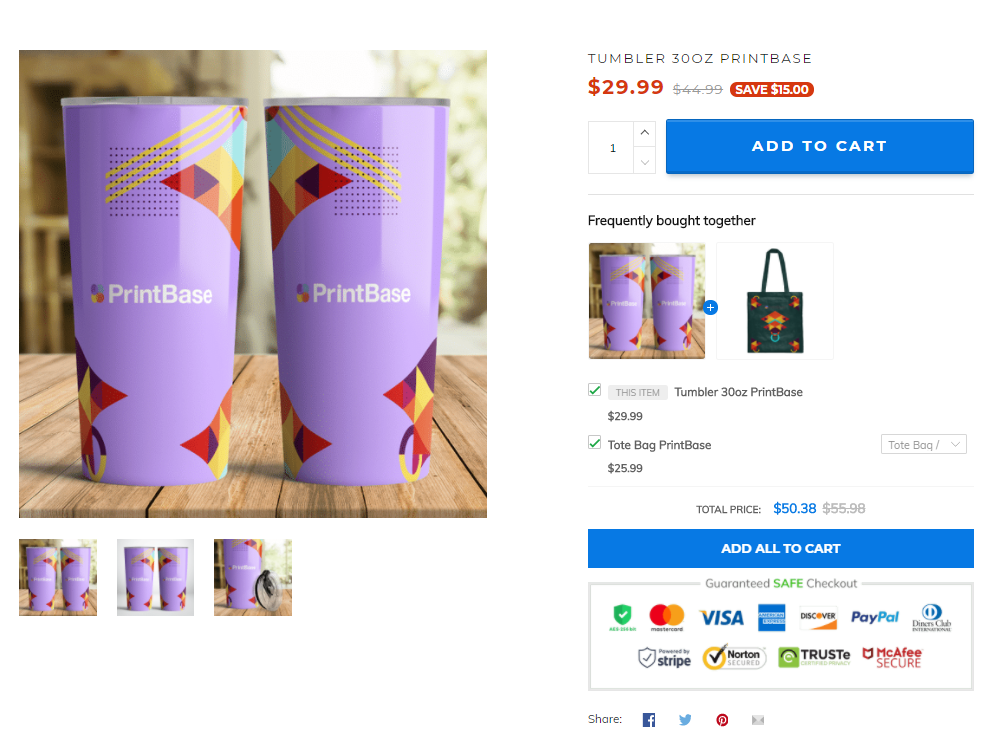 5.3. Mix and match different up-sell and cross-sell techniques to make the most dollars from Tumbler.
Cart up-sell: Show relevant items once customers add tumblers to cart. Relevant items to appear: specific items, specific collections, new arrivals, best-selling items. 
Post-purchase: Your thank-you page should be well-optimized, then you can take advantage of post-purchase upsell techniques.
Product bundle: Once customers add an item to cart, encourage them to buy more relevant items by showing a pre-set product bundle right under the Add-to-cart button on the product page.
>> Open your store and sell tumblers right away with PrintBase!