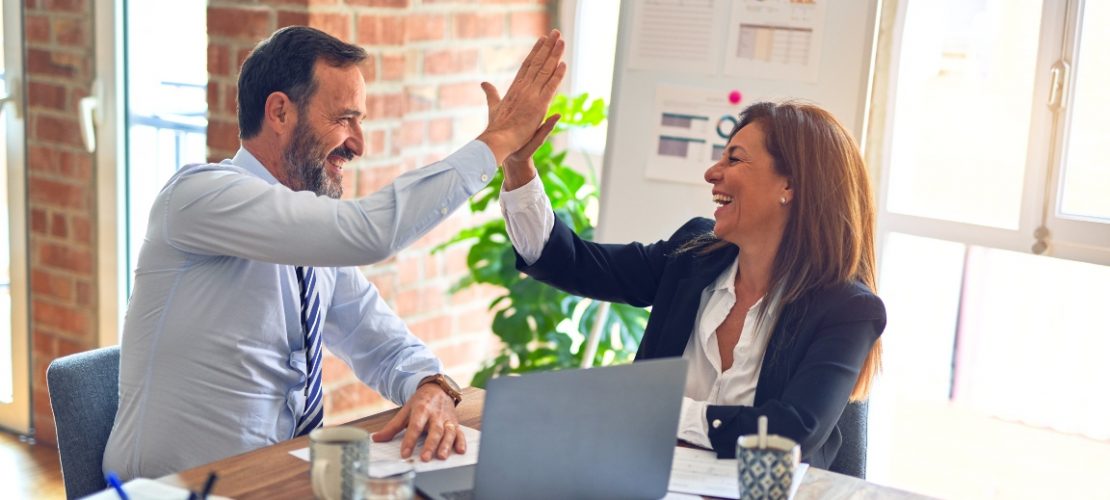 How I Made $126,927 from Dropshipping during Covid-19 Pandemic
In February 2020, full of determination and enthusiasm, Mary, a young girl from Colorado, got started with dropshipping. She was a newbie, but that didn't stop her from learning and succeeding in the industry. Her performance was nothing short of incredible.
From February to June 2020, in only 4 months, Mary made $126,927 from her dropshipping business, which generated about 40 orders per day, worth approximately $1000.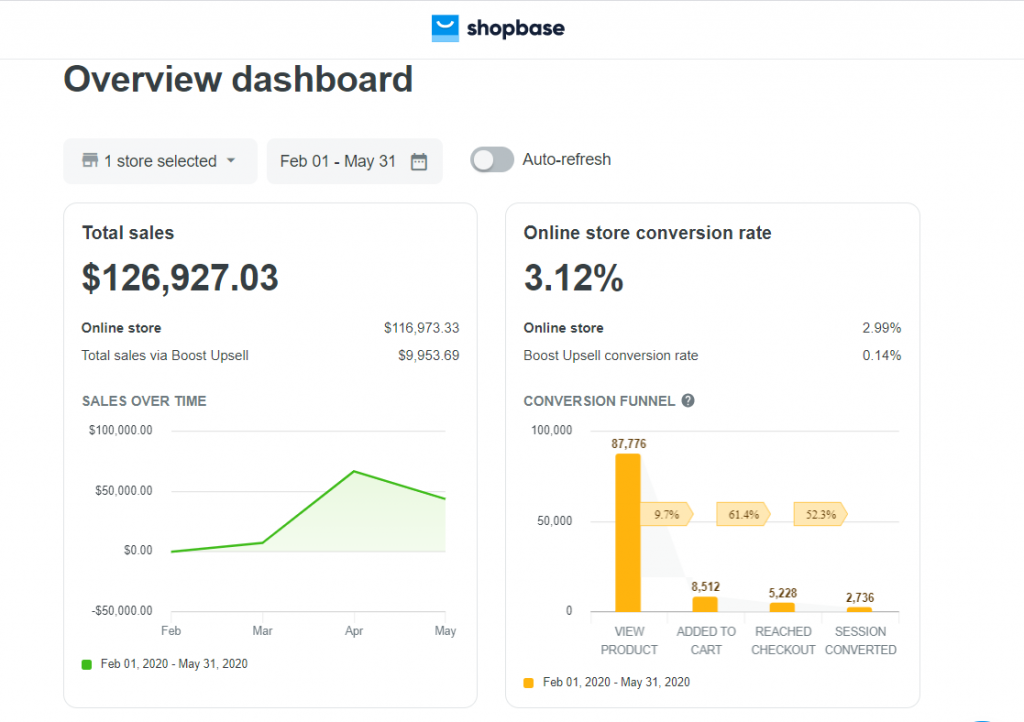 Those numbers are amazing, yet do not let them fool you into believing that the journey is smooth and straightforward. Let us turn our attention to the insider to understand what she has done, and how she has managed to earn over $126,927.
This dropshipping case study was originally published on Maryshares.medium.com.
---
Hi. I'm Mary, 27. I didn't graduate from the so-called dropshipping courses and had no idea about how to get rich quickly, as you might be thinking right now. Due to the Covid-19 pandemic, I lost my job. I couldn't even get out of my house because of the lockdowns in my country, which left me no choice but to find another job, one that was online-based.
How I got started with dropshipping?
Back then, I learned everything about dropshipping on the Internet. I joined almost every e-commerce/dropshipping group on Facebook and Reddit, but they were not as helpful as I expected. Fortunately, I came across several valuable stories on experienced sellers' blogs in which they illustrated the whole journey they went through. I scrutinized the stories, deducted the most important lessons, and implemented them in my own ways. I adapted them to my circumstances along the way, which eventually led to the numbers that you have seen above.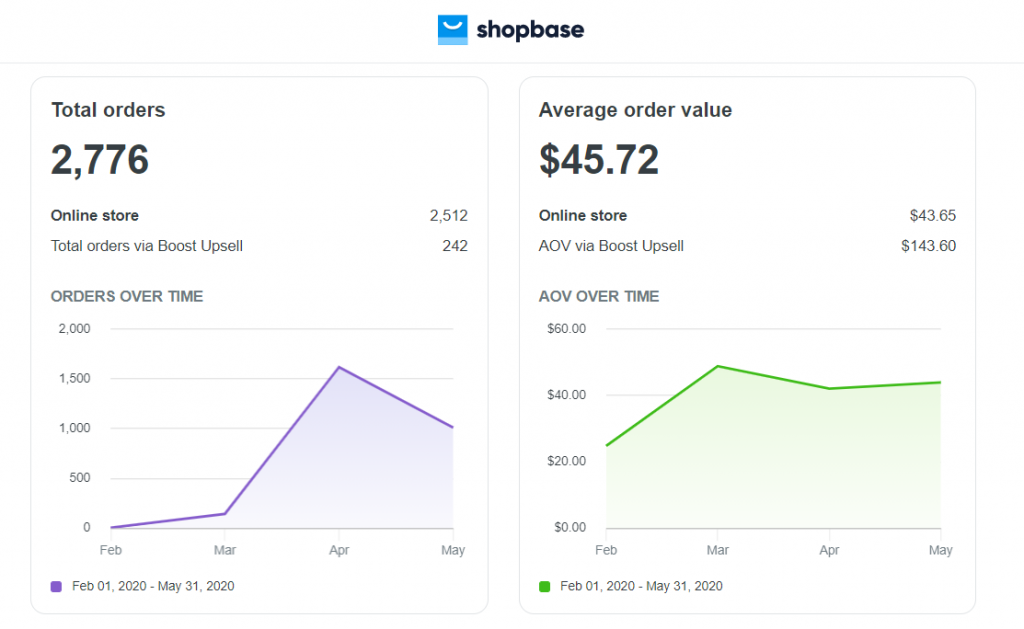 Currently, I have not quite caught up with the respectful sellers from whom I have earned my lessons; they are certainly a long way ahead of me. However, as "the more we share, the more we have" is the mantra I always live by, I would like to share my meager knowledge with you all.
My journey towards today's achievement can be summed up in the following 7 steps. I hope my dropshipping case study today will be somehow valuable, and may adequately inspire some of you to get a fresh start and be your own boss with dropshipping.
Also, I never waited until when the time seems ripe: dropshipping is all about working, not about waiting. So, if any of you are looking into establishing your own business, CREATE IT NOW or never.
Now. Let's get started!

1. Pick a dropshipping niche that works for you
At first, when I just got started, I picked "women bags" as my niche, as I thought the market would be easy to enter and I would be profitable quickly. However, it was a grave mistake.
The niche has always been full of big players, with whom I had no chance to compete. Furthermore, I had no idea about the latest fashion trend, and I even had no personal interest in that sector.
Of course, I failed. But that didn't stop me from starting over again, this time with another niche market that has always been my great interest, even now: Cats.
You might be wondering why I chose that niche. Here are my answers:
I love it.
I am the only child in my family, and I have been friends with the family cats ever since I was small. When I was in high school, we adopted a cat called White, who has been with me since then.
White and I were so close that my mom let her move out with me when I had to move and study away from home. Since then, we have welcomed 3 more kittens to my little apartment, and so I become the young mom of 4 little cats and take care of them all on my own.
I know it well.
I am exactly what my target customers are. Maybe there are a few differences between us, but they don't amount to much because we all love cats. We follow cat Instagram accounts, join cat lovers' groups on social media, talk about cats, and laugh at cat memes all day long.
So, my advice for this section is just do it, but do what you love. Pick the niche that you love, and you'll get the passion to get going and succeed.
"Do what you love and money will follow."
If you are still not convinced about the choice you made, find some data to back it up. Do some internal research about what other people have already done, and how you can do it differently. For example:
Search main keywords on search engine tools, like Google.

Observe the big players in the niche (website, Instagram, Facebook pages)

Do market research on the revenue and profit margin of the niche in the last few years.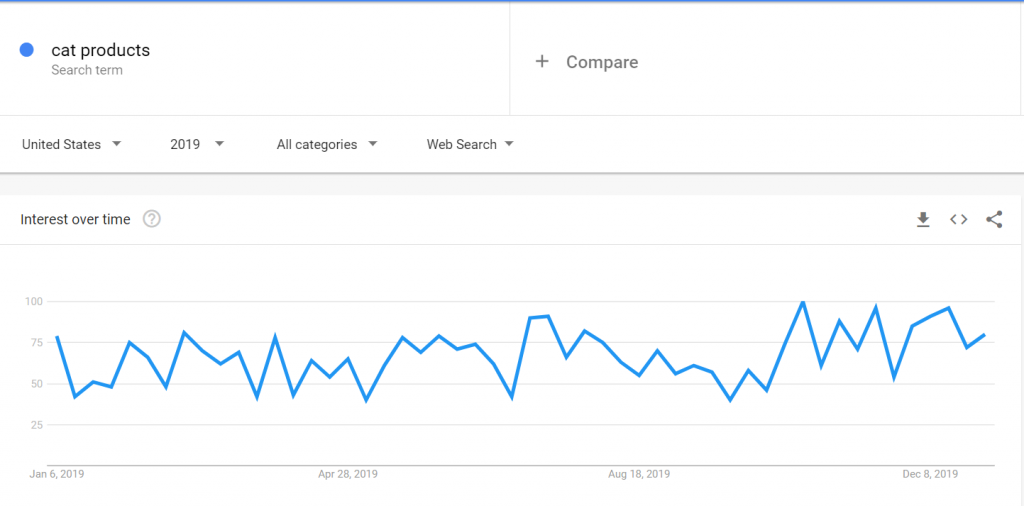 The search volume for the keyword 'cat products' throughout the year 2019, according to Google Trend.
2. Get in touch with dropshipping suppliers effectively
Suppliers are the go-to solution for those who do not manufacture merchandise themselves. They will help source your products, and pack and ship them directly to your customers. That means all you need to do is get your products sold, and your suppliers will take care of the rest. However, suppliers don't handily approach you: you have to find them.
AliExpress is not a good idea
At first, I started sourcing from AliExpress, but it didn't take me too long to realize that AliExpress suppliers provide terrible descriptions and images. Not only that, I could find their products on hundreds of other websites, which negates any edge I may have over other sellers.
Another decision I must have made was on the location of my supplier, and I chose to rely on US-based suppliers, instead of China-based ones. While it's true that I could get a better deal from Chinese companies, due to the Covid-19 pandemic, shipments from China could be delayed.
4 criteria to choose suppliers
I did my due diligence carefully before approaching companies that I thought to be the best fit for my early-stage dropshipping business. What I looked for in those companies were:
Return and refund policies must be crystal clear and straightforward, and beneficial for me.

Minimum order quantity required must be acceptable for me.

Product quality, images, and descriptions must be clear and well-written, at least.

They didn't receive too many negative reviews.
Get in touch with suppliers wisely
After the due diligence, I found several names that seemed potential.
However, getting in touch with US suppliers via email could be a nightmare, even though we speak the same language. You should reach out to them by calling and talking directly to their representatives. I found that to be the most efficient way.
Eventually, there was only one supplier that I could enter a partnership with. Fortunately, we are still cooperating, in addition to 2 other suppliers that I have found along the way who fit my criteria.
3. Sell on your own dropshipping store rather than marketplaces
It's often hard to find a home for your goods.
Back then, fortunately, I made a wise decision when I decided to create my own storefront on ShopBase. You know why?
The profit margin of the products I sold was really low. If I sold them on marketplaces, like Amazon, or eBay, I would have to split my tiny profit with them.
Instead, I chose to sell on my own site. To be honest, back then, my budget was tight (only $3000), so I had to reduce my cost in every way I could. I decided to use ShopBase, which offered my a 14-day trial, free marketing tools, and a storefront template. As I am not a computer whiz, I always get bogged down by technical tasks, but with ShopBase, I was surprised at how quickly it took me to create a ready-to-sell webshop.
>> Create your store and split the profit with no one!
I also considered Shopify due to its well-known diverse app system, but the subscription fee was too high for me to afford. Many of the apps are also paid apps, increasing the cost further.
4. Optimize a storefront that sells
As I have mentioned above, the dropshipping storefront provided by ShopBase was already well-optimized for selling. However, as I'm a perfectionist, I wanted my storefront to be more than just well-optimized: I wanted it to show my personality.
However, in those days, I had no idea about how a perfect storefront looked like. I tried to display as many products on the front page as possible, in hope that customers visiting the site would immediately see what they needed in the list. In reality, no one did. My storefront looked like a mess.
Fortunately I myself recognized the problem and decided that I needed experienced advice.
I posted my site URL on dropshipping groups/forums and asked whether someone could give me a few comments on how my website looked. I did the same thing on the ShopBase community. Above all, I visited big brands' websites that sell cat/pet products to see how they organized their pages. By combining all of what I had learned, I established a formula for creating a good storefront for myself.
Homepage
The homepage is important because it gives visitors the first impression of your store. Therefore, it has to be related to your niche, professional, and impress the audiences at first glance.
First is the main photo, the first thing customers will see when they visit your website. I spent quite a lot of time choosing the photo that I was going to post on the homepage. I ended up picking the photo of my 4 cute Scottish cats, which my close friend, Adam, a professional photographer, had helped me shoot and retouch.
Next, the slogan. It has to be short, yet catchy and easy to memorize.
I also added a CTA button on the image that would take my visitors straight to my products. Here is what my homepage looks like:
Brand name and logo
Like with the slogan thing, it's hard to come up with a brand name that works.  After coming up with none that would satisfy me, I finally decided to rely on a tool called Namelix to help me. Also, I got a premade logo for the brand name I picked, all free.
The 3 criteria that the tool needed to generate a brand name for me are:
Brand keywords: cat + shop + buddie

Name length: I chose medium with 6-12 letters.

Name style: I chose a brandable name, which is the most picked option.
The tool gave me quite a truckload of brand names, each of which came with a specific font, size, and color. I ended up picking CATBUDDIE with 4 different colors in the logo. Personally, I think it's perfect: short, simple, easy to memorize.
If you cannot find the logo you like using Namelix, consider using fiverr.com. With just $5, you can hire a professional designer to draw up the logo that fits your requirements. 
Lastly, another tool for brand name generation that I have found to be quite helpful is whoer.com 
Product description
As I mentioned earlier, I used to dropship handbags. At that time, I invested a lot of time into creating 'king' content, especially for product descriptions because I was sure that fancy descriptions would generate sales.
However, when I switched to the cat product niche, that approach didn't work. It took me quite a while to realize that product description for cat products didn't need to be fancy. Instead, you should go straight to the point, and keep it short and clear: What are the most valuable features of the product, and how are they going to benefit the customers?
I also invested in product photography. I tried to display my products with catchy, high-resolution photos in many different angles, and use videos if possible.
"A picture is worth a thousand words, a video is worth a thousand pictures."
5. Select payment gateways that suit your dropshipping business
There are many payment gateways that you can choose to get paid through, but the two most popular ones are PayPal and Stripe.
I started out with both of them. In general, it took me more time and effort to get a Stripe account than PayPal. But Stripe is way easier to use.
My money once got held for 6 months by PayPal, because it was Christmas time, and the total transaction value surged. I ended up getting my whole amount of money back 6 months later, but it was such a tough time, and my dropshipping business was about to collapse.
Unlike PayPal, Stripe held money for 3 months only, which allowed small businesses like mine to retain the cash flow and get going.
That being said, my advice is to use both payment gateways simultaneously. That will greatly decrease the risk that one out of those gateways breaks down.
6. Don't use influencer marketing if you are on a tight budget
Someone told me that the 3 most crucial things to get a dropshipping website up and running are product niche, payment gateway, and traffic and I totally agree with him. It's time to turn our attention to website traffic.
First, I observed key players in the animal product niche and realized that they all succeeded with influencer marketing, so I tried to follow their footsteps.
(By the way, in case some of you might wonder how to find key players in your niche, my method is to ask Google)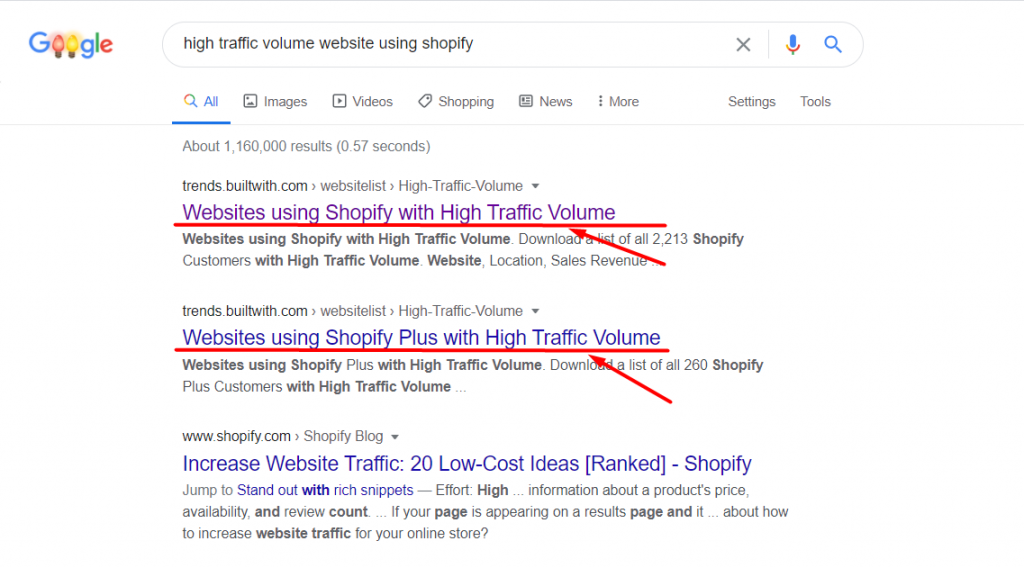 And here is Google's answer.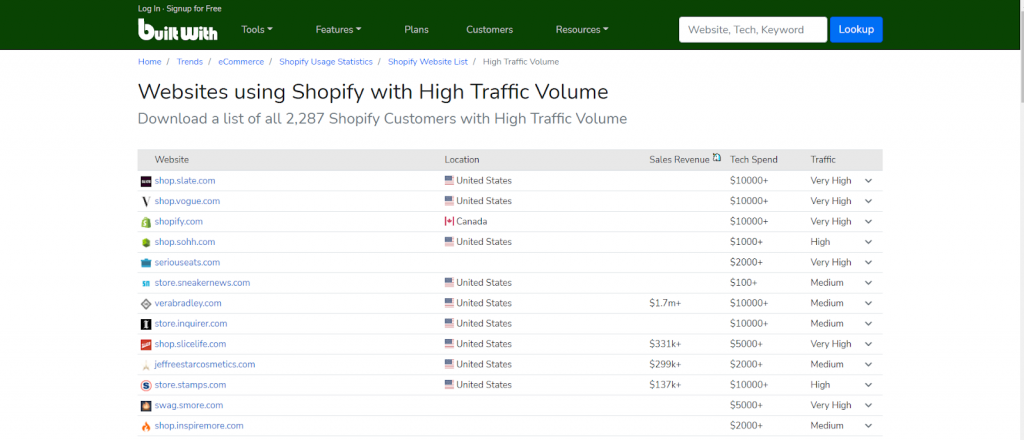 Or: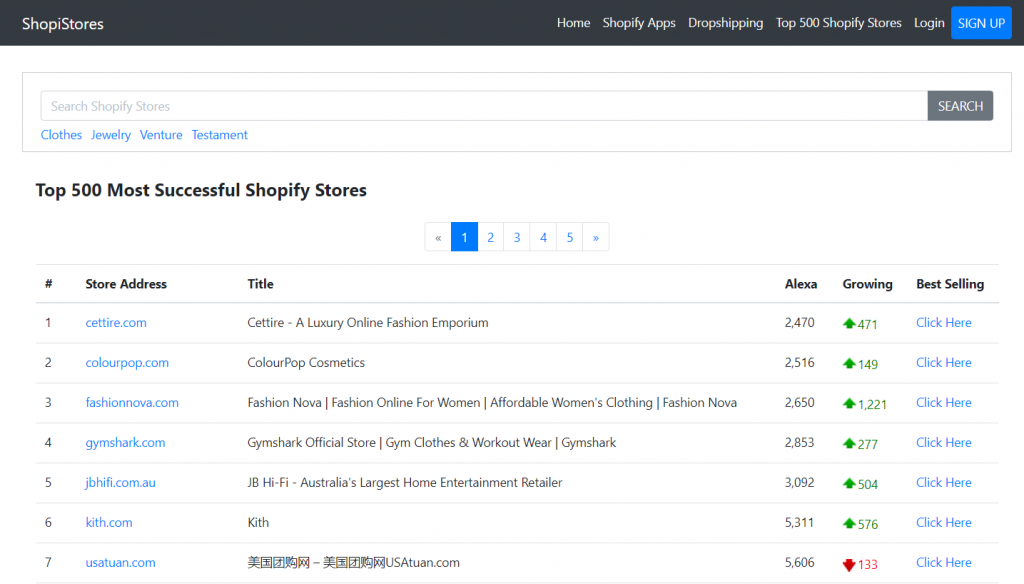 Those sellers often had an eCommerce website and an Instagram account. They promoted influencer marketing by giving influencers (one whose Instagram account boasted over 5K followers) a free code for them to distribute to their followers.
They posted the products, tagged the brand name, and gave the free code to their audiences on Instagram. Once a customer used those codes to buy products on the eCommerce site, the influencer got paid.
I copied exactly what they did: contacted 10 influencers (whom I found through viewing the tag section on the brands' Instagram), gave them free codes, and waited.
After half a month into my influencer marketing campaign, my revenue reached $2,000, but the cost exceeded that. The approach did work and I got my first sales very quickly, but there was not much left on the table. The marketing's cost was so high that it cut into my profit margins. I realized that influencer marketing only went well with big brands who had money to burn, not mine.
In short, following the leading players is an excellent way to progress. However, before imitating them, you need to take a step back and ask whether such strategy fits your business or not. If your brand-new business is too different from them, you might consider not to adopt their activities. 
>> Wise men learn by other men's mistakes: Read this guide to activate the fullest potential of influencer marketing to your business
Again, I raised the question "how to effectively get traffic for a small dropshipping business?" on Facebook groups/eCommerce forums, and I finally got my answer:
7. Win customers with Facebook ads
I wish I had known these before using Facebook ads to get website traffic/sales:
Be open-minded. I used to assume so many things instead of testing them. Do not write off an idea just because it's simple, weird, or unconventional. TEST EVERYTHING!

Target your list. Build a contact list of your customers/subscribers. With Facebook Custom Audiences, you can easily upload your list and run ads that target these people.

Be patient. Ads won't turn into sales overnight. It takes time and money. Keep monitoring your ad performance, and adjust your ad setup until you have targeted the right audience.
>> Run Facebook ads and drive customers towards your store now!
Campaign objective: Conversions
The very first step to run a Facebook ad campaign is to set the objective.
At first, I was confused between the 2 goal options: traffic vs. conversions. I picked the latter as my target, rather randomly. Only now did I realize that my decision was the correct one.
Why? One may ask.
It's because Facebook's algorithm is extremely smart. If you set conversions as your objective, Facebook will target exactly those who have made a purchase via/on the platform. That greatly increases the likelihood of the customers buying your promoted items.
However, if your objective is an increased amount of traffic, the platform will target those who actively like, share, comment on previous posts, regardless of whether they actually bought anything or not, (and according to my experience, in most cases, they don't).
My advice here is to always set conversions as your campaign objective. And I mean always.
Demographics & Targeting strategy
I did a lot of research on what my target customer may look like. Then I set ads like the following:
Locations: I targeted people living in the 4 countries that I thought to be wealthy above average: my homeland (US), the UK, Canada, and Australia.

Age: 18 – 65+. Even though people of all ages possibly can buy my products, only people aged over 18 can use credit card to make a purchase. Therefore, I set that as my lower bound. 

Gender: Instead of

All,

I chose

women

as

women like online shopping more than men

and therefore are more likely to buy my items.
As my budget was quite tight, I had to set the target audience carefully, to make sure that every penny spent on advertising counted. I often tested 3 or 4 ad sets in a week. Once any of them proved to be viable and seemed scalable, I switched the ads to targeting all genders in all countries around the world.

Targeting strategy
If I targeted those people who were interested in cats in general, the number of targeted people would be huge – about 59 million. However, that would be a waste of advertisement, as the criteria were too general. Therefore, I chose to target the people who are interested in the four most popular and most petted cat breeds (American Shorthair cat, Maine Coon cat, Persian cat, Siamese cat) in the four nations that I targeted (see above). This way, I trimmed the number of targeted audiences down to 3 million, which allowed my ads to be much more effective.
Placement
I targeted mobile devices as people mostly browse Facebook on their cell phones. For both Facebook and Instagram, I chose Feeds and Stories ads.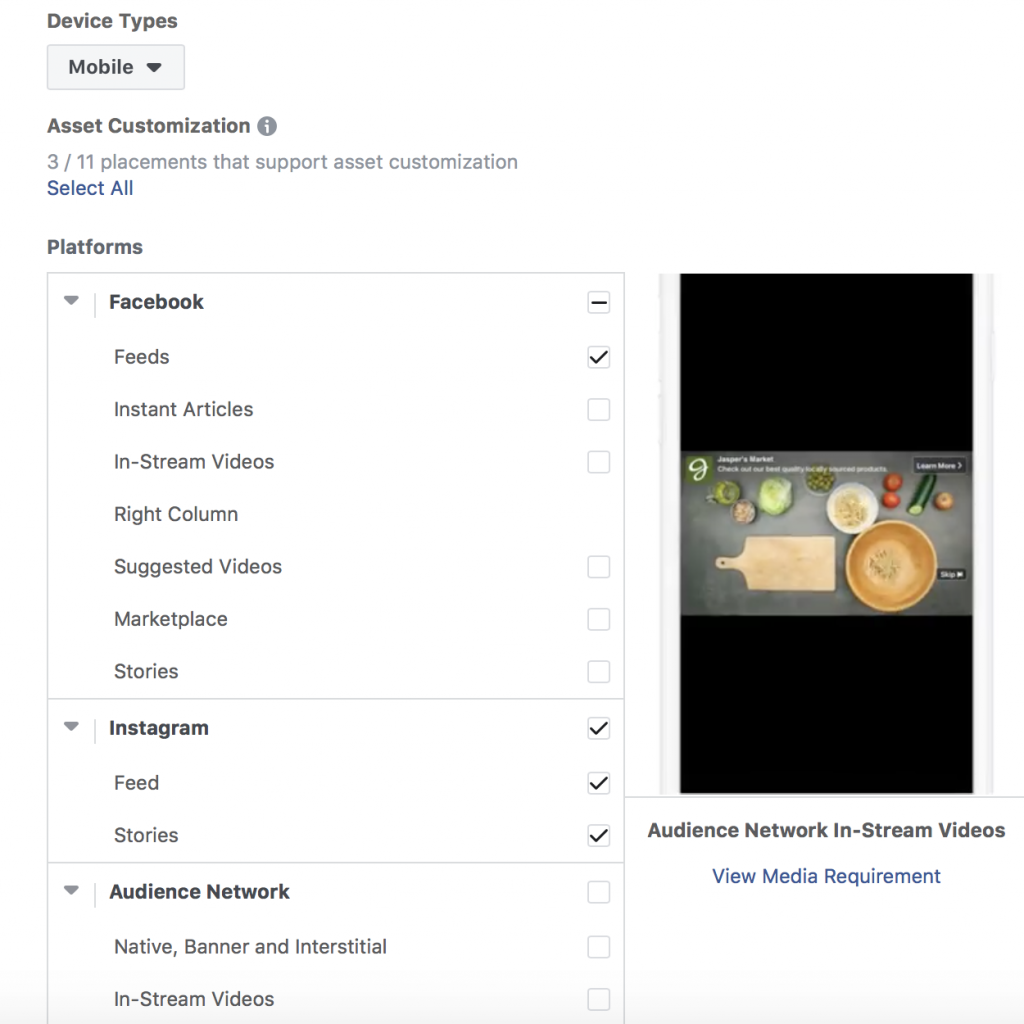 Ads copy
Below was my very first ad set, which I had assumed to be too short, too simple, and too bland to be able to attract any Facebook users' attention. However, eventually and surprisingly, it did generate a not inconsiderable number of sales for me.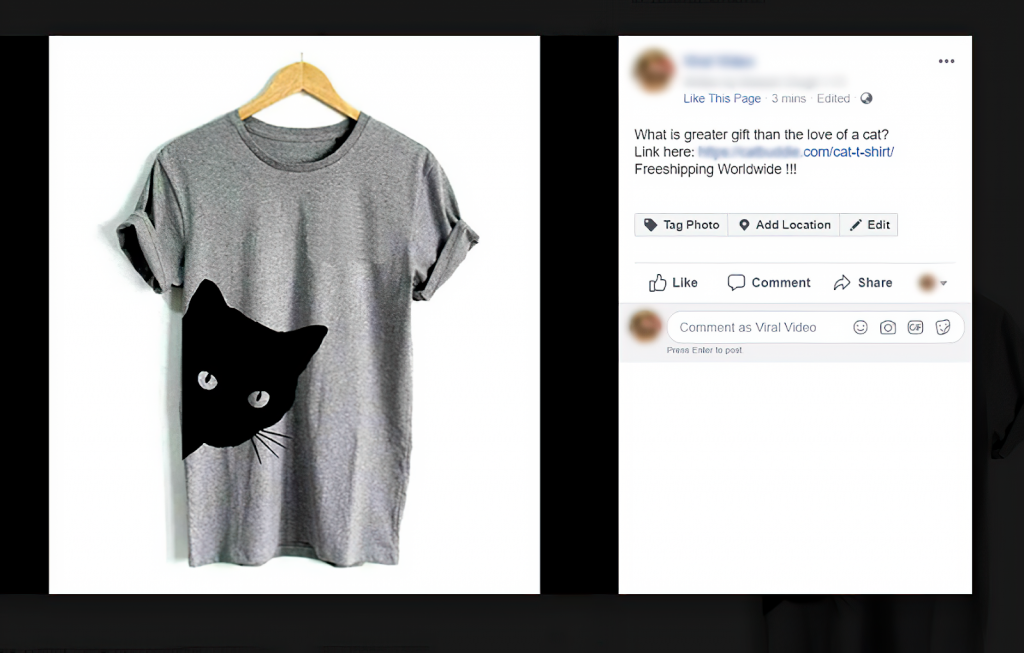 So, what's the moral of the story?
It is, you have to test over and over. You never know which ad set is going to work, and which simply won't. Just keep testing and testing until you find the one that can achieve the best performance.
Furthermore, it took me months of testing to realize that ad copy doesn't have to be long and fancy. Research shows that it takes only 2 seconds on average for a Facebook user to decide whether or not to click on an ad. It means that within those 2 seconds unless ad viewers get your point on why they should buy your product, your ad will get neglected.
So, the right question should be: what could help the audience get your point immediately? Would that entail funny words and icons, a discount, an offer, or something else?
According to my experience, promotion comes first. The bigger discount, the easier it is to attract people's attention.
However, you can't run flash sales all the time, or you would burn through your money faster than you could say "advertisement". Therefore, the second most important thing is your capstone sentence. Your ad copy must begin with something that your audience can relate to, such as a popular quote.
Another attention-grabber is free shipping for customers, even if that means you have to increase the products' price by a little bit to accommodate the increased cost.
Last but not least, and most importantly, don't add a product link that is clickable. You don't want to upload useless ads that don't let customers access your products.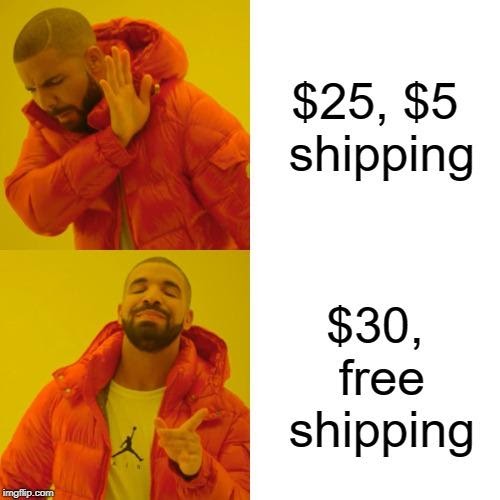 Budget
All in all, running a CBO campaign costs me $20 per day. In 3 days, I tested 3 different ad sets, each of them gearing towards different targets. After that, I chose the ones that generated the most sales for scaling and stopped the others.
Surely many of you will have the same question that I had back then, which is "should you set a bid cap for your ad?" – well, it depends. If your business is backed by deep-pocket investors and can afford to spend about $1,000 on ads per day, go ahead and bid. Otherwise, bidding is not necessary yet.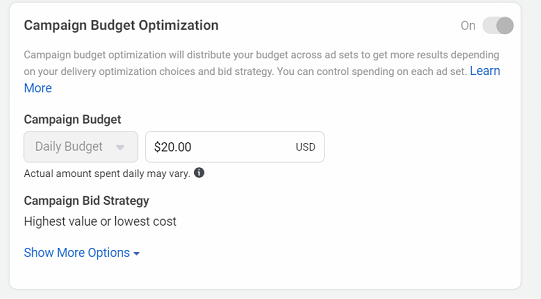 8. What did my final result look like?
The initial amount of capital I put into my dropshipping business was about $3,000. It might not be a great fortune but nevertheless, it was still a large amount of hard-earned money for me. You might need more or less to enter the sector I'm doing right now, but if someone tells you that it doesn't cost that much to do it, he or she must be lying.
In my case, it definitely costs more than that. I was lucky not to be broke. Cash kept flowing in and out, and today's revenue would inevitably be spent tomorrow. It is an unceasing cycle of earning and spending, in which I needed to correctly determine where I should invest my money so that it would not go down the drain.
Nevertheless, all hard work paid off. Here was a chart of my performance from Feb till the end of May 2020: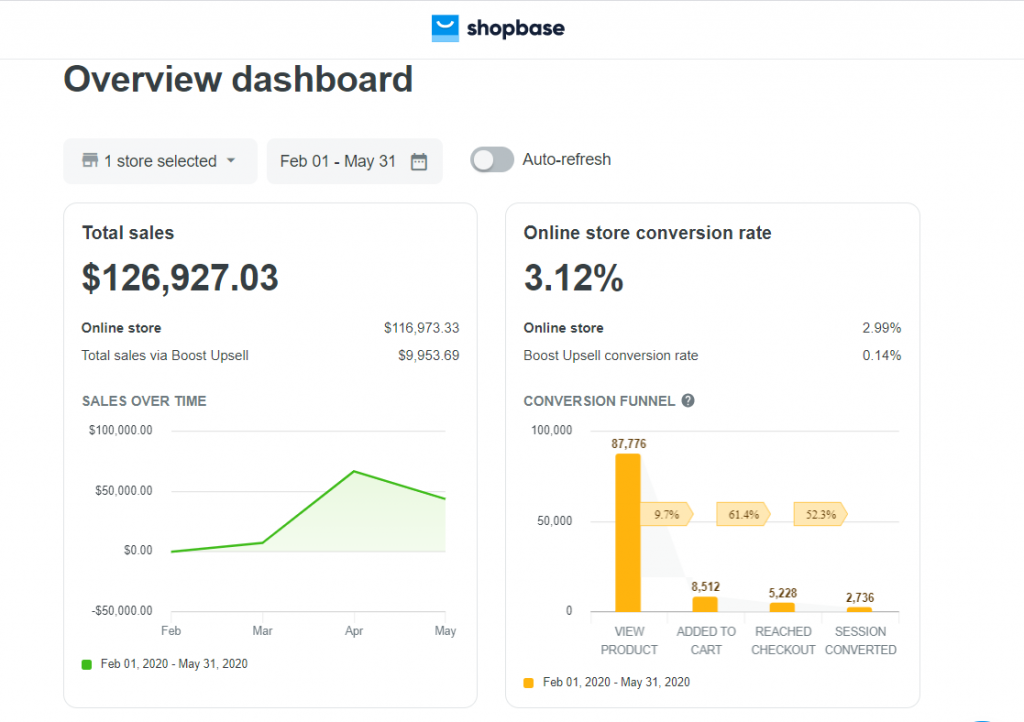 $126,927 revenue for 4 months (from Feb to the end of May 2020).
I have shared all my accumulated experience earlier in this post. That being said, I would like the share one last comment on the one thing that matters the most in the way I operate my dropshipping business.
Don't be hesitant to do what you want to do. If you want to be like me, you need to take action immediately. Find your niche, research your target audience, craft a website, and sell globally. Don't be afraid of making mistakes, because indeed, I made more mistakes than I could even count. It is what you do after you fall down that matters.