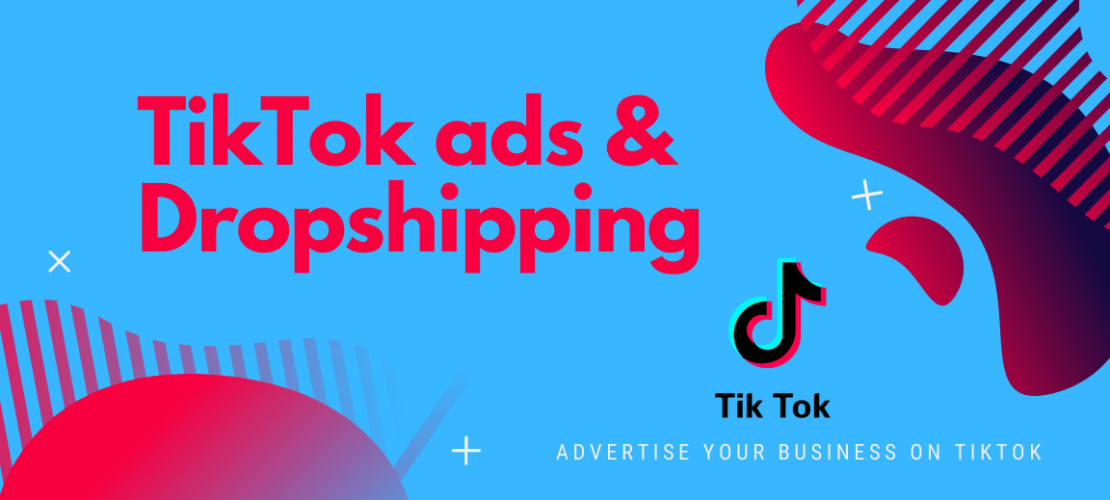 Skyrocket your dropshipping sales with TikTok ads
Gone are the days in ecommerce where you can bring customers easily to your dropshipping websites via Facebook or Google ads for pennies.
Now, the game has changed. With more than 800 million active users worldwide, TikTok is emerging as the next hot place for ecommerce business owners and advertisers to expand some serious efforts.
If you are struggling with Facebook ad accounts disabled and your sales hitting an all-time low, you should take a crack with TikTok ads.
Before getting started, let's take a look at what is outlined in this post.
5 data-backed reasons why you should advertise on TikTok

4 types of TikTok ads

3 simple steps to create TikTok ads that run well
Now. Let's dive in.
>> Create your own dropshipping store with ShopBase, and run TikTok ads to advertise it right away!
5 data-backed reasons why you should get your TikTok ads up and running
1. Diverse audience on TikTok
'Most of the content creators on TikTok are genZ.'
Everyone, even who isn't a TikTok user, knows it. It's ok because that statement is true.
But I bet everyone also thinks 'Most of the users on TikTok are aged 16 to 24'. Actually, that isn't true. 
While 41% of TikTok users fall into that age range, 59% of the others are the GenX, Millennial, and even Baby boomer generations.
What does that mean? It means there is still room for you to sell your products on this platform, even if your target audience is not aged from 16 to 24.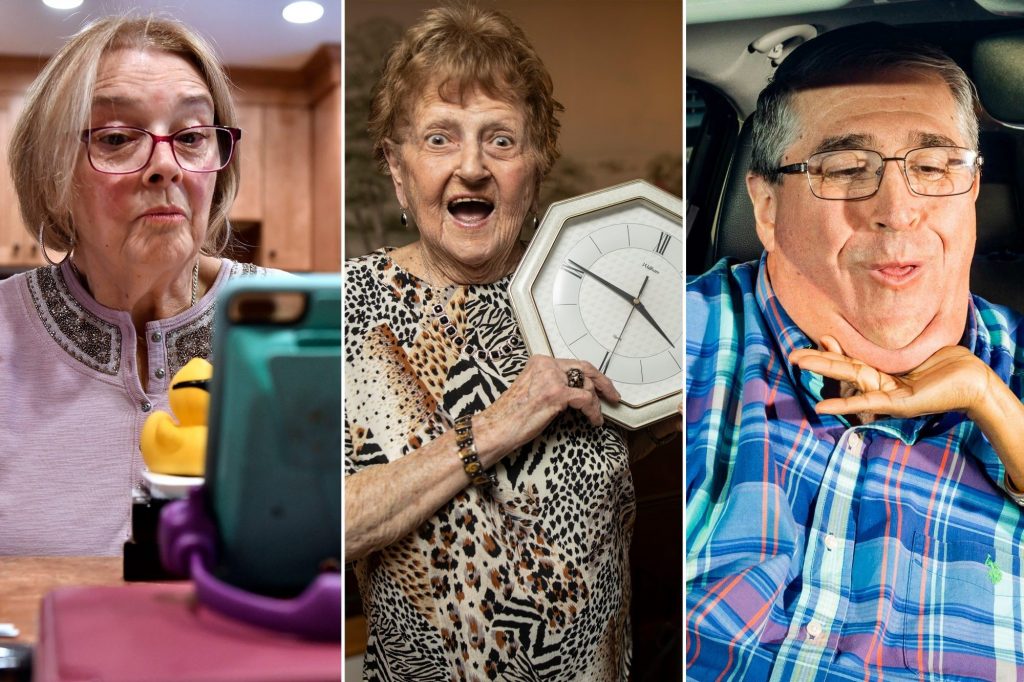 A large number of grannies are interested in TikTok (source)
2. Tiktok ads video is so compelling
For the past few years, ecommerce and social media have become more entwined, as social platforms like Facebook, Instagram, Pinterest, and now TikTok try to turn them into shopping destinations for a so-called seamless shopping experience thing.
If you're an active user of TikTok, you might recognize that most of the ads you see on TikTok are for ecommerce and streaming services. My close friend, Haley, a millennial, also views ads on TikTok for products in line with her generation's lifestyle. "What I usually see on TikTok includes accessories, clothing ads, and especially baby things ads as I just got my kid last year."
She ends up shopping a lot via TikTok because, as she said, "Advertising videos on TikTok are so crazy: entertaining, emotion-evoking, and compelling. I can't even say no to them."
3. TikTok ads spending is lower than Facebook ads
To compare the advertising cost of Facebook ads to that of TikTok ads, Jungletopp conducted an experiment in which they spent about $20K on TikTok ads and $31K on Facebook ads and then analyzed the results.
According to the experiment, TikTok is the clear winner when comparing impressions. The number of impressions generated by TikTok ads was over 11 million, compared to just above 4 million by Facebook ads.
We can see a similar pattern in clicks. Many more clicks were generated by TikTok ads than Facebook ads, with over 100,000 and just under 70,000 respectively.
However, TikTok ads failed in the CTR battle, much of which can be attributed to a much smaller audience. All of the ads were running within the US only.
4. TikTok ads help improve brand awareness
Even though the experimented TikTok ads resulted in a lower CTR, it did help improve brand awareness, which can help sales flourish and the business grow sustainably in the long run.
Let's take Princess Polly as an example.
Princess Polly, an online fashion retailer from Australia, was looking to drive new audiences to purchase their stuff online. Then they decided to run a discount code campaign using auction ads on TikTok, aiming to promote their brand to a wider audience, drive more web traffic to its ecommerce site, and generate more sales.
The result is that it was one of the best discount code campaigns they've ever run. It generated over 9 million impressions, a 1.05% click-through rate, and an impressive 15X return on ad spend.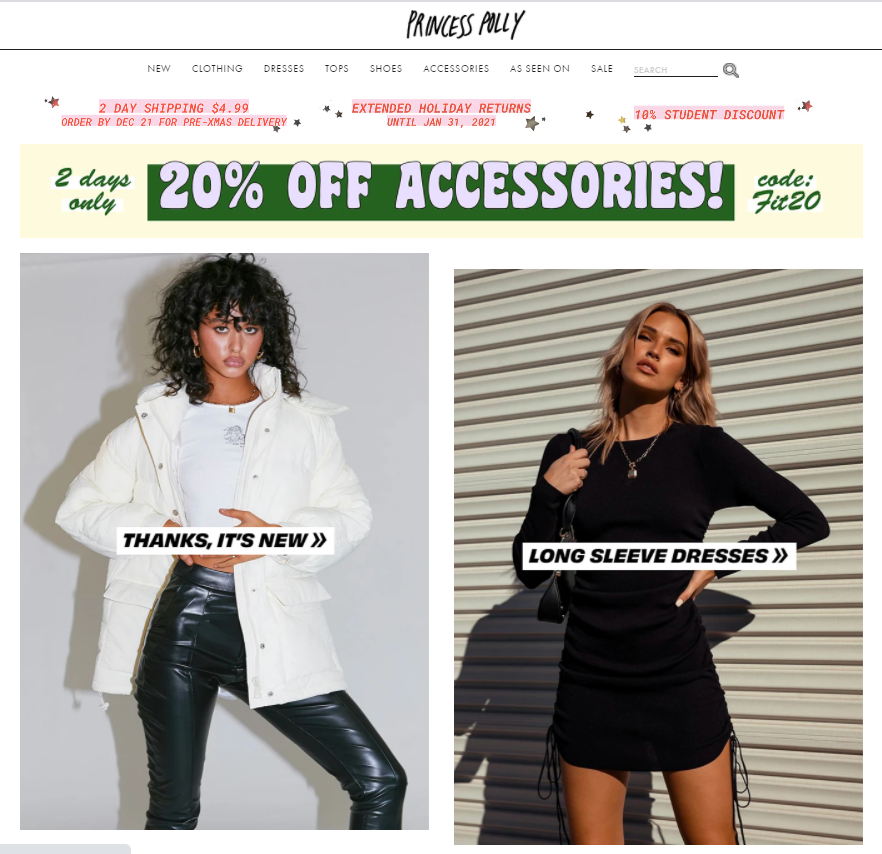 Partnering with TikTok influencers is the right way to go if you want to market your brand effectively. That approach allows you to promote your brand via appealing content that has the highest potential reach.
Unlike on Instagram, where influencers share the heavy-editing, professional versions of content, those on TikTok tend to share the raw content that isn't filtered too much. This difference makes the ad viewers feel less targeted and more likely to buy the stuff that is being promoted.
Besides, not all influencers on TikTok are celebrities. They are just TikTok users from the get-go, then become popular because of the unique, quality content they self-create. As a result, those overnight influencers don't ask you to pay as much as celebrities often do.
According to Statista, the number of TikTok influencers all around the world reached 3.1 million, of which 393K are based in the US, accounting for 12.71%. This means that you can easily find an influencer to promote your brand to the right target audience at reasonable costs.
If you are looking for an influencer, you can use this tool Heepsy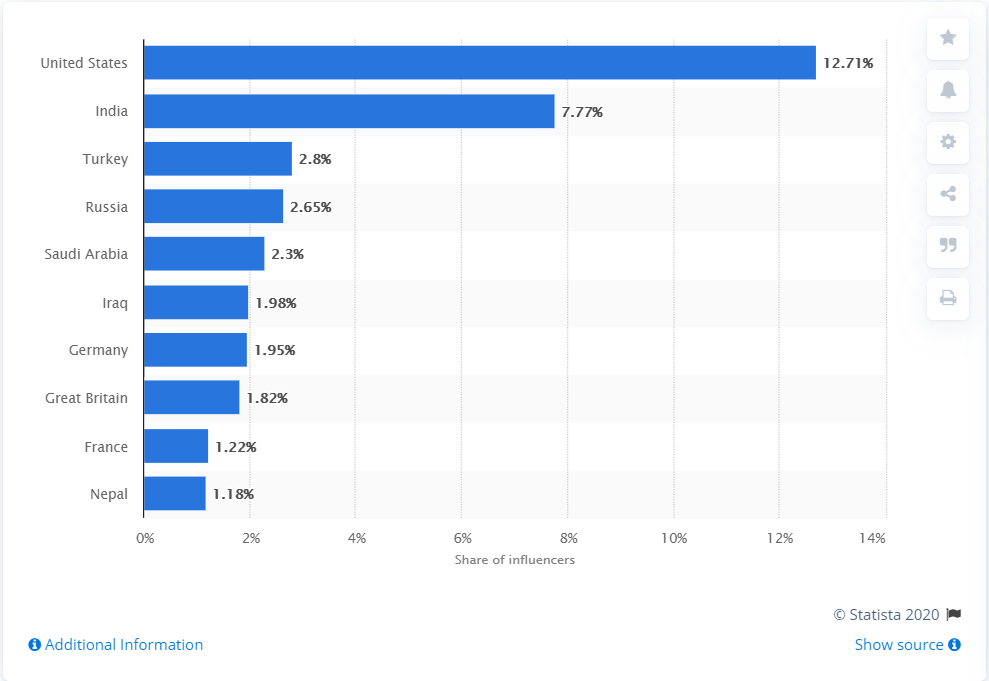 Leading countries with the highest share of TikTok influencer accounts worldwide
as of Feb 2020.
Types of TikTok ads
To market your products on TikTok, you have 4 different types of ad options. Consider which one works best with your brand before opting for any of them.
1. In-feed video
Those in-feed video ads will show up among the native fees feed of TikTok users on the "For You" page.
2. Brand takeover
These brand takeover video ads will show up on the whole screen of TikTok for a few seconds, then turn into an in-feed video ad.
3. Hashtag challenge
These hashtag challenge video ads will show up in the Discovery section of the app, aiming to motivate users to accept the challenge.
There is no value for you in creating a hashtag challenge that goes viral if no one associates it with your brand. Therefore, you should add your brand name in the hashtag itself, but that's not the best way to go. Instead, you can choose to create a challenge where TikTok users either use your products as a prop.
Successful hashtag challenges by product category: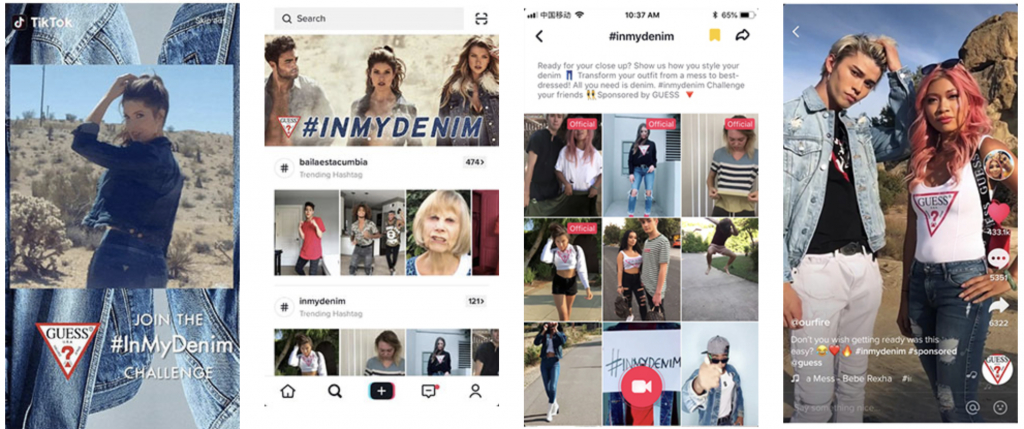 4. Branded AR content/effects
These branded AR content will appear as different forms of stickers, lenses, and others for TikTok users to use in their videos.
It would be best if you chose the ad type based on your business conditions. After figuring out which one to go for, let's learn how to create a TikTok ad in the next section. 
How to create your TikTok ads
TikTok ads manager structures ads into 2 different parts: campaigns, ad groups, and ads, in which setting up a campaign is the first step to take.
? Briefly, to create Tiktok ads for your dropshipping business, you need to take the three following steps:
Step 1. Create a Tiktok ad campaign. In this step, you need to set your goal, name, and budget for your ad campaign.
Step 2. Set up an ad group. In this step, you need to set the placement, details, creative type, targeting, budget, duration, and goals, bidding threshold of your ad.
Step 3. Create a Tiktok ad. Upload your creative video on the platform to finish this step.
---
1. Set up a TikTok ad campaign
To create a campaign on TikTok, you need to set your ad objectives, campaign name, and budget. 
Once you log into the TikTok ads manager, click on the campaign button at the top center of the page. Then, click create to get started.

There are 5 goals for you to pick: traffic, conversions, app installs, catalog sales, and video views.
Before picking any of them, you should carefully consider what your business goals are. If you want to drive traffic to your dropshipping store, select the traffic objective.
However, if you want to generate sales directly from TikTok ads, click conversions.
Set up campaign name and budget
The campaign name to set is up to you.
The campaign budget is the specific amount of money that you are willing to spend on that campaign. It means that your campaign will stop running when it hits the budget you set.
The campaign budget isn't necessarily fixed. To help you allocate your budget better, you can keep track of your ad performance and edit the budget when needed.

2. Set up an ad group
After creating your campaign successfully, move on to the ad group setup. At the ad group level, you need to define your ad placements, ad details, target audience, budget, schedule, bidding method, and delivery type.
You can create up to 999 ad groups per campaign.
Automatic placement: the TikTok system will use a smart calculation to give you the best combination of ad placements possible across its app portfolio. The TikTok ad team highly recommends this option because you can save time from fine-tuning your ad placements for focusing on your business.
Select placement: This option allows you to choose where your ad is going to appear manually. Even though there are plenty of options, if you are primarily targeting TikTok users, you should opt for TikTok only.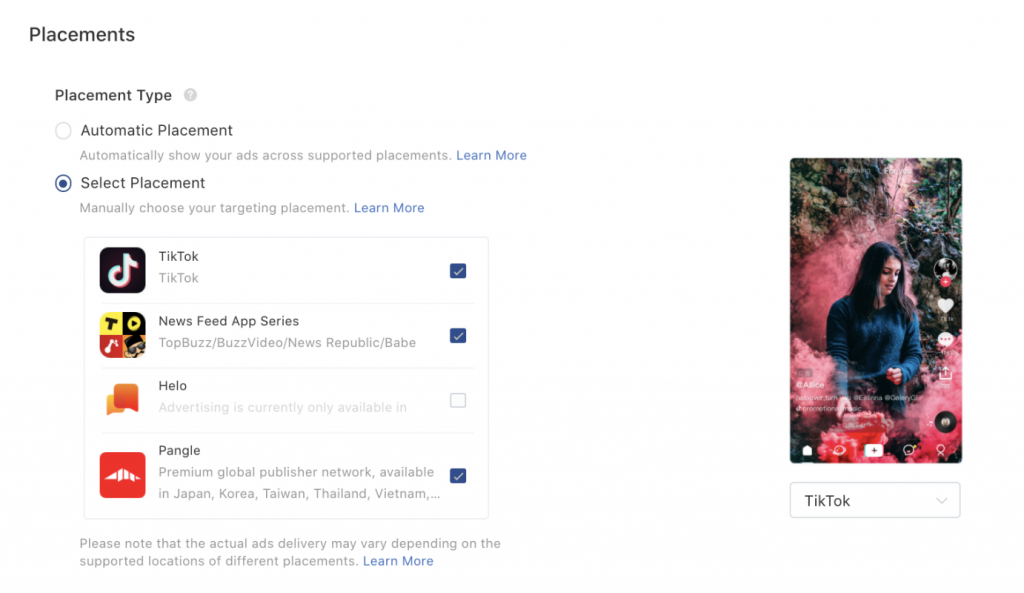 In the ad details section, you need to set up the following things:
Promotion type
Display name & profile image: highly recommend you to use your brand name and logo for display name and profile image, respectively.
User comment and video download: if these two features are turned off, your audience will not be able to comment or download your video. So, suggest you turn both on.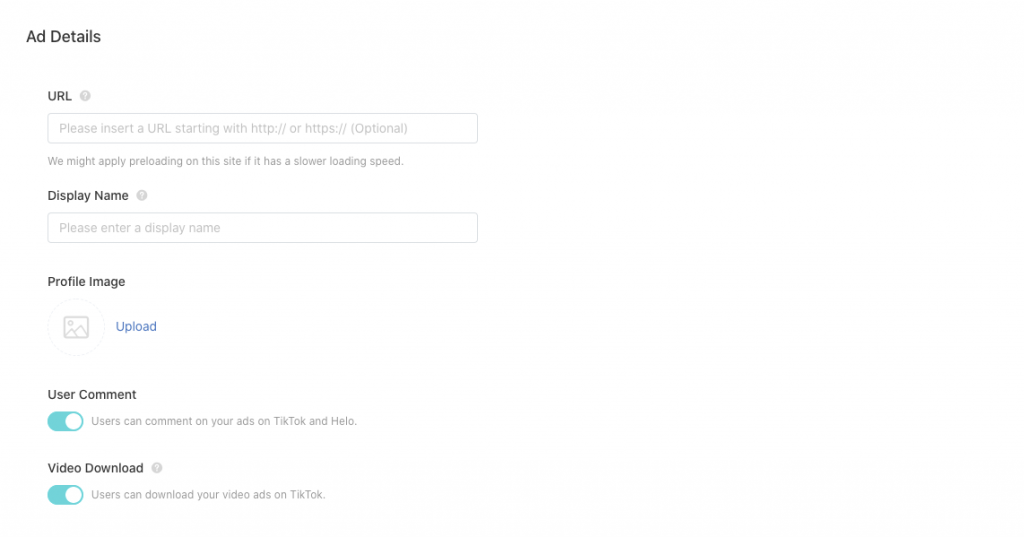 If you turn on the automated creative feature, the automated creative optimization will automatically generate combinations of your creative assets (images, videos, and texts) and deliver high-performing combinations to your audience.

The target section of TikTok ad group allows you to define the target audience for your ads based on the following categories.
If you already have a portrait of people to target on TikTok, create a custom audience by uploading the IDs of existing TikTok users.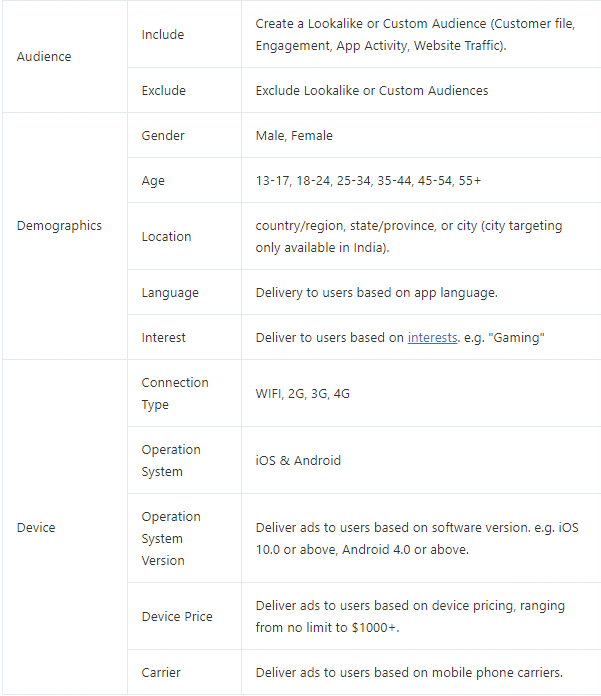 Set budget, duration, and goals
In the budget section, you can choose either daily or lifetime. Note that there's a $20 minimum budget for daily budget and a $20*scheduled days minimum budget for lifetime budget.
For example, if you schedule the 31-day delivery, the minimum budget required is $20*31 days = 620.

There are 3 types of goal for you to choose:
      –  Conversion => your ads will be billed as oCPC (optimization cost per click)
      –  Click => your ads will be billed as CPC (cost per click)
      – Reach => your ads will be billed as CPM (cost per mile)
Bid: This is where you set how much you are willing to spend per 1,000 impressions (or click, conversion). You can always change your bid based on your demand.
Note that there're 2 types of ad delivery:
     – Standard (highly recommended): your ad budget will be spent evenly during the scheduled time.
     – Accelerate: your ad budget will be spent as quickly as possible.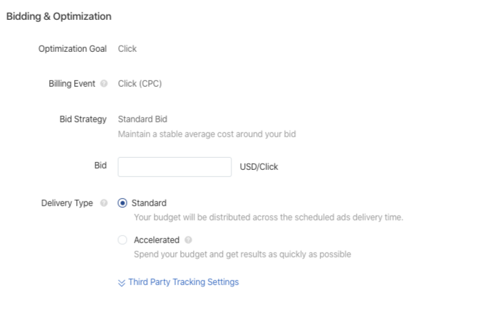 3. Set up a TikTok ad
After finishing your ad group setting step, move on to ad setup. Note that you can create up to 20 ads per ad group.
As you can see, we have 2 options to choose: single video or single image. However, if you are targeting the people that are TikTok users, you need to have a video of your own. TikTok currently supports video ads only.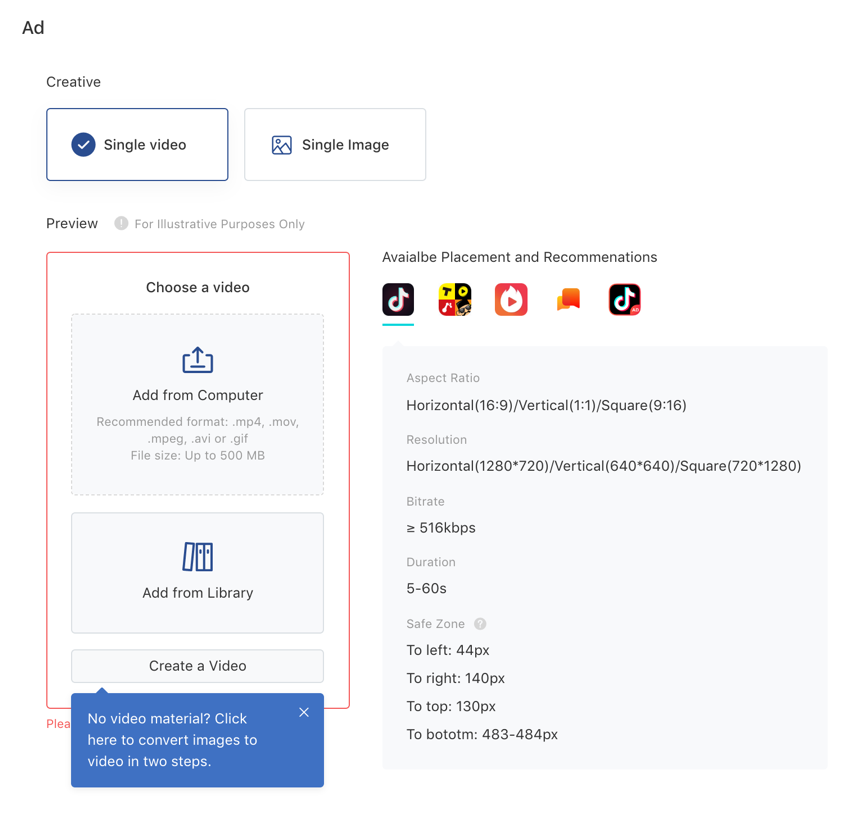 After uploading your video, you need to pick a cover, enter ad name and text. The cover and text will be shown to your audience, so optimize them to get the best ad performance.
Don't forget to add call-to-action. Without it, your audience won't know what to do next, even if your ads are compelling and impressive.
Now it's your turn
Run TikToks wouldn't be too complicated if you used to run ads on other platforms, like Facebook or Instagram. As you can see, TikTok advertising is really promising, as Facebook ads were several years ago.
If you don't want to be the latecomer, start creating your TikTok ads right now. Surely, your brand is going to get way closer to potential customers worldwide. And above all, your revenue is going to hit a record high.
>> Start making money with your dropshipping store and TikTok ads today!