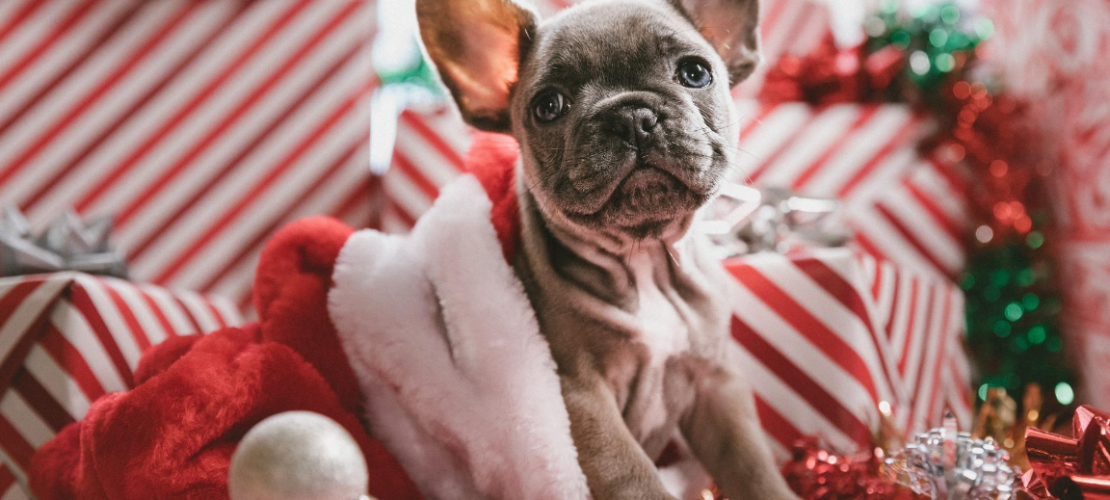 10+ Christmas Crazes: The Procrastinator's Guide to Holiday Marketing
This is a simple truth about planning:
Sometimes you feel the urge to start only when the deadline is near so you'll procrastinate. Working with several eCommerce stores over the years, we've gotten used to the hard reality that some holiday marketing plans are only mobilized at the last minute.
Worry not — you can still win a great holiday success even if you are a procrastinator. We have listed down a procrastinator's guide to practical and solid holiday marketing strategies so you won't get lost during the holiday rush.
Beware though, if you plan to procrastinate, you may be tempted to slash big prices to attract customers. For a big eCommerce store, that's feasible to do. However, for small online stores, you can't just do that without making a dent to your financials. Plus, the holiday season is flooded with discounts, so how can you compete with that?
We got you covered — here are 10 quick and smart tactics with suggested marketing tools to help every eCommerce procrastinator shapes and executes a robust and manageable holiday marketing plan.
1- Make personal holiday greetings and send to loyal and most valuable customers
During the holiday season, all people are in a joyful mood that they send holiday greetings to everyone they know and receiving holiday greetings don't seem like annoyances. You can easily leverage on this joyful expression by sending a personal greeting to your loyal customers either via email or social media. The key is to be thankful for their continued patronage to your store. Within the message, you can include the following:
An introduction of your upcoming holiday sale and a 'Save The Date' button

An inclusion of their latest purchases or past holiday purchases with corresponding product recommendations
---
It's Christmas magic! ??? #SetandForget
We've some new holiday hacks here. This time we'll let you know how to free yourself from the middle of the burdensome work while increasing store's revenue to the max.
?? Let's find out >>  The Holiday Marketing 20-Point Checklist to Prepare for Your Online Store
---
If you don't know your loyal customers, you can easily create customized customer segmentations in just a few minutes to identify your most valuable and loyal customers using MailBot's Custom Segment feature. The segmentations can be based on customers' purchase behaviors and also can be further drilled down to the frequent buyers, the high average order value customers, and the top lifetime spenders_term=holidaymar.
MailBot's pricing starts at $29/ month.
2 – Incorporate holiday keywords to your product descriptions
For a densely populated eCommerce environment with the added traffic of the holiday rush, SEO is an inevitable sales driver for procrastinating eCommerce merchants. A practical way to improve your SEO strategy during the holiday is by using meta tags. Meta tags are words that a search engine uses to crawl your content. They are small content descriptors that tell search engines what a web page is all about and help them rank pages and display more relevant search results. The descriptors also appear in the search results.
Thankfully, there's Ecwid, a tool that generates meta data automatically for eCommerce stores. The meta data can be automatically prompted by extracting your product names and descriptions found on your product pages.
Ecwid also allows manual meta tags creation for each product to embrace the holiday season.
So, if you want to get more free traffic during the holiday season, consider incorporating words such as "holiday gifts", "gifts for him", "holiday gift guides", "Thanksgiving", "Christmas", etc. Brush up on your holiday keywords and use more descriptive words to guide customers to your holiday products. You can click the following link to learn more about Ecwid's manual meta tags.
Ecwid's premium pricing starts at $15/ month.
3 – Spell out the choices for 'lazy' holiday shoppers with holiday product and gift guides.
If there are procrastinating eCommerce merchants, there are also holiday shoppers who postpone their shopping for a later time. These are your typical 'lazy' shoppers who make last minute shopping for themselves or finding gifts for their loved ones. You can highlight how you can save your shoppers' time by offering them with holiday gift and product guides to narrow down their choices.
The guides should show easy to consume shopping categories into headers. Each header should be individually clickable to direct them to the right category landing page. Example of holiday category headers you can include in your holiday guides are the following:
Price points (e.g.: gifts under $10, gifts under $20)

Gender selections (e.g.: gifts for her, gifts for fathers)

Relationship categories (e.g.: gifts for workmates, gifts for best friends)
            Gift guide for Dad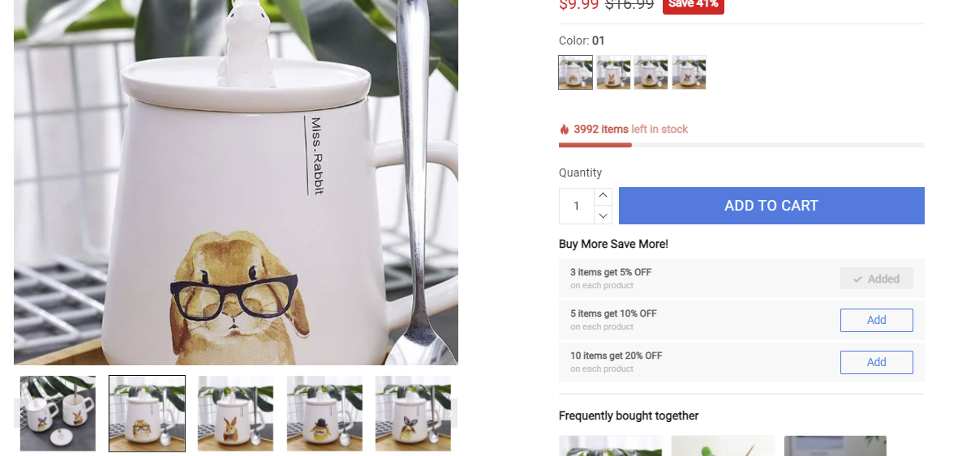 Gift guide for Workout buddy
You can help your online shoppers skip that painstaking process of searching for the best holiday gift by using Guidelines' gift guide maker. It's easy to launch feature allows busy and procrastinating eCommerce merchants to create visually appealing gift guide pages with holiday themes to choose from. Remember to add a subject line with a compelling CTA such as "last-minute" or "limited" to entice shoppers to drive to your store.
Guidelines' business pricing starts at $29.99/ month.
4 – Run a holiday contest and make it social
Running a contest is old marketing tactic but still a very effective and easy to employ last minute holiday marketing. The best way to make it work is to run it via social media to leverage on the increased holiday traffic. A holiday contest is a promotion that can easily attract social media users. In fact, most social media users are motivated to visit and like a Facebook page if they can get or win something in return.
Starting a holiday themed contest is a way to excite your existing followers and more importantly to forge new connections and social engagement.
The main elements of a successful holiday contest
Choose the right prizes:

Offer a prize that is irresistible and relevant to your market. As much as possible stay away from cliché prizes and focus on limited items.
Make it shareable:

Remember to make your contests suitable for sharing with others by including links or easy to post photos.
Use a Tool to Create the Giveaway
Since you want a fast execution, you can use Pagemodo's contests app to create, manage, and track your very own Facebook contest and sweepstakes within your fingertips. If you have more time, here's a beginner's guide for social media contests, so you will have a detailed information about the do's and dont's for each social platform.
Pagemodo's pricing starts at $9/ month.
5 – Shout out your promotion to the world
Make sure the customers acknowledge of your sale, or the traffic you get to your store would become a waste. So a quick banner seems like an ever-green idea. Yes, that huge banner on your store front could catch customers' attention immediately and engage them in your exiciting sale. However, if you are a real procrastinator and you have no time for banners yet (although you should have), then you could put a quick header bar on top instead.
The header bar is just like the banner, it is highly visible. The difference is it is much shorter and quicker to create, just like this:
Header bar created with free SiteKit app 
And don't forget to share the promotion with your fans! You could do a quick shout out on your fan pages then keep updates of upcoming on-sale products to engage shoppers further. Put yourself on their wishlist and convert them into paying customers!
6 – Create time-sensitive offers
The fact that the holiday season begins and ends in a specific period, it means that it has a time-sensitive factor. Take this as an opportunity by creating offers and promotions that are bounded by a limited time. Time-sensitive offers help motivate customers to buy a product now rather than postpone the purchase later.
To influence urgency you can add a countdown timer to increase the demand for a specific product because you're setting a specific deadline for your shoppers to meet.
You can conveniently add a countdown timer to your holiday promotions using Boost Convert, a ShopBase app that allows procrastinating online store owners to add urgency to their holiday promotions.
>> Sign up with ShopBase today to install Boost Convert for FREE!
7 – Offer limited quantity offers
Aside from time-sensitive offers to create urgency, you can also exploit limited quantity to your advantage. You can use messaging such as "Limited Stocks" or "Only this holiday season", to motivate shoppers to complete a purchase as soon as possible.
You can easily add a 'Stock Countdown' message to your products during the holiday season using Boost Convert also. This eCommerce tool allows online merchants to intensify purchase urgency by telling their shoppers that the products have limited quantity.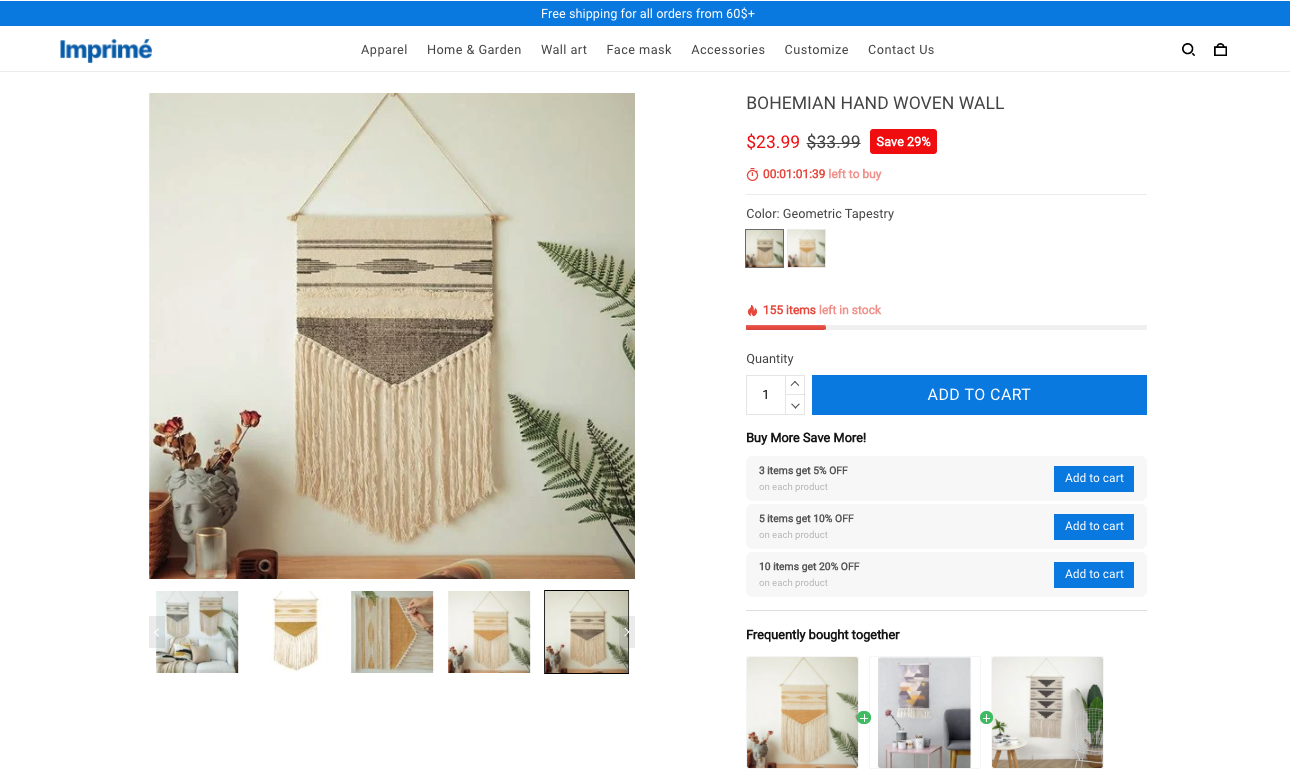 Boost Convert is FREE.
8 – Re-engage the online shoppers who got away with retargeting
As traffic is high during the holiday season, so is your potential cart abandonment rate. People can get easily distracted during the busiest shopping season which is why employing a tool that will help you to automatically re-engage with the shoppers who slipped away from your site without making a purchase is a crucial holiday marketing effort.
Retargeting is an algorithm-based tool that targets your abandoning shoppers when they visit other websites by displaying relevant ads. Facebook has a retargeting service called Dynamic Product Ads which allows eCommerce store to target people who visited a site, added items to their carts, but then navigated away without completing the purchase. These targeted segments are displayed with Facebook ads of their abandoned products.
But, an even more useful tool is a smarter retargeting solution by Nanigan as it uses predictive optimization of Dynamic Product Ads' bidding and budgeting so that you can increase your ROI and set up your retargeting efforts even when you're on your last minute marketing plan. Here's a step-by-step guide in using Nanigan's Dynamic Product Ads optimization.
Nanigan's pricing is by request.
9 – Allow your shoppers to share their holiday wish list on their social media with
Wishtack
Shopping for holiday gifts for friends and family is simpler when wish list functions are offered to customers. In anticipation of holidays, customers can simply browse products on your site, add items to their wish lists, and then post their wish lists directly on their social media accounts or send them via email so that their loved ones know what they want for the holidays.
To make your procrastinator's life easier, you can conveniently embed an "Add to Wishlist" button on any product found on your eCommerce store using Wishtack. The wish list button allows customers to select their wish list items and automatically notify their friends and family about their wish lists. Here's a sample below:
With Wishtack, shoppers can share what they've added to their wish lists. Their friends can also mark the wish list product as 'promised' so that no one else will offer the same gift to them.Here's how it looks like: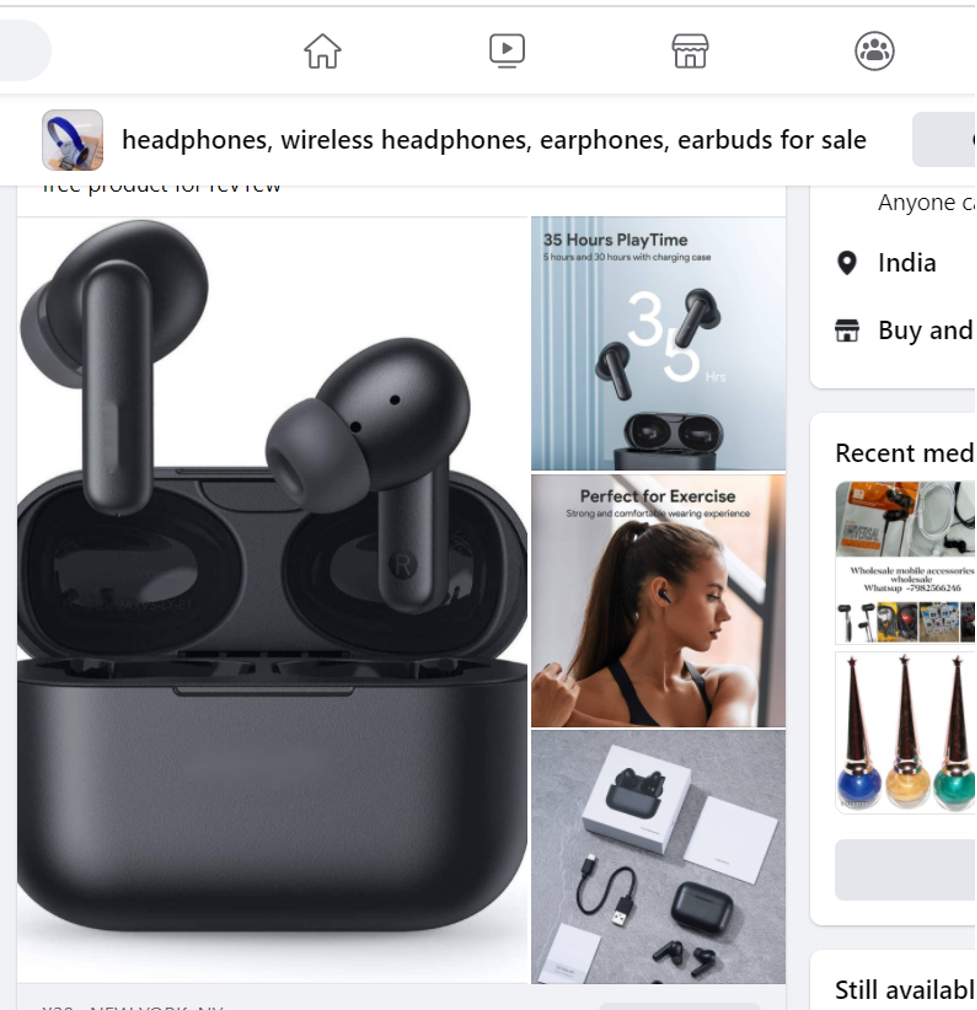 Wishtack's pricing starts for Free.
10 – Always extend your holiday promotions for your last minute and post-holiday shoppers
Maximize your holiday sales by catching your fellow procrastinators: last minute shoppers and post-holiday buyers. Set up a last minute holiday sale of your unsold holiday items during peak events such as Christmas before the year ends. Just like how Jedi's post-Black Friday sale below.
January is also a promising month to re-ignite your holiday sales. You may still receive traffics from holiday shoppers because of holiday gift card or discount coupon redemptions and other holiday related deals and promotions. This makes a perfect timing to still engage with the post-holiday traffic with sales promotions or new products.
If you have excess holiday inventories and want to get rid of them, you can send your holiday shoppers with a post-holiday newsletter to promote a holiday clearance sale. You can use the tool we recommended above, MailBot, to send highly targeted clearance sale campaign to your holiday shoppers automatically.
11 – Have a year-long landing page dedicated to holiday
If every year you build a new landing page dedicated for your holiday marketing promotions to boost your sales, your SEO will begin a clean slate which means that the probability of a higher ranking of your holiday landing page on a search engine's search result is weaker.
Take, for example, Best Buy US has established a consistent year-long Black Friday landing page. When you search 'Black Friday' on Google US, Best Buy's Black Friday page ranks 6th place.
You can easily steal the same principle to improve your SEO results with a consistent year-long holiday landing page by using a landing page tool like Leadpages. This powerful app can help you score SEO points with a holiday-themed landing page even when you're procrastinating annually.
Leadpages' pricing starts at $25/ month.
Ready to be merry?
The holiday season is an exciting period for eCommerce store owners but it also poses a hard truth about their human nature: procrastination. The good news is we have a solid holiday marketing guide for procrastinators who don't plan ahead of time but still want to gain revenue and come out successful during the holidays.  
Be sure to apply the above holiday marketing tips and tricks to intensify your holiday sales and overcome procrastination. Happy selling, mates!