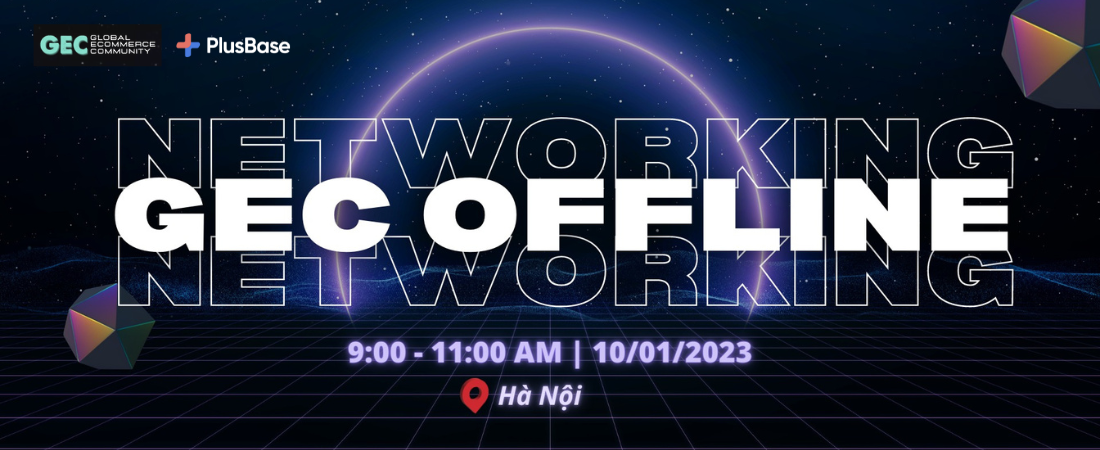 PlusBase x GEC: Coffee Free Talk in Hanoi | First Offline Event of 2023
PlusBase, together with our partner Global E-commerce Community (GEC), is pleased to announce our first offline event of the new year: Coffee Free Talk in Hanoi, on 10th Jan, 2023.
PlusBase x GEC: Coffee Free Talk in Hanoi
After a year of drastic changes, the beginning of 2023 is the perfect time to reflect, learn and grow with the community. Along with the growth of e-commerce in Vietnam, GEC has risen as one of the biggest decentralized communities with more than 8,000 active and loyal members. Its founding organization, PATI Creative Agency, is one of the few TikTok's official partners in Vietnam. 
Coffee Free Talk in Hanoi offers PlusBase sellers and GEC members an opportunity to discuss freely and openly about anything e-commerce related, including but not limited to advertisement platforms, advertising methods, business tips, etc. with a panel of experts in the e-commerce field.
Hosts and Chief Guest
The hosts of the event are some of the most outstanding members of the e-commerce community:
Mr. Quang Nguyen – Founder of PATI Creative Agency and GEC 

Mr. Duc Vu – GEC Moderator, E-commerce business owner
Better yet, for the first time ever, an offline event by PlusBase and GEC has had the honor to welcome Mr. Sorup Amin, ShopBase Country Manager in Bangladesh and India, as the Chief Guest.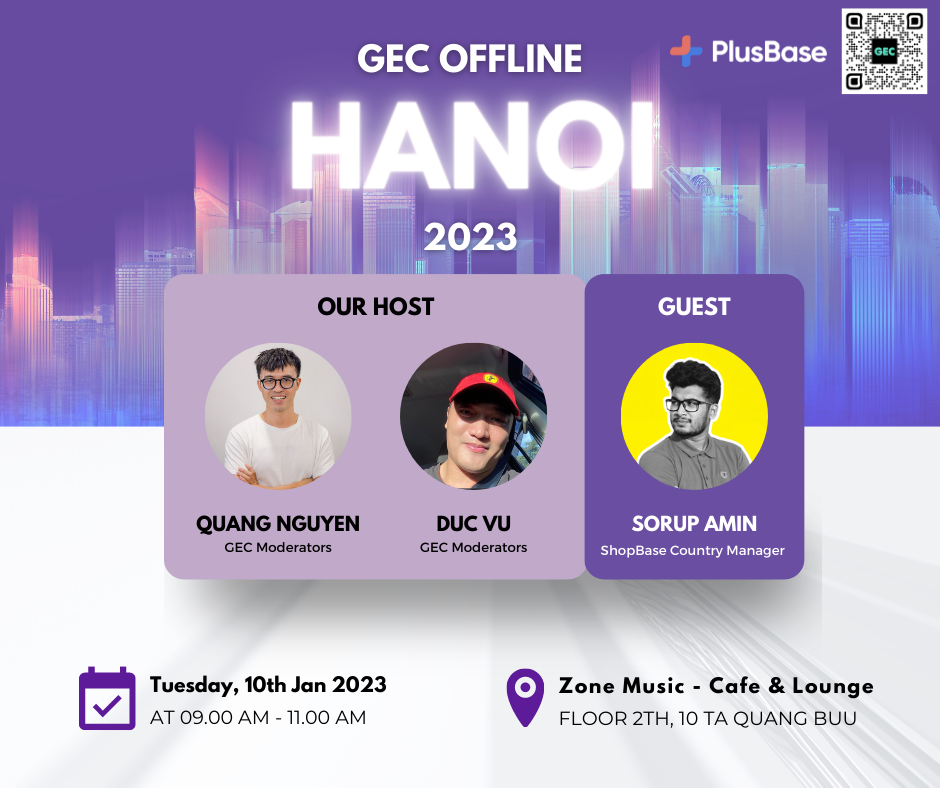 Mr. Amin has been working closely with the ShopBase team in Asia since 2022 and has curated many successful courses on Free Traffic and helped 3,000+ sellers in Bangladesh to achieve their Dropshipping goal with this method. His keynote speech within the Coffee Free Talk in Hanoi will focus on the tools and mindset needed to succeed with Free Traffic. 
During the Coffee Free Talk event, Mr. Amin will represent ShopBase and PlusBase to answer any questions from the audience. 
The need for Free Traffic
Paid traffic has always been the first choice that Vietnamese sellers go for, especially when it comes to cross-border e-Commerce. However, 2022 brought about a whole lot of upheavals to this approach: the change in iOS 14, the updated privacy policy, etc. Dropshipping sellers from all around the world are made to face with surged costs with little return, which forces them to find another, more optimal way to sell Dropshipping products in 2023.
Free Traffic, the method that Mr. Sorup Amin swears by, is the approach that has brought thousands of sellers in Bangladesh a steady flow of income, sky high conversion rates, and overall unimaginable results. A method that is easy to deploy for both newbies and veterans, Free Traffic is said to be the new trend of 2023.
Having mastered this method for 7 years, Mr. Amin will dedicate his keynote speech during the event to spreading knowledge about Free Traffic to Vietnamese e-Commerce sellers.
About PlusBase
PlusBase is a cross-border commerce platform from ShopBase – an ecosystem empowering e-commerce entrepreneurs & brands to launch, grow and succeed. We've leveraged our 10 years of know-how to build PlusBase – the only platform you need to start and grow your high-quality dropshipping business. From choosing the right product to sell, to the fulfillment process, all the way to supporting buyers, leave it to PlusBase!