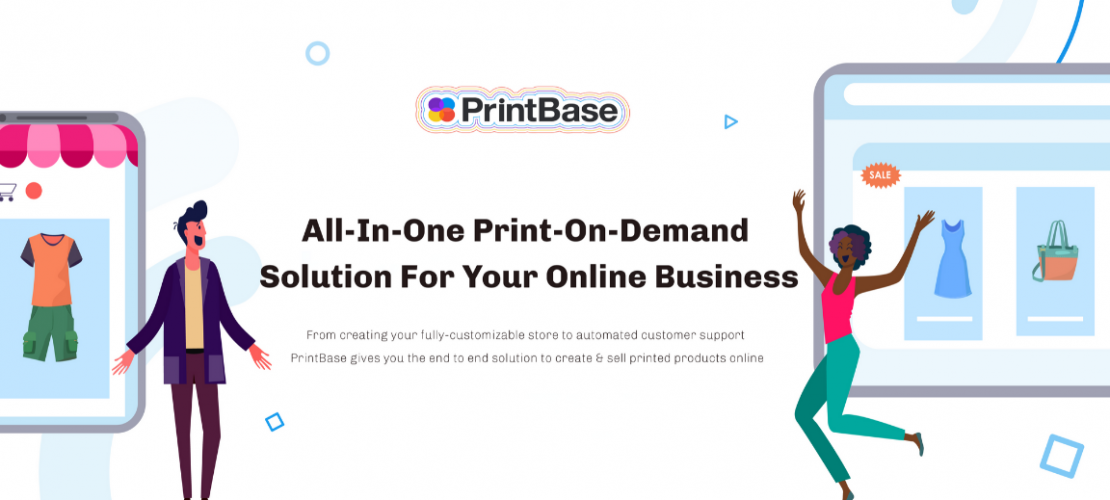 What is PrintBase and Why should you use it?
Looking for an e-commerce platform to base your Print-on-Demand business on? Today you've got a lot of options to choose from.
But the hard truth is, one of the options might offer a low base cost but can't guarantee the product quality for you. Another one might be committed to supplying high-quality products but they also leave you with angry customers complaining about printing quality.
Don't see yourself as a picky user if you can't find a platform that suits your needs yet. It's just because your options are still limited. Let's widen your list by taking a look at PrintBase, our platform solely focused on Print-on-Demand business. And I'm sure you won't be disappointed.
This article will cover everything you need to know about PrintBase.
1. What is PrintBase? 
PrintBase is an e-commerce platform that allows Print-on-Demand sellers to turn their ideas into real products and sell them for money. The platform offers a wide range of functionalities such as store creation, product fulfillment, payment gateway, and customer support.
2. PrintBase Catalog 
The catalog has over 300 products in 7 niche categories, including Apparel, All over print, Home & Living, Accessories, Shoes, Drinkware, and Phone Cases.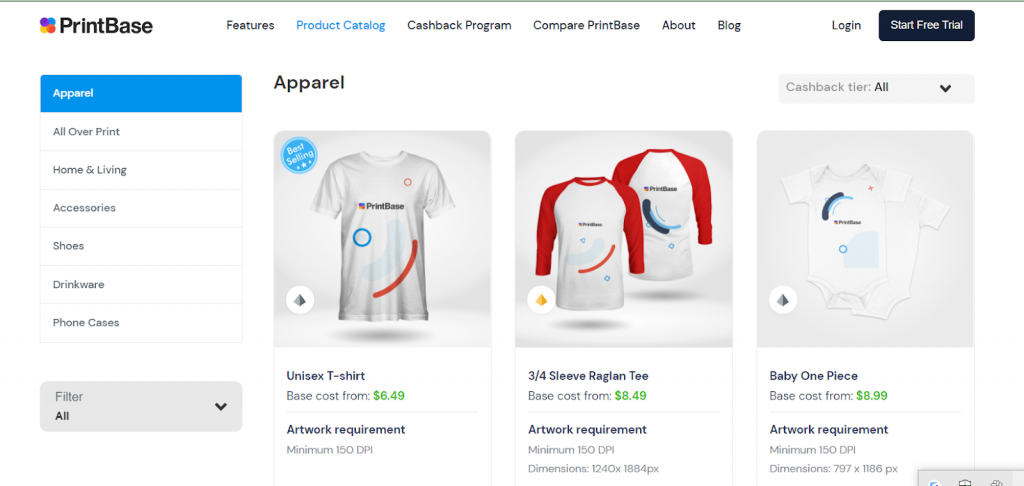 3. Competitive base cost
Base cost comparison among PrintBase, TeeSpring, TeeChip, Gearlaunch, Teezily.
>> Check out Compare PrintBase to other platforms!
4. Personalized products
People love being unique. When they see something made personalized for them, they will feel more special and find whichever seems relevant to them.
With a powerful personalized feature, PrintBase allows online shoppers to customize various options such as images, colors, text, fonts, effects, etc. automatically without the need for technical skills.
Instead of spending too much time editing images by images yourself every time customers place an order of personalized products, the platform will automatically handle this task, which is more time saving for you.
In order to provide merchants with the latest personalized trend, PrintBase offers an extremely diverse catalog of 2D products and is constantly updating new products (with an average of 1 new product/month).
All product mockup images of guaranteed quality are well designed, which is very flexible and cost-saving for online merchants to run their ad campaigns.
PrintBase also offers a unique 3D printing product line (all-over-print apparel), these items are now in the hottest trend and ready to rock the world of personalized printing products. 
5. High-converting store
Once you found your go-to product niche, it's time to build a solid and fully-optimized store to convert as many sales as possible. This process might take you weeks to even months to finish a complete store. If you waste too much time on this, you might miss the chance to scale your business. 
But there's no need to worry, PrintBase will help you to overcome this hurdle by providing an automated online store right the moment you sign up.
Whichever style you prefer, PrintBase will create a relevant website with FREE templates that will give your customers smooth and pleasant shopping experience. 
Armed with new technology, the page loading speed is always guaranteed to make sure that your website never crashes during the rush season and still skyrockets the conversion rate. 
>> See PrintBase demo stores here 
We understand that the website's appearance plays a crucial role in converting sales and also influences customers' purchasing decisions. So if you want to design your store to your own preference, you're free to customize every page from the storefront to the checkout page to make your website unique.
Merchant store's conversion rate when using PrintBase
6. Appstore for FREE!!!
What is more awesome than having an automated store built for you with the full AppStore to upsell & cross-sell, recover cart abandonment up to 61.45%, and more with our inclusive apps for FREE!
Yes, you heard me right. No extra fee charged and you can use PrintBase app system to optimize your website at its best.
PrintBase Appstore will facilitate your store management and help to boost the website performance.
For example, our most installed Boost Convert app will help to leverage customers' purchase with popular features like showing social proof (customers' activities: purchasing/subscription numbers) or countdown/stock timer on the product page to encourage customers to make quick purchasing decisions.
Or if you want to stimulate customers' purchasing power during the holidays by offering irresistible vouchers, great deals? Install SiteKit for FREE!
With Sitekit, you can leverage your way of giving out coupons and discount codes like spinning wheels to make it more impressive and interaction-driving than those traditional pop-ups.
Other than that, you can check out many other useful apps such as Boost Upsell (upsell/cross-sell optimization), Boost Facebook Chat (optimize customer care via Facebook Fanpage), or built-in customer reviews feature in your store, etc. You can find them all in PrintBase AppStore.
7. Built-in payment gateway
PrintBase wants to be more than just a platform but a supportive fellow to keep you always on track with your print-on-demand business and focus on bringing out the best strategies to skyrocket revenue. That's the reason why all the wires of customer service or payment gateway issues are all on us to handle carefully only for you.
The nightmare of pending payment or blocked accounts by PayPal, Stripe and other payment providers will disappear as now you have PrintBase built-in payment gateway to help you process payment and any portal-related issues seamlessly:
Security guaranteed as you don't have to worry about the fraud or dirty payment tricks from the scams, deceitful buyers.

Withdraw your profit payout only after a maximum of 3 days without waiting for customers to receive their orders.

Easily track your profit data constantly updated on the dashboard.
Other than this, PrintBase as store owners' representative, also takes care of your customers' complaints and supports them to resolve frequently asked questions about return/refund policy, order tracking, etc, and keep the dispute rate under 0.5% with our service!
It's your turn!
Now that you're clear about how PrintBase can help to grow your Print-on-demand business of all sizes and niches in the fastest way, it's your turn to drive your print-on-demand business toward success!
Sign up with PrintBase for Free and explore all the tools and services you need to start, run, and scale your Print-on-demand business at ease.