What is dropshipping? Is it still worth in 2021?
What is dropshipping?
Dropshipping is an order fulfillment method that does not require a store to keep products in stock. Instead, the store sells the product, forwards the order to a third-party supplier, who then has it packed and shipped to the customer.
The biggest difference between dropshipping and the standard retail method is that dropshippers don't have to stock their products. They are responsible for marketing the products to customers, and their suppliers take care of the rest.
Dropshipping during the pandemic
The pandemic has changed everything, in which dropshipping has been made the easiest way to make money from home.
In fact, while millions of people have been left unemployed and stuck in their house doing nothing due to the bloody Covid-19 pandemic, thousands of other ones have made a fortune from dropshipping.
That said, do not walk yourself into trouble by just jumping into the business knowing nothing about it. Instead, let's get a good understanding before going any further. 
This article will present the most fundamental things of dropshipping, suitable for those who are looking for a novel way to make money online with little investment. But before we get dived in, let's take a look at what is outlined in this article:
What is dropshipping?

How does dropshipping work?

How profitable is dropshipping in 2021?

How to start dropshipping from scratch?

Common questions about dropshipping.
Now it's time to sink in.
How does dropshipping work?
That's what the customer sees, but what is dropshipping like behind the scenes? To help you have the clearest understanding of how dropshipping works, I will illustrate the dropshipping flow by taking the example of CatBuddie, a store dropshipping cat products.

Step 1: Order placement
Let's say you are looking for a cat bowl for your cute kitten. After shopping around online for a while, you stop by CatBuddie and place an order of a ceramic cat bowl from here. A second after your order has been successfully placed, you receive an order confirmation email including your shipment and payment information.
Step 2: Order fulfillment
The order fulfillment process will start immediately when the order information is forwarded from CatBuddie to its supplier.
Once the supplier receives your order details, it will start sourcing, packing, and delivering the ceramic cat bowl to your address. Your order will come with a tracking number that will keep both you and CatBuddie updated with its shipping status.
The dropshipping process is completed when the bowl successfully arrives at your location. 
As you can see, the dropshipping process is very short and simple, including just 2 major steps as above. The first step, product marketing to acquire customers, is sellers' responsibility. And the second step, product fulfillment, is the suppliers' job.
While sellers using the standard retail method have to take care of everything, dropshipping splits the workload, allowing each party to do what they do best. 
How profitable is dropshipping in 2021?
In 2021, dropshipping is certainly profitable.
According to Statista, retail ecommerce sales worldwide, including dropshipping revenue, amounted to $4.9 trillion by 2021, and e-retail revenues are projected to grow to $6.5 trillion in 2022. Online shopping is one of the most popular online activities worldwide.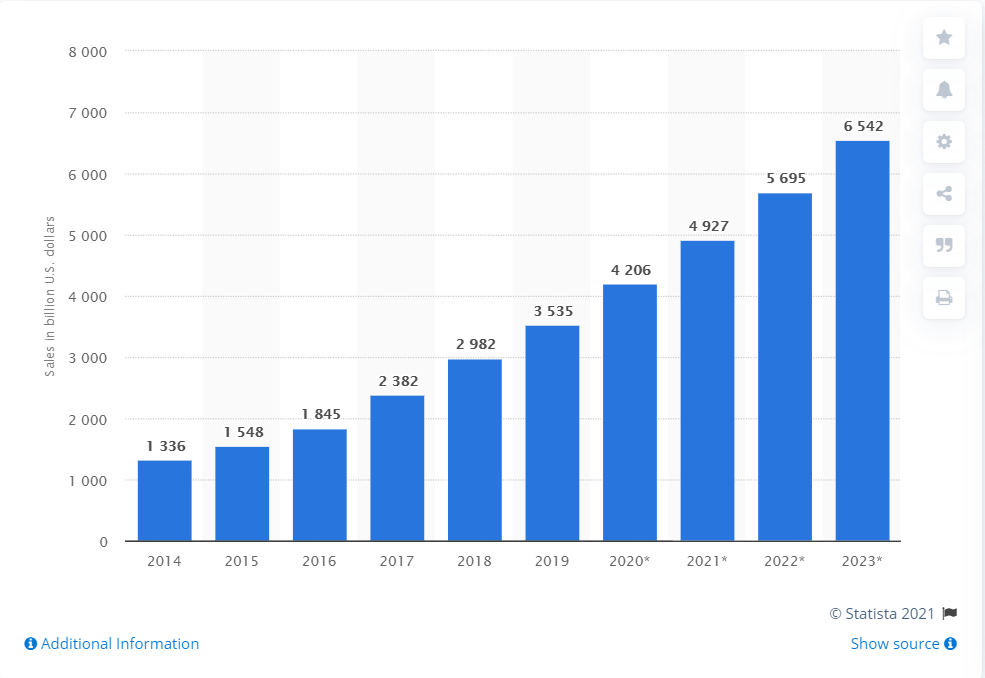 Retail ecommerce sales worldwide from 2014 to 2023 (in billion U.S dollars)
(source)
Moreover, small retailers are seeing a 22% increase in sales, from $2.91 trillion to $3.56 trillion dollars, through mobile phones.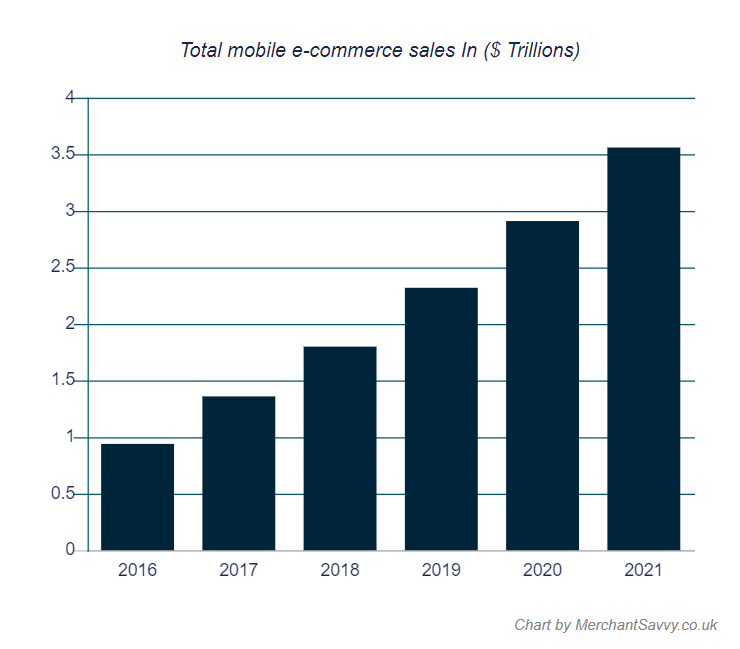 How to start dropshipping from scratch?
It will take you 5 steps to walk from nothing toward the very first sales from dropshipping, including:
Step 1: Select a niche that works
Step 2: Find reliable supplier(s)
Step 3: Create your storefront
Step 4: Drive traffic to your store
Step 5: Convert your traffic into sales
Let's dive in!
---
---
Step 1: Select a niche that works best for your business
Many sellers make the same mistake: selecting the niche that looks profitable from the outside.
In reality, the niches that seem lucrative and easy to step inside are highly competitive. Unless your business is backed by deep-pocket investors and/or superior marketers, you should consider not joining the game.
Instead, it is highly recommended that you spend time working on which niche you favor the most and have a good understanding of. As it is what you love, you will be willing to work on it without feeling depressed. And if you know it well, you will probably know your customers well, too.
However, a wise decision is a decision backed by data. Try to find some data to prove that niche is right for your business, such as:
Look for data from Google trend

Observe competitors' performance

Read reports on your niche's potential profit
Step 2: Find reliable supplier(s)
It is not easy at all when it comes to selecting who to do business with. If you are not familiar with dropshipping suppliers, I suggest you set or refer to a criteria list of what makes a supplier reliable, such as the following:
True supplier, not a middleman

Low minimum order quantity required

Product samples provided

Good-quality products provided

Good customer service provided

Clear return & refund policy provided.
It is a lot harder but not impossible to find the supplier(s) that meet all of the criteria above. However, their services must carry high price tags.
?  The complete guide to choosing the right suppliers for your dropshipping business!
Step 3: Create a storefront where your products are displayed
Today there are so many platforms with one-stop support for dropshippers, from store setups to store optimization. Big names are considered a safe bet among all, given their large customer base.
However, following the crowd is not always the right way to go. There is no one-size-fits-all solution for every single store that differs from one another. Therefore, just like choosing suppliers, it is highly recommended to evaluate different platforms based on a criteria checklist and then pick the one that checks the most boxes.
Below are the fundamental criteria that you can refer to:
User-friendly in terms of interface

Exceptional 24/7 user support

Multiple payment gateways supported

Automatic marketing tools and solutions provided

Individual-friendly in terms of pricing
? Check out how to select the ultimate platform for your dropshipping business!
Step 4: Drive traffic to your store
After all, traffic is the lifeblood of your business. More traffic means more sales.
However, generation traffic isn't easy at all. It's not hard to waste your time and money on the strategies that don't deliver good results. So which strategy you should take to grab more traffic to your site?
Paid social advertising
This is one of the most effective ways to quickly increase your store's traffic. Now you have quite a lot of options, such as Facebook, Instagram, Google, and Pinterest, TikTok, to have your ads run on.
In general, Facebook and Instagram ads are seen as the easiest yet most effective ways among all. They allow you to show ads to potential customers based on their interests, age, behavior, location and more. In addition to regular ads, you can make use of retargeting ads to target the customers who used to visit your size and increase the likelihood of getting sales from them.
Free traffic
If your budget is too tight to afford paid traffic, you'd consider optimizing your search engine ranking through the following activities:
Build a blog that contains viral content or adds value to your audience

Insert keywords in your product description

Exchange links with other sites that rank high

Cut down on your website loading time
Actually, this approach must require a lot of time and effort for manual tasks and won't bring instant results. 
Step 5: Convert traffic into sales
You are generating traffic, but you are not getting any sales. That is a huge problem.
Thankfully this problem is a fairly common one for e-commerce businesses and it can be solved if you put in more time and effort to:
Optimize your landing page
The landing page should be optimized to maximize your chance to convert them into paying customers. Such landing pages must be able to deliver the value which you promise to give the customers through your marketing campaign.
Make your website easy to navigate
Make sure your store is simple and well-designed, and easy to navigate without any hand-holding from your side. Only when customers find it easy to locate goods they are interested in do they continue searching, even when they've already found what they're looking for.
To get a well-navigated website, check the following checklist:
Hypertext is made obvious

Your navigation bar is streamlined

Sidebars are kept outstanding from the rest of the website

Footer is included

Website navigation is responsive on mobile devices

Buttons are left for CTA
Optimize your product pages
A great product page includes 4 things: your product, your brand, your copywriting and your page's design. To optimize your products, you of course have to optimize those things. However, here are some simple tips you can take to optimize your product page in no time:
Have a clear call to action (CTA). Do not try to complicate your CTA, or your customers will get confused and go away before figuring out what they need to do on your site.

Have great product photography. Unlike in-store selling, online selling does not allow customers to see, touch, taste, or try your products before purchasing them. It's why product photography really matters.

Have the right amount of

product description

. It shouldn't be too long or too short. Provide customers with enough details of your products, and organize them with a clear structure and hierarchy.
Optimize your checkout page
Create a professional and trustworthy look for your checkout page by matching up its design with the rest of your website. Besides, streamline your checkout process and require as little information from customers as possible. Moreover, consider using different methods that can help recover your abandoned checkout cases.
? Check out abandoned checkout recovery methods that are highly recommended!   
Common questions about dropshipping
Before getting started, let's check out some questions that most sellers frequently ask about dropshipping. Reading the following answers will help you get an idea of what doing dropshipping business might look like. 
1. Can I start dropshipping with no money?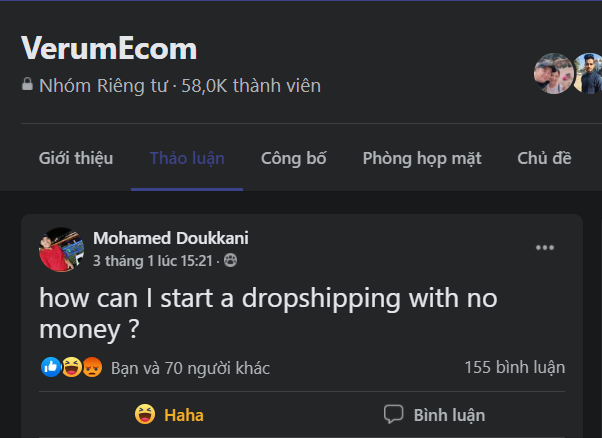 Actually, starting everything from scratch is a lot harder but not impossible. You will have to find a creative way to bring interest and value to your customers, and put more time and effort into manual work in order to reach some audience, instead of paying for advertisements like the majority of dropshippers do.
Everything is possible as long as you stay authentic and creative. Therefore, get creative and treat your store like a business, not a novel money maker. Focus on not only being better than your rivals but being 10 times better than them. Instead of burning money for Facebook ads, spend tons of time understanding your niche and what makes people tick.
2. How much do dropshippers make a month?
The average monthly income varies from dropshipper to dropshipper, depending on different factors such as niche, market trend, season, capital, etc.
In general, the profit margin of dropshipping will fall in between 10% – 40% per sales. And each dropshipper could make from $1,000 to $100,000 per month.
For exmple, from a newly launched store, Mary Humphrey could earn up to $30,000/month on average. Mary first joined the dropshipping niche in Feb 2020, and since then she has earned up more than $120,000.
? Listen to her successful story and deduct lessons for your own to start dropshipping and succeed!
3. How much does it cost to start dropshipping?
Online store
Estimated costs: $19/month
You absolutely need a storefront where your products are displayed and your customers visit. We obviously recommend you to create your store using ShopBase. As ShopBase will help you handle everything, there is no need for designing or coding skills. It will take you only several mouse clicks to have a high-converting store ready.
? Create your high-converting store with ShopBase right now!
Domain name
Estimated cost: $5-20/year
A bad domain name can turn the whole professional website into a scam one. Therefore, try to gain customers' trust through a domain name that is short, simple, and ends with .com.
Advertising
Estimated cost: Varies
Advertising is optional but most of the time dropshippers choose to rely on advertising for traffic generation. The most popular channels for advertising are Facebook, Instagram, and Tiktok. The advertising cost will scale with your business, which can vary from $100 to $10,000 per month.
Want to learn more?
Obviously, one article is never enough for you to have a good understanding of dropshipping. Therefore, I recommend you to sign up for a ShopBase account, by which you can get 1:1 support from our professional staff at any time. You will get accompanied on every single step that you take, and get every issue promptly solved by our customer support team.