ShopBase – The Best Shopify alternative: Ultimate Choice For All eCommerce Merchants!
If you are about to start to find a Shopify alternative, you've come to the right place. It's undeniable that the community of Shopify sellers is growing in popularity. But just because Shopify is a popular platform to build and launch an online store, it doesn't mean that this is the only option you have.
Sometimes, the eCommerce number one choice isn't the right choice for everyone, and there are always options for Shopify alternatives. Obviously, Shopify is still on the way to expand its position in the eCommerce world. Meanwhile, the statistics don't lie as people are still looking for the keyword Shopify alternatives on Google and this search rate keeps rising.
Google Trend of search keyword "Shopify alternatives" keep rising over time 
And you, have you ever been plugging in the search terms like:
Best Shopify alternative

Websites like Shopify 

Similar to Shopify 

…
You name it. We understand that when you're searching these terms, that means you've encountered some disadvantages about Shopify and need to find a different solution.
So read on if you want to know the main reasons why Shopify isn't the best option for everyone who wants to join the online industry, for both newbies and eCommerce experts.
TABLE OF CONTENTS
Why should ShopBase be your go-to choice?
—
Why Shopify alternative?
Even though Shopify is a dedicated eCommerce platform that is suitable for business of any size, catering for a wide range of industries to help you build your very own online website, it eventually still comes up with things that we really hesitate when using Shopify:
1. Shopify isn't SEO friendly 
When it comes to Shopify's SEO, it seems like there's a whole range of opinions on the topic. As you can see, most are unlikely to be satisfied with it. 
So here are the main problems that some of you might encounter:
It's difficult to edit the URL structure. The forced structure doesn't allow you to have the URLs on your own.
For example, on a traditional website, the URL link for a return page is more likely to domain.com/return, however, because of the force structure, this turns out to be domain.com/pages/return.
The same with the product or the collection page:
domain.com/products/product-title
domain.com/collection/category
This can be a problem when it comes to SEO optimization that helps you boost your store's rankings and display your store on the search engine results page (SERP).
Duplicate content caused by the tag pages. This can be fixed by installing an app however to make it quickly without manual optimization, you must know how to code.

 Locked Robot.txt. Shopify is not having any control over the robot.txt and you stuck with the Shopify configuration, which makes it hard for retailers who own large complex inventories.
Moreover, Shopify is not an excellent content management system so if you want to add a lot of rich content like videos, carousels, etc to make the most out of your store advertising strategy then Shopify is not a good option to get ready with.
2. Shopify limited variants
Shopify only allows you to display up to a maximum of 100 limited product variants. This cannot be enough when you want to expand your business and target different customer segments. 
For example, your product is a box that comes in different materials (wood, metal, cardboard), sizes, and colors. You could create 3 separate products: Wooden box, metal, and a cardboard box with 100 size or color variants each. Organizing your products this way means you'd be able to have 300 variants of a box instead of 100. 
This leads to the face you need to either split up your product or have a third-party app installation in order to add up to a large number of variants.
3. Customization is a hassle 
While Shopify only offers you with their demo stores, you still need to build up everything from the storefront to the checkout page, manually. You might also struggle with how to fully optimize your store to boost the conversion rate and get the first sale. This process, for beginners, could take more time than you ever thought of. You might need to spend from weeks to months to finish a complete store. 
And the worst case is if you don't make any progress with your online store, you also have to opt for hiring an eCommerce expert to help you get away with all the customizing complexities. And this option would take lots of money before you can even do anything with selling your products. 
The general process of creating an online store on Shopify
One more thing related to what I've mentioned earlier is that Shopify functionalities are not always an open-source solution and friendly enough that customers can do coding or to potentially change anything to the system.
4. The cost
We rundown the main point: Shopify pricing.
The fact is that Shopify costs money, both monthly subscription, and the individual transaction processing fee if you don't use the Shopify payments (which is not available in many countries in the EU or Japan, Korea, China, etc).  

Shopify also offers a Lite version with only $9 per month but this plan is only for the Buy Button seller and doesn't allow you to create a fully-functioned store.  
But there are more elements of its pricing you need to be mindful of: 
Shopify's advanced features come at a higher price.
 The basic package only offers the barest features to help you run an online business. It'll come to the point that you want to optimize and upgrade your store but those advanced features like gift cards, professional reports, etc need you to invest more on a higher-tier plan. This is also a problem for store owners who run their business on a budget or have more than one store. 
Third-party apps add-on fees
These include third-party apps or plug-in that you might want to purchase on the Shopify ecosystem to better your store. But the problem is that some aren't free as you have to pay to own it. 
These paid apps tend to boost the store's efficiency than most of the available features in the original store. Every element on Shopify stores needs to be optimized with additional apps, especially when you aim to focus on boosting sales and increasing the conversion rate.
So while these dropshipping apps are great for your store, this could cost a budget overrun (which are sometimes higher than the price of the Shopify package).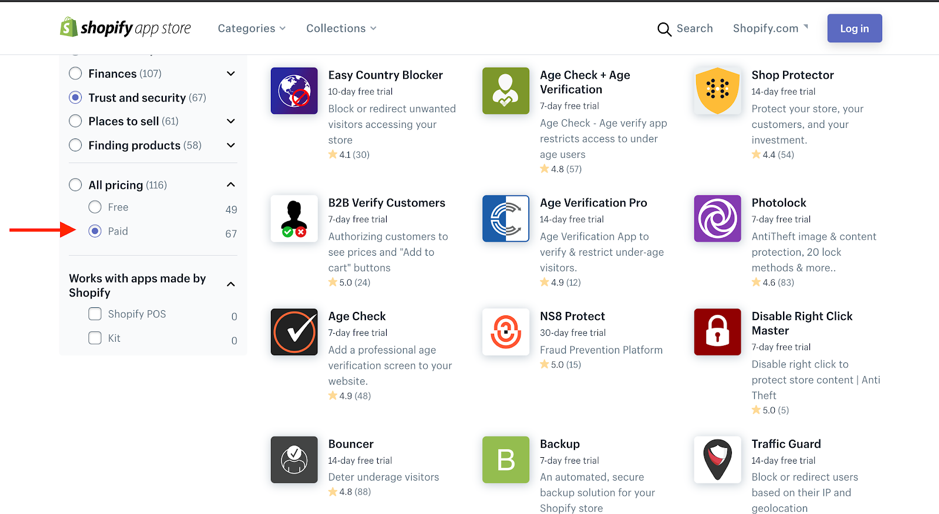 All these pricing points can be very confusing so you need to take account of these elements when comparing different packages to get your store ready, especially when you intend to extend your store on a bigger scale.
Shopify can be undoubtedly deemed as the most successful and popular eCommerce platform out there. But nothing is perfect and Shopify also has its flaws. So there you go, all of the pet peeves you should keep in mind so that you can have a close-up look at Shopify. 
In the end, it all boils down to the fact of what you're expecting about an eCommerce platform to match your business's needs and priorities. 
Why should ShopBase be your go-to choice? 
1. ShopBase key success
Built based on the background of Beeketing – a suite of marketing apps for Shopify stores, ShopBase was designed to loosen up the snags of merchants in dropshipping & POD.
During the time of running Beeketing, we worked with 170,000 customers, including Shopify users to have an insightful look into their problems from product quality, long shipping time, blocked payment to customer service, and all types of policy. 
From which, we got the idea of helping them out on how to improve their product to give customers the best shopping experience or how to reduce the dispute rate, etc.
But as soon as we realize that we've only resolved one part of the huge problem, we decided to dig deeper and look further into the bigger picture. That's when we created ShopBase – an open, profitable platform for all eCommerce players.
Debut in June 2019, ShopBase is one of the latest eCommerce platforms in the world. And it's also the first white-label, dropshipping, and print on demand (POD) platform out there. 
Despite the fact that ShopBase is still a rookie, it is backed with powerful features, diverse conversion optimization tools and… all the lessons learned from other platforms' inconveniences to give online merchants a perfect choice for their business. 
Store creator with the difficulty of use for beginners.

Hard to switch or duplicate stores

Low conversion rate with the lack of dropshipping tools to create a killer product page, avoid abandoned orders, design a high-converted checkout page, or apply up-sell and cross-sell techniques. 

Third-party themes and apps with extra costs and the risk of configuration conflict

Restriction on customization and personalization

A limited number of products and variants per product

Painful fulfillment integration: store management, inventory management, and shipment are not in one place.
With all these paint points well figured out, ShopBase is designed to loosen up the snags of merchants from the early stages to growth. 
In less than 9 months after launching, ShopBase has successfully generated more than 6,000 merchants and this number has no sign of stopping growing. Another thing noteworthy is that ShopBase stores' average revenue ranges from $20k up to an extra of $100k per month. And that's really impressive!
The question is what makes ShopBase so appealing to others. Without further ado, let's dive in and figure out all the unique selling points that ShopBase offers to all the merchants. 
Read Introduce ShopBase: All-in-one platform for White Label, Dropshipping and Print-on-Demand Businesses. 
2. How can ShopBase be better than Shopify?
– Powerful Online Store Builder
You want a super-easy way to create your print on demand website, build a dropshipping business at scale, have an online store without needing to make it from scratch, or want a store with high loading speed so your customers can have a better shopping experience? 
All-in-one feature? Sounds impossible to find something like that?
Don't worry, ShopBase Online Automated Store Builder got you covered!
Let's see how ShopBase Store Builder free you from all the inconveniences you may encounter when using Shopify:
You can view our ShopBase demo store for a better close-up look at how Store Builder can help you to build a fully customized and optimized online website.
Want to know more details about how this works? Read An insightful look into ShopBase Store Builder – The most innovative store builder in the world.
– No hard limitation on the number of products and variations
When it comes to selling a product online, it's all about appealing to your customers. The problem is that no customers are all alike because everyone has their own tastes of opinion and preference. For each eCommerce brand, this poses a question: how to sell the same product to different shoppers. This is where product variants play a decisive role. 
This is why ShopBase offers all merchants a large product variant. You can add up to 250 variants to a product and free to adjust settings for each variant.
Managing variations on ShopBase is fairly a straightforward process for registered ShopBase sellers. Also, you can edit many products at the same time with the Bulk Update feature. Quick and simple as that!
With eCommerce merchants, presenting such options as variants of one product improves how easy it is to navigate between the combinations of options.
ShopBase dropshipping demo store
Besides, providing wide options for product variants creates an opportunity of getting more sales. Product differentiation presented in an intuitive, compact, and single-page way enables customers to easily discover and compare various versions of a single product. This is an effective way of enhancing customers' responsiveness with a wide array of products or services in the market. 
From this, you can easily compare this to Shopify while they only allow you to display up to a maximum of 100 limited product variants. This cannot be enough when you want to expand your business and target different customer segments. 
– Built-in apps and conversion optimization tools
While Shopify requires you to charge your card with all kinds of fees when it comes to installing the necessary apps, including third-party providers to optimize your store, all these come built-in on ShopBase and the most important thing is that they are all available for FREE!
We've built the ShopBase platform with conversion optimization in mind because we know it's a crucial factor to keep your store going forward. So you don't have to worry about what you should do to optimize your store. Everything is already set for you!
So let's dig in a little bit deeper to have a close-up look with these apps, shall we!
SMS & email marketing
No matter how much traffic your store gets, if your visitors just take a window shopping and don't click the Checkout button and finish their orders, you'll make NO sales.
Even if you've got sales from your ads, but you do nothing to recover the cart abandonment, you may just break even. So reaching out to your customers and showing them how much you care for their shopping experience is the key to keep your business score.
ShopBase integrates automated email and SMS marketing as an ultimate solution to help merchants to boost sales up to 15% and recover 61.45% abandoned carts without third-party apps installation. 
Timely send

up to 3 emails and SMS

to customers after they have abandoned their checkout.

Easily customize the email template with personalized content and branded logo.
Advanced tools to boost sales
ShopBase comes with exceptional features to support your business as much as possible that you can't ignore to fully optimize your store.
Quantity discount

: This feature aims at motivating customers to purchase more by presenting them with irresistible deals.
Smart post-purchase upsell/cross-sell apps

:

Creating add-to-cart upsell offers may take too much of your time or may get too complicated for you, especially when you have many products on your site. These smart

features will automatically suggest offers to your customers based on their shopping history. Especially with

post-purchase upsell

features, your customers can freely add more products to their cart within a few clicks, and there's no need to add payment info again.

Personalized recommendations:

This recommends the most preferable products in your store by collecting your sales statistics. It helps encourage conversions and increase cart value by forming the site scope personalized cross-sell and up-sell suggestions. Customers love the feeling of being unique, and you're in charge of improving their shopping experience, which can actually make them loyal members. 
You can easily find these dropshipping apps in the ShopBase Apps store and effortlessly install them to your online store with just one simple click. 
One-page checkout: 2x conversions at checkout
It's a fact that many shoppers leave their carts undone because it's too complicated and asks them to do many steps to get their orders finished. The more time shoppers have to think over a purchase, the more likely they drop the cart. 
ShopBase One-step checkout simplifies the checkout process of your eCommerce store. It's one of the most effective technical changes ShopBase offers you to reduce your abandoned cart rate.
All elements of a standard checkout such as basket contents, shipping options, and payment information appear on one page only. This comes in handy and friendly for all user interfaces from desktop to mobile screen as more people are looking to shop online using their smartphone. 
The instant one-step checkout saves extra in the purchasing process of your customers which gives them the feeling of a better, easier mobile web experience, thus increasing your store conversion rate.  
Trust badges to increase shopping security
At ShopBase, we understand customer trust is always a big deal. Customers can make a purchase decision in seconds, so reinforcing your shop's strengths with clear trust marks is a must. Using trust badges, you're more likely to increase your sales to a whopping 42%. 
That's why we offer the easiest way to add trust badges to your store, including the product page and checkout page, available for all themes.
ShopBase trust badges
ShopBase helps to display the trust seals with these main criteria:
100% free to use with no hidden fee

No developers needed

More trust, more sales

Safe, not scammy
A quick, simple, and free Shopify migration solution
You have a Shopify store and consider moving it to ShopBase, but still, you're hesitating because migrating a store is never an easy task. If you're struggling with that idea, then meet ShopBase. 
There's no need for any technical knowledge, ShopBase gives you 3 effective ways to seamlessly import your products and sync data from Shopify to ShopBase using only one  ShopBase Migrate app.
The best thing about this 3-in-1 app is that it can help store owners to overcome a big hurdle without having to walk through too many complicated steps.
Connect your Shopify store to ShopBase

Import products from URLs

Move data with CSV files.
Note: Whichever the way you prefer to import products and sync data from Shopify to ShopBase, you can always preview the product list from the import List section. 
– In-house dropshipping agent 
CrossPanda is an exclusive dropshipping agent for you to rock sales. You can source anything with the highest product quality assurance at better prices. 
While a dropshipping plugin like Oberlo allows you to connect with Shopify stores only, with CrossPanda, you are free to fulfill your products with other platforms like Magento, Shopify, etc with CSV files and directly intergrate with ShopBase.

Here's what you can benefit when choosing CrossPanda as your go-to dropshipping agent:
Guaranteed fast shipping. Your customers will receive their orders after only

6-12 days

. For the US, our average shipping time is only around

6-8 days

.

Hands-free from inventory stocking & management with Chinese and Hong Kong local warehouses.

Real-time updates about inventory and order tracking status.

You'll be provided another tracking number for each order that shows only the US delivery tracking source.

All your orders will be packed in nice & non-Chinese-message packaging. Plus, you can pick up your brand trust with

custom & private label packaging.
---
New update
ShopBase team would like to launch ShopBase Fulfillment, an upgraded version of CrossPanda, to provide sellers with better fulfillment services. From January 2021, all ShopBase sellers who have their orders fulfilled by ShopBase Fulfillment will get:
Fast yet cheap shipping

Trending product ideas updated monthly

Cashback (gain up to $1/order)

No order processing fees required (save $1.5/item)

Access to a network of warehouses worldwide
---
– Extremely affordable pricing 
Last but never the least, ShopBase pricing plan is totally affordable for everyone, especially for those who are running their business on a limited budget. 
As I mentioned before, Shopify's biggest challenge for all eCommerce entrepreneurs out there is their overall fee. Even when their monthly cost may be reasonable for some merchants, it will quickly add up as you add more functionality to your website.
So compared to Shopify's, ShopBase is a much cheaper start for those who want to step in an eCommerce industry with only $19 per month.
ShopBase pricing plan 
Save more than 30% with ShopBase. 

Our

Standard

plan ($59/mo) includes more features against Shopify's plan ($79/mo).

Try ShopBase free for 14 days

with all features (no credit card required) and then choose a plan that best suits you.
Wrap up!
ShopBase is the all-in-one, modular solution for dropshipping merchants worldwide. It's a great choice if you're already having experience with dropshipping before and on your way to look for a Shopify alternative. Because once you're familiar with it, you just need to sign up for a ShopBase account and transfer your existing store to ShopBase, and it's done.
And if you're totally a newbie to all this, I hope you'll find something that amazes you here and inspires you to join the eCommerce industry. It's a world full of opportunity and ShopBase will help you to make the most out of it!
Are you ready to use ShopBase to start your online business? Or you're halfway through the decision-making process? No matter where you're now, we always assist you and your growing business. Feel free to contact us at any time