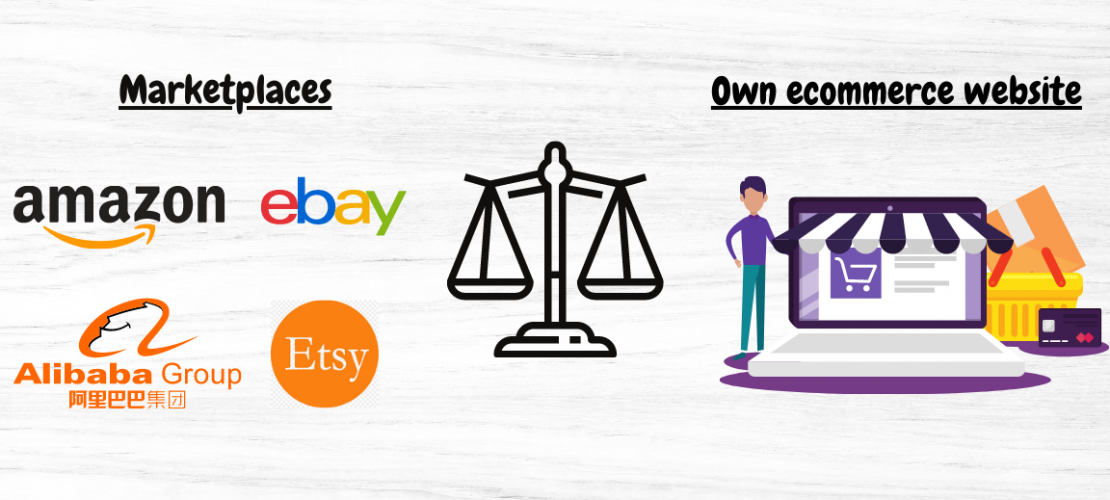 Selling on marketplaces vs. your own ecommerce website?
If you are about to kickstart your online-selling business, you might be battling with two options: sell on marketplaces or sell on your own ecommerce website.
Ideally, you want to make as much money as you can, but at the same time, you don't want to complicate things with selling on multiple platforms. It all comes down to one thing: Where to sell? Selling on marketplaces vs. your own ecommerce website? 
To help you make the most well-informed decision, this article will help compare these 2 options, then help you decide the best fit for your business.
The pros of selling on marketplaces
Let's see what drives so many sellers toward choosing big marketplaces over their own site.
Readymade traffic
Readymade traffic might be the greatest strength of marketplaces in the battle. Top companies like Amazon, eBay, and Alibaba are very well-established and reliable, and the traffic generated is … massive.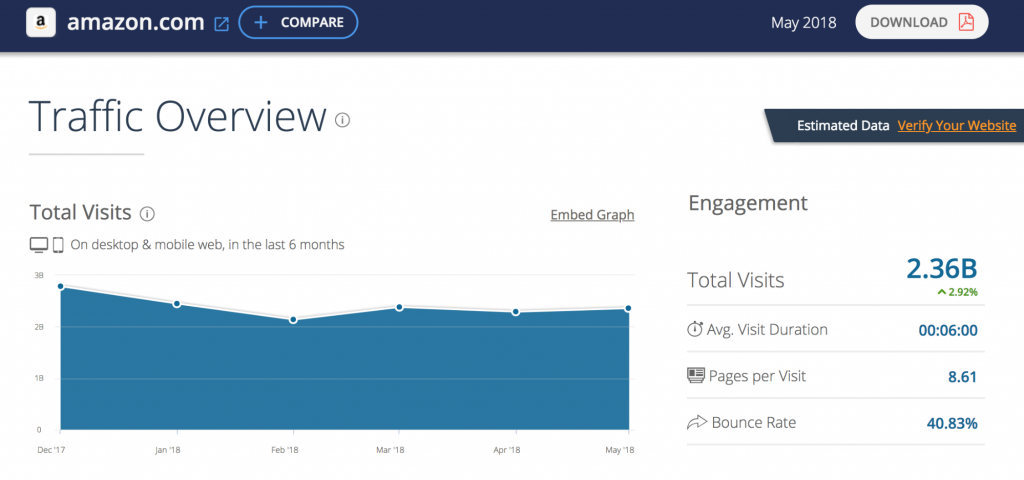 Total visits in the last 6 months of 2018 of Amazon: 2.36 billion
As reported by Statista, about 1.92 billion people made an online purchase in 2019. Also, sales on marketplaces accounted for 57% of global web sales in the same year, according to Digital Commerce 360 analysis. 
SEO-friendly
Big marketplaces hosting tons of online stores are often very popular and well-established. So they often rank high on result pages for popular search terms. As a result, your products are more likely to climb high up there for a keyword that is related to your product.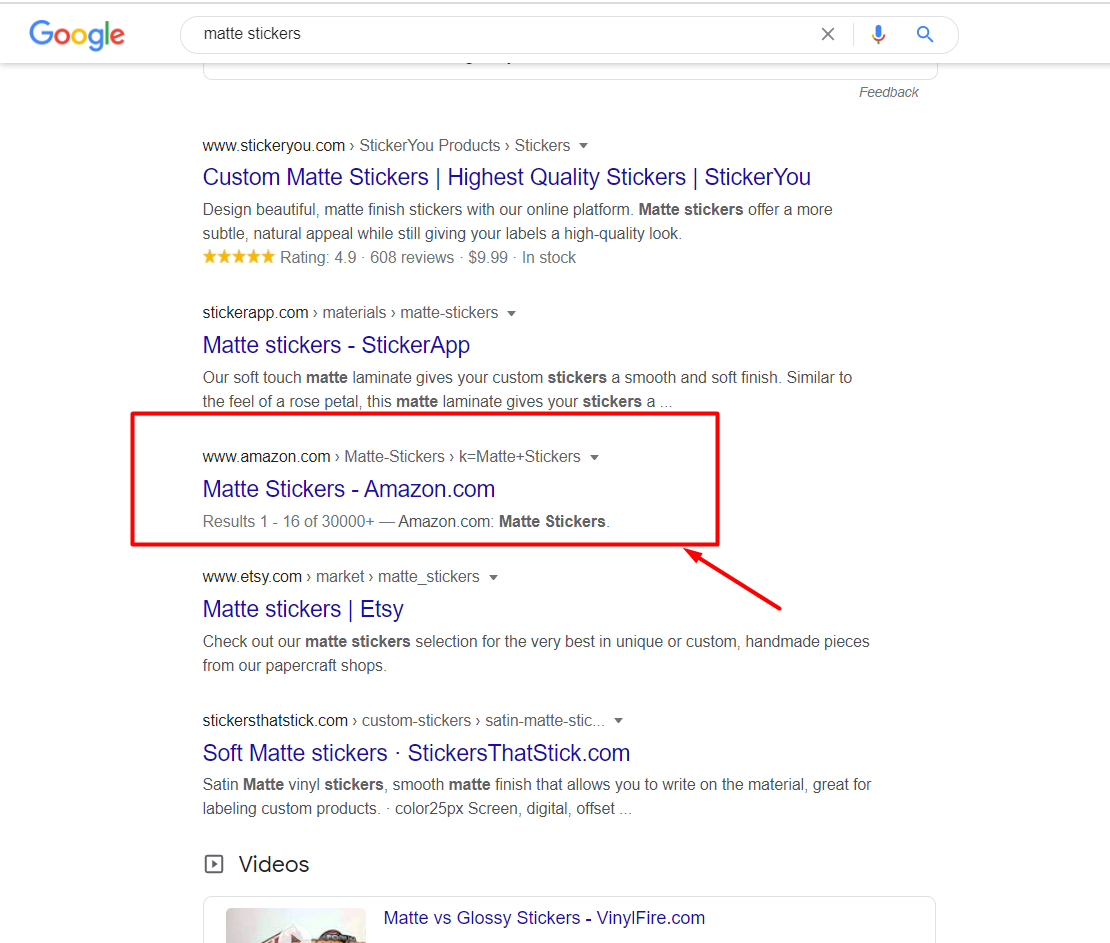 A product listing on Amazon ranks high on the product search result page of Google
Optimized mobile apps
In the era of technology, the majority of product searches and purchases take place on mobile phones.
According to

Buildfire

, 62% of people who own a smartphone have made a purchase using their mobile device in the past 6 months. 

35% of US consumers use only their mobile devices to buy online. 

More impressively, 42% of smartphone users plan to do more shopping from their mobile devices in the coming years.
So, a lack of a mobile-phone optimized interface will definitely hurt sales like hell. The ugly truth is that almost everyone knows it already, but not all of them can afford it. 
As marketplaces are rich in resources, they have built their mobile apps that are tailored to the latest customer preferences with regular updates based on ever-evolving technological changes.  The user base has been expanded, and the sales is more likely to soar.
What are the downsides of selling on marketplaces?
Although marketplaces come with major benefits to online merchants, it's important to remember it can cut both ways. 
Selling fees
Obviously, there is no free lunch. Huge traffic comes at a high price.
Amazon: Just with one individual seller account (no more than 40 units sold per month), you actually pay 3 types of fees for each sale.
Referral fee: 15% of sale

Variable closing fee: $1.35

Per item fee: $0.99
Let's say that you sell a mug at $4, you'll pay $2.94. So, what's left on the table?
Etsy: At first glance, Etsy seems to be a good deal for you as it charges no monthly fee. However, fees quickly stack up over time. You have to pay a listing fee of 3,5%, re-listing fees, and direct checkout fees. Before long, you're eating into your profits.
eBay: eBay charges sellers 2 fees for basic listings.
Insertion fee: 35% per item

Final value fee: 10% of sale

If the customers pay by PayPal, it usually takes 2.9% of the total sale price, plus 30% per transaction. 
Fierce competition
Selling on big marketplaces is always very competitive. It's because each product search up there can get up to thousands of results, coming from hundreds of different stores. So, it might be a pain to figure out how to make your item stand out from the crowd. 
Even when your product comes with superior quality but at a high price, most customers would walk away.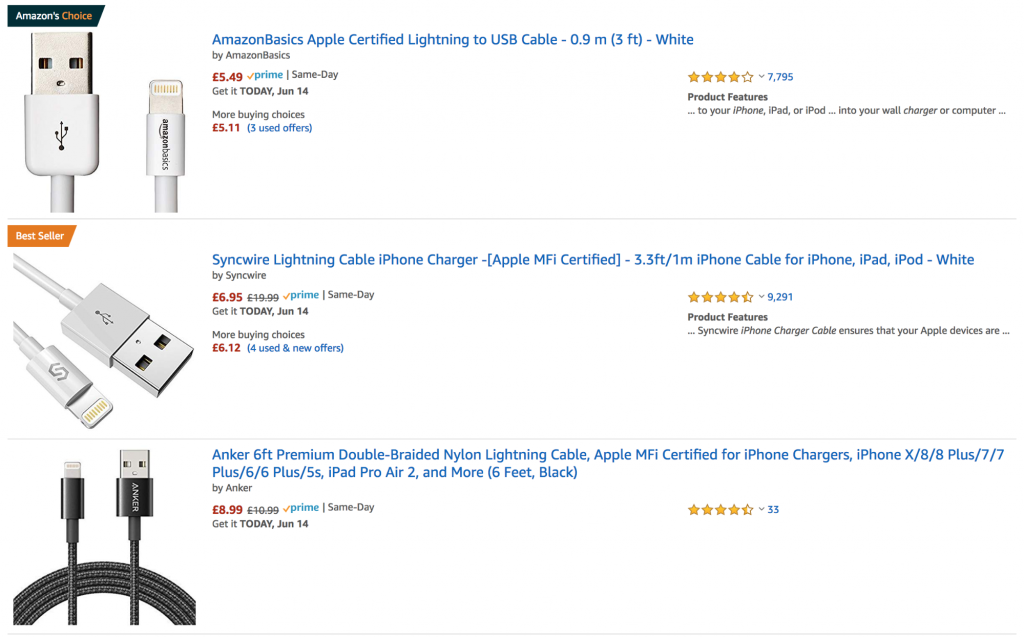 A search for iPhone chargers has different results. Top results come with good prices and high ratings.
No direct contact with customers
It's great you have items sold out, but a stable business needs more than just one-time customers. It requires a long-term relationship between you and your buyers.
However, selling on marketplaces doesn't get you that. You have no idea who your customers are while running your business up there. As a result, there is no mailing, no customer loyalty program, and no customer retention rate. You can't take advantage of past purchases and rely all on new sales, which means more reliance on marketplaces.
That's the way the selling-on-marketplaces game goes, and it does go against the well-known business philosophy: it's way more efficient to retain a customer than it is to get a new one. According to Invespcro, it costs 5 times as much to attract a new customer, than to keep an existing one. Besides, existing customers are 50% more likely to try new products and spend 31% more, when compared to new customers. 
Un-Customizable templates and themes
You can't customize templates and themes of your store on marketplaces. Upon first glance of online shoppers, your store looks just like others. There is no big difference. So the problem is, how can you outplay competitors while running a store looking just like millions of stores up there? 
That makes it hard for you to leave a great impression on the mind of your shoppers. You're at your wits' end trying to highlight best selling products or running promotional campaigns.
Get banned easily
When it comes to disputes, marketplaces are often biased in favor of customers. So, if you can't bring out convincing explanations, your store might get banned anyway. 
The primary reasons that can drive you directly to the marketplaces' blacklist are:
Bad customer service

Delivery issues

Low product quality

Soliciting for good reviews

Copyright infringement

Selling prohibited products (of course)

Canceling orders

Inaccurate listing information
The deeper we dig into the option of selling on marketplaces, the more we see that it isn't as easy as it seems. Yet the options list doesn't end here, so let's take a look at the other choice to see if it's better for your business.
What are the benefits of selling on your own ecommerce website?
No more fees to pay
If you sell on your own website, there'll be no listing or sales fees, and no limits on how many units you sell. Subscription and transaction fees may be your only recurring costs. Well, this shouldn't be a burden since there are so many ecommerce platforms offering all-in-one dropshipping/print-on-demand solutions at very competitive prices. 
Take ShopBase as an example. You are totally able to open your store right away at only $19/month. ShopBase's transaction rate is only 2%, far lower than Amazon's (15%).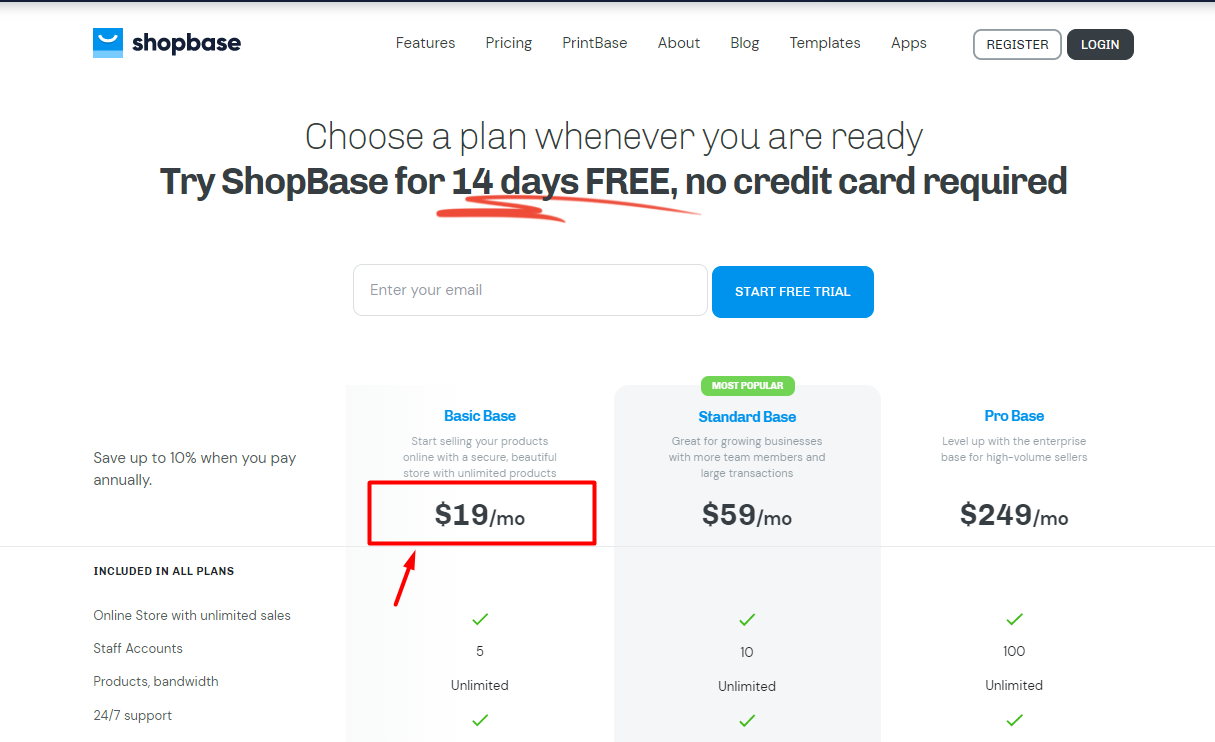 With just $19/month, you are free to sell everything you want on your own e-commerce website
>> Open your own e-commerce website right now with ShopBase at just $19/month!
Better brand entity
Although getting yourself set up on marketplaces is quick and easy, positioning yourself as a brand is much harder. Customers buying your stuff via marketplaces may never bother what your brand is, it is simply an Amazon bought product.
Things are different when you sell on your own ecommerce website. It's much easier to highlight your products, display them in style, and secure your brand loyalty. 
Direct contact with customers
Once customers check out on your site, you have their database in the palm of your hand. That database allows you to nurture the relationship between you and them, recover lost sales they might've missed before, and personalize the shopping experience to push them to buy more.
To be more specific, when you have a database of your own customers, you can:
Personalize through customer segment

Increase revenue through customer loyalty

Collect customer feedback

Create relevant communications between customers and brand

Retarget potential visitors

Test new ideas (in terms of marketing campaigns or products)

Own your own distribution channels
Upsell/Cross-sell techniques
Selling on your own ecommerce website allows you to apply upsell and cross-sell techniques to increase your average order value/items (AOV/AOI). It's a win-win strategy, when your customers get what they need, and your revenue increases.
There are many ways to make use of those techniques, but the most popular ones are product suggestions and discounts. It's sure applying these techniques to your store helps transform the revenue, but doing it manually is definitely a grave misstep. 
On ShopBase, every single store is able to be integrated with Boost Upsell, a free and powerful app that automatically runs different upsell/cross-sell techniques for you like it was nothing.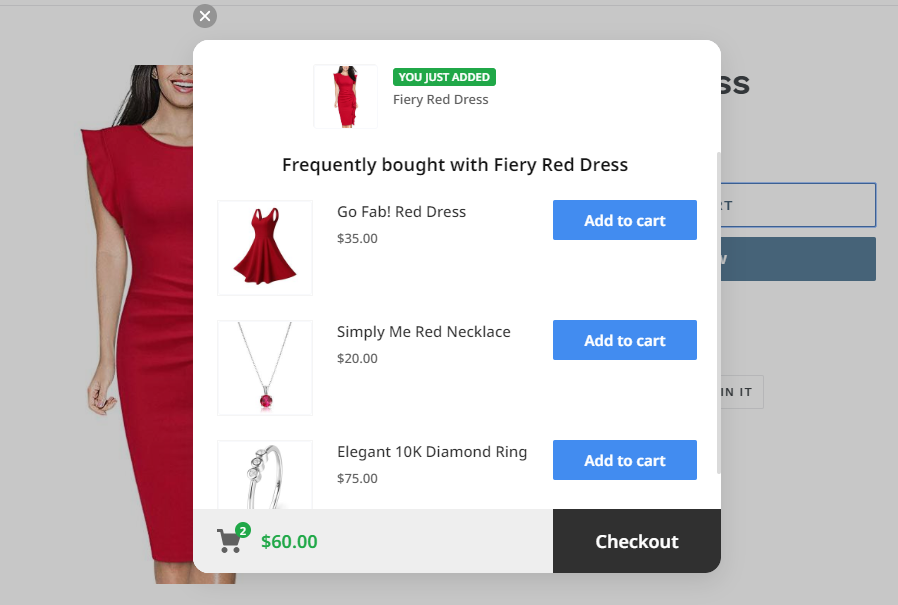 Automated product suggestion feature of Boost Upsell app of ShopBase
Customizable themes and templates
The old saying "Don't judge a book by its cover" doesn't actually work with online selling experience. Online shoppers have so many shopping options, so it takes them only one glance to decide to stay on a website or not. That's why if you don't make a good first impression, not many people will hang around and dig deeper. 
Selling on your own ecommerce website allows you to decorate it the way you want. With a good-looking and unique appearance, your website will grab your customers' attention in no time. Also, you can change it overtime to make the most of your promotional campaigns, for example, holiday-themed campaigns.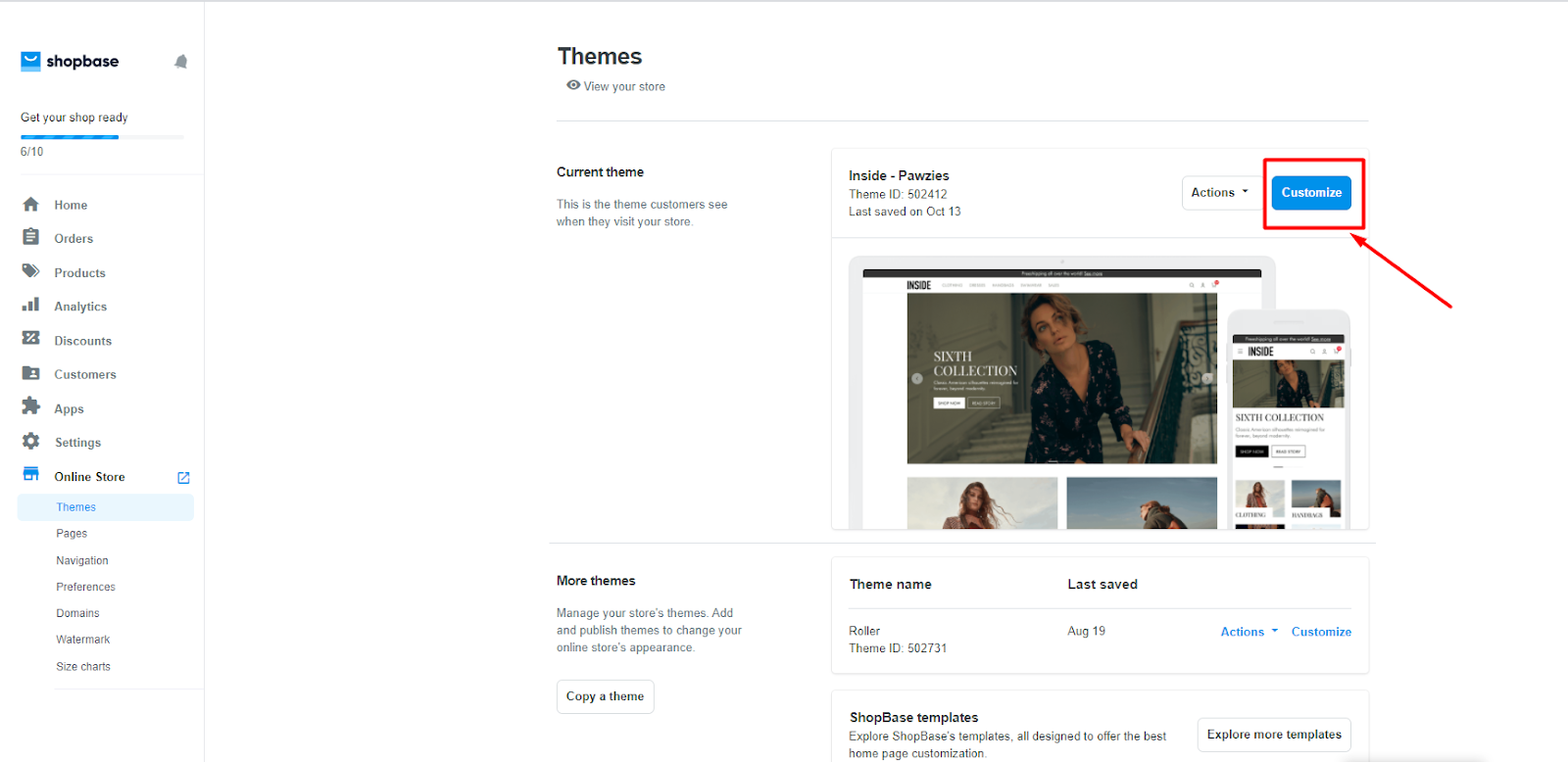 Customize your store theme on ShopBase
On ShopBase, you are totally free to modify your store theme according to your own preferences. 
Besides, we also have 12 pre-made templates that are fully optimized to soothe your customers' shopping experience.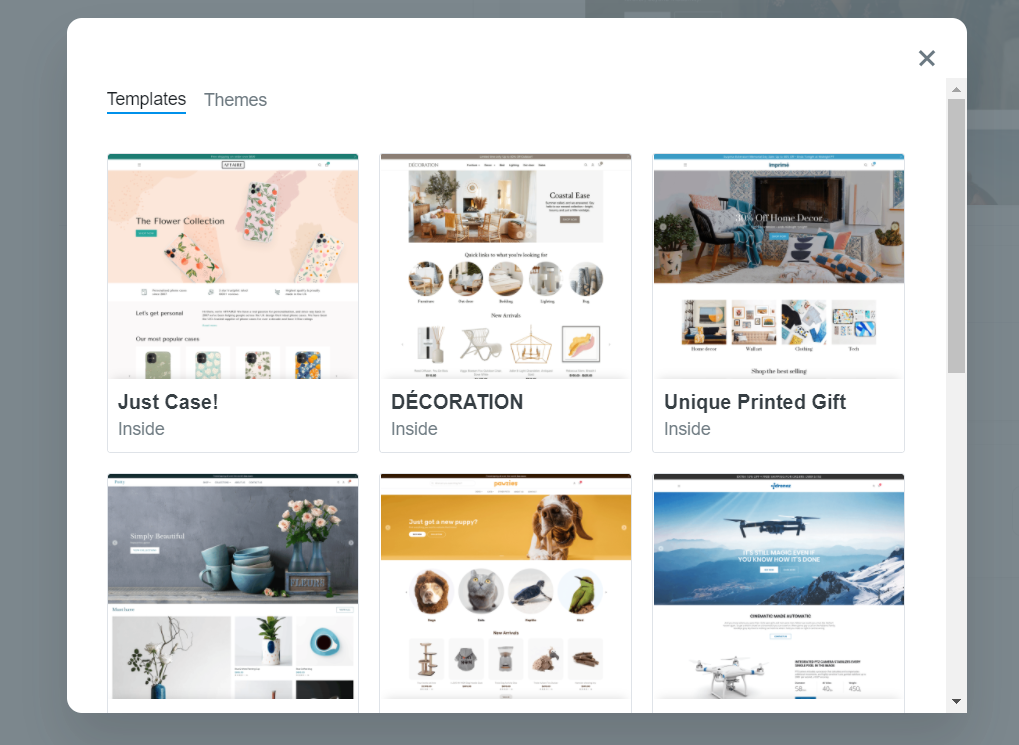 ShopBase library of pre-made templates and themes
What are the downsides of selling on your own ecommerce website?
Cost issues and time constraints
We go in and out hundreds of websites per day, but not all of us know how they were created. So, if you are thinking of building a fully-optimized website to make the most of traffic, you'd better hire an expert to save time. But in turn, the cost is pretty high. 
The cost can vary dramatically. It can be $100 for a full website built by an IT freelancer, but it won't come with the same quality and functionality as one built by a professional agency that charges $3000-$5000.
Besides, a fully-hosted professional website can't be built overnight. A project like this will take weeks, or even months, multiple revisions and edits, as well as your input before it is fully complete.
Fortunately, with the rise of e-commerce platforms and powerful tools, it has never been cheaper and quicker to get a site up. It is sure that you won't run into technical or cost issues if you choose the right e-commerce platform for your business.
If you are looking for a cost-effective and time-saving solution to start your online selling business, try ShopBase for free now!
Traffic generation from scratch
It is good to have your own online store, but what is the point of having a well-designed website but no one seems to know about its existence? You need to get people to visit there, thus encouraging them to buy your items to make a profit. However, that might be difficult if you don't have sufficient marketing expertise.
Don't know how to drive traffic to your dropshipping store? Learn  20+ ways to drive traffic to dropshipping or print on demand stores (free & paid)
Unfortunately, visitors won't magically flock to your site. It requires huge marketing efforts that go into setting up the right campaigns to get the word out. You have to know, learn, and pay for the expertise.
Final verdict: which one is better?
It is hard to say whether selling on marketplaces or selling on your own ecommerce website is more beneficial. It depends more on your own business goals, preferences, and many other factors. But it is certain you can take advantage of both strategies to fire up your business.
If you want to generate serious profit, you definitely should use both strategies and work on a hybrid approach where you have your own ecommerce website, but also make use of the traffic provided by big marketplaces.
Of course, juggling too many balls in the air might backfire sometimes. So, make sure you have the manpower to handle all the works involved.
However, in the long run, heavy reliance on marketplaces isn't a good way to go. If you want to scale your startup business to the next level, you'll need to think of selling on your own thoroughly. Doing so will put you in a good position to dominate whatever products you sell.
>> Create your own e-commerce website, and sell every single thing you want with ShopBase right now!