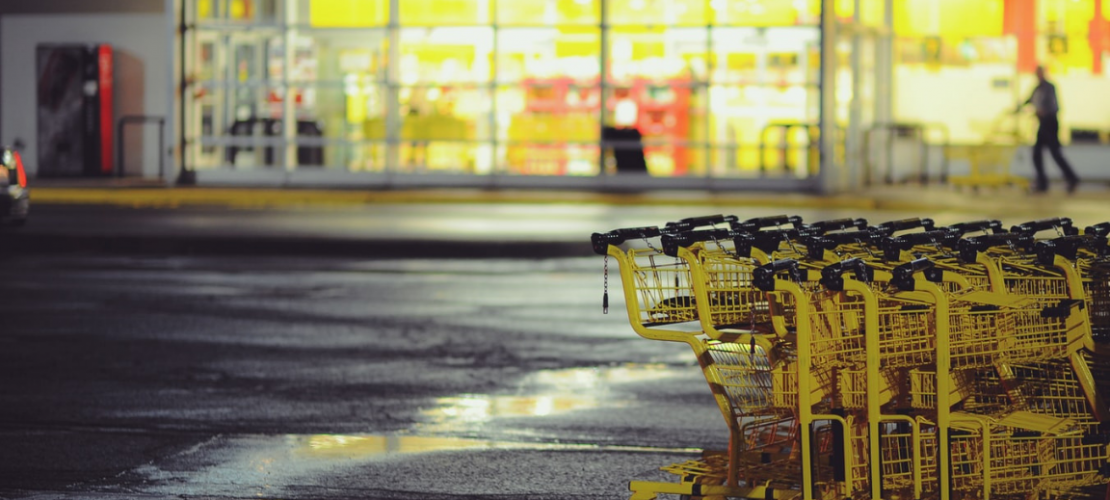 13 Super-effective Ways to Recover 30% of Abandoned Cart for Dropshipping or Print on Demand Stores
75.6% of the shoppers walked around your store, added things to their shopping carts, and then walked out without buying.
In other words, for every 10 shoppers that put an item in their cart, about 7 of them will leave your store before completing their purchase. 
Bad? Sure. 
The biggest problem of every dropshipping or print on demand (POD) store can be abandoned cart. 
No matter how much traffic your store gets, if your visitors don't click the Complete Checkout button, you'll make NO sales. 
Even if you've got sales from Facebook ads, but you do nothing to recover cart abandonment, you may just break even. 
This problem worsens with every passing day, making it even more acute.
That's why it's time to make all efforts to win back customers and reduce your cart abandonment rate. At all costs. 
Don't know where to start? 
Today we'll show you 13 super-effective tactics that 6-figure stores are using. Apply them to slay the monster of abandonment and get more revenue than you thought possible.  
Let's get it on. 
Be in the know: Why shoppers abandon their cart
The reasons are many. Maybe the phone rang or they got distracted with your cute Facebook video or they were just flat broke until the next paycheck. Maybe they felt frustrated with the extra shipping cost that came in the last steps of checkout. 
According to Salecycle, there are 5 common reasons why shoppers leave a store after adding something to their cart: 
1. Unclear shipping times and costs
Shipping is the major reason why people abandon their cart.
They leave a store due to "expensive shipping", "no free shipping", "unexpected shipping costs", and "slow shipping".
Shoppers don't like sticker shocks. They want everything to be clear and straightforward. You should talk the talk and walk the walk.  
2. Poor website experience
Cart abandonment isn't just about what happens at the checkout page. It also involves the overall shopping experience in a store. 
You can't possibly convert visitors into real customers if your store has:
Poor site navigation: Shoppers can't search for a product they want. The search feature doesn't work.
Site crashes and slow loading speed: If your site doesn't work or takes a long time to load, no one will stay. 
No mobile optimized: 79% of smartphone users have bought online using their devices in the last 6 months. It's terrible if your store isn't mobile optimized, doesn't work well, or doesn't load quickly. 
3. Feel insecure
Everyday shoppers are bombarded with information about credit card fraud and online scams. So, it's natural if they feel insecure and suspicious the first time they go to your store. 
They don't know who you are. They don't know where you come from. No reviews, no testimonials, no certifications, how could they can trust you? 
If you can't give them a sense of safety to shop your store, you'll lose them. 
4. Checkout annoyances
People don't want to create an account before buying. Research studies agree it's an issue. 
Also, long, confusing, and complicated checkout processes drive shoppers away. You've given up on difficult checkouts before, right? Your store visitors are the same. 
5. Payment problems 
"I want to pay via credit card, but I don't see it in the list."
"My credit card is declined."
"I don't trust your payment information." 
Remove all of these obstacles, and your shoppers will have confidence to enter their card details and complete the checkout. 
—–
Now you've known major problems you have to deal with. Move on to discover solutions. 
13 surprising tactics to reduce abandoned cart
Take a look at all of the following techniques and A/B test before you permanently implement them. Don't rush!  
1. Optimize your store for mobile devices 
This should be the first step in your cart abandonment strategy. Ensure your value is well delivered to shoppers and minimize the inconvenience that causes them to abandon their cart.
Here's how:
No side to side scrolling. Stack everything vertically. Use mobile-friendly navigation, which lets shoppers tap, pinch, and zoom rather than having to click.
Integrate a fixed header bar in your mobile store to keep important pages like Collections and Products always in view. This way, shoppers can easily navigate through your store.
Write product description that sells, not tell only. Use bullets to emphasize key benefits and make use of GIFs, videos, photos to show shoppers what your products look like and how they work. 
Provide a seamless checkout experience. For example, create a single one-page checkout, support automatically complete fields and show a progress indicator during checkout. 
Simplify the layout and remove complex functions. Use Test My Side by Google to test your mobile store for load time. 
2. Include product pictures at checkout
Let's say you don't show product images in the checkout page. Then, your shoppers have to go back to the cart to check whether the items they've selected is in place. This means more clicks, more time, and more frustration, which is unnecessary. 
The solution is displaying product images in the product page, in the cart and the checkout page. By doing so, you can remind shoppers why they want the item, keep their motivation high, and encourage them to complete their purchase immediately.  
Here is an excellent example:
Be sure your product images are of high quality because online shopping is all about a highly visual experience.
3. Be clear and honest about shipping 
Sticker shock refers to the situation when shoppers are shocked by a high price or a drastically increased cost. They may love unexpected rewards or gifts, but they hate surprises at checkout.
The easiest way to fix this is to be clear about everything from the start. 
Disclose all costs the minute shoppers get to the product page or at least the cart page. You can even add a shipping calculator to estimate shipping costs and minimize surprises later on.
If you offer free shipping for all orders with a $50 threshold, mention it on a smart bar at the top of your pages, like this:
You can use tools like SiteKit to create a shipping bar for your store. 
You can also create a separate page to show all the information about your shipping, refund, and return policies. This is what many 6-figure dropshipping stores do to build trust with their customers. 
Always keep in mind that being transparent can help you in many ways.
4. Don't ask customers to create an account 
Forcing shoppers to create an account can benefit your store. But if you do this, they can drop their cart like it's hot and leave your store without a second thought.  
Once shoppers decide to buy, they want the checkout process to be easy. This should also be your goal. Requiring registration can interrupt the shopping experience. 
The fourth tactic is as simple as enabling guest checkout. 
You can allow guest checkout on all popular eCommerce platforms: ShopBase, Magento, BigCommerce, WooCommerce, Shopify. 
But there is a drawback if you just stop there. Email addresses can only be used for shipping notifications, not for marketing purposes. You can't send customers your newsletter, sales promotions, or shopping cart notifications. 
Luckily, you can tweak the tactic to capture emails – which is sneaky and ethical to do. 
Rather than asking shoppers to create a customer account, give them an option to add themselves into your email list. Here is a good example from Modcloth. 
The brand also includes a link to their privacy policy to explain how they collect, use, and share shoppers' personal information. Smart!
5. Show exit intent offers to entice shoppers
An exit intent popup will appear when a shopper is about to leave a store. The popup can offer something valuable, like a promo code, a discount, or a gift. 
It's easy to create and set up for your store. There are many apps that you can use, for example, Checkout Boost.
To level up your exit intent popup, you can make it gamified using SiteKit. Then, shoppers will be invited to a play-to-win game. 
1.05B people are hunting discounts, coupons, and offers. Don't miss this opportunity. 
6. Automatically apply for a discount code
Shoppers love free things. And, if you can give them something for free in an unexpected way, the result can be greater. 
That's why you should try to create automatic discounts. Shopify allows you to do this. Once customers add eligible items to their cart, the offer will be applied automatically. 
When shoppers go to the Checkout button, they'll see the Independence Day Promotion discount automatically applied to their cart. 
7. Use popular payment gateways
As a dropshipper, you sell products to people from all over the world. Hence payment methods are crucial. 
You should use popular gateways, like PayPal and Stripe. Your shoppers may be familiar with these gateways, so they can trust you and continue to make purchases. 
When a shopper is in your store, and he can't use his credit card to buy, he'll more likely close your store and look for another one. It's like a slap in his face. 
The easier it is for shoppers to buy your product, the easier it is for you to make sales. 
8. Add social proof
Using social proof proves that your product is worth shoppers' time and money. 
Here are some ways to do this:
#1 Add reviews and ratings to product page. To make use of reviews, you can create a single page for those reviews. Basically, a Review page is a page on your site that shows all customer reviews. 
#2 Level up reviews with images. This is practical and useful, especially for dropshipping and POD stores. 
#3 Show testimonial videos. They provide a more human and authentic connection than any typical promotional videos.
#4 Show social share counts. Add share buttons to your store to show the number of times your product has been shared over social media.
#5 Show live sales notifications. You can use tools like Sales Pop to do this.
9. Apply urgency and scarcity 
If you want shoppers to complete a purchase instantly, add urgency and scarcity. It works.  
For dropshipping and POD stores, we recommend you apply the following: 
#1 Show a countdown timer on an exit-intent popup or an optin form
#2 Show a countdown timer on the product page
#3 Add a countdown timer in the checkout page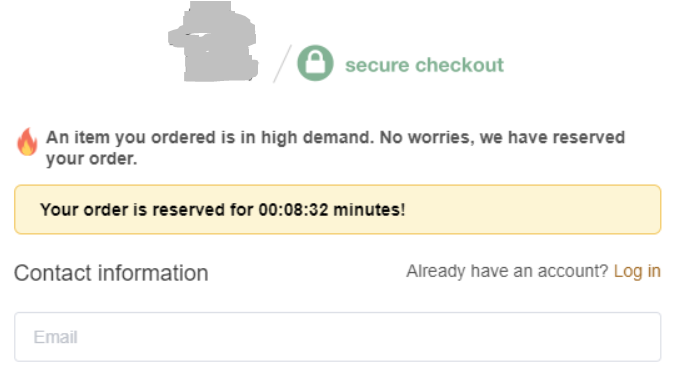 #4 Show low stock warnings
#5 Offer a discount if shoppers "Checkout Now"
Great, right? Let's keep going. 
10. Use web push notifications
Web push notifications are short messages that show on your shoppers' screen. You can use them to announce your sales promotions or retarget abandoned customers.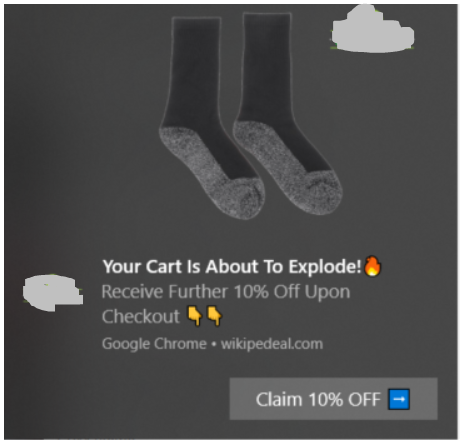 To reduce abandoned cart, send push notifications as soon as possible, perhaps within 30 minutes since they leave your store. Never do this a week later since shoppers likely forget the product or the site they found it. 
Keep the following in mind when using push notifications:
Don't send them too many times a day. Shoppers may feel annoyed and disturbed. 
Keep the notification short and straightforward. For example, "Hey, you forgot something".
Add a sense of urgency. For example, use words like 'hurry', 'now', 'today only'. 
Don't send the same notification day after day. Mix up your notifications. One day you might offer '50% of X in your cart'. Another day you might offer 'Buy One Get One Free'. 
11. Run Facebook retargeting ads 
You can run Facebook retargeting ads to engage shoppers after they've left your store without buying. 
When doing this, remember:
Exclude all customers who already bought from you.
Give away a sweet discount or gift.
Write a compelling Facebook copy. 
Use Facebook videos to show viewers how exactly your product looks like and how to work with it in real life.
Click here to learn more about how to create an effective Facebook video ad.
12. Send abandoned cart emails
Some guys have been using an abandoned cart email sequence to recover their sales by 20-30%. You should try to do that. It's awesome! 
To have a successful abandoned cart email campaign, mind these:
Send emails within 24 hours after shoppers abandon their cart. 
Show the product that they forgot. Add a link directly to the product page. 
Offer an exclusive discount or gift to encourage them to complete their purchase. Sometimes, an offer is a convincing reason why they should make a decision NOW. 
Focus on safety, security, and a friendly reminder.  
13. Provide instant customer service
Offering support at the right time can help the sale. Shoppers may have a problem adding an item to cart or completing an order, and they need your help. 
You can:
#1 Install a live chat app like Quick Facebook Chat on your store. Then, shoppers can talk to a real person about their issues. 
#2 Provide a FAQ so shoppers can troubleshoot errors themselves. 
#3 Show contact information like your email or phone number in the smart bar at the top of your pages. This makes it easier for shoppers to connect with you if they have questions. 
Your turn
Now you may be eager to take action to reduce your abandoned cart. But let us tell you this (honestly):
There's no such thing as 0% abandonment rate. 
It's a fact. 
Some shoppers will abandon their carts. You have to accept this. 
But (again), don't think this as an excuse to give up. Instead, try to apply all of the tactics above to recover your abandoned customers. You'll win some back, and it's worth doing your utmost.