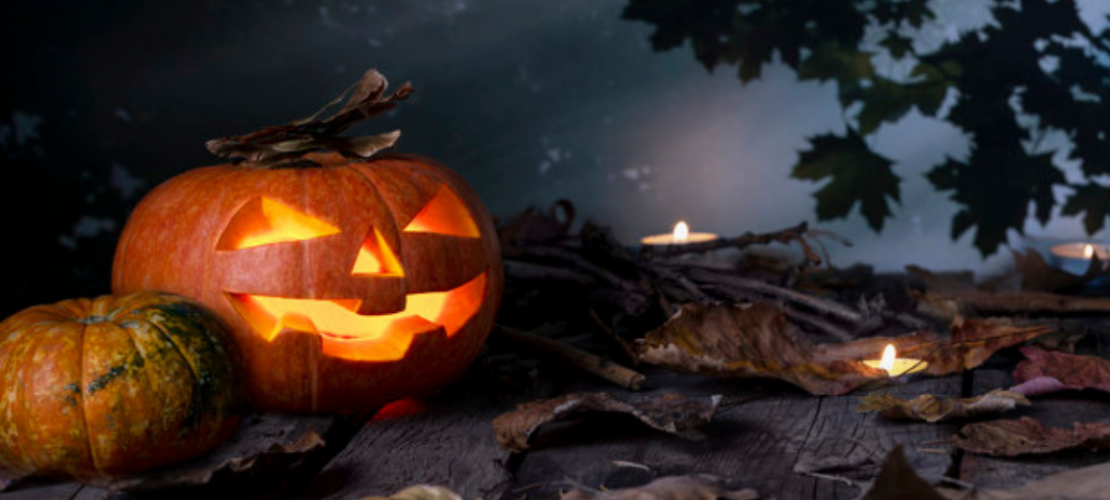 5 Hot Dropshipping Products for Halloween

Here comes a spooky time of the year again. Everyone is excited to shop for some scary yet funny costumes or do some pumpkin decorating. Not only consumers are eager about Halloween but online dropshippers also look forward to this occasion to sell some profitable products and boost their revenues. That's why eCommerce retailers need to catch up with the latest trend and research ideas for Halloween products to fully meet shoppers' high demands this season.
Worry because you haven't prepared any plans for this? Or still struggling to find hot items to surpass your competitors? Think no more! We've got you covered. In this article, we have gathered up the best 5 dropshipping products for Halloween that are sure to be a big hit, no matter what your plans are.
Let's get into this list!
---
New update

Understanding that handling a large quantity of oders during Halloween must be daunting and frustrating, ShopBase team would love to introduce you to our ShopBase Fulfillment together with its new package.


ShopBase Fulfillment (previously known as CrossPanda) is an in-house dropshipping agent of ShopBase, which supplies millions of products in 40+ niche categories for 50k+ sellers of ShopBase. With the new package introduced in January 2021, all ShopBase sellers who have their orders fulfilled by ShopBase Fulfillment will get:
Fast yet cheap shipping

Trending product ideas updated monthly

Cashback (gain up to $1/order)

No order processing fees required (save $1.5/item)

Access to a network of warehouses worldwide
---
Why Halloween is Important in eCommerce
While Halloween celebrations vary across the world, the common denominator is that consumers all over the globe shop online to partake in the Halloween festivities. In fact, in the U.S. alone, the total spending for Halloween is foreseen to reach $9 billion this 2018.
According to the National Retail Federation's (NRF) annual survey, this year's forecast is the second-highest spending in the survey's 14-year history and still on par with 2017's spending record of $9.1 billion.
In the same survey, consumers are planning to purchase $3.2 billion worth of Halloween costumes (68% of Halloween shoppers), $2.7 billion worth of decorations (74% of Halloween shoppers), $2.6 billion worth of candies (95% of Halloween shoppers) and $400 million worth of greeting cards (35% of Halloween shoppers).
The growing number of consumers planning to participate in the Halloween celebration means a good business opportunity to invest in hot dropshipping products for Halloween.
Halloween Products for Dropshipping
This year, we investigated the trends and highlights in several data and surveys to help online store owners build and continue on increasing shoppers' excitement and meeting customers' demands for everything, from costumes to candy during Halloween.
There are several product niches that eCommerce stores can take advantage of during the Halloween season. Here's a list of the most popular items during Halloween together with some trusted dropship suppliers to get them:
1 – Halloween Costumes
Halloween costumes have always been a staple during Halloween. While they began as sincere tributes to saints, this tradition has already evolved over time. Now, you can already dress up in scary-looking garb to spook your unsuspecting neighbors or don your favorite superhero outfit.
Halloween costumes can be anything from scary, spooky, funny up to creative and heartfelt, all at the same time. While witches and creatures are always fashionable Halloween costumes, more and more consumers are also looking to dress up like their favorite celebrities, television characters, and other pop culture references.
If you look a Google Trends, Halloween costumes have 100% peak interest during the period of October 22-28 last year. While this last week of September 2018, the interest in Halloween costumes is already starting to pick up with 31% interest over time.
The most prominent Halloween costumes are for children, adults, and pets. Here are the top Halloween costumes that you can select to dropship:
Top Halloween Costumes for Children
Dressing up children is the most common tradition during Halloween. If you want to follow the money, Halloween costumes for kids are one of the most profitable products to dropship. In the 2018 Top 10 Halloween Costumes for Kids, more than 3.8 million children are intending to dress up as their beloved princess character, 2.5 million as their beloved superhero, 2.2 million as the fictional superhero Batman, 1.9 million as their preferred Star Wars characters, and of course, 1.9 million will dress as witches.
Let's look at Google Trends to check the interest for children's princess costumes and uncover products to dropship:
You'll see that the top related query for princess costumes for kids is only 'Disney princess costumes' and if you click it, you'll be directed to the top related search term: '6 original Disney princesses'. The original Disney princess line-up featured Snow White, Cinderella, Aurora, Ariel, Belle, Jasmine, Pocahontas, and Mulan.
Alibaba has trusted dropshipping suppliers for Disney princess costumes:
Alternatively, you can source Disney princess costumes at Rubies Costume Company.
Top Halloween Costumes for Adults
Halloween costumes remain to be well known with adults too. In the 2018 Top 10 Halloween Costumes for Adults, 48% of the adult celebrants are planning to don a costume this year. There will be more than 7.2 million adults to dress like a witch, 2.5 million as a vampire, 2.1 million as a zombie, 1.9 million as a pirate, 1.3 million as any of their beloved Avengers characters.
AliExpress has multiple dropshipping brands that could supply you with witch costumes for adults.
Top Halloween Costumes for Pets
Pets won't be left behind when it comes to dressing up for Halloween. A growing trend is some families planning to dress up the whole household including their beloved pets. Sixteen percent of consumers plan to dress their pets in costume this year. Pumpkin, hotdog and bumble bee costumes are at the top of the list again this year.
Nicepet offers dropshipping Halloween costumes for pets like dogs and cats:
You can also find pet costume wholesalers and suppliers at AliExpress:
2 – Halloween Party Masks
Aside from costumes, party masks are important to the Halloween tradition. Sometimes masks are part of the whole Halloween costume package or for those who don't want to don a dress will just wear a mask for them not to feel left out.
A quick search on Google Trends will reveal that interest for Halloween masks will peak at 100% popularity at the period of Oct 22-28. Moreover, it's already beginning to gain more traction as early as the last week of September. This has a very similar interest statistics with Halloween costumes.
Top Halloween Masks
Interest for Halloween masks has mixed sources from different pop culture references. The most popular for kids are PJ Masks, rabbits, Spider-man and dinosaurs. While adults tend to be inclined with scarier references like The Purge and Halloween: Resurrection movies.
If you want to find a product niche for Halloween masks, simply go to AliExpress. By doing a quick search, you will see the that the trending Halloween masks for this year are LED light masks with 'The Purge' citation.
3 – Halloween Decoration Products
The true spirit of Halloween won't come alive without decorations. From houses, offices, establishments to parties, you will see the staple pumpkins, candles, spiders, bats, and spider webs all around.
Top Halloween Decorations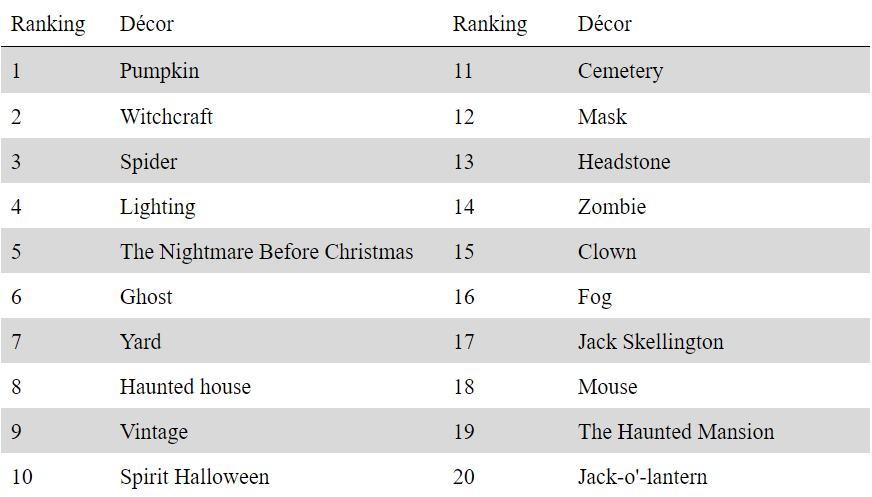 Source: Google Trends, Past 90  Days, Search Term: Halloween Decoration, Worldwide
Halloween Decorations Wholesale and Dropship Suppliers
4 – Halloween Accessories
Of course, shoppers are always on the look for Halloween accessories. In fact, interest for Halloween accessories starts to pique as early as October 1 with 41% popularity and then at 100% during the period of October 22-28.
Top Halloween Accessories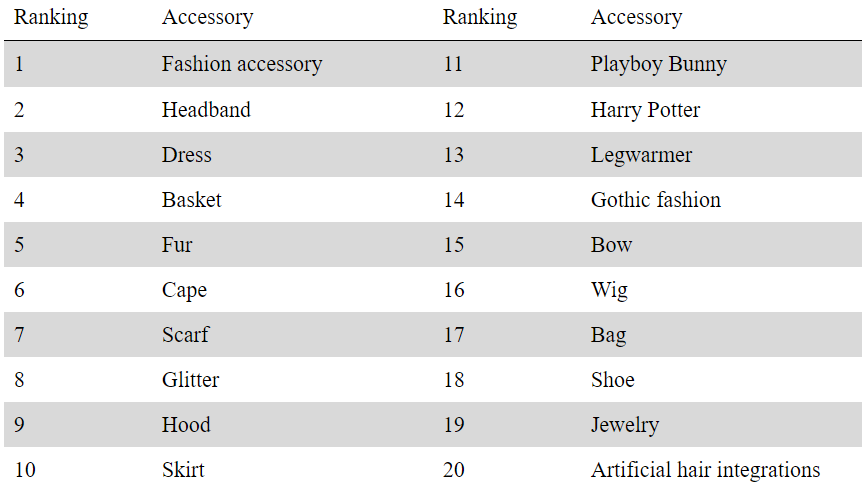 Source: Google Trends, Past 90  Days, Search Term: Halloween Accessories, Worldwide
Halloween Accessories Wholesale and Dropship Suppliers
5 – Halloween Cosmetics Products
For some people, they don't want to settle on just wearing a scaring looking costume. Some indulge themselves in the full package of the Halloween celebration — they wake makeup, some pain effects, and other Halloween cosmetics to amp everything up.
Top Halloween Cosmetics Products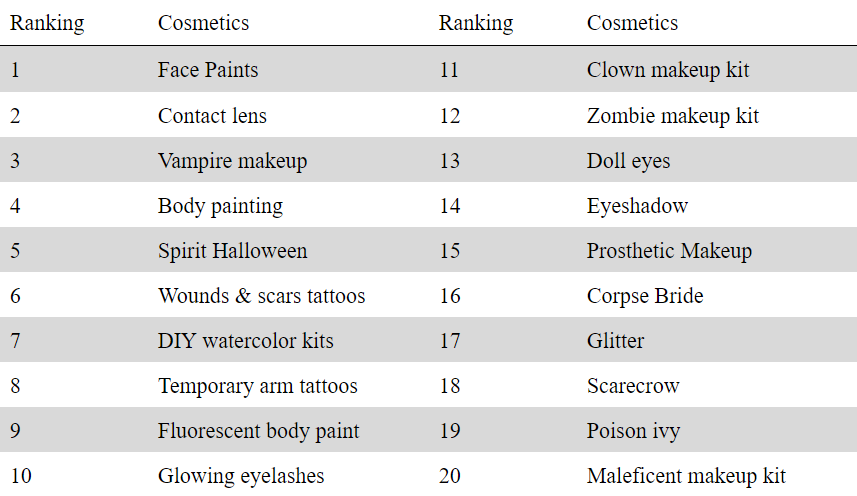 Source: Google Trends, Past 90  Days, Search Term: Halloween Cosmetics, Worldwide
Halloween Cosmetics and Makeups Wholesale and Dropship Suppliers
Trick or Treat
Halloween is just around the corner and as a dropshipper, you should take advantage of this holiday to increase sales and renew your store. We hope that our brief overview of top categories for Halloween will help you to gain a deeper insight into what to sell this holiday and make the most out of it.
Happy haunting and happy selling!