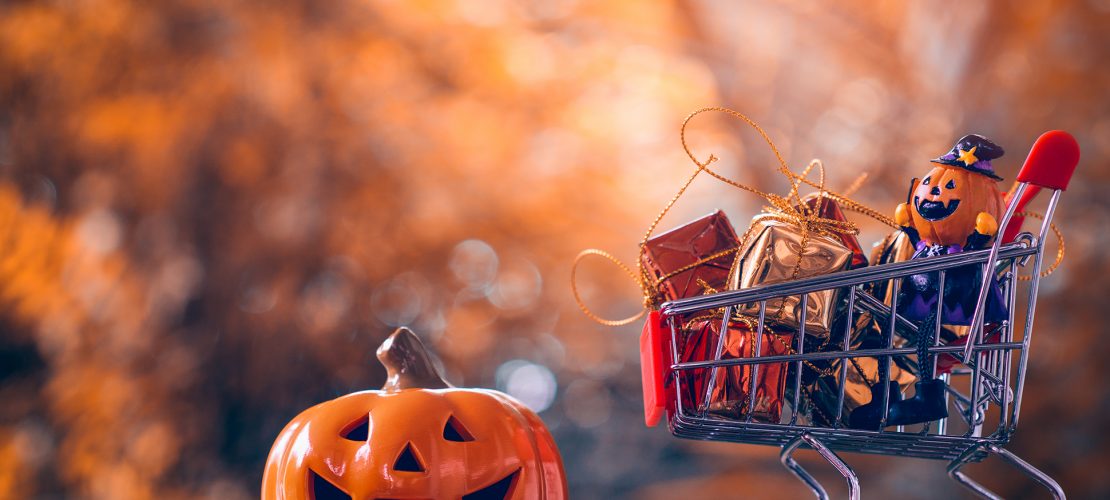 Best Halloween Dropshipping Products in 2021: Happy haunting, happy selling
It's almost that time of the year when Halloween dropshipping comes alive and well again. In 2020, in the U.S market only, a total of $8 billion spendings was planned on Halloween products. Amid the pandemic, Americans spend $92.12 on average to celebrate the holiday.
This year's holiday will be met with excitement as vaccine optimism takes hold in the U.S with 363 million doses have been given and consumers embrace the opportunity to be together once more. It's very clear consumers are already considering how they will partake in Halloween festivities, as forecasted by TrendAlytics:
Weekly search volume of 328 500 on average for the term Halloween since April 2021.
A peak of 30.5 million searches in the last week of October 2020.
Searches this year are expected to surpass that, as consumers' excitement is amplified by post-pandemic potential.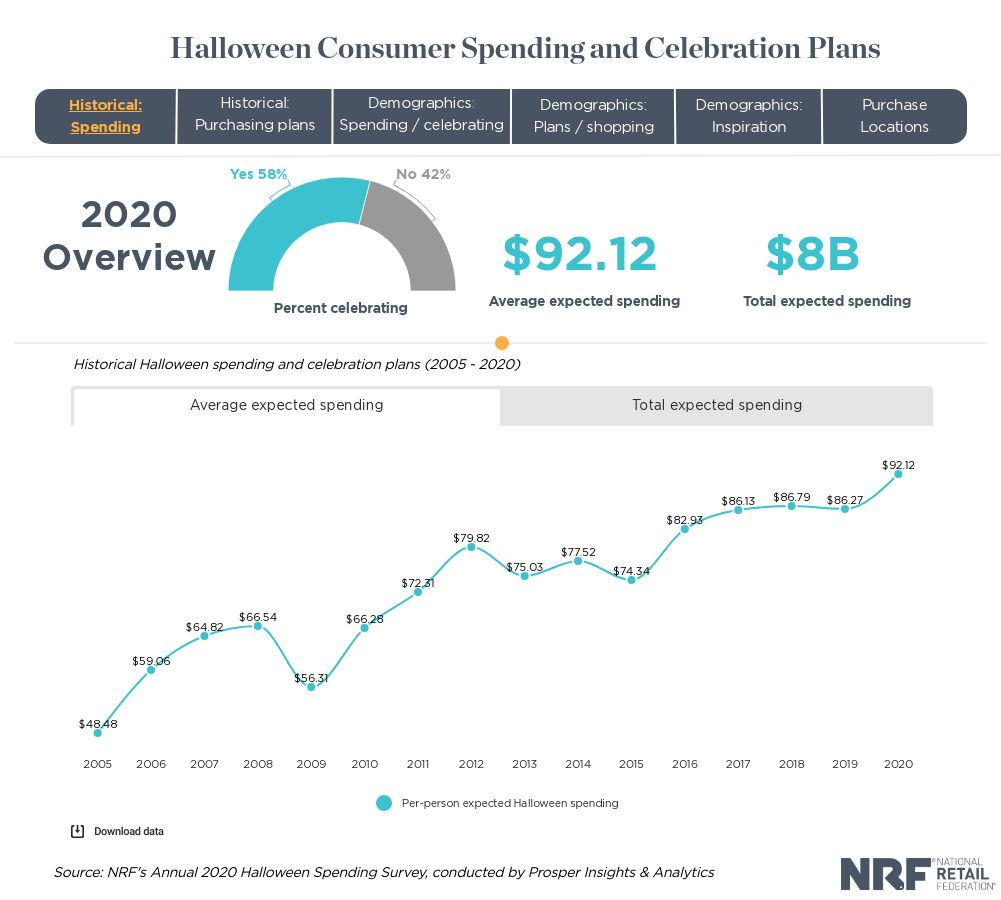 NRF Halloween Spending Survey, conducted by Prosper Insights & Analytics
While everyone is looking forward to splurging on their favorite candy and costumes, dropshipping store owners had better rush to prepare for what is expected to be the biggest Halloween spending season in recent history.
Come with us to explore all the best Halloween dropshipping products that you can sell to capture the most out of this shopping season!
Prepare Your Dropshipping Store for Halloween 2021
Golden Timing
Customers usually start their holiday shopping early before September. The highest demand falls in the first two weeks of October and slows down at the end of the month. Therefore, the "golden timing" for dropshippers to draft up product ideas and designs will be in August, and right after that can be the time for running Halloween campaigns.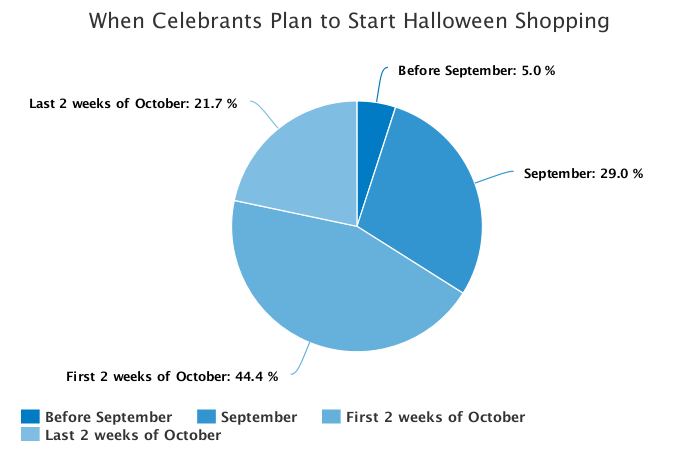 NRF Halloween Spending Survey, conducted by Prosper Insights & Analytics
The early bird catches the worm – make sure you have braced your online store to crazy sales during the opening of this holiday season.
Shopping demands in both genders are relatively equal, with which you won't need to test genders when running advertising campaigns.
Customers of all ages are quite excited about Halloween shopping. Online shoppers aged from 18 to 44 are more likely to sweep through every eCommerce platform and store to fill up the holiday spirit, while those from 50 and above might still prefer shopping at a brick-and-mortar store.
Shopping Channels
Americans usually go big with online shopping on Halloween. Pinterest now acts as a stimulus that can significantly trigger customers' buying instincts. This year's Halloween dropshipping season is to try out more community-based channels like Pinterest, Google, Twitter, etc. It will help you reach millions of customers and build a multi-channel mindset instead of Facebook only.
Storefront Design
To draw customers' attention to your sales channel, holiday-themed design is of the utmost importance. Popular patterns you can add to the design of your Halloween dropshipping storefront are:
Pumpkins
Halloween creatures: Witches, Ghosts, Skeletons, Frankenstein, etc.
Signature animals: Cats, Bats, Spiders, etc.
10 Best Dropshipping Products for Halloween 2021
1. Halloween Costumes
Halloween costumes are must-have items during Halloween. The Halloween dropshipping costumes can be anything from witches, creatures, superheroes to favorite celebrities, television characters, and other pop culture references, as long as they have the mystery, spooky, and even funny look that can surprise the whole neighborhood.
The most prominent Halloween costumes are for children, adults, and pets. In 2020, 47% of men and 45% of women donned a costume and aggressively purchased $3.2 billion worth of Halloween costumes. Besides adults and kids celebrants, pets are getting dressed up for Halloween, too. Especially in the U.K, families are eager to spice up the whole household including their beloved pets.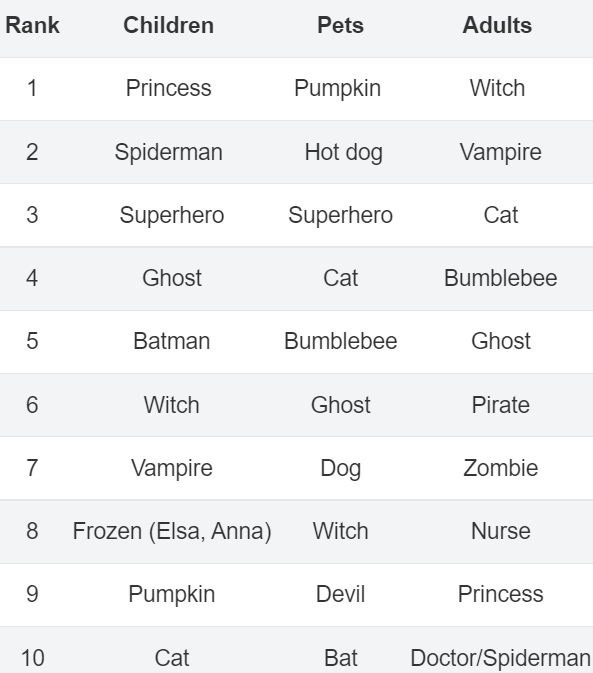 Top Halloween costumes for adults, children, and pets

Examples of Halloween pet costumes
2. Halloween Party Masks
Mask is sometimes a part of the whole Halloween costume package and sometimes used as a costume itself. This year, when socially distanced parties or costumed events inside become possible, Halloween-inspired cloth face masks will take on a whole new meaning, doubling as a safety precaution and costume.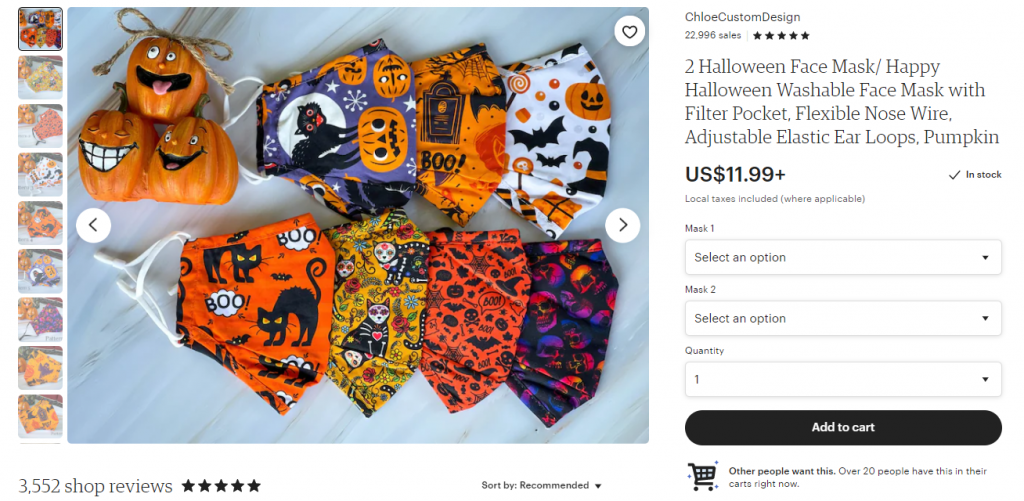 Halloween face masks on Etsy
3. Halloween Decoration Products
The spending for Halloween decorations reached $2.6 billion in 2020 and remained one of the two highest spendings for the festive holiday from American consumers.
Everyone has their own style when it comes to adding a spooky touch to their home. Some will stick wicked wreaths or carving pumpkins in their front house, while others will keep the Halloween spirit behind the closed door with many black and orange table decors.
That's why your Halloween dropshipping products list can range widely from indoor to outdoor items. For example, skeletons, pumpkin lanterns, candles, thematic straws, fake spiders, different inflatable items, Halloween pillowcases, tablecloths, etc.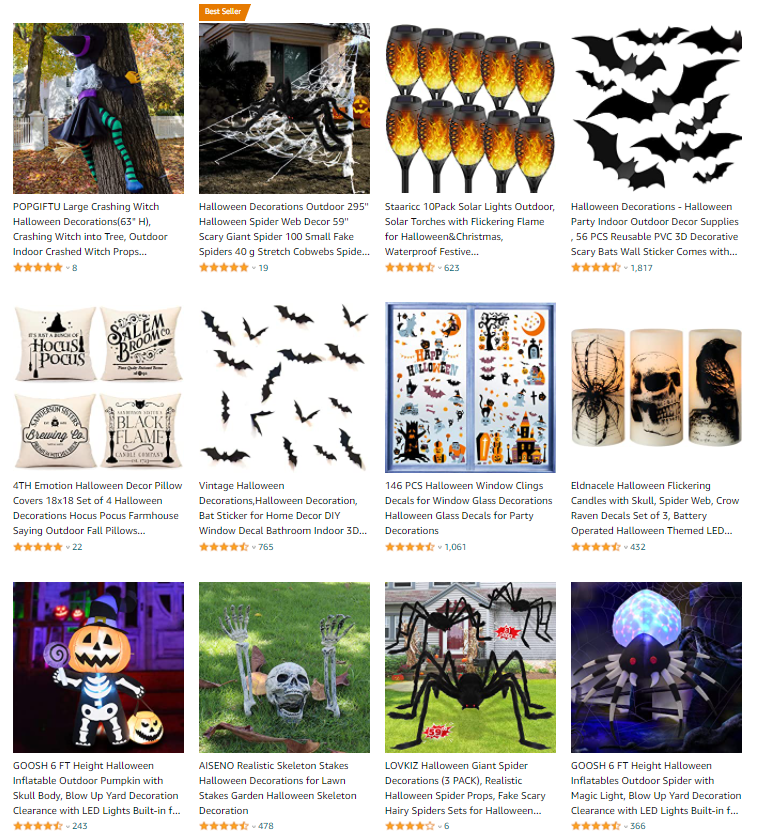 Halloween decorations on Amazon
4. Candy and Candy Accessories
Here they are – the sweet treats that make any party, even a party of one, complete. Candy plus can accessories are the absolute winner among the popular Halloween dropshipping products, as they traditionally fulfill the trick-or-treat and are also budget-friendly to everyone. In fact, 80% of the general public in 2020 say they can't imagine Halloween without chocolate and candy.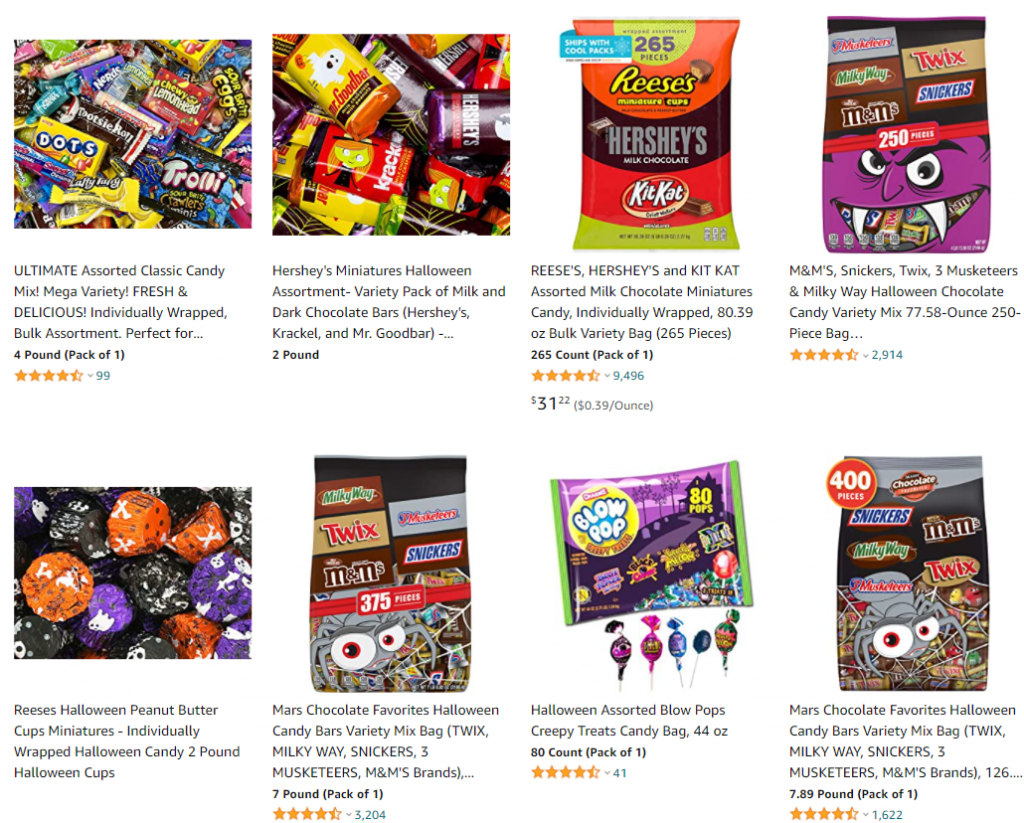 Top-rated Halloween candy on Amazon
This year, the CDC is encouraging "one-way trick or treating" with treats wrapped up inside individual bags so that kids can grab and go while maintaining social distance. So adding some accessories for candies (a bowl, bag, holder, bucket, etc) to act as a treat station can definitely be a good Halloween dropshipping product idea.
5. Halloween Accessories
Interest for Halloween accessories shopping starts to pique as early as October with 43% popularity and then at 100% during the period of October 25-31. Dropshipper can offer their customers a variety of accessories to customize the Halloween costumes, from headwear, shoes, handheld props, wigs, gloves, heads, and tails, etc.
Examples of Halloween accessories
6. Halloween Jewelry
These products are the perfect mix of mischief and fashion, which are going to take everyone over to the dark side. The advantage of Halloween jewelry is that it is affordable, easy to combine with different costumes, and many of them can be used in regular time as well. To dropship this sub-niche, you can start with necklaces, bracelets, earrings, anklets, etc that have Halloween patterns or vibes on them.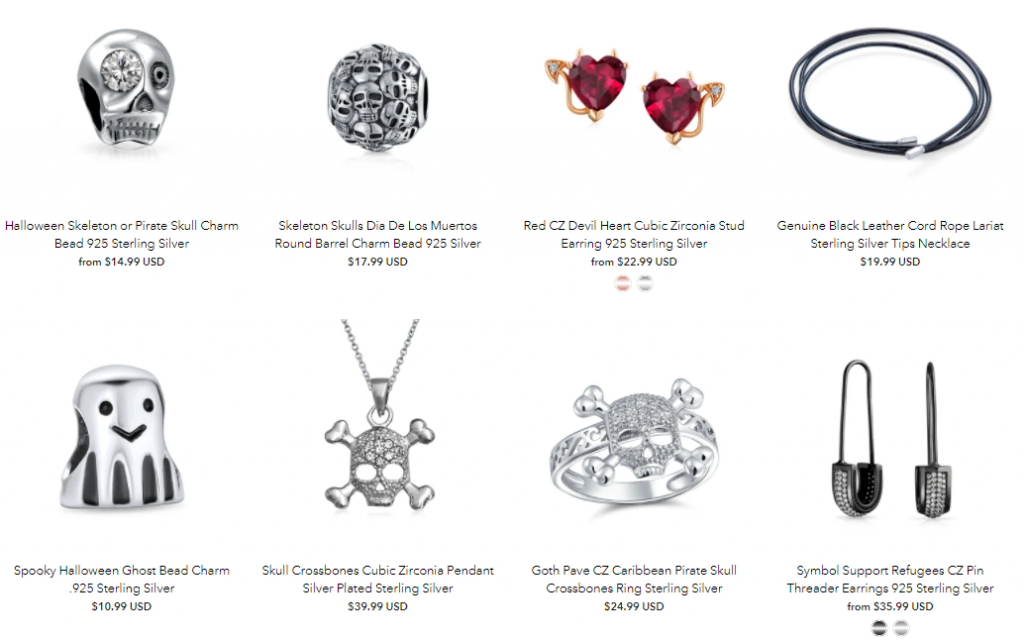 Halloween Jewelry from Bling Jewelry
7. Halloween Greeting Cards
Sending a card for the holiday is a nice tradition including the festive Halloween. In 2020, 40% of customers in total are willing to buy a greeting card that gives frightfully fun Halloween wishes to their kids, family, or guests.
The design for this Halloween dropshipping product should range from creepy and crawly to cute and funny to make sure that you don't miss out on any kinds of customers. For example, faraway grandparents can surprise their grandchildren with Halloween cards featuring their favorite Disney characters, or adults will get a kick out of a Halloween card with sound or 3D pop-up cards.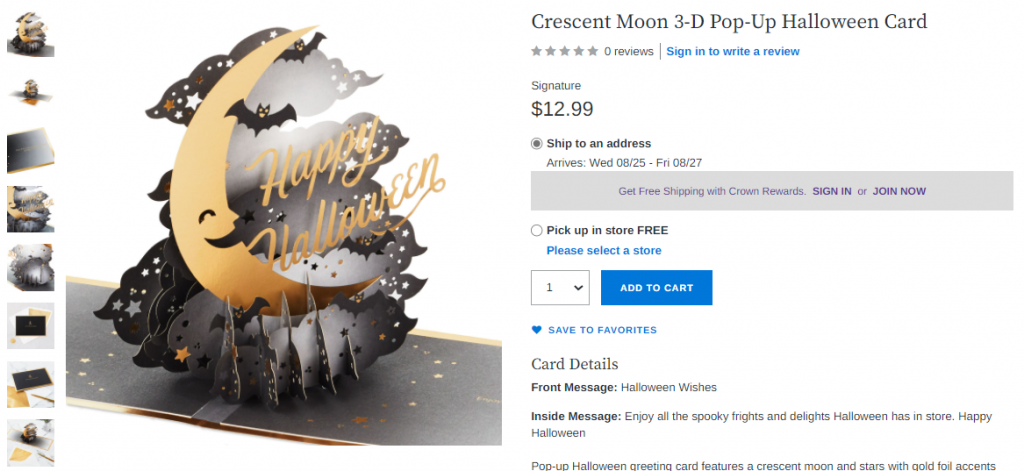 3D pop-up Halloween greeting card from Hallmark
8. Halloween Supplies
This sub-niche covers everything useful for a big party or a modest family dinner. You can fill up your Halloween dropshipping store with essential party supplies such as tableware, mug, cups, LED, straws, pumpkin carving kits, etc… that are colored in black and orange to attract more customers.
Besides, the photo booth props are worth being added to your Halloween dropshipping products as they can make any party even more fun!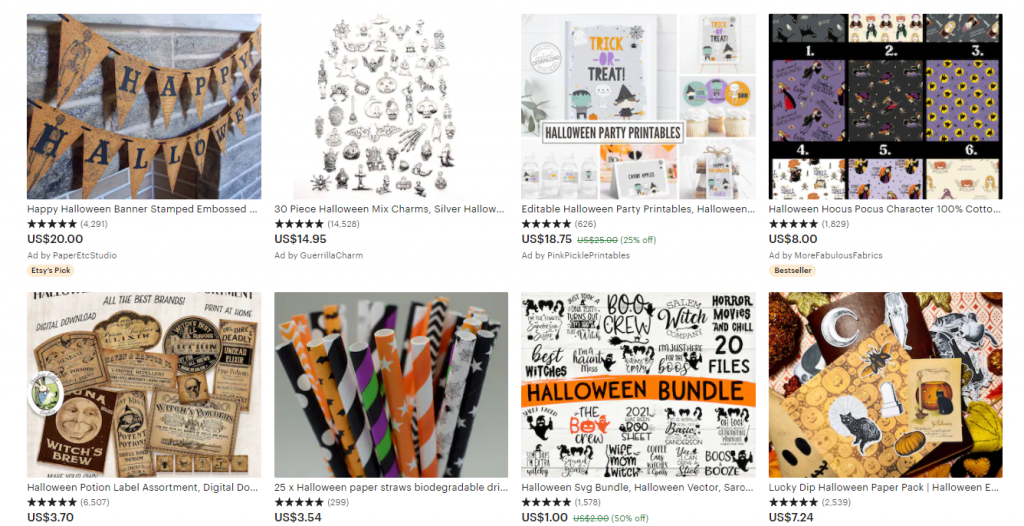 Halloween supplies on Etsy
9. Halloween Cosmetics Products
Spooky makeup is never out of style when people want to indulge themselves in the full package of the Halloween celebration.
From horror movie-themed eyeshadow to witchy black lipstick shades, everyone hopes to complete their perfect Halloween look with face paints, contact lens, temporary tattoos, body painting, or glowing eyelashes.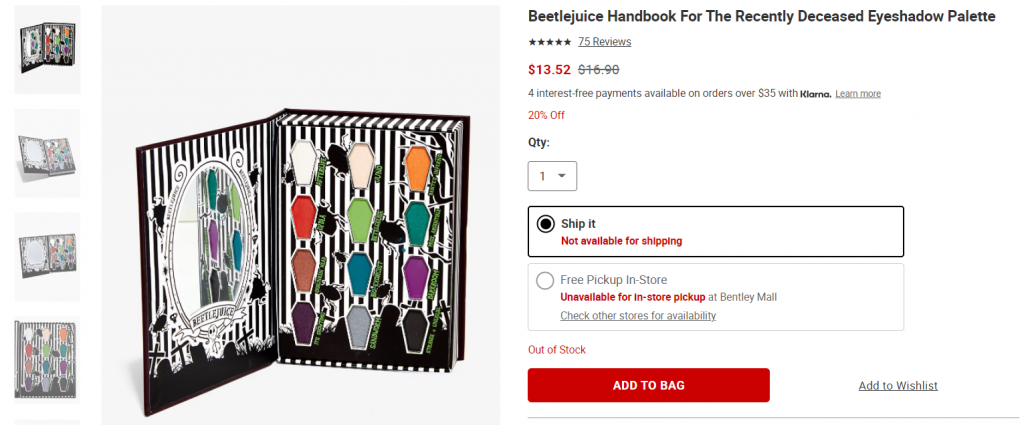 Example of holiday-inspired beauty products on HotTopic
You can also insert in each Halloween-inspired beauty product that you sell a makeup tutorial that is easy to follow – we promise that no one can leave their carts empty this Halloween season.
10. Halloween Cookie Cutter
In the U.K and U.S families, especially those having kids, a fun Halloween gathering often comes with delicious holiday-themed cookies which are cut, mold, baked, and decorated by the families themselves. You can sell cutters with different shapes like pumpkin, witch hat, bats, spiders, etc. Your products should have a smooth surface to protect the childrens' hands while maintaining durable and easy to handwash after the party.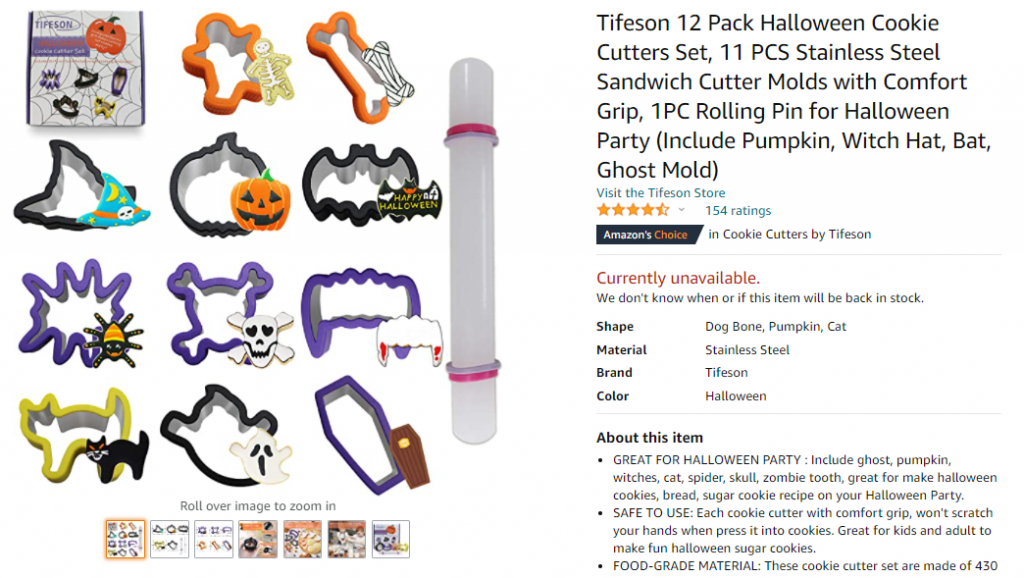 Amazon's Halloween Cookie Cutters Set
It's Time to Surprise Your Customers!
By the time Halloween 2021 rolls around, COVID-19 will likely still play a role in how we celebrate. However, with billions of dollars being spent by shoppers for this single occasion alone even amid the pandemic, this Halloween dropshipping season of yours can be the most promising ever.
Don't worry if you're new to this. Start with proven and traditional products that most shoppers are looking for during Halloween like costumes, face masks, decorations up to new and trending Halloween items like pet costumes and cosmetics products.
With ShopBase, you can unlock the full potential right at the very start of the end-of-the-year holiday season.