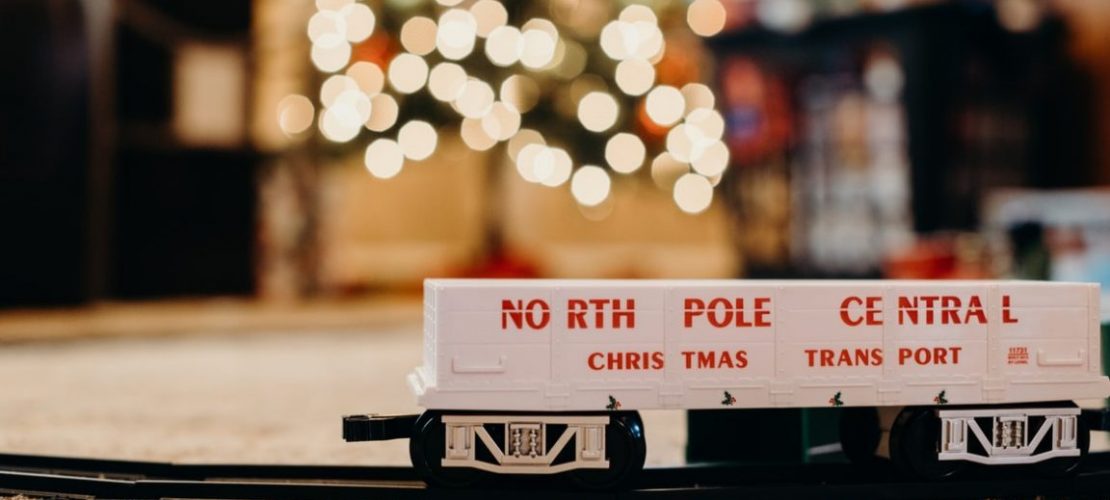 Dropshipping Fulfillment Tips that Ensure the Success of the 2021 Holiday Season
It's hard to look at the 2021 holiday season without seeing the cloud cast over it by COVID.
While it was hoped that the delivery delays and empty shelves that were seen in 2020 would be a thing of the past, facts are that these types of disruptions will continue to affect the supply chain from manufacturing to distribution to retail for quite a while.
Salesforce estimates the costs of goods sold for U.S. retailers will rise by more than $223 billion this holiday season from a year ago, driven by jumps in freight, manufacturing, and labor costs.
Manufacturing capacity: Manufacturing shutdowns in Asia in early 2020 until now set off a ripple effect throughout the industry as raw materials became scarce and manufacturing stopped.
Logistics costs:
The global shipping process is being slowed not just by delays, but also by steep prices. Salesforce predicts U.S. companies will spend $163 billion more on ocean freight in the second half of 2021, roughly tripling their costs from the same period last year.
The big delivery companies have announced their rate increases for the holidays, but they aren't saying much about improving or ensuring delivery performance.
Labor shortage: The uneven pace of easing coronavirus restrictions has encouraged workers to move to new places that are less exposed to the coronavirus, won't be affected by fresh lockdowns, or offer better work-life balance. In the U.S, even when materials are ready to ship, there have been issues finding truck drivers.
Who is going to bear the burden of the rising costs? Consumers, retailers, and suppliers will.
That puts merchants in a challenging spot because you will have to pay more but still can't promise to meet your customers' expectations.
You can receive all of the orders in the world, but if you run out of stock, can't ship packages out quickly, or fail to get gifts to recipients in time, you'll risk losing these customers forever and damaging your reputation.
Therefore, it's crucial now you do some upfront work to prevent shipping delays and surcharges. We'll give you some of the most critical dropshipping fulfillment preparation so come this year holiday season, your entire business — and your customers — will have a great experience.
Inventory
With dropshipping, you as a merchant don't buy inventory. You stay 100% focused on selling products to customers while your wholesalers are all in charge of order fulfillment. The trade-off is less control over the fulfillment process. Yet, there are several things you can do to organize your inventory ahead for a crazy holiday season:
Lean on historical data
This will help you plan appropriate inventory levels and alert suppliers of any changes to your regular ordering patterns. If you have winning products that you expect to sell in high volume or if you plan to conduct aggressive marketing campaigns around new items, ensure that you have enough inventory on hand to meet both expected and unexpected surges.
Manage multiple sales channels
Verify that you and/or your third-party fulfillment provider have automated reorder points and buffer inventory levels established to prevent shortages and issues, especially if you are using multiple sales channels. Being proactive with your inventory will be especially vital this year, considering ongoing supply chain issues and delays around the world.
Be aware of shrinkage
Shrinkage is a nice way of saying "loss, theft, and breakage." Most e-fulfillment centers have an allowance for shrinkage in their contracts. This means that you will eat the cost of the lost merchandise, up to a certain amount. In general, shrinkage allowances range from 2 to 10 percent of your warehoused inventory.
Shipping
Peak shipping season refers to the time of year (Q4, or October through December) when order and shipment volume see an influx, especially in recent years. During the dual peak shipping season and pandemic in 2020, the carriers were overloaded, causing major shipping delays. 2021 won't be any different.
USPS had a 2.52 day average transit time pre-COVID, which shot up to 6.58 days in mid-December 2020. By May 2021, they were back to a 3.15 day average transit time — less than half the time it took for a package to be delivered during peak.

Give your customers a heads up
Last-mile delivery plays a key role in customer satisfaction, but unfortunately, delays happen. In case of delays, be proactive and communicate with customers about any potential delays as soon as possible.
Notice about delayed delivery before ordering
You might put a copy on top of the website, at the end of the product page, or order email confirmation to inform that the item is going to take more than weeks to arrive. Bold the section to make sure people notice and read it.

You can also show customers their order status right on the order confirmation page using ShopBase's live tracking system tool. When the customers track their orders, they can find the Order Processing Bar on your thank-you page, along with order information. These tools can powerfully boost your store's credibility.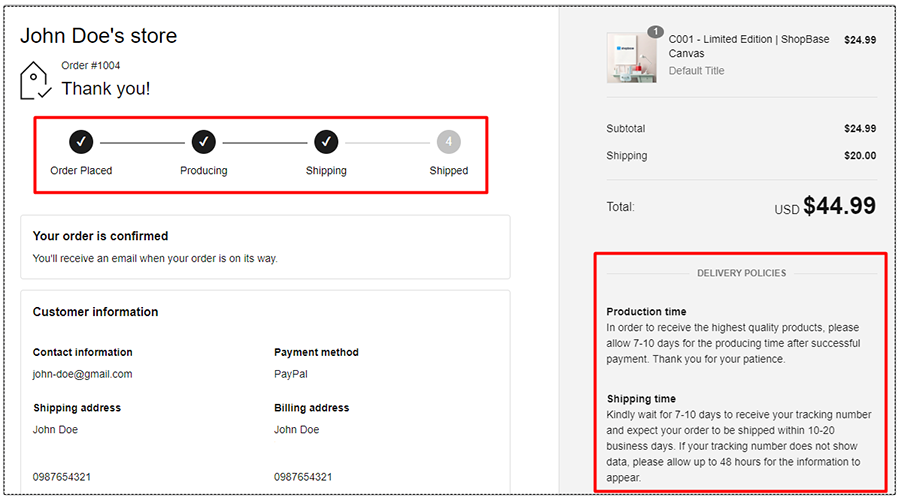 Order Processing Bar and Delivery Policies display on ShopBase
You can display notifications along in the buyer's journey to inform shoppers, who added items into their cart that delivery times may be longer than usual. By doing so, you're making buyers aware that any delays may happen right before they checkout.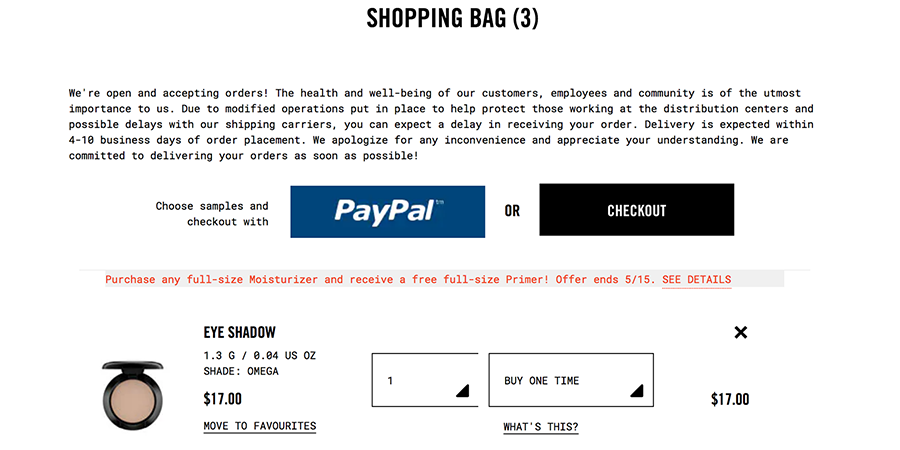 Source: MAC Cosmetic
Notice about delayed delivery after ordering
Remember to take proper care of your customers and keep them updated with shipping times, especially in case of delay or unfulfilled orders. You can announce new information through posts and banners on your website to catch people's attention.
You can offer loyal customers a gift card or some promotional code to cover up damages of delayed shipment and guarantee that they will return to your store in the future. Not only do you make customers happy, but you also earn sales from them.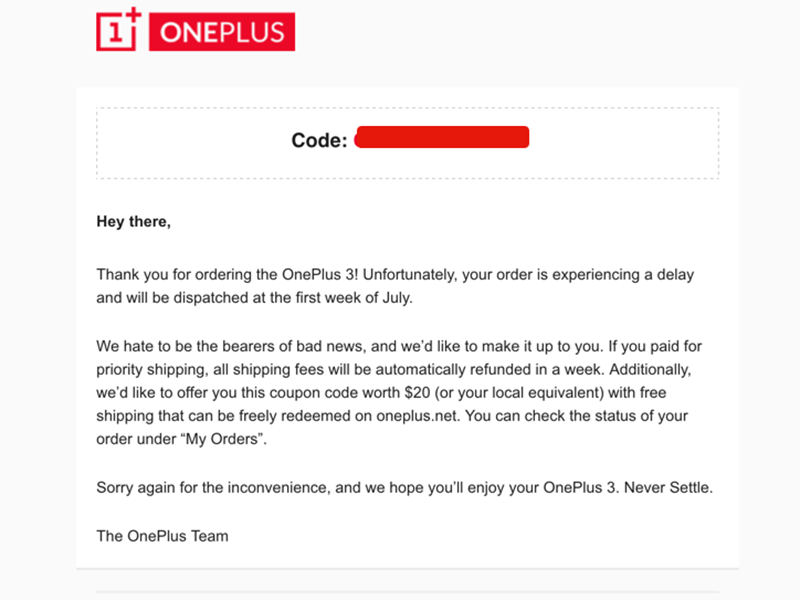 Source: OnePlus
Besides, take close note of carrier holiday shipping deadlines when they become available, so you can let your customers know when holiday orders must be placed to have orders fulfilled and shipped on time.
Read more: Simplest and easy to take strategies to move away from shipping delays
Partner with trustworthy shipping agents
Many brands outsource fulfillment to established third-party logistics rather than spending time and resources to pack and ship an unprecedented volume of orders.
Partnering with an experienced dropshipping agent like ShopBase's CrossPanda can help make the chaotic holiday season a lot more manageable, especially if you aim for fast shipping time, reliable product quality control, and premium packaging.
CrossPanda is integrated with ShopBase stores. We work directly with the manufacturers, test the products, stock what is best, auto-fulfill orders, and then manage your inventory in their warehouse for free. It also takes good care of all the stocking and fulfillment processes for you, with such outstanding points below:
Works with manufacturers in China to test and source only what meets your quality standard.
Assure product quality control with Return & Warranty policies.
Guaranteed fast delivery with average dropshipping shipping times from 6 to 12 days.
Set up your store with ShopBase today!
Fine-tune your shipping strategy
With the standards set by Amazon and other retail giants, it can seem daunting or impossible for smaller businesses to offer the same speed (without eating high costs) — especially when Amazon offers free holiday shipping even to non-Prime members.
You'd hate to see your customers go elsewhere because you don't offer that same level of service. Here are some ideas to consider:
Leverage ground shipping, which is a fraction of the cost of air shipping.
Experiment with offering free shipping by using minimum spend thresholds to increase your average order value.
Be clear (and conservative) about order cutoffs for guaranteed delivery before holiday seasons.
Returns
Be prepared for an influx of returns
On average, shoppers return 15% to 30% of online purchases during the holiday season. An estimated $70.5 billion in returns is expected from the 2020 holiday season. As a result, returns continue to be a large area of concern for dropshipping fulfillment.
No matter the time of year, be sure to have a well-defined return and exchange policy in place that is easy to understand and accessible on your online store or product listings.
Monitor returns
If your return policy is too strict during the holiday season, you risk losing the sale.
The holidays are a time when you should be a little more flexible and provide convenience for your customers when it comes to returns — simply because things happen. Wrong sizes are ordered, a product is faulty, expectations aren't met.
Let's say you get customers that ask for their money back. But before you come to refunding as the last result, you can offer them an exchange or coupons for their next visit – depending on the situation.
The important thing for you to do is build trust by making sure your return policy is fully transparent and fair. Consider this:
Give a clear picture of your return policies. Include some major highlights such as: Condition of the product, The time limit for return and refund, and How to fill up a return, refund, or exchange form and related incentives.
Here's an example of a return policy from Marks and Spencer: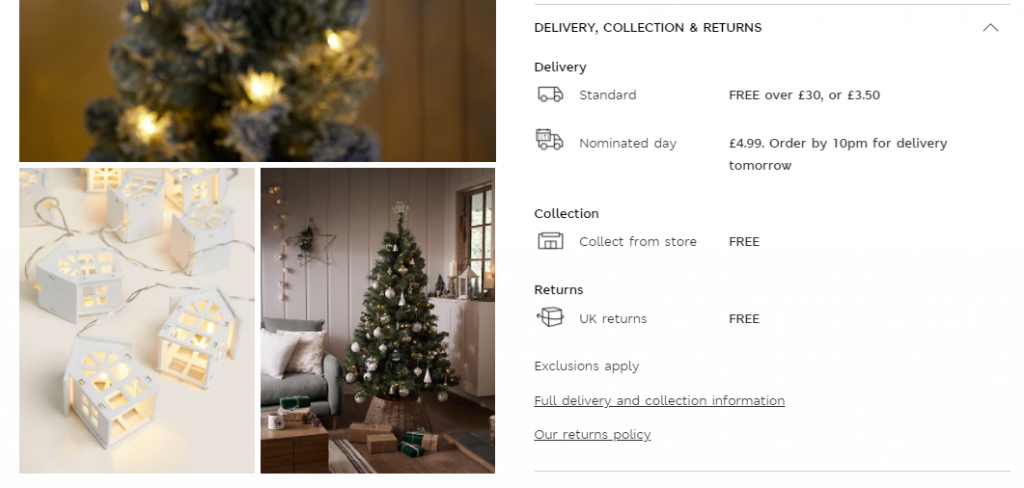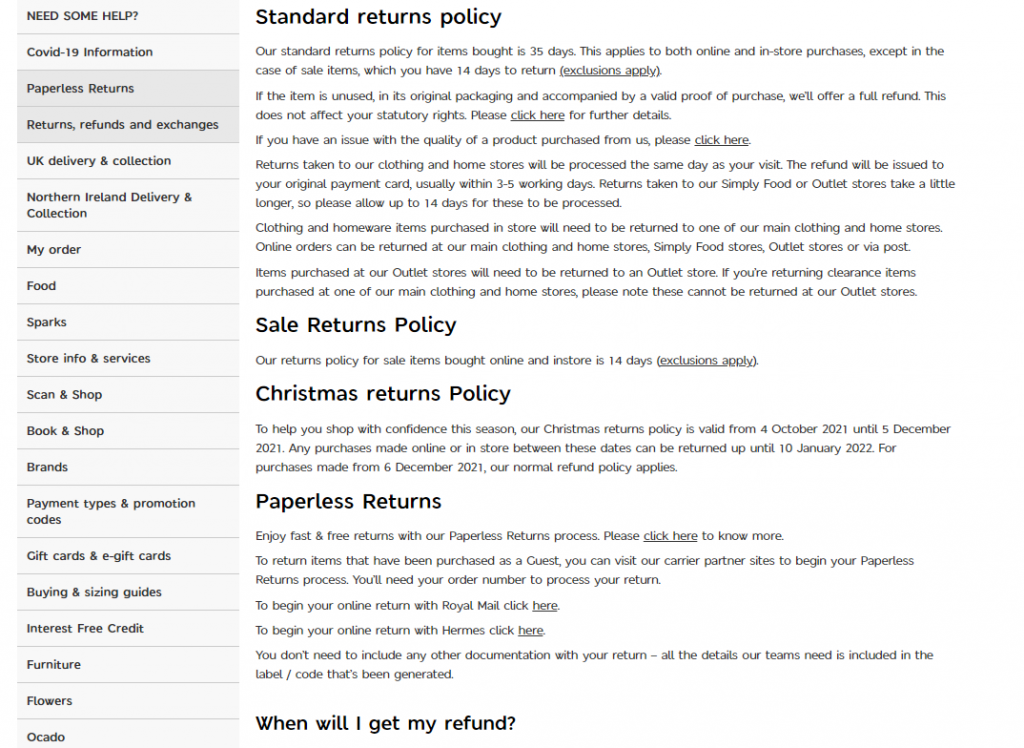 Boots organize their returns policy like a FAQ section: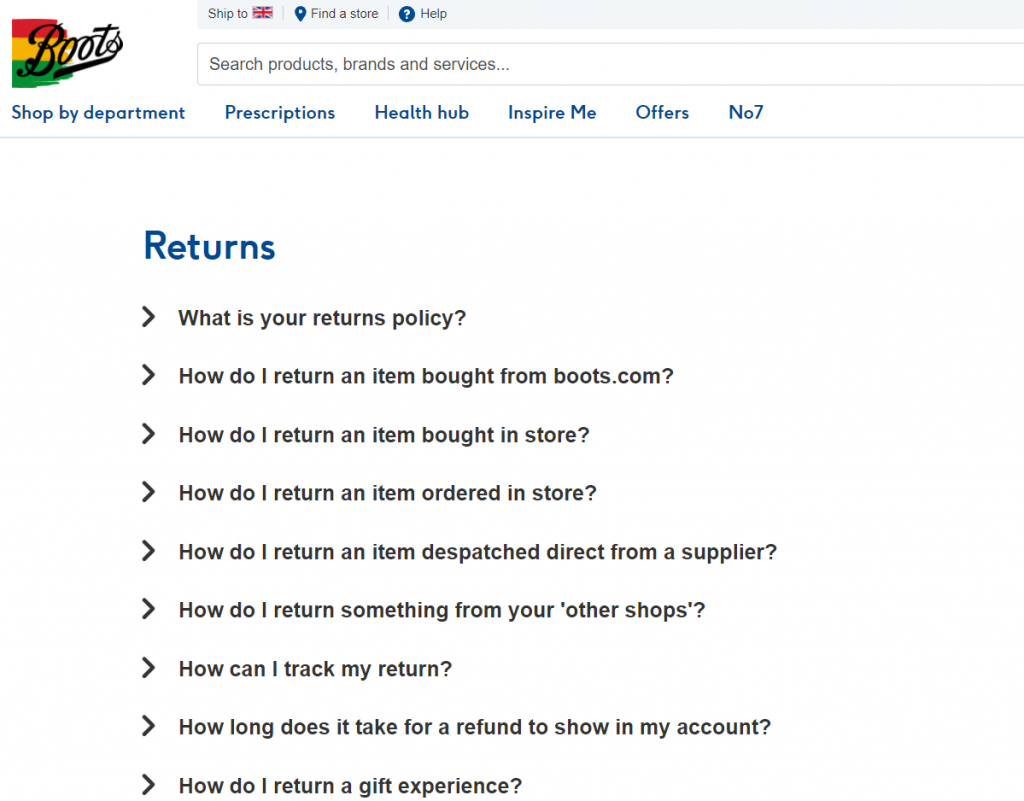 Asos give step-by-step instructions for making a return: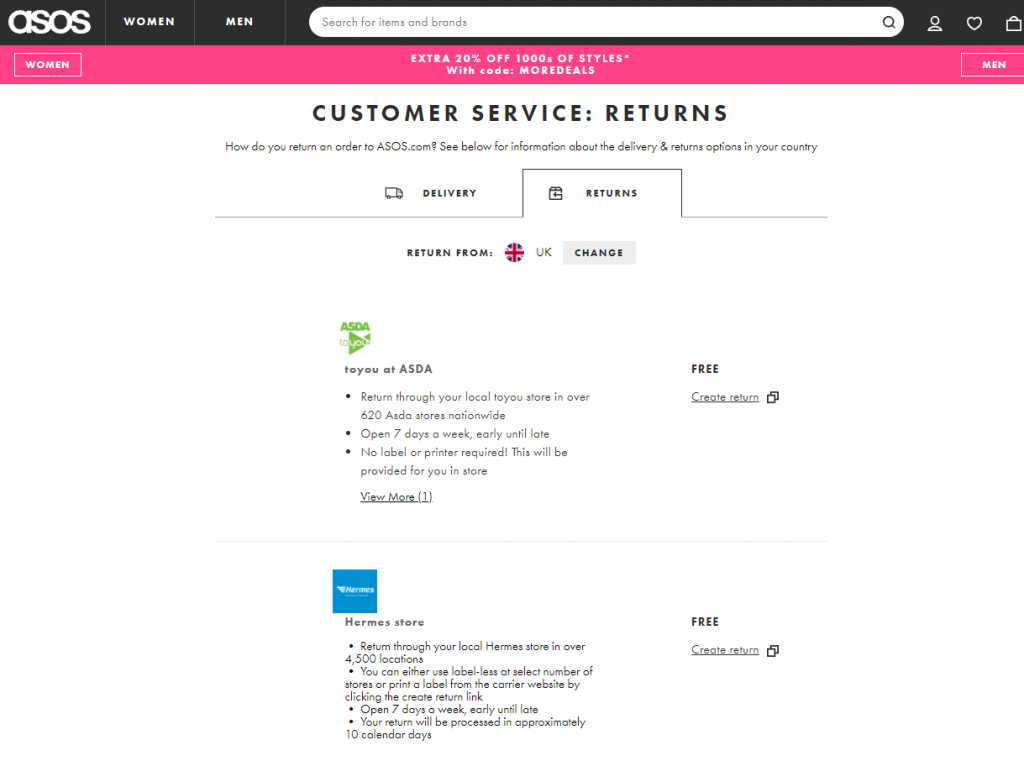 When building your store with ShopBase, you can set specific policy pages including:
Refund policy
Privacy policy
Terms of Service
Shipping policy
Simplify the return process. Customers will probably never want to pay for return shipping — some are even willing to pay a restocking fee to avoid this — but there's no doubt that this can affect conversions. Offering your customers quick refunds can help with this.
Review the performance. Define which products are getting returned most, determine why, and consider making changes to products and/or product descriptions to set better expectations.
Get ready today!
With the holiday rush starting earlier every year, aim to have your final preparations for the peak season ready no later than the end of October. Of course, there is no one-size-fits-all solution when it comes to managing dropshipping fulfillment in the peak season. With three concrete factors you can keep in mind to incorporate recent changes, we hope to help propel your holiday 2021 sales upward.
In brief, to be more successful this sale season, don't forget to get ready early, provide instant information, offer good value, and make your store outstanding with ShopBase for BFCM 2021.
Do you want to win big sales this holiday season? Check out ShopBase's checklist to have first sales without budgets in 14 days.