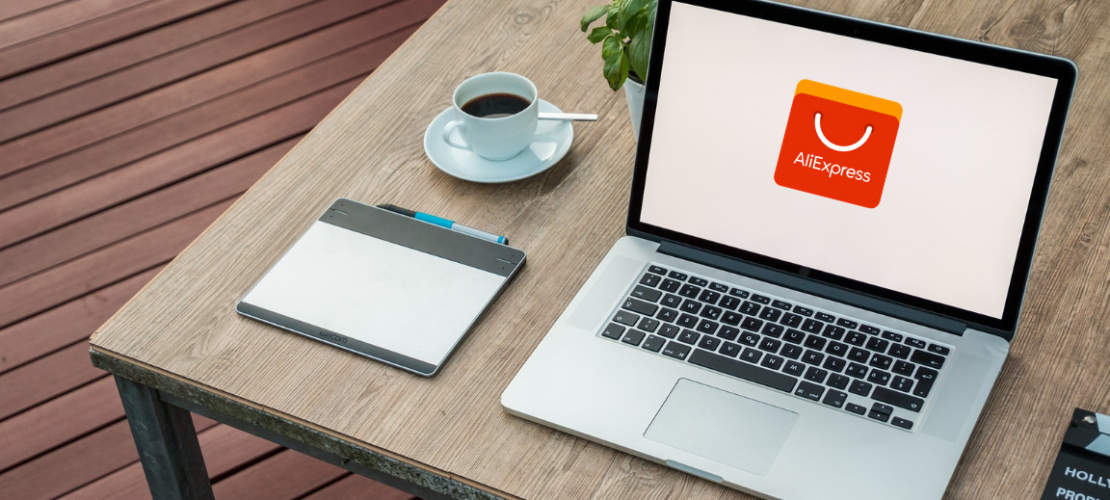 How to Dropship with AliExpress: A Complete Guide for Beginners
When opening a dropshipping store, a lot of people choose to dropship with AliExpress. It's one of the easiest ways to get into this business and earn money. However, many newcomers are still struggling with how to start out, and even only a few dropshippers achieve success. 
Is it difficult to make a living out of AliExpress dropshipping? The answer is YES, especially for those who don't know exactly how it works, how to set up their dropshipping store, what apps to use, and everything related to it. It seems there are so many things left unanswered. 
If you fall into the above category, this comprehensive guide is designed for you. We'll walk you through all basic steps to dropship with AliExpress and help solve common problems that often haunt you. 
Attention!
Before reading the guide, remember two things:
No matter what products you choose to sell, there are probably many AliExpress sellers doing exactly the same. 

Don't worry about the Big Guys. Once you build a positive and meaningful connection with your customers, you have great possibilities to make more money. Big Guys may not be interested in making $10,000 if they have to send Instagram direct messages to earn it. But this amount sounds pretty good to you, right?
A huge chance of building your career with AliExpress dropshipping are waiting for you. Ready? Now, let's dive in.  
An overview of AliExpress dropshipping
This part provides you a solid foundation for AliExpress dropshipping. You'll get to know its benefits and downsides along with delivery, payment methods, etc. 
What is AliExpress?
AliExpress is China's largest eCommerce platform which sells a wide range of products. These products come with a very low price, which is possibly even cheaper than the price you have to pay when you shop on Amazon or other similar services. 
Currently, AliExpress reaches over 220 countries, has more than 60 million active shoppers and serves over 20 million daily visitors. 
How does dropshipping with AliExpress work?
AliExpress dropshipping works the same way as any traditional dropshipping business model. Specifically, when a customer buys a product from your store, you order the item from the supplier on AliExpress. Then, the seller ships the product to your customer on your behalf. The profit you get is the difference between the price shown on your store and the price previously set by the seller.  
Once your customer receives the product, he/she believes it's from you. He/she doesn't know it's sent from a Chinese company or from any other business.  
Pros and cons of dropshipping with AliExpress 
There are many convincing reasons why AliExpress should be your first choice when choosing a dropshipping platform. They have hundreds of millions of products, competitive prices, clear policies, and many more. However, be careful that dropshipping on this platform also comes with some risks. 
Pros: 
Diverse products: A database of

more than 100 million products

. You can choose any item to start your own dropshipping business. Even when you're selling a product, you can shift to any other item without trouble. 

Best prices: AliExpress sellers keep the prices at the lowest as possible, meaning you can benefit from setting a higher price for your product. In some cases, they offer the prices which are many times cheaper than others elsewhere. 

Easy to get started: It's free to dropship with AliExpress. You don't need any license or registration. Just follow the steps which will be explained later in this guide.

Several payment methods: You can use PayPal, credit cards, or other payment methods that can make shopping easy. 
Cons:
Unreliable suppliers: When you dropship with AliExpress, keep the credibility of suppliers in mind. Some may ship poor-quality or unmatched products which can cause your business a lot.  
Shipping time: It may take up to 30 days to deliver a product from China to the US. So, do proper research to find real gems that will help you succeed. 
All things considered, AliExpress is safe, legit, and reliable to start dropshipping. Just make sure you choose the right suppliers. 
ePacket and AliExpress Standard Shipping
When dropshipping with AliExpress, ePacket and AliExpress Standard Shipping are the two most popular shipping methods. Here is the difference between them: 
ePacket

is a global shipping service that provides faster deliveries from China and Hong Kong to other countries like the US. It allows online merchants to ship internationally and provide a very fast shipping option. The letter "e" in ePacket implies it was designed for eCommerce. 

AliExpress Standard Shipping

is a delivery service provided by AliExpress. It works similarly to "Fulfilled by Amazon", meaning AliExpress handles the shipping. When you order a product, the seller will send the order to AliExpress shipping center. From here, AliExpress will check and deliver the product via their own service. 
So, as a dropshipper, which one should you choose?
Most of the time ePacket will come out on top since it's cheaper and much quicker than AliExpress Standard Shipping. But, note that this varies according to different countries. In some regions, ePacket charges you a small fee while AliExpress Standard Shipping is free. 
Note: AliExpress itself doesn't provide free shipping, but the sellers do. They can offer free delivery because often times, they already add the shipping fee to the product price. However, the shipping service they use takes quite a long time to ship orders to customers. 
AliExpress' refund and return policies
Sometimes things get messy, and your customers may ask for a return or a refund. So, it's so important to understand AliExpress's refund and return policies clearly. 
AliExpress has designed the Buyer Protection program which favors buyers over sellers. This program aims at ensuring that you get exactly what you order and protect you at every stage of ordering through delivery. Hence, if your customer isn't satisfied with a product or didn't receive it and ask for a refund, you should contact your seller immediately. 
When there is an issue with an order, it can be because the order doesn't arrive or it doesn't match the description which you provided before. 
If the order never arrives, AliExpress will refund the entire purchase. You'll have to wait for the end of the delivery period, which is around 45 days, to receive your money back.
If the order isn't as described, you can return it to the seller to get a full refund. Or, you can let the customer keep the item and offer a partial refund. In this case, you'll have to work with both the AliExpress seller and the customer to find the best solution. The customer will have to provide photos of the non-matching or damaged item, so you can open a dispute. 
A roadmap for starting a dropshipping business with AliExpress
When dropshipping with AliExpress, first, you have to search for your product niche and suppliers. Then, build your ShopBase store or create your own store using WordPress. After that, import products from AliExpress into your store. When you're done with these, you'll start to promote your products to drive sales. It's not too much complicated. 
1. Find your niche
When you select dropshipping niches for your store, you should evaluate their potential by using several different methods. This ensures your chosen niche will be a good choice. Do the following: 
#1 Explore AliExpress 
On AliExpress, you should estimate:
➤ Products quantity and niche popularity: Type a particular keyword and look at the number of items that can be found here. Filter the results by selecting the free shipping option, the 4*+ rating, and the number of orders. 
Many results shown indicate a lot of people have probably been selling this product, and it also has high demand. 
➤ Trusted suppliers: Take the first 10 stores, and then evaluate them by the same parameters as AliExpress itself does:
How long has the store been opened?

How much do the items fit their descriptions?

What is the percentage of its positive feedback?

What is its feedback score?

How good is the communication?

How satisfactory is the shipping speed?
Customer satisfaction is the key factor in a store's commercial success. Thus, the higher percentage of positive feedback, the better. Also, the Item as Described, Communication, and Shipping Speed parameters should be marked as green.  
Prices: As said earlier, AliExpress sellers offer competitive (often unbeatable) prices for most products. However, it's highly recommended that you should carefully check the prices of products you will sell early on. It's much better if AliExpress prices are twice lower than the prices of your competitors. 
Do the following:
Pick at least 5 – 10 products in the selected niche and find the best prices for these items on AliExpress.

Go to Google and search for the same products on other online retailer services. Then, compare their prices with prices on AliExpress. 
Let's say you found a highly popular necklace (look at the rating and the number of orders) for $2.25. 
Then, look for the identical offers from other sellers. Here is the example from Amazon. 
It's easy to see that you can have a good margin selling this item. 
#2 Go to Google Trends
Public interest in different product categories and separate items tends to change over time. Therefore, you need to monitor it if you want to be sure that people's interest in this niche is stable. To check this, use Google Trends. 
#3 Check your competitor
Conduct manual research and get insight into the niche and your competitors. To do this, enter "allinurl:niche name" (in this case, allinurl:necklace) to the search box of Google.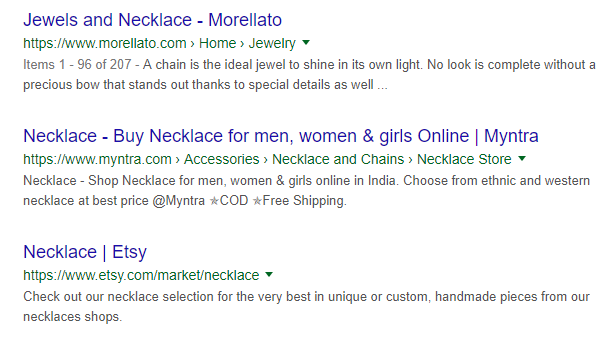 Then, Google will show you the pages that have that keyword in their URL, which is a competitive advantage for them. Using this, you can predict the level of competition in your chosen dropshipping niche. 
#4 Find winning products on Facebook 
Apart from the above methods, you can use Facebook to find winning products and promo videos for Facebook video ads. This is an effective way to detect trending products.  
To do this, type "50% off free shipping" in Facebook search box > Video tab > check the year 2019 and search for videos from the last 3 months. You can see all the latest dropshipping products with promo videos.
Use views, comments, and shares to check whether you should use the video for your dropshipping store. If you want to get more cool products, repeat the same process with "60% off free shipping", "70% off free shipping", etc. 
To find winning products for a specific niche, alter the search term, for example, "necklace free shipping", and use the same filters as above.  
When you find a trending video, open the video and click the product URL in the post description (1) > visit the product page and copy the product title (2) > search for the product on AliExpress (3), and you'll more likely find the same product (4). 
2. Find your dropshipping suppliers
After you've picked a niche, the next step is finding your suppliers. This process could take several hours, so you should be patient. 
When choosing a supplier, you can do either of the following:
Searching for suppliers right on AliExpress.  

Searching for suppliers outside dropshipping platforms. 
To learn more about these, read The Complete Guide to Choose the Right Dropshipping Suppliers for Your Store. Remember that no matter which suppliers you choose, make sure they are reliable and best suit your business. 
3. Build your dropshipping store
Now that you've found your niche and suppliers, it's time to build your dropshipping store. You can design an independent store with WordPress or create a store on eCommerce platforms like ShopBase. It takes a few minutes setting up. 
To learn how to create a store with ShopBase, read this guide How to launch an online store with ShopBase.
When you're finished with the store design, take the next step to import your products from AliExpress to your store. 
4. Import products from AliExpress to your store
The process of importing products with ShopBase is quick and easy. There are no limits on the number or type of products you can add to your store. Everything can be done in a few clicks. 
Read this guide to learn How to import and export products on ShopBase. 
5. Boost sales in your dropshipping store 
To drive sales, you need to show your products to as many potential customers as possible. This is where eCommerce marketing comes in. 
There are many eCommerce marketing strategies you should use to promote your dropshipping store. The best practices are running Facebook video ads to drive traffic to your store, and then adding user-generated content to build trust. After that, you can apply urgency and scarcity marketing to boost conversions and checkouts. 
Facebook video ads have been marvelous to all dropshippers, and it's just a dream come true to everyone trying to grow more traffic.
Source: 3hundrd
To have a successful Facebook video ad campaign, you should consider using how-to videos, especially when your product helps solve a problem. At the same time, try to tie UGC into your video ads. This ensures your video will be strongly relevant to customers, which leads to more views and engagement.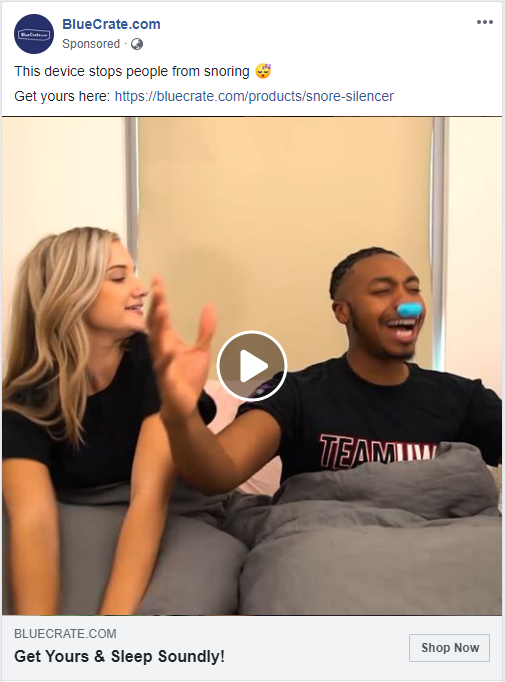 Known as UGC, user-generated content marketing really benefits dropshipping store owners in terms of building trust and incredibility. Internet users love content created by others like them, and they're more likely to buy a product if they notice a lot of other people already making an order.
To optimize UGC, you can show reviews and ratings on the product page. Collect testimonials and display them in your store. In addition, you should also use the image of a real person for product images. This is a good way to gain trust from shoppers. 
Source: Sunbury Supply
To learn more about UGC marketing, read Effective User-generated Content Strategies to Boost Sales for Your Dropshipping Store.  
Urgency and scarcity marketing 
In many cases, things in limited quantities can be strangely appealing. And, people always want what they can't have. You may be no exception.  
To turn urgency and scarcity to your advantage, you can put a countdown timer and a low stock countdown to alert shoppers of scarce items. This will help encourage customers to take action before the deal ends. Here is a good example:
Over to you 
So, there you have it: an ultimate guide to dropshipping with AliExpress. We've learned a lot while writing this post, and we do hope you got a lot out of it, too.
Now we want to turn it over to you:
What problems you are struggling when running your dropshipping store? Have you tried using ShopBase to create products and sell online? Let us know in the comments below, and we'll help you.