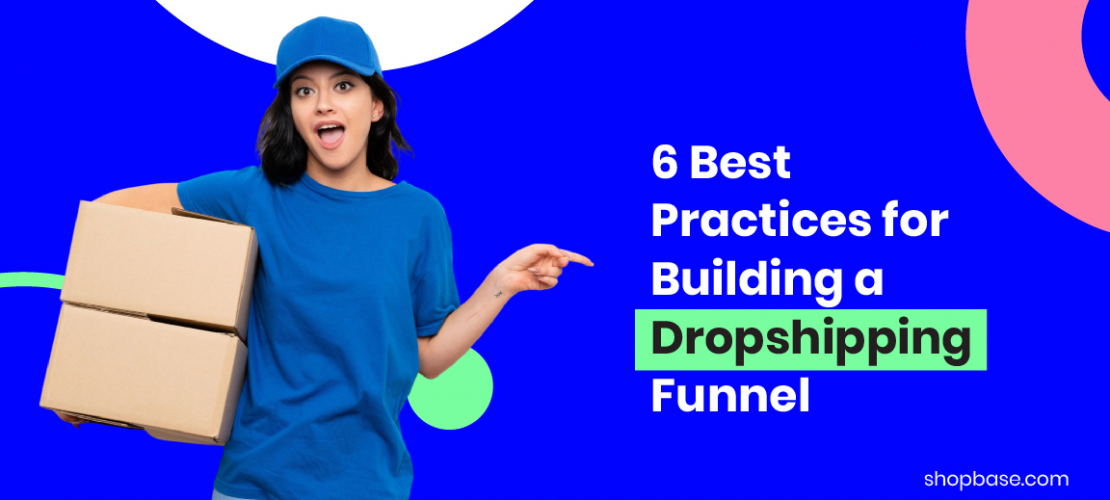 6 Best Practices for Building a Dropshipping Funnel
Want your dropshipping business to succeed? 
You need to build an effective sales funnel.
But the problem is a normal funnel may not suffice the needs of a dropshipping business. That's because there is a fundamental difference in the way such businesses are structured.
In the dropshipping model, the selling merchants don't own or stock any inventory. Instead, they purchase it to fulfill orders whenever needed from a manufacturer, wholesaler, or any other third party.
Before we get into the details of how to build your dropshipping funnel, it's important that you understand the pros and cons of this structure well. 
Only with a balanced perspective will you be able to create an effective dropshipping funnel that gets you more conversions.
Dropshipping Business Model: Understanding the Pros and Cons 
In this section, let's take a quick look at the benefits and drawbacks that come along with dropshipping businesses.
Pros
Less capital requirement:

Since you don't need to invest money for inventory upfront, it takes less capital to start a dropshipping business.
Easy to start:

In a dropshipping model, you don't need to manage a warehouse or worry about inventory stock and shipping. That makes it relatively easier to start than a normal retail business.
Location independence:

You can run your dropshipping business from anywhere. All you need is a stable internet connection.
Less overhead:

Your overhead expenses in a dropshipping business are low since you aren't managing a warehouse or purchasing inventory.

Scalability:

With dropshipping, it's easier to test your ideas. If they are fetching you good returns, you can also scale your business easily.
Cons
Inventory Issues:

If you source your inventory from multiple warehouses, inventory estimation can be hard. This can lead to a mismatch between demand and supply.
Shipping Issues:

When you work with multiple suppliers, your products are sourced via different dropshipper merchants. This can cause coordination issues.
Supplier Mistakes:

When a supplier makes a mistake when fulfilling an order, you need to take responsibility for it. Whether the issue is related to poor packaging, botched shipments, or any missing items, you need to own it up. This can put your business reputation at stake.

Limited Customization:

Dropshipping businesses don't give you the opportunity to customize products for the customer. Typically, all the products that are dropshipped are branded and designed by the supplier.
How to Build an Effective Dropshipping Sales Funnel
While building your funnel, you always need to look for ways to move your prospects to the next step. That's the same for dropshipping funnels as well. To build an effective one, you need to particularly keep the drawbacks of dropshipping businesses in mind. 
Inventory issues, shipping mistakes, supplier errors, and limited customization options — all of these drawbacks can push your prospects out of the sales funnel.
So, what's the best way to proceed?
Here are some tips that you should keep in mind while building your dropshipping sales funnel:
1. Include FAQs on Your Website
When it comes to online shopping, buyers may have multiple questions about the quality of the product, return policy, size details, and more. As a dropshipping business owner, it's your job to ease these concerns.
One way to clear such doubts is to include a well-written, detailed FAQ section on your website. Make sure you address any questions consumers may have before making a purchase.
Put yourself in your prospective customers' shoes. Eliminate any doubts that may prevent them from moving ahead in the sales funnel. 
Before you create your own FAQ page, invest some time into research. Check out other websites in your niche and see the kind of questions they have added. That will help you get a better understanding of what your target audience is looking for. 
In fact, you can organize your FAQ section into different sections for added clarity. 
Here is an example for your inspiration:

Image via Pepper
If you want to go one step further, you can also include a website chatbot that can instantly answer customer queries.
Alternatively, you can add a five digit phone number there through which your shoppers can seamlessly get in touch with you in real-time for any questions.
2. Add Customer Reviews 
While making a purchase decision, customer reviews can go a long way in winning a prospect's trust. After all, people are more likely to trust the words of someone who has already bought your product. 
You should add this kind of social proof on multiple platforms — websites, social media platforms, and other review sites. 
To encourage customers to leave a review, you can also offer them special perks like discount codes, free products, or something else.
3. Leverage Cross-Selling and Upselling
Dropshipping businesses are structured in such a way that you can offer a variety of different products and services. All you need to do is ensure that your partner has them stocked up.
This offers a great opportunity to upsell and cross-sell your products. Once customers have added something to their cart and proceeded to the payment page, you know that they intend to buy at least one product. 
At this point, you can offer suggestions for complementary products and services. Alternatively, you can show them a better version of what they have already added to their shopping cart. Some specialized software programs have ready-made templates to help you leverage this strategy.
Here is an example to give you an idea of how you can upsell or cross-sell your products: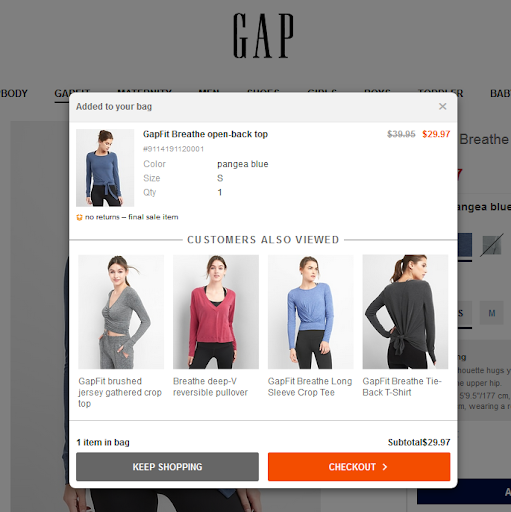 Image via Growth Rock
4. Run Email Marketing Campaigns For Abandoned Carts
Not everyone who adds a product to their shopping cart may end up completing their purchase. Some people may get distracted while others may simply switch their tabs. 
That's a possibility that you'll have to deal with if you run an online business. Some carts are bound to be abandoned.
You can send them an email reminding them to complete their purchase. An abandoned cart email nudges them to take a step forward without seeming too intrusive. 
The best part is you can use specialized tools to send your abandoned email cart at a pre-specified time. With these tools, you can run your entire email marketing campaign on autopilot.
5. Build a Social Media Community
When we talk about social media in terms of growing a business, the first guess is that we're discussing social media ads. But even if you are on a limited budget, you can leverage social media to expand your dropshipping business. 
By creating a group on Facebook, you can engage with a group of like-minded people. When you discuss the latest trends in your niche, it brings about a sense of community. When your target audience gets a chance to mingle, they are more likely to stay loyal to your brand. 
Even big companies use this strategy to build an effective sales funnel and boost customer loyalty. Here is a screenshot of fitness apparel brand, Gymshark's, Facebook community.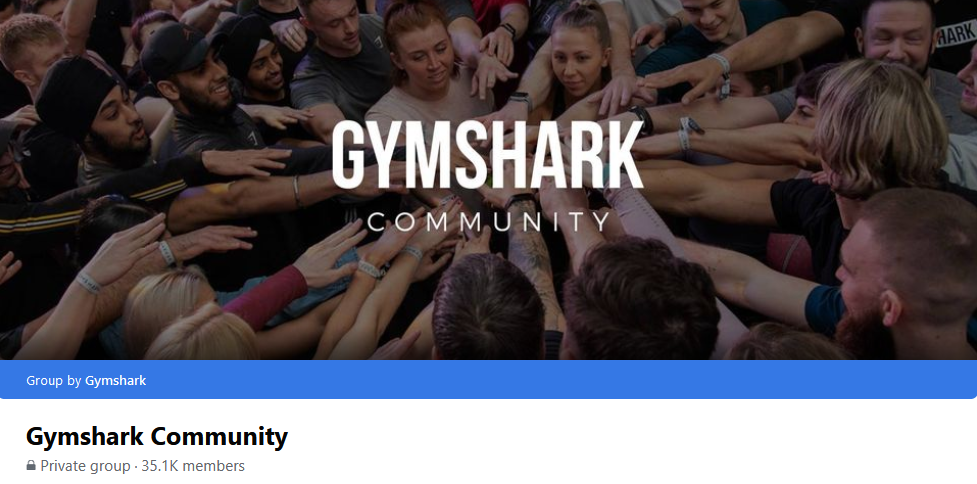 Image via Facebook
6. Run a Referral Program
Another way to get more customers in your sales funnel and boost loyalty at the same time is via referral programs. Because you provide an incentive, an existing customer is likely to be interested in bringing you another customer.
You can send loyalty emails outlining the details of your referral program to generate buzz.
Additionally, you can add a special landing page about your referral program on your website too.
Here is an example of a referral program run by Wayfair.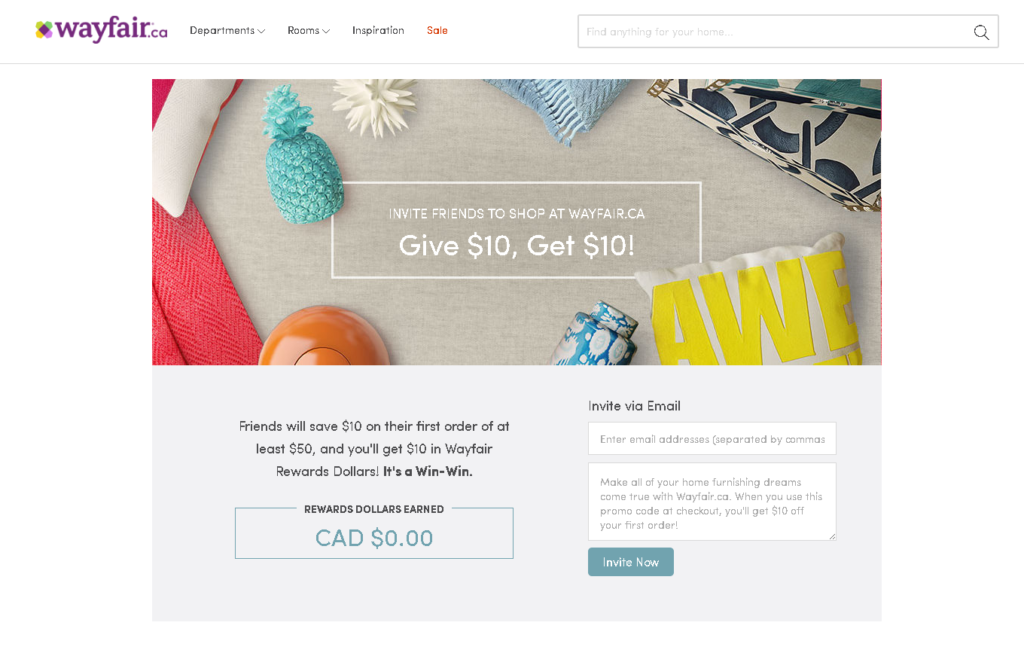 Image via Pinterest
Conclusion
Dropshipping businesses have a lot of advantages but they also have their own set of unique challenges. When you are designing a sales funnel, you need to keep these drawbacks in mind and try to minimize them.
For starters, try to address commonly asked questions via an FAQ section on your site. You can also feature reviews to provide social proof. That's all about the initial stages of the funnel.
To get more conversions, you should leverage cross-selling and up-selling your products. You can also run email marketing campaigns to reach out to users who may have abandoned their carts.
Lastly, to retain customers, you can run referral programs and build active social media communities. 
Got more questions about building an effective dropshipping funnel? Please feel free to mention them in the comments section below.
---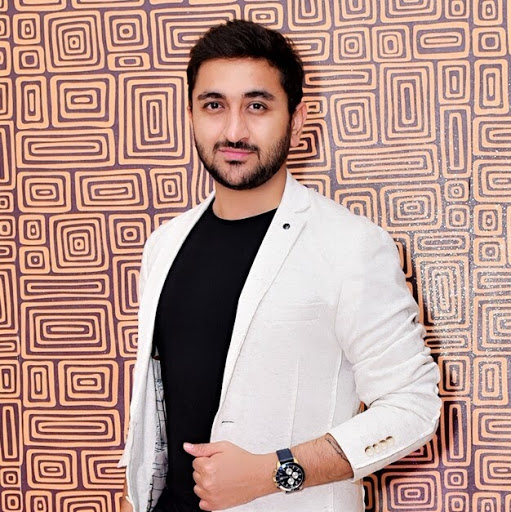 Author Bio: Gaurav Sharma is the founder and CEO of Attrock, a results-driven digital marketing company, and a Google Analytics and Google Ads certified professional.
He has scaled an agency from 5-figure to 7-figure income in just two years. He has increased leads by 10X, conversion rate by 2.8X, and traffic to 300K per month using content marketing, SEO, influencer marketing, landing page optimization, sales funnel, and LinkedIn.
He contributes to reputable publications like HubSpot, Adweek, Business 2 Community, HuffPost, TechCrunch, and many more. He leverages his experience to help SaaS businesses, influencers, local businesses, and ecommerce brands grow their traffic, leads, sales, and authority.