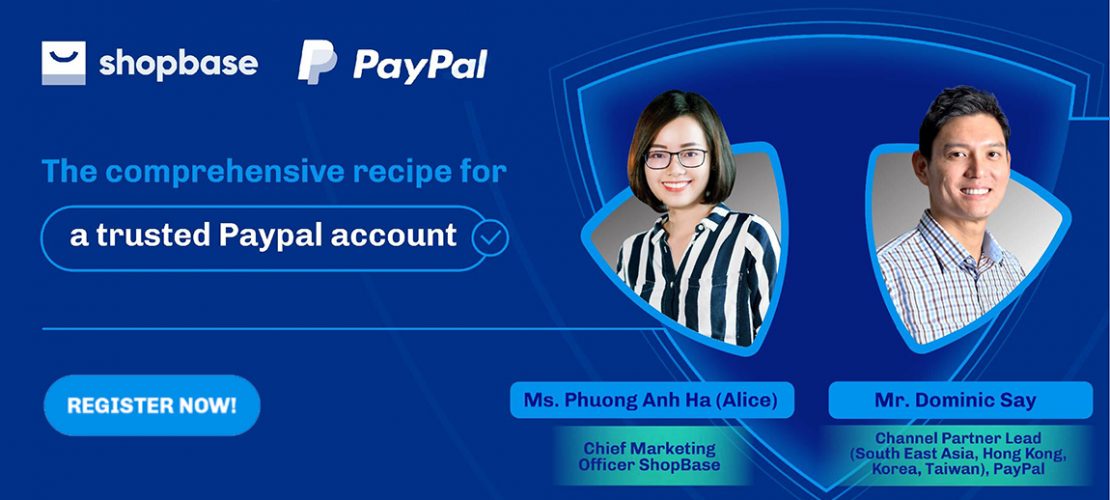 ShopBase Webinar #2: The comprehensive recipe for a trusted PayPal account
PayPal's payment hold is always a nightmare for anyone of us here if we don't have another choice but PayPal to get paid.
Join ShopBase FREE Webinar – "The comprehensive recipe for a trusted PayPal account" and learn how to clear PayPal payment holds, also get to know the optimal solution to set up a dependable PayPal account!
In this webinar, we're going to shed some light on your money-holding situation and show you the ways to prevent this disaster from happening. We bet that with our in-depth research, presented by PayPal & ShopBase's leaders, you can lower the dispute rate, therefore, reducing its impact on your cash flow.
ShopBase Webinar # 2: The comprehensive recipe for a trusted PayPal account
Learn from our experts in this short, 1-hour or less, on-demand webinar. You'll receive actionable strategies and insights that get your store away from PayPal payment holds. In addition, this FREE webinar helps you lower the dispute rate to under 1% and gain PayPal's trust easily.
This 20th-May-talk will include 3 main sessions:
1st session: PayPal & ShopBase strategic partnership announcement
In the 1st session, you will get to know how to create a PayPal account right from the ShopBase dashboard, which was supposed to take you a ton of time and effort previously.
Besides, PayPal's Channel Partner Lead, Mr. Dominic Say will share the exciting news of ShopBase becoming a strategic partner of PayPal, which provides ShopBase's users worldwide the integrated cross-border eCommerce solution. By joining the PayPal Commerce Platform program, ShopBase has more opportunities to deliver more benefits to our merchants, especially for payment issues.
2nd session: The comprehensive recipe for a trusted PayPal account

As you attend this session, you are about to receive actionable advice to reduce the risk of payment hold, from the industry's biggest thought leader – ShopBase's CMO – Ms. Alice Ha. With 4 major tips that have been classified by ShopBase after a lot of in-depth research, this session is the long-awaited part!
3rd session: PayPal Borderless Commerce Report 2021
In the last session, PayPal's Channel Partner Lead will share the eCommerce trends, after the threat of COVID-19 subsides, which has significantly changed consumer shopping habits.
By following PayPal's latest report, you can discover the international opportunities in 3 key markets around the world, understand the cultural or seasonal nuances, and connect with buyers in these markets effectively as well.
Besides, our experts will be answering the questions which ShopBase previously collected from the audience.
Stay tuned!