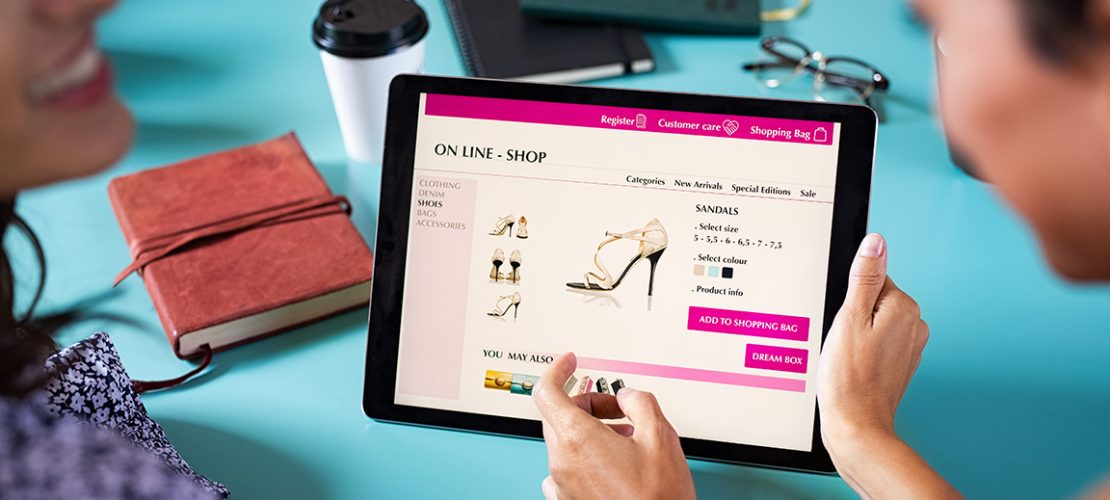 Shoot up your revenue by 4.5 times with Upselling and Cross-selling strategies
So you might hear about upselling and cross-selling and wonder how it can improve sales? Imagine when customers are wandering on your online store then click to see more information about a product, they see a list of "accessories" or "related products" where you offer them what they might also need using just some simple actions, which you can set up in the blink of an eye.
At the end of the day, sales increase significantly. For example, from just $2 for a phone case, with this strategy, you can have up to $15 because customers also add in their cart a screen protector or a selfie stick. Literally, in this case, with this strategy, you can gain 7 times more money without any complicated actions. Maybe you can gain a loyal customer using advanced functions.
The main purpose of upselling and cross-selling strategies is to earn more money rather than just random things, using added value to stimulate buying behavior of customers. The statics always tell the truth: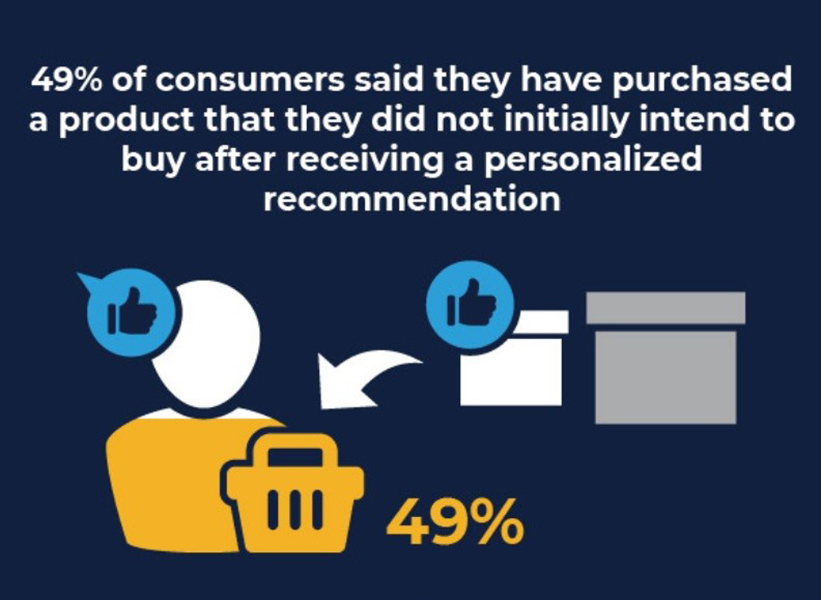 According to Lisa Ross's statistic of The Importance of Cross-Selling
More than that:
On average, upselling improves revenue by 10-30%.
On average, upsells and renewals generate 70-95% of income (for companies who offer them).
Upsells are 68% less expensive than gaining a new client.
These numbers are incredible and you wish to apply this to your Dropshipping/ Print-on-Demand store since upselling and cross-selling increase sales and decrease costs.
However, some of you might use this before and hardly see any changes. In this case, you might make some mistakes in the strategy, for example offering the wrong products or the upselling and cross-selling process takes too long to check out. So this article will help you out by providing upselling and cross-selling meanings and giving you the step-by-step guidelines to build an incredible strategy flowing through the customer buying behavior process.
Let's get into it now!
Table of contents
What are Upselling and Cross-selling meanings?
Upselling and Cross-selling definition
Benefits of Upselling and Cross-selling
Guide to optimize an Upselling and Cross-selling strategy with ShopBase
Pre-purchase
During purchase (in cart)
Post-purchase
What are Upselling and Cross-selling meanings?
Upselling and Cross-selling definition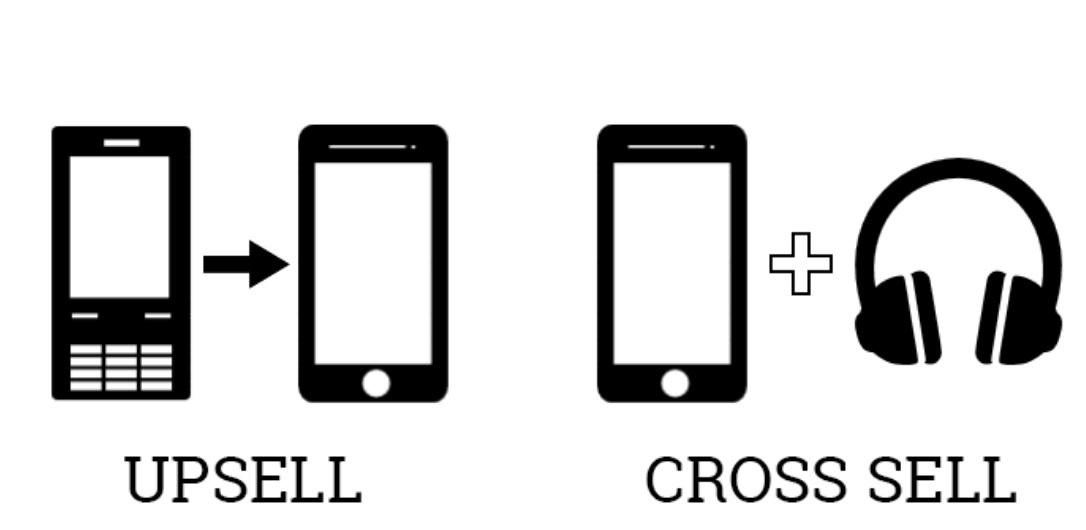 People assume upselling and cross-selling are the same. However, it is the two separated definitions. Take a look at the brief explanations and examples you might better understand.
Upselling is about urging clients to upgrade or incorporate add-ons to the product or service they are purchasing. The marketed product or service is often a more costly product or add-ons that may raise the entire order value.
Consider the example of your POD store. When a consumer starts the purchasing process, you may offer an upgrade to a model with better quality, a limited version, and so on. You may also provide fancy packaging, which is low-cost benefits for the client but very lucrative for the corporation.
Cross-selling is the practice of persuading consumers to buy goods or services in addition to the goods they originally meant to buy. Cross-sold goods are often complementary to one another, giving buyers greater motivation to buy both.
For example, if a consumer is ready to purchase a T-shirt, there is a far greater likelihood that they will also purchase bottom items or a bag to go with the total outfit if they are offered a good bargain on these things. In fact, businesses usually combine upselling and cross-selling in a campaign. Amazon believes that cross-selling activities account for up to 35% of income, and upselling increases revenue by 10-30% on average.
Benefits of Upselling and Cross-selling
You might understand what is upselling and cross-selling. In brief, upselling primarily concerns boosting the sales value, and cross-selling is more about increasing sales volume. So you need to know more about the benefits of these strategies to find out what is the best when you decide to start up an online business in general or just start a POD business or dropshipping in specific.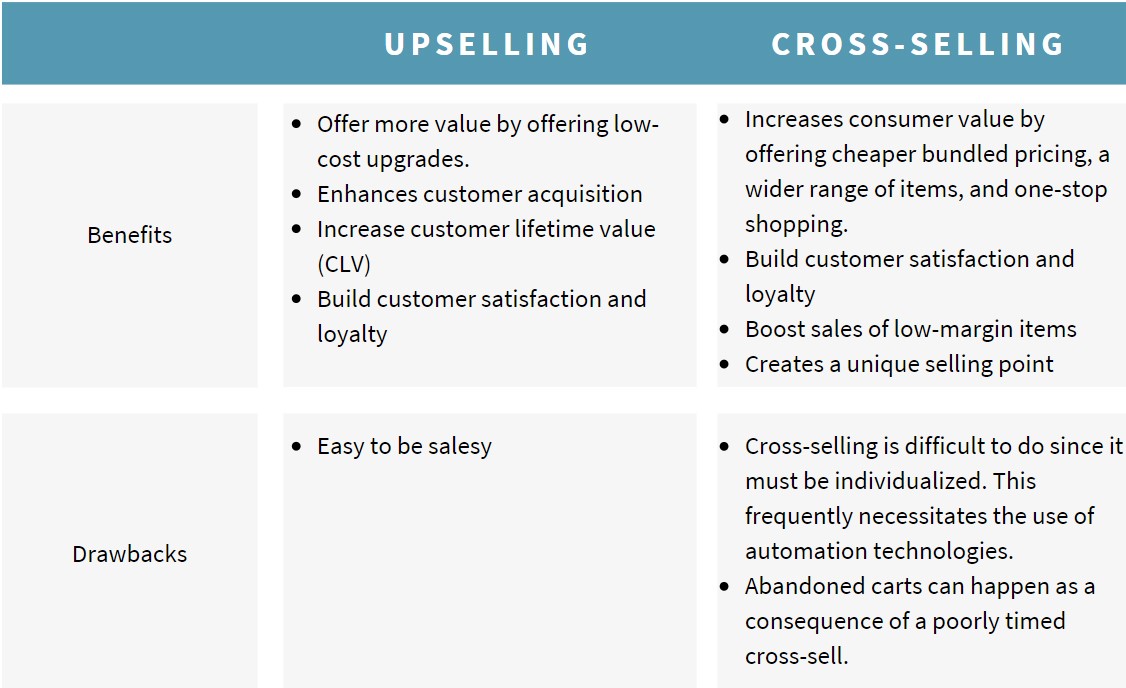 Let's come back with phone accessories online store as an example of a buying process to understand more what you will gain from upselling and cross-selling.
A customer is looking for a smartphone case on your online store.
First, the customer might just have a look on your page, you suggest to them some options satisfying the initial need (trendy design, high protection). This is the way you upsell to meet your customer's requirements and move to the next step of the buying process. In this step, customers will be willing to pay more if you can make them feel they are winning the deal, like paying a little but gaining a lot.
Once the customer found what phone case they should go for, you need to offer them more, for example, buy one more to get a discount. In this case, you are trying to increase AOV by upselling. So you want customers to spend more and you gain more than just the one that they are looking for.
After the customer picks the phone case, they will be willing to purchase more if you suggest reasonable and eye-catching items. A phone screen cleaner kit or super cute wireless earphone case is logical accessories with smartphones. Therefore, this is cross-selling and you will sell more than just a phone to them.
Sounds awesome, right? We hope that now you all understand upselling and cross-selling. Moving up next, we have a guide to help you build a good upselling and cross-selling strategy and win buyer's hearts.
Guide to optimize an Upselling and Cross-selling strategy with ShopBase
You can easily increase 30% REV rate by Upselling and Cross-selling. Upsell and cross-sell help you build better relationships with customers. When upselling and cross-selling are successful, you are creating more value for customers by giving them products that they really care about. Obviously, when they spend more money on you, it will be difficult for them to forget the store they used to buy from.
We believe that following the buying process, you will understand your customers in the best ways. By offering them the coolest items which meet their needs and insight, your store will see significant changes. So let's go right into the first stage.
Upsell Strategy
Pre-purchase
According to a ShopBase report, installing the Pre-purchase Upsell feature helps sellers increase sales by an average of 12%. Among them, there are special stores that increase sales by 26.89% – an incredible number.
Pre-purchase Upsell is an Upsell feature as soon as the customer clicks the Add-to-Cart button. This feature has proven effective when targeting viewers' emotions when preparing to make a purchase decision. In a time when emotions are high, customers can easily buy more if they are recommended the right product.
The final purpose of the pre-purchase upsell is to encourage clients to replace their current product in their shopping cart with a higher-tier or more valuable one. However, like mentioned before the drawback of this action is it can easily be salesy so customers might abandon the cart. Here some points that you should pay attention.
1. Integrate upsell offer as a native part
Customers now are more sensitive, they will figure out ads or promotions right the way and might skip them. Therefore, when you provide an upsell, it should seem like a natural extension of customer buy flow. It's preferable if it doesn't seem to be an upsell but rather a "feature."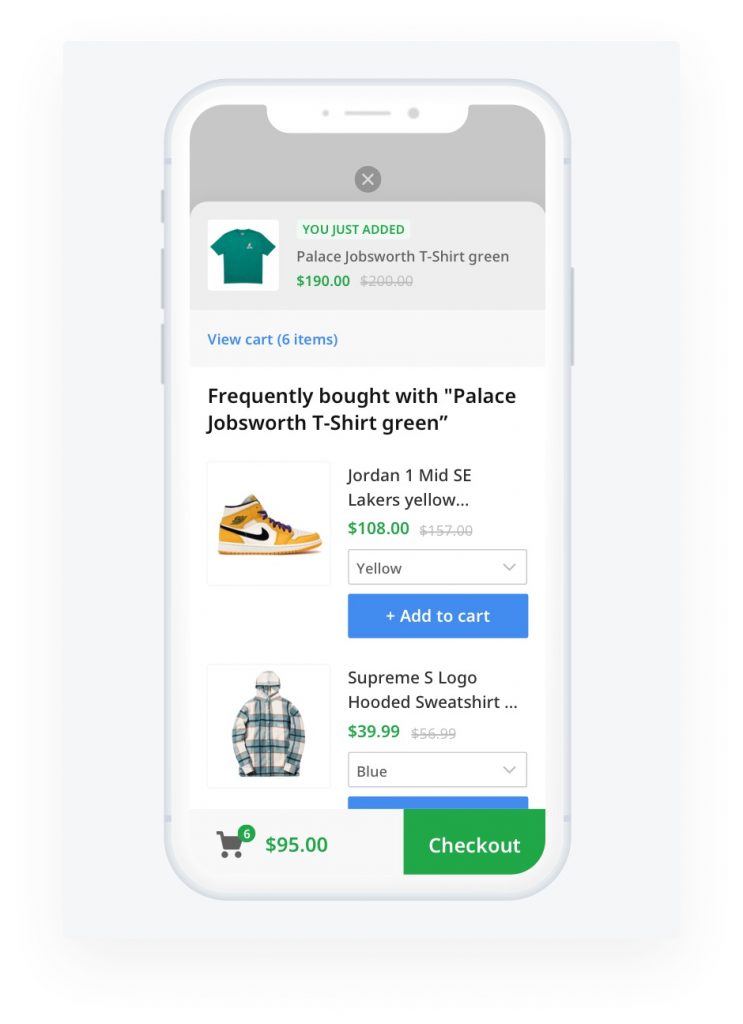 For example, when customers just added a T-shirt to their cart. Your upselling should suggest other items which might match a good outfit. You can include a message to convince them.
2. Make the post-purchase offer highly relevant
Do not provide absolutely random things in the hope that someone would purchase them. Spend a significant amount of effort tailoring the offers so that they are relevant to the product that the consumer is buying in the first place.
If you just start a POD business or dropshipping you should focus on this one. For example, you are selling a customized T-shirt, you can upsell it to a family or couple combo. This strategy helps you to increase the rate that customers will approve your upsell since they are already interested at the first stage.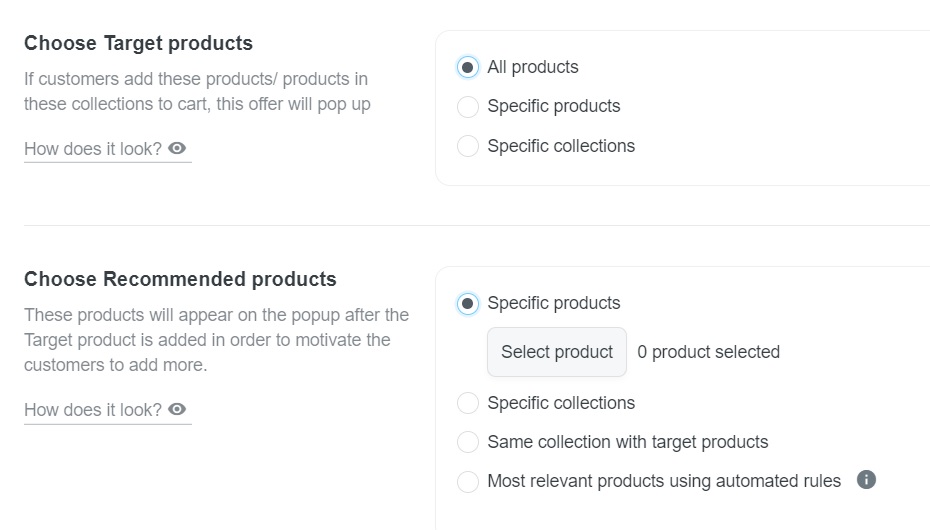 Using Boost Upsell from ShopBase, this is no more challenging. You can choose target products, which are the products that you want to put the Upsell and recommended products to satisfy your customers.
3. Upsell and cross-sell by personalized product recommendations
Consumer behavior is complicated, once you understand it it will help you a lot. Providing personalized recommendations is a method that you show your customers that you understand them and support them the best. To understand and achieve it, an automated tool that analyzes customer behavior and gives recommendations due to will be the best. You can look at some suggestions such as:
People who bought this also bought
Best-seller products in the same collection
Relative tags products
Random pickup just for you
With amazing features which allow you to adjust "Offer's name & message", "Choose Recommended products" and more, Boost Upsell from ShopBase will help you leverage the Pre-purchase Upselling to be more profitable. Here are some quick steps to set up:
During purchase (in cart)
Here comes the almost final step of the buying process. Customers now are checking their cart and finishing shopping. You should offer them more value such as purchasing another item.
If you recommend products of the same design, or some sort of accessory for the main product, while the customer is in the process of checkout, you are almost forcing the customer to pay attention to your suggestions. American customers have a mentality that often wants to "collect a full set of products with the same design". Therefore, In-cart upsell will take advantage of this point, promoting the desire to buy more, of course, provided your design is good enough.
1. Instill urgency in the upsell offer
Conversions are driven by urgency. In fact, CXL discovered that adding urgency to a Bob & Lush product page raised conversion rates by 9.1 percent and total revenue by 27.1 percent!
Introduce the concept that this deal is only valid as part of the upsell in your upsell offer. In other words, make it obvious that clients will not be able to get this deal individually afterward. Take discount as an example, you offer customers an extra discount if they purchase the upper version of the products that they want, maybe add up message like only for 100 customers. Since they expect to be in that group to have a good deal and the urgent time, they might decide quicker and then you earn more from customers.
With ShopBase, you are totally assisted to apply this strategy to your upselling and cross-selling campaign using Timer Countdown feature. This feature is available for free in the App list, which is automatically connected to your store and you just need to set it up to fit with your campaign. The product will appear up to you and help you promote the significant items.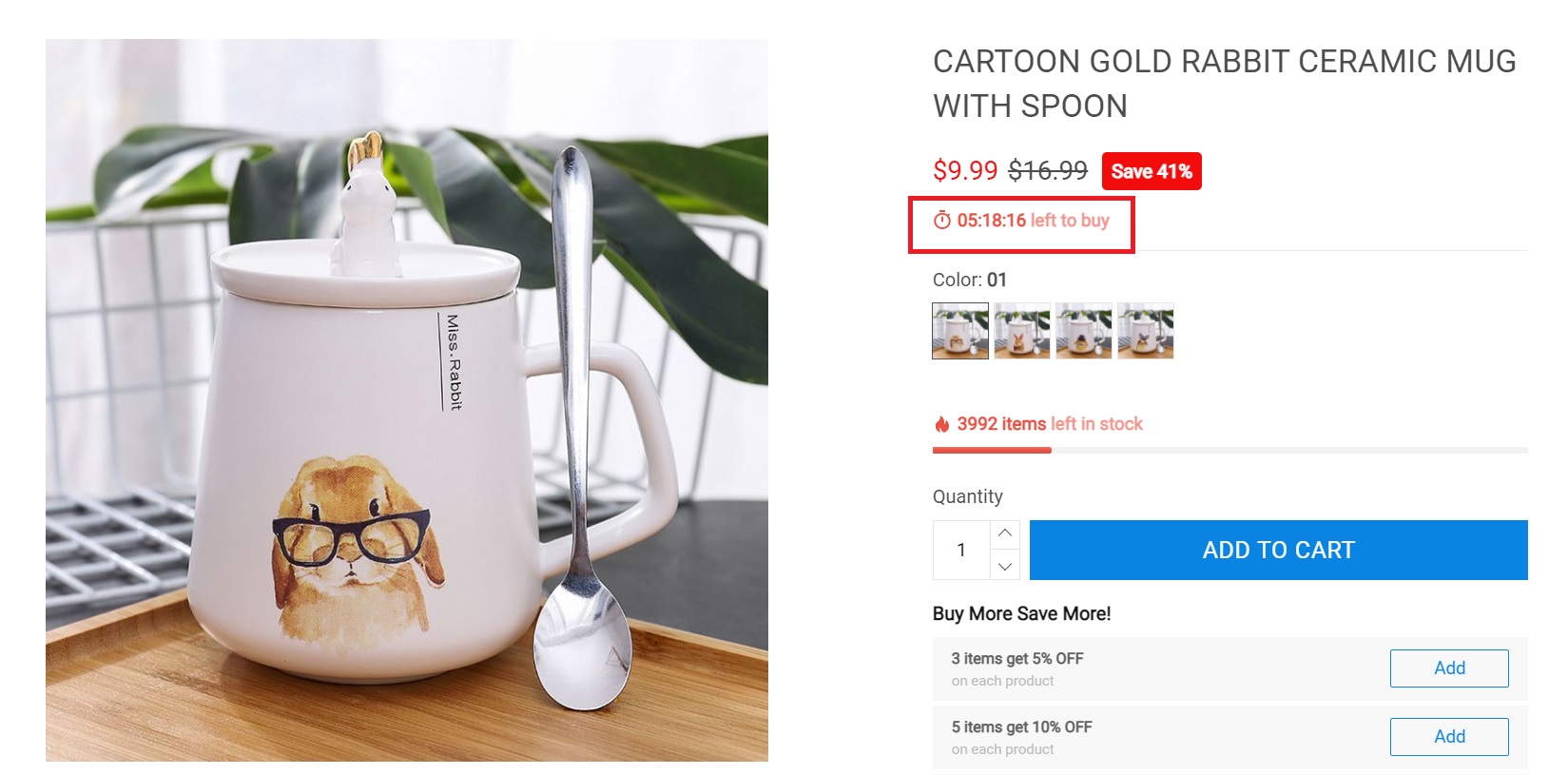 2. Show substitute products for sold out items
Substitute items provide customers with options when making purchasing decisions by giving comparable alternatives, hence boosting utility. Substitute items, on the other hand, generate competition from the standpoint of a corporation. Since you don't want to lose customers. Substitute products would be a good strategy, especially when upselling.
For example, a $12 anime T-shirt is just out of stock. When customers visit the product site, you should provide them with other alternatives such as a customized T-shirt for $15. It will help you earn from these customers without disappointing them.
So you think it is hard to set up this strategy. However, with ShopBase you can use the same feature to do this with super-simple steps. You just need to defined out-of-stocks products as target products, then recommend substitute products in your store.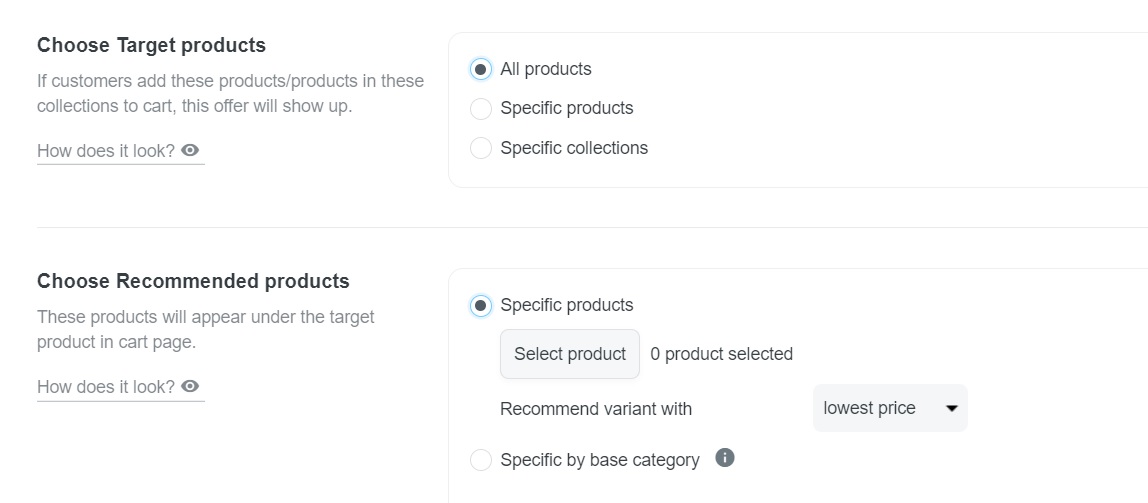 3. Good, estimated, optimized deal for customer and seller
Discount is good and interesting. However, you need to balance it well, unless you will lose more than earn. Since you will have more than one upsell and cross-sell campaign on your store, you will get lost and messed up without a financial tool.
In this case, you should carefully set a standard for all deals to easily control. On the other hand, you can just set a deal with automated calculation.
4. Always offer the customer an upgrade
You have a 5% to 20% probability of turning a lead into a customer. If you're fortunate, you'll get one in every five. However, you have a 60% to 70% probability of selling more to an existing client.
Furthermore, the bulk of your income (80% ) will come from a small number of your current clients (20 percent ). When it comes time to advertise your update, don't recite a laundry list of benefits. Instead, you must construct a picture in order to persuade your buyer to purchase the enhanced version of your product.
In other words, consider benefits rather than features. Customers want to purchase the finished product, so make sure your update is sold in a way that emphasizes the happily ever after. So instead of just selling a $599 16GB phone, let's find a chance to sell a $700 32GB beautiful camera phone.
5. Offer one-click upsells
Even upselling can be interesting, it should not be time-consuming. Since the more time it takes, customers will consider more and then hesitate to buy. One-click upsell makes the process simple and quick, customers can check out quickly and finish buying.
For example, in the cart, customers are about to check out. Suddenly they receive a good deal to buy another T-shirt for $1, they will do it without hesitation if it can be added to the cart with just 1 click.
Along with the previous part, the in cart upselling is also available with ShopBase. With easy-to-understand steps, you will be able to leverage profit from the campaign. Here are some quick steps to set up.
Post-purchase
Post-purchase upsells happen after a customer has successfully completed a transaction, between the checkout and the thank-you page. This thank-you page or order confirmation page upsells are ideal ways to show customers how to make the most of their recent purchase. With the above characteristics, the Post-purchase feature easily helps you make the most of your customers' purchase time to introduce the right products instead of spending more marketing costs for the next time. Post-purchase upsell pages are more flexible and work great for discounts or small add-ons.
Moreover, you might also need to post-purchase upsell via cart abandonment recovery emails. Once you give them more passion and value to come back to your store and buy products, your strategy will be successful.
1. Give better offer (abandoned cart email)
While we're talking about post-purchase upsells, don't forget about email. Email marketing is still one of the most efficient methods to reach out to clients, and there are a few upselling email examples that may assist you in increasing sales. Abandoned cart email is an excellent way to save your profit.
For example, if customers do not buy the product, you may continue to offer better products or deal to them through email. You may further sweeten the transaction by providing a further discount on the enhanced product or service.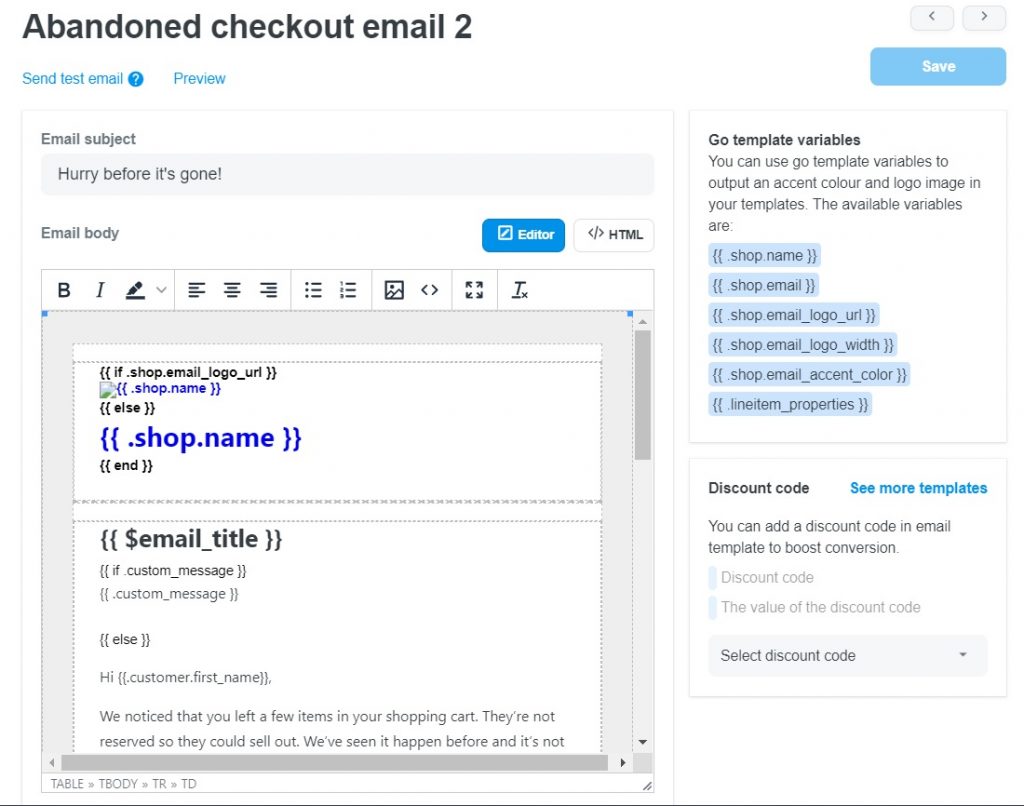 ShopBase gives you some optimized abandoned cart email templates that you can use to offer your customers better. You can easily edit and add promotion code or direct link. Keep in mind to make it just in a click.
2. The message needs to be friendly to convince after a purchase
You want to upsell more even when customers take the final steps in their buying process, try to be friendly and native, so that you can convince them. By giving a good message, consumers will be more likely to click and pay attention to another product or deal after they finish a purchase. You can create a message such as: "Special last offer for you only!" and add more information "As a special thank you, I will give you an amazing offer you will like more"
3. Upsell at the golden moment right after checkout
Don't overuse upsell and cross-sell strategies, as though you're continually trying to sell more to your consumers whenever and wherever feasible. The keys to effective upselling include proposing similar things based on the client's interests and selling at the appropriate time to avoid distracting the consumer.
4. Bring customers back to your store with product upsell & cross-sell emails
Approximately 80% of organizations still depend on email marketing to help them maintain their customer retention rate. Loyal customers help you increase sales surprisingly. Moreover, this is the strong force of marketing your products and services using word-of-mouth marketing.
Upsell & cross-sell emails need to bring value to customers, understand their insight, and satisfy their needs, but not spam.
Here are some easy steps for you to set up a post-purchase upselling campaign.
Cross-sell Strategy
As mentioned before, cross-selling will help to increase sales volume. However, even you tried it, you sell nothing at all, and customers abandon the shopping cart. Here are 4 'not-too-pushy' upselling strategies you wish to know before starting an online business:
1. Understand behavioral segmentation
In a word, behavioral segmentation allows you to establish client cohorts and send customized offers based on their internet activity.
This implies that you may segment your website visitors or current customers based on the sites they visit and the items they see (their behavior), allowing you to better understand their objectives and issues. You may then provide your product suggestions in real-time, making them relevant straight away.
2. Map out your customer journeys
Even the most relevant offer might fail if it is provided at the incorrect moment. Customer path mapping allows you to find the optimum touchpoints for repeat contact and cross-sell.
Assume you have a consumer who has previously purchased a pair of shoes from you. They also purchased a polo top. After a week, they've returned to your web store multiple times to look at additional smart-casual items. They're clearly intrigued, so now is a good opportunity to follow up.
3. Offer supplemental – but not essential – products
In certain businesses, a few tiny additions may dramatically increase the usability of a product. Consider the IT industry. Because of the many add-ons and upgrades available, it is a great business for cross-selling supplemental items.
A consumer buying a planner, for example, is likely to be satisfied with little more than the notebook itself. However, a pen case, stickers, or a set of colored pens may improve their appreciation of the product.
Offering add-ons rather than must-haves improves the consumer experience. Cross-selling will not be successful if the customer is angry that they would be unable to fully use the original product without acquiring ancillaries.
4. Take the social approach
Every other way of cross-selling varies somewhat from the social approach. It's most famously employed by Amazon in their "often purchased together" feature on every product page. It's unique in that it doesn't depend on predefined algorithms, product sets, or "expert" suggestions. It offers dynamic product couplings by leveraging the browsing and purchase habits of a larger client base.
It's an exceptionally successful strategy since the product combination choices aren't always connections you'd make or suggested by industry experts, yet they nevertheless function amazingly well together.
The most powerful and advanced of ShopBase Boost Upsell features is every option for Upselling and Cross-selling is available just in a free app and already integrated. Cross-selling of ShopBase can allow you to do more than you think: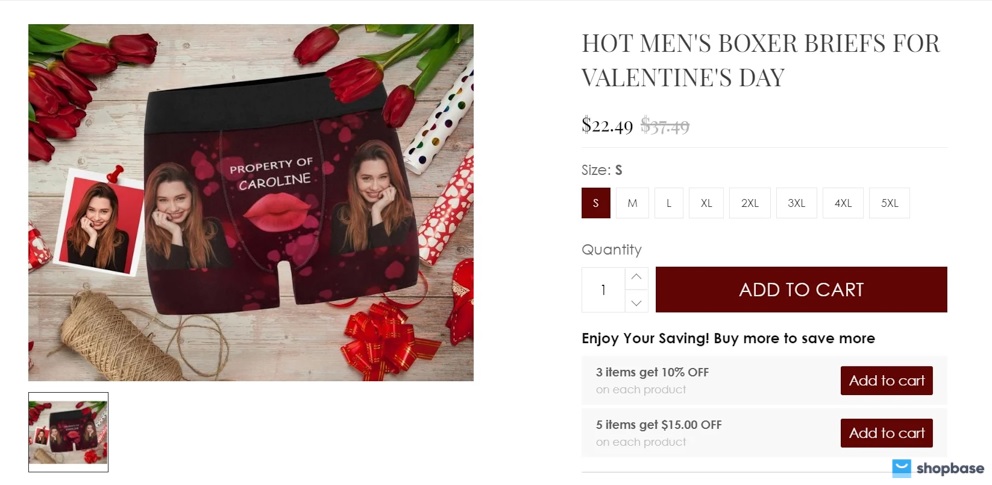 Customers may take advantage of your great offer if they purchase in bulk. Quantity Discount especially works to increase AOV in seasons such as Black Friday, Christmas, New Year, St. Patrick's Day or Mother's Day, …
Customers will be more likely to purchase more than just a $15 T-shirt when they receive a good price at $30 for 3 items.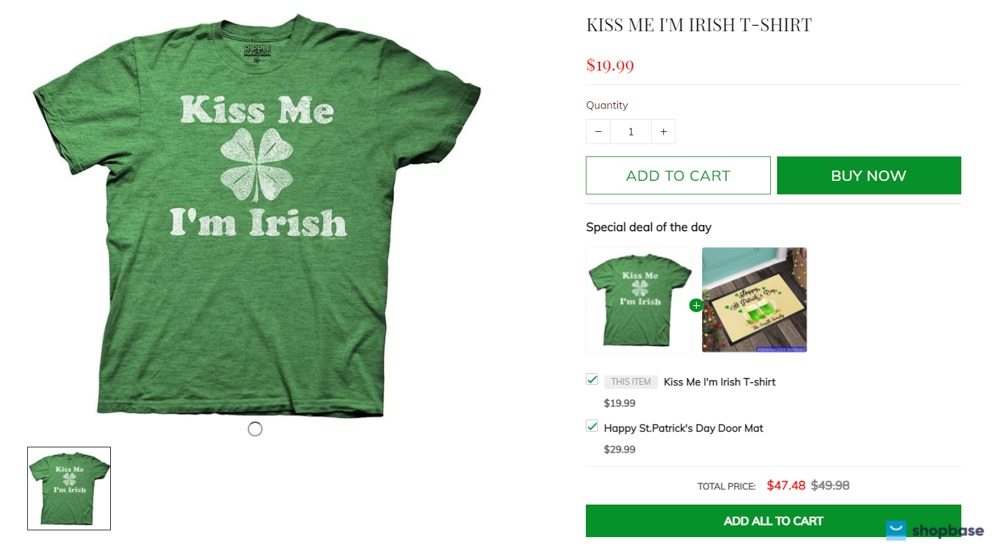 Sell more items by recommending an appealing combination to your customers on the product details page.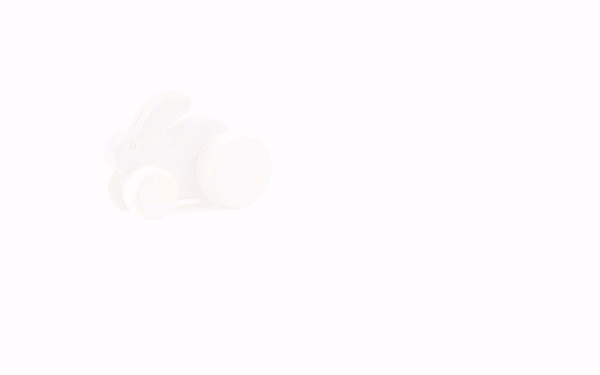 For example, you can sell a bundle of T-shirts, Pants and Underwear with the same design based on the Product Bundle; or a collection of T-shirts with the same design for the family is also a good suggestion, …
Video
Showing your suggestions underneath the Add to cart button will make it easier for your consumers to find more appropriate accessories for their items.
For example, you should display accessories like phone cases or earphones to cross-sell when you are selling a smartphone.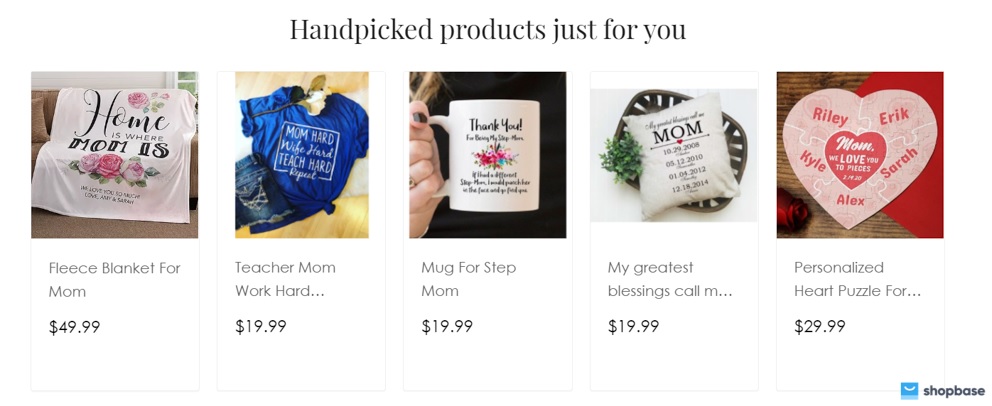 Increase cart value by making cross-sell ideas on some of your most popular sites based on product views, sales, and browsing data acquired from your company. You can even increase by using abandoned cart email to remind customers.
Product Widget acts as a free marketing tool for the store, helping to keep customers longer on the website. From there, you have the opportunity to advertise and showcase other products at no extra cost. Some of the features that you can use to buld your campaign.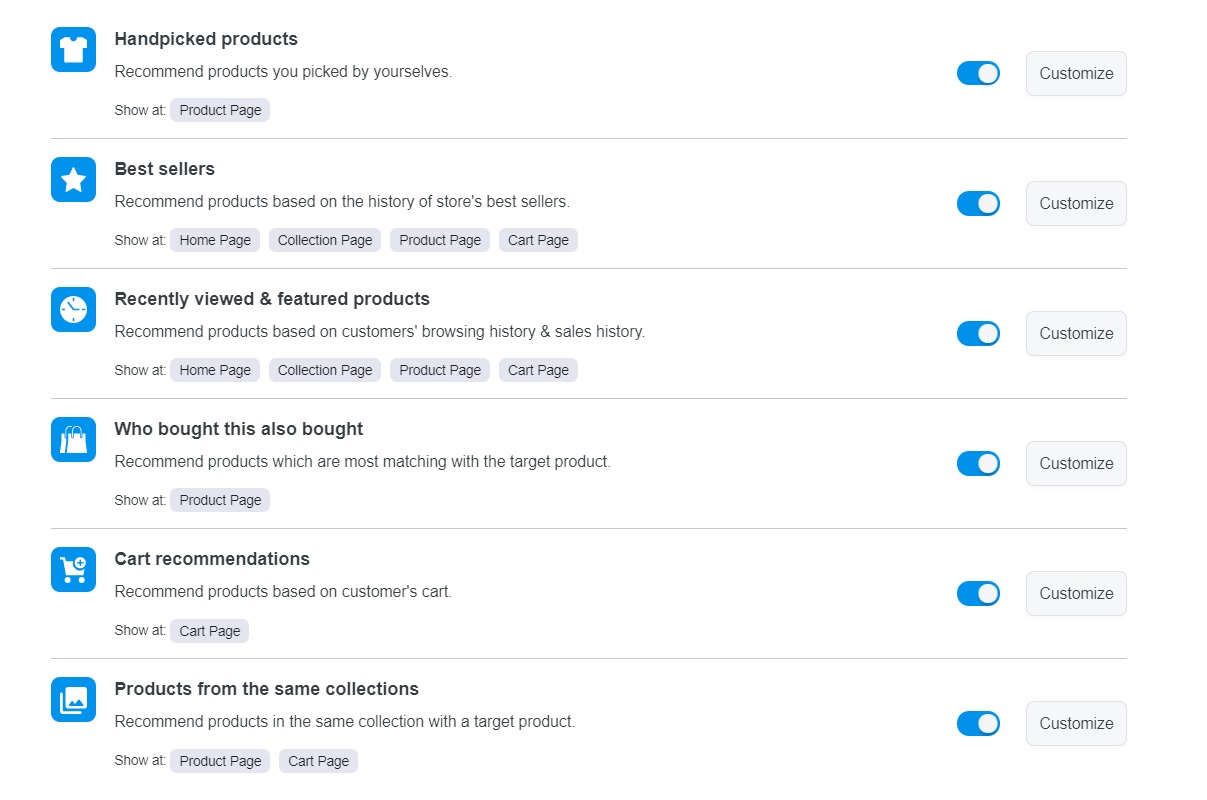 Conclusion
As you can see, upselling and cross-selling are both intricate marketing methods that may impact on your small company. Although it may take some time to see benefits, this is one definite approach to increase sales, engagement, and client loyalty. It is up to you to adapt these concepts to your own product and audience.
However, in short, you should notice when coming with a good strategy:
Value should be prioritized
Customize Your Recommendations
Understand When to Make an Offer
As a comprehensive support platform for Dropship and Print-on-Demand sellers, ShopBase is certainly indispensable for applications and features allowing sellers to perform upsell and cross-sell.
No matter what your business strategies, ShopBase provides you adequate functions to work with. It is recommended that you should plan and choose the right one instead of turning all these functions so that customers may not feel overwhelmed. Choose wisely and start with us today to optimize your business.
Try Upselling and Cross-selling on ShopBase for FREE
Other strategies to improve sales of your online business you might interest: