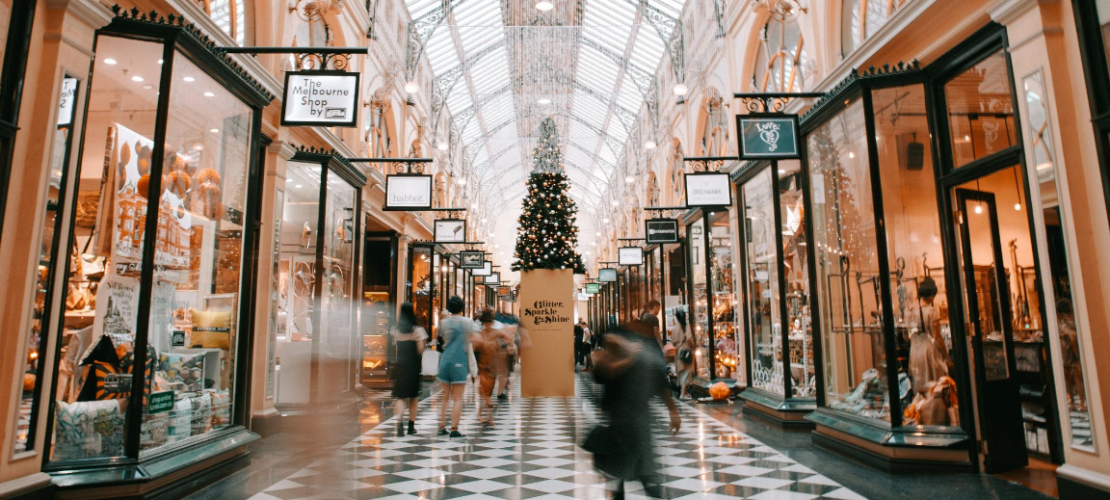 The Holiday Marketing 20-Point Checklist to Prepare for Your Online Store
If there's any time of year that strongly impacts E-commerce sales and marketing, it's the holidays.
The holiday season is like the ultimate jackpot, and getting bigger all the time. While there was a falling off in 2009, due to the Great Recession, holiday sales have been growing each year ever since.
Take a look at this graph to have an overview of the past years' trend during the holiday in the USA: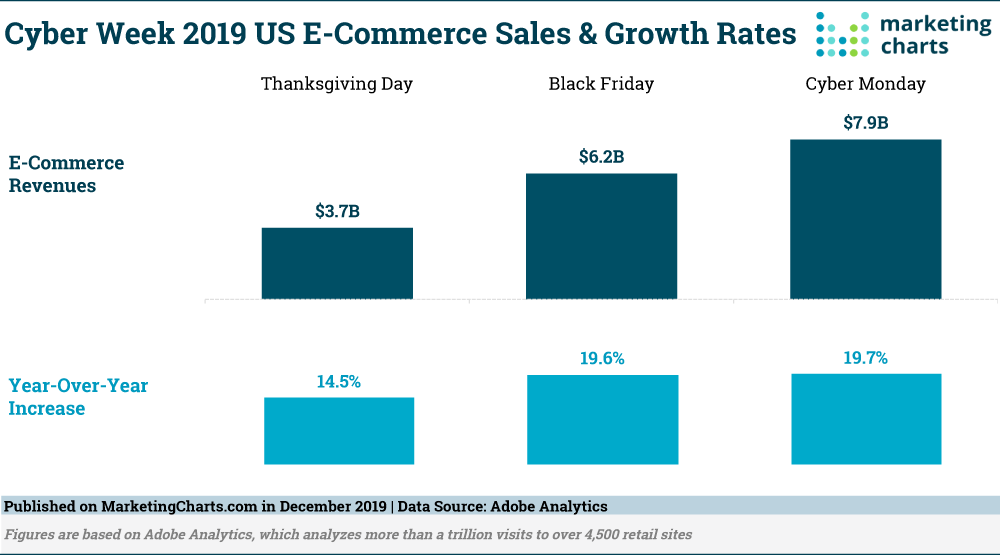 To get a slice of the pie, all online stores are pushing out a lot of marketing campaigns. While some campaigns result in an extremely high return on investment, others might sink to the deep.
So, how to grab this chance to skyrocket your revenue? We've got you covered.
In this Holiday Marketing guide, you'll learn:
The most up-to-date statistics about last year holiday sales season
20 actionable and easy-to-apply holiday marketing ideas
Suggested marketing tools to save your time and efforts
First, it's important to take some time to reflect on these highlights of the Holiday 2019 landscape.
Global eCommerce statistics and trends
By digging into data from over a dozen authoritative sources, we compiled here the most updated highlights about the holiday sales season.
---
The rise of Mobile Commerce
Google's numbers show that 54% of all online shoppers say they plan to shop on their smartphones during the holiday season whenever they have spare time. Additionally, 30% of all online shopping happens on mobile devices and mobile searches related to shopping jumped by 120% on last year's holiday season. And Google predicts this trend to be spread faster throughout this holiday season.
Takeaway:
On holidays, busy customers are always on the go so it's important to make sure your online store is mobile friendly so they can visit the site on their phone whenever they want, no matter where they are.
Social Commerce becomes a powerful avenue for sales
The impact of social media on the eCommerce industry is huge, as per the numbers, approx 37 million social media visits led to 529,000 orders last holiday season. Plus, an average of 85% of all orders from social media come from Facebook.
With the rapid growth of social advertising, more and more online store owners willing to pay for ads. It's projected that $43 billion will be spent on social media advertising in 2020.
Takeaway:
If you are planning to invest your time and money on social media, make sure you'll start it soon. Ad costs rise dramatically in November and December when the competition increased.
20-holiday marketing checklists to prepare your store for this Holiday season
Make your website a merry place to shop!
People don't just a book by its cover, do they? Of course, they do.
Alright, we guess not everybody. But with most people, things that are beautifully designed always win a customer's heart in the first place.
And so does your online store. The more you decorate, the more energy and excitement you can bring to passersby.
So what does it take to Wow online shoppers? Here're the 2 main elements:
1. The Color Palette – How to choose the right one for the holidays?
Color is a powerful, emotional, and hugely important part when it comes to dressing up your store to match holiday mood. You could go crazy wanting to assemble all the orange and black products when it's Halloween or all the red and green products when it's Christmas, without considering too much.
However, we will not suggest you design a totally new theme for each coming holiday (it's costly and only temporary for a couple of days), stick with a color palette that's holiday-related instead.
It also won't make sense to your audience if you choose to use a Halloween or Black Friday color scheme.
There's a wide variety of holiday colors to choose from. Not everyone has to use green and red all the time: golds, tans, and blues work just as well. At this point, you can take a look at these images to learn how big brands changed their site design to match the holiday shopping mood.
Tiffany & Co.
Victoria's Secret
Macy's
They do things really well here.
First, they choose a couple of holiday colors that dominate their products and go well together. For example: silver and blue, red and black, red and green.
Second, they have a holiday-themed background displayed in a full-screen view but behind the main CTA and holiday products. The background is catchy enough to get customers' impressions, and it also has done a great job in emphasizing the promotion message they'd like to show.
Well, a beautifully designed website with a clear CTA that's good for conversions. They get the best of both worlds.
P/S: And if you don't want to switch to a totally new theme? Remember you still have other elements like banners, pop-ups, upsell & cross-sell offers,… you can easily design these elements to be holiday-oriented and use them to decorate your store. Just head to our next tips to know-how.
2. Product images set a mood for holiday shopping
The product page is where the magic happens. And your product photo is your hero in E-commerce.
93% of people say that visual imagery is the #1 factor impacting their buying decision. Especially during the holiday, when the amount of traffic you receive will be doubled compared to the non-holiday season. So make sure to have ultra high-quality product photos on hand before the crazy sales season begins. However, heavier photo means lower loading speed. Consider this:
Most shoppers wait about

3-5 seconds

for a full loaded online store

Amazon found that if their pages slow down for 1 second, they lose

$1.6 billion in sales

a year  

Google uses page load time as one of the main factors in their ranking algorithm.
So what should you do?
One way you can reduce image file size is by using the "Save for Web" command in Adobe Photoshop. Or simply use an image compression tool to speed up your page load times and reduce bandwidth use.
And as we've said in the previous part, do not forget to optimize product photos for mobile users. You will not want to see 30% of all potential customers leave because of your non-responsive website.
Tips: Display product images in a full-screen view: Unlike on the desktop experience, your mobile interface should be heavily tilted towards images; ideally imagery will represent full-screen space, and be the central focus of your mobile pages.
3. A holiday pop up that matches your store's design
Now that you have a holiday-themed website to get shoppers' attention, the next step is having a coupon pop up that matches the holiday palette you chose in the previous step.  
Wait a second. You say popups suck, right? No, if the holiday season nears!
It's a time when your shoppers will be in a rush. They'll actively search the web looking for coupons, discounts, and other offers. On the other hand, they're searching for pop-ups, where online stores put their offers in.
So what will you do to design your popups for the holiday season?
Small pop-ups.

During the holidays, when your shoppers are in a rush, a big pop up that covers the entire screen is a bit too much. It makes shoppers feel like they're forced to see what you are offering. Just keep it small and eye-catching. Make sure it doesn't take more than half of the person's screen.
Big headlines + clear CTA:

Your pop up is small. But instead of relying on the size to grab a person's attention, optimize your headline, visuals, and CTA to achieve the same effect. Showing offers right in the headline is a good way to get your visitors to notice your offers.
A tool to use: Sitekit. This tool is highly customizable so you can decorate a festive mood using its pre-designed holiday themes.
'Tis the season for holiday deals, coupons, and offers!
The build-up of the holidays is a great opportunity for you to send out different kinds of deals.
From flash sales, private sales, discounts, bundles to gift cards, free gifts, and personalized offers based on your customers' needs.
There are at least 3 things your eCommerce store needs to have so let's discover them.
4. Sell in bundles, Upsell & Cross-sell to the max!
The holiday season is the perfect time to bundle items and upsell & cross-sell to online shoppers because they are in the right holiday-shopping mood.
Amazon once revealed that 35% of its total revenue comes from upselling and cross-sell deals. Why so?
The reason is selling more to current customers is always easier than selling to new ones. When customers buy a product, chances are that they may need complementary items to complete the package. A woman who buys a dress might be interested in accessories. She might need to buy a bag or a pair of shoes later, so why don't you cross-sell those items to her now?
A tool to use: Boost Upsell
You may not know:
Not every product can be offered. There are better products than others to offer as upsells & cross-sells. To figure out which are better, let's look at:
Your

best sellers

products: the most sold products are probably the best ones in your store. Many people purchased them so they'll have a higher chance to be bought again.

Your

most reviewed

products:

88%

of consumers trust online reviews as much as a personal recommendation. Offering these products so you can convince your customers better.

Your

most relevant

products to the product being sold: you need to manually choose what "relevant" is for each customer. This is hard and of course, time-consuming. However, if you're using a

smart upsell & cross-sells app

, this is done automatically. Just look at how Sephora makes gift-giving easy with its featured products of the top pics for the holiday season.
Tool to use: Personalized Recommendation
5. Create daily deals and time-sensitive offers
The holiday season begins and ends in a specific period, it means that it has a time-sensitive factor. Take this as an opportunity by creating offers or flash sales that are bounded by a limited time. When customers see that a deal expires soon, they experience the fear of missing out (FOMO) which drives them to make the purchase immediately.
To influence urgency you can add a countdown timer to increase the demand for a specific product that's on sale. This can force customers to make a decision faster than they might have without a time limitation.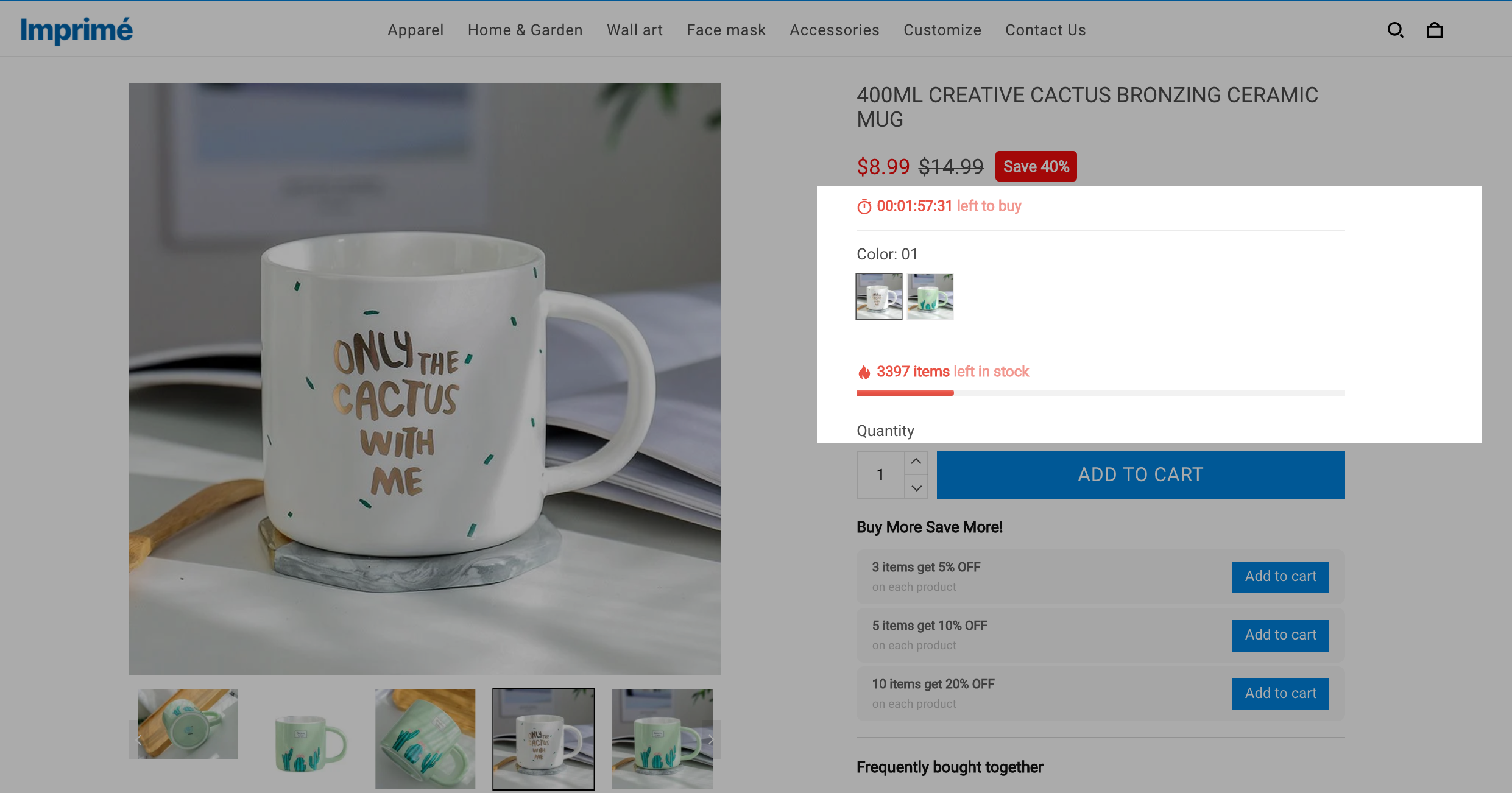 Countdown timer and stock countdown offers. Tool to use:  Boost Convert
6. Make Free Shipping profitable
Free Shipping is a surefire way to increase sales on the holiday season. ComScore found that 72% of online customers say Free Shipping is the No.1 incentive to shop online more.
However, it's not worth offering free shipping unless you can make it profitable.
The challenge for online sellers is how to affordably offer free shipping and balance the expense? We highlight here 3 ways that any online seller can run to maximize profits on a free shipping offer. If you do this right, you can see 15-30% improvement in your net profit and conversion rate.
Here they are:
Create Thresholds

: add the minimum order value required for Free Shipping. Many shoppers will add additional items to their shopping cart to receive your offer. Just like this: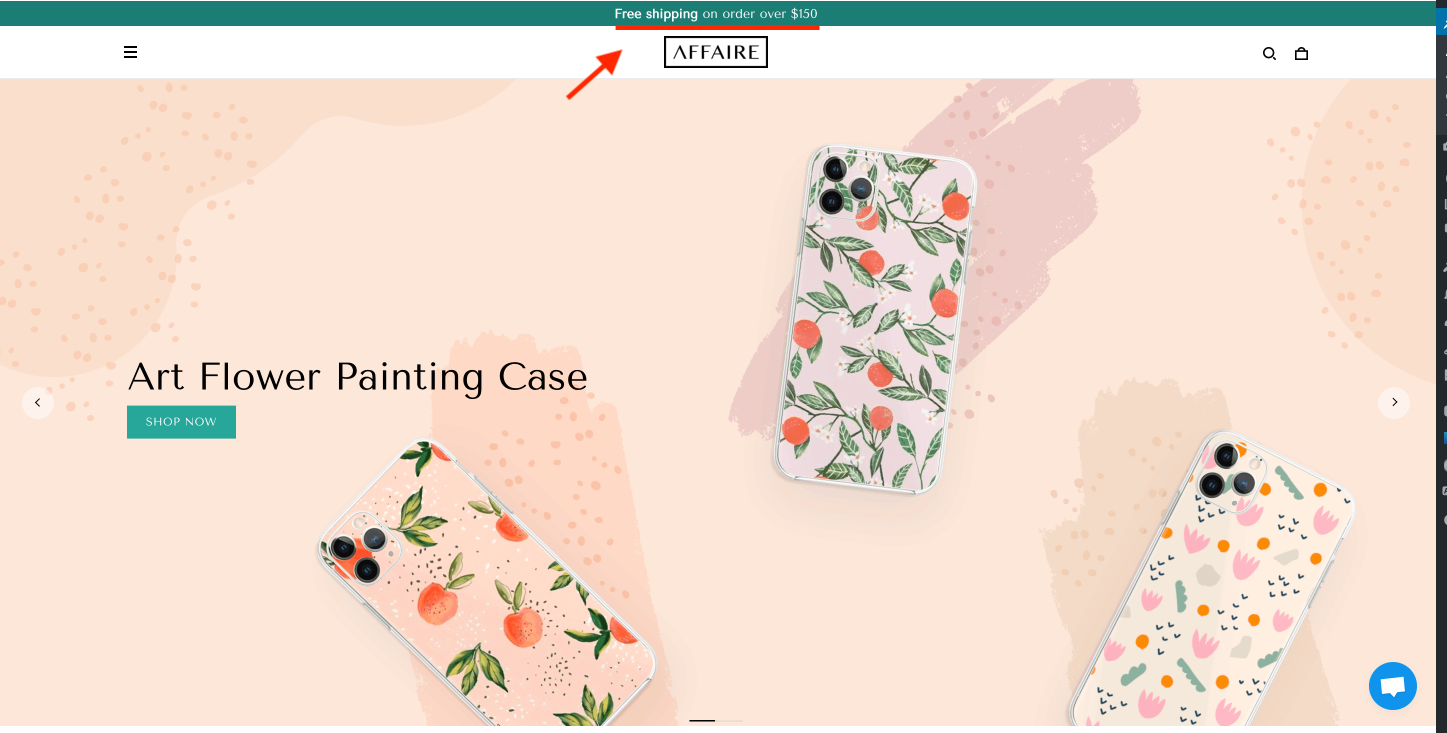 Tool to create header bar: SiteKit
Set Restrictions

: See what kind of improvement you'll get by offering free shipping only on some select products where it is profitable.
Increase prices:

Increase prices of holiday products to compensate for the loss you take on free shipping, and see how your profit compares.
How to promote your holiday deals, offers, or campaigns
7. Display banners on Homepage to advertise holiday sales
When it comes to spreading the news, your Homepage is a keyspace you should take advantage of since it will reach the most number of visitors. Place your banners here to catch passersby's attention and lead them right to your promotion campaign.
To create an eye-catching banner, you don't have to be a graphic designer to get things done. There are 2 simple ways to have a beautiful sales banner without spending too much time and money on it:
If you don't want to spend too much time: use holiday templates from

Creative Market

. Each template costs around $10 – $20.
If you don't want to spend money: use

Canva

instead. It's a simple design tool for everyone with thousands of free holiday templates for you to choose from.
However, the banners would disappear as the customers scroll down.
A quick tip to remind customers of your existing promotion without disrupting their shopping flow: put a sticky header bar on your page. The header is outstanding enough to grab customers' attention in 3s. They enhance their shopping experiences and help you drive the traffic directly to your promotion pages.
8. Create a seasonal content marketing strategy
Is content marketing worth the effort?
Content marketing is one of the most effective ways for retail brands to connect with potential customers. The reason is that shoppers only interact with the content that interests them, as opposed to traditional marketing.
To illustrate: if you've never heard of ShopBase before reading this eBook, well, you have now because of our content strategy.
The biggest benefit of content marketing is that you're not selling your products in your content, you're selling yourself. You want people to relate to you through blog posts and form an emotional connection.
Research shows that shoppers are more likely to make a purchase based on personal emotion than logic or reasoning:
Image source: business2community.com
The dark side is…
Unless you already have a large audience, it does take time for sure, it can take a few weeks for Google's bots to scan your site and for you to see the good results from your content. This is why right now is the perfect time to prepare and get ahead of the holiday rush before it even begins
To kick start your content marketing plan for holidays, consider this topic: Holiday Gift Guides. 40% of customers begin researching their holiday shopping as early as October. This is where gift guides come in. Many shoppers looking for great gift ideas will look to gift guides and buying guides for inspiration.
Getting your products in gift guides can help more shoppers discover you, especially if you have a niche that makes a great gift. Here's how a gift guide looks like:
 Holiday Gift Guide for Women
9. Launch PPC Holiday Ads
People love PPC advertising for the simple fact that it can lead to massive sales in a short period of time. Unlike other traditional digital strategies – like social media and SEO that typically take time to pay off – PPC can get almost instant results as long as you do it right.
There are 8 different ad formats you can choose to create a new campaign as shown here:
However, a comprehensive review of all of them is beyond the scope of this guide. Instead, we've highlighted 3 of the most ideal ad formats for the holiday season here:
9.1. Sitelinks
You can add more links to your ads with sitelink extensions. Sitelinks can take shoppers to specific pages on your site – your holiday deals, a specific product page, or more. When a shopper clicks or taps on your links, they skip right to what they want to know or buy.
Here's an example of how Sephora using sitelink ad extension:
9.2. Showcase shopping ads
Showcase ads will appear for search queries and allow you to feature product images and prices directly on the SERP. When a shopper clicks on your showcase shopping ads, it expands the ad to show off a catalog of relevant products. Just like this:
9.3. Review extension
Adding a quote from a positive review to the text beneath your ads gives potential customers one more reason to click. Google's claim is that "Review extensions can boost click through rates by up to 10%."  They can come in 1 of 2 forms: Exact quote or Paraphrase.
10. Make personal holiday greetings
Sending out holiday greetings to your customers is such a simple marketing tactic that provides you with a 10-fold return. It helps you keep your brand on the mind of your customer base and also presents an opportunity to generate more sales and strengthen your relationships with existing customers. You can send a personal greeting to your loyal customers either via email or social media.
And of course, including this message to promote your campaigns and draw customers' attention:
An introduction of your promotion campaigns with a strong CTA to bring them back to your store
Inclusion of their latest purchases or past holiday purchases with corresponding product recommendations
X-Mas and New Year Gift Card from Sephora
11. Run Facebook ads that actually convert
If you haven't run an ad before, check out our Definitive Guide to Facebook Advertising first.
The holiday season is when every online seller starts increasing advertising budgets, especially with Facebook ads. Competition for limited ad space also heats up during this time because of that reason. So be prepared for higher ad costs and make sure you set up your ads at least 24 hours in advance.
Here're 3 tips to run a successful ad campaign for this holiday season:
11.1. Target ads to people on your contact list
There's a reason why people spend so much money increasing email subscribers: email lists are great sources of customers. As the snow's not here yet, right now is the perfect time to build your own email list. When the holidays arrive, you'll have enough quality leads to turn them into paying customers.
Start building your email list today.
11.2. Create a curiosity ad
To get people clicking.
The formula of a curiosity ad is simple: ask people a fascinating question or tell them a cool story, and leave the best part untold. For instance, Uber asks in the ad's image "Does your car qualify?" and sparks the reader's curiosity to find out more.
Also, try reinforcing the question throughout your ad as Promo does. They place a question on both ad's copy and image:
11.3. Less is more
Have you ever tried a very simple ad design before?
While all brands are trying to step out from the background by using outstanding images and colors on their ads, a very simple ad will make you different from the others.
The New York Times seems to be using this very approach, focusing people's attention on the ad copy – rather than a shiny ad image.
One big bonus: You can save hours of hard work while testing this type of design. Just like Rad's Black Friday ad, we guess this ad image takes no more than 5 minutes to finish.
12. Add QR codes to your physical items
During the holidays, smartphones are checked over a billion times daily, with over half of users looking at them within five minutes of walking. With this trend of Mobile commerce, QR code is a perfect mechanism for the upcoming holiday shopping season.
Here're how you can take advantage of QR code: Promote holiday items, or discounts with packaging inserts, posters, and other offline marketing materials. With QR codes, you can encourage mobile shopping anywhere offline without having to keep your inventory on hand.
Updated: Now with the newly launched iOS 11 update, shoppers will be able to scan QR codes much easier with the native camera app on their iPhone.
Optimization your holiday campaigns for better results
Planning and setting up your holiday campaigns is only half the battle. The other half is optimizing your campaign once it's live. Even the best, most perfectly set up campaign will ultimately fail if it's not managed properly.
13. Create urgency in your copies
The language you use on your website, marketing materials, and email newsletter,…have you created a sense of urgency for all of these copies?
If the answer is no, let's look at these examples to see how other brands use urgency for their marketing campaigns.
They all use urgent phrases – "final hours", "now", "shop it while you can",… – and make those phrases the star of the show, and keep the supplemental copy to a minimum…
We've highlighted some other common words you can use to express urgency in your copies below:
LAST CHANCE
CLEARANCE
TODAY
HURRY
BUY NOW
NEVER AGAIN
ONE DAY ONLY
DON'T MISS OUT
NOW OR NEVER
PRICES GOING UP
14. Send out cart abandonment emails
Often a shopper will add to cart on your website, only to never checkout. And this behavior only ramps up as the holiday season nears. Barilliance reported that the average cart abandonment rate on Black Friday to Cyber Monday 2014 was 65% – an overwhelming majority.
One of the most effective ways to save these potential customers is by setting up cart abandonment emails. This way, when a customer adds a product to their cart then leaves your store, you can bring them back with a compelling email sent right to their Inbox.
Once you've got abandoned visitors opening your emails, you need to convince them to complete their purchase with:
Compelling message
A sense of scarcity
A right incentive
Tool to use: ShopBase personalized email follow-up feature 
15. Extend your holiday promotions for last-minute shoppers
You need to maximize your holiday sales by catching your fellow procrastinators: last-minute shoppers and post-holiday buyers. Consider this: set up a last-minute holiday sale of your unsold holiday items during peak events such as Christmas before the year ends.
When you still receive high traffics from holiday shoppers, it's a perfect time to engage with the post-holiday traffic with sales promotions or new products.
Just like how Naja's post-Black Friday sale below.
Provide amazing holiday customer care
As we've said above, the amount of traffic you receive during holidays will be doubled compared to the non-holiday season.
The last thing you want is to let these shoppers slip during the most important time of the year. So make sure you deliver excellent customer service on time to convert holiday traffic into sales.
16. Integrate live chat support
Build a live chat system to support holiday shoppers whenever they need your help. The presence of a salesperson not only resolves shoppers' concerns but also persuades them to buy from your store.
Ola. Pet is providing an amazing live chat support with Facebook Live Chat – a free tool that helps you communicate with customers via Messenger:
They used this tool to effectively support their customers in a personal and timely manner.

Tool to use: Facebook Live Chat
In this way, their customers can use their own Facebook account to chat directly with Ola. Pet, without having to create a support ticket or email.
17. Offer free returns
The holiday rush isn't just a stressful time for business owners, it's also a crazy time for online shoppers. Be the online seller that cares about shoppers' concern and make their shopping process easier by offering that returns are hassle-free.
Plus, offering free shipping on returns is also a great marketing tool, it might convince customers to complete their order when they're on the fence about purchasing your product.
Post holidays: prepare for a new year plan
18. Gather feedback from customers
Ask for customers' experience in your store, listen to their feedback, and take note of what you think will have a positive impact. That's how you leverage your customer support and get new ideas for next year's plan.
If you want to really see the customer's' activities when they are browsing your store, you can use apps like Insightful to gather valuable data and deep insights. Basically. The Heatmap report shows you which parts of the store draw the most visitors' attention.
You can even see the records of their browsing activity to see exactly their shopping journey in your store, whether they later bounce off or continue to the purchasing decision.
These data help you understand the customers' insights like what impresses them and what makes them leave, hence you can know where you've done right and where you haven't.
Don't be too quick to make changes, you should hold off on making major changes until the new year when you see an eCommerce trend and have a detailed plan for it.
19. Collect insights for next year's ads
After the holidays, the first thing you should do immediately is to review the performance of your ads and determine which ones drove the best results.
Here're some important metrics you should look at: the number of people reached and engaged with your ads, the kinds of customers that engaged, their demographic information, and location.
Then note the text and images you used in those ads so you can create similar ads next year.
20. Mark your next year calendar with major holiday milestone dates
With so many events and tasks set for next year, it's best you mark your calendar well in advance with all the special occasions. Carefully think of each occasion then choose the ones you'll benefit from the most.
Take a look at this calendar, it'll help you visualize the dates.
Are You Ready for the 2019 Holiday Shopping Season?
Remember that every day counts as we are fast approaching the holiday season.
The good news is we have this solid holiday marketing guide for you to gain revenue and come out successful during the holidays.  
Be sure to apply the above holiday marketing tips and tricks to intensify your holiday sales and stay away from procrastination.
Get started today, so you can achieve your most successful and profitable holiday season yet!