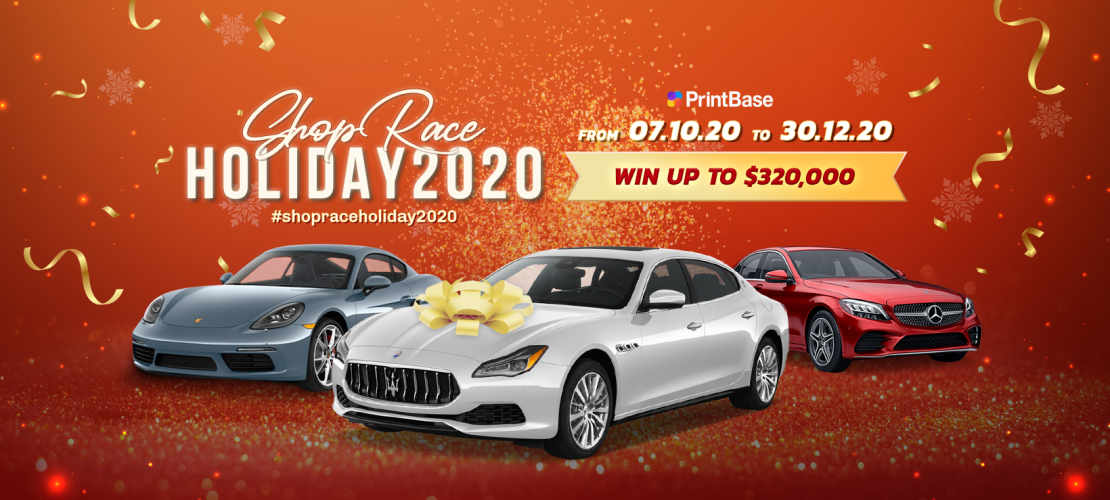 ShopRace Holiday 2020 – Let's race to the top now!!!
Quarter 4 is always the most profitable season of the year. You definitely can't miss this shot to fire up the revenue of your print on demand business. Besides, you can also stand a chance to win a prize worth up to $320K with ShopRace Holiday 2020
ShopRace Holiday 2020 brings up to you 9 different prize tiers, from $500 stretching all the way up to $320K. You'd better be prepared because this holiday season your profit is going to hit a record high!!!
Our race will start at 00:00 am (GMT) on Wednesday, October 7, and end at  23:59 pm (GMT) on Thursday, December 31 (New Year's Eve).
9 incredible prize levels
The ShopBase Holiday 2020 will bring you up to  9 tiers with incredible prizes for each level, starting from $500 in cash for earning 900 points and stretching all the way up to the incredible $320K for 45K points accumulated for each item sold.
We have 9 different tiers as follows: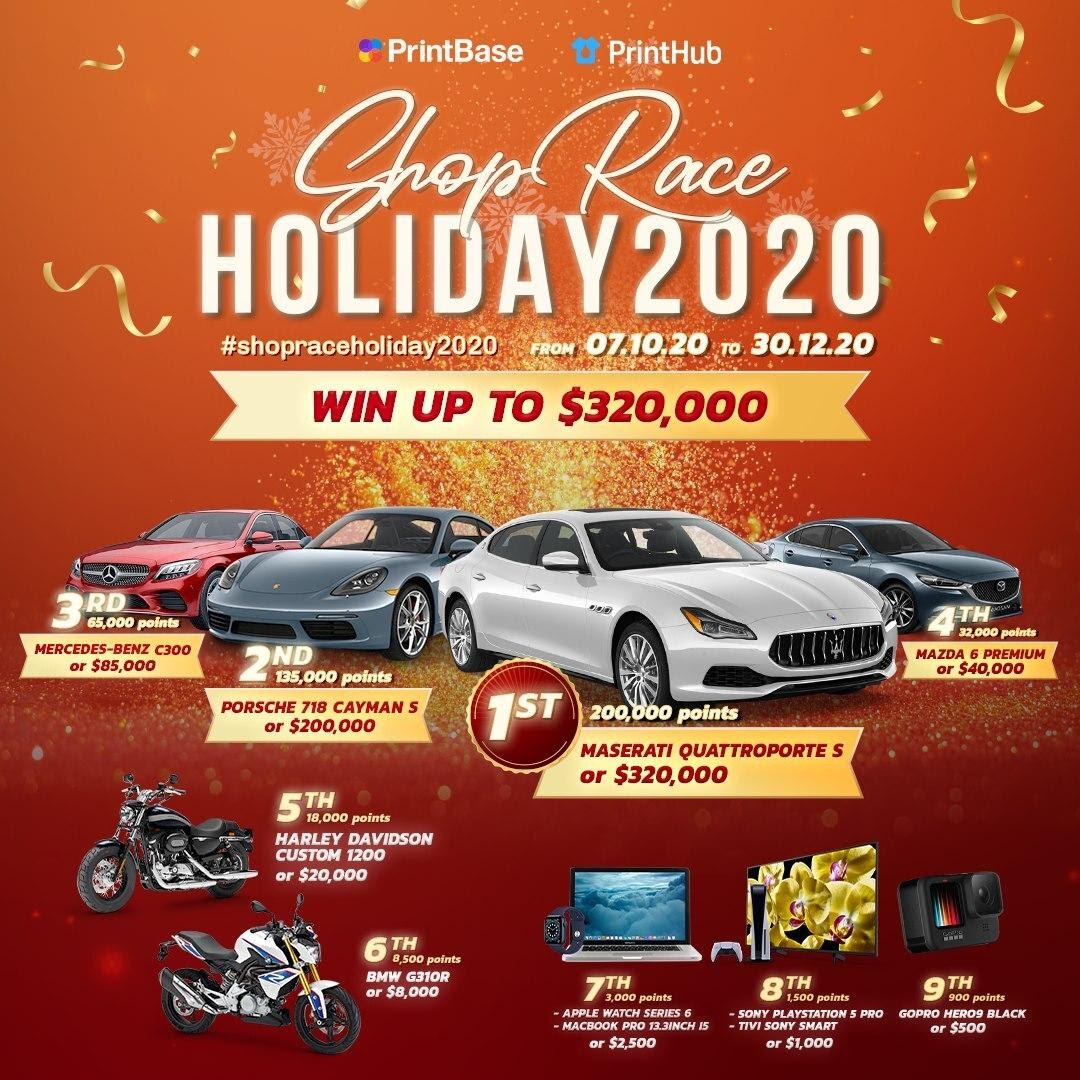 Who can join ShopRace Holiday 2020
We are thrilled to welcome all online merchants who sign up with PrintBase and ShopBase merchants fulfill their orders via PrintHub) to ShopRace Holiday 2020.
Hopefully, it never comes to this, but any accounts that violate PrintBase policy may be disqualified from ShopRace Holiday 2020. 
Reward points
You'll earn 1 point for each item of Gold Base sold, and 0.5 points for Silver Base. Prizes claimed are based on the total reward points that you earn by exactly the time the race ends.
Reward points are calculated based on the type of product in the following charts: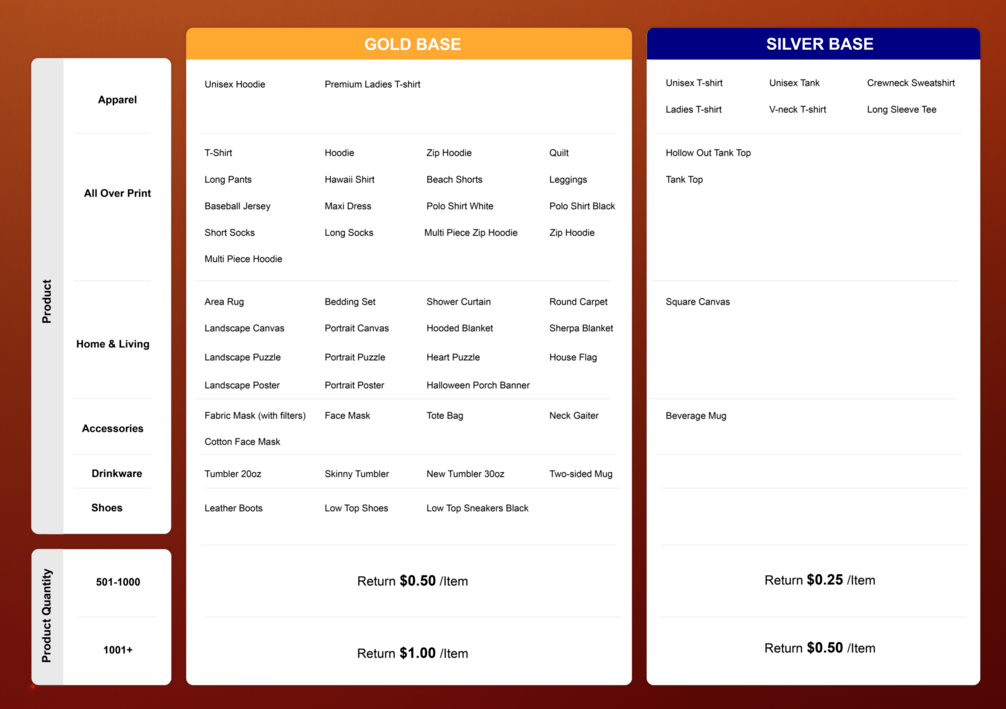 Prepare your business for the best holiday race 
Big holidays are coming and there's no better time to scale your print-on-demand business: Halloween is right around the corner, Thanksgiving, Christmas, and New Year's Eve – the biggest shopping events of the year – are heading straight to town. Plan well ahead and be ready to count your point, because it's going to be huge.
Don't be dismayed if things are a bit hard from the get-go, because you've got a wealth of untold secrets for making the most of the incoming events in the following articles.
Frequently asked questions
1, I have multiple PrintBase stores, can I accumulate products from different stores to earn more points?
Definitely, you can. Reward points are calculated based on the number of units sold by each merchant account, so online merchants can accumulate products from different stores to earn more points.
2, When is the result of the race going to be announced? 
The final result is going to be announced 1 week after the race ends. The prizes will be delivered to our winners in the next 2-4 weeks after the result announcement.
3, If any of my orders get canceled or returned, will my points get deducted as a result?
Unfortunately, yes. You can't earn points for any orders that get canceled/returned.
4, Is it possible for PrintBase Cashback Program to be enabled in conjunction with ShopBase in my store?
Yes. PrintBase Cashback Program is still enabled in conjunction with ShopRace 2020: Game of Print. PrintBase merchants will be more beneficial when joining both ShopRace to earn exclusive prizes and Cashback Program to get money returned for each item sold.
We hope ShopRace Holiday 2020 will fuel you to double, or even triple, your revenue. Be prepared to hit a new high this holiday!