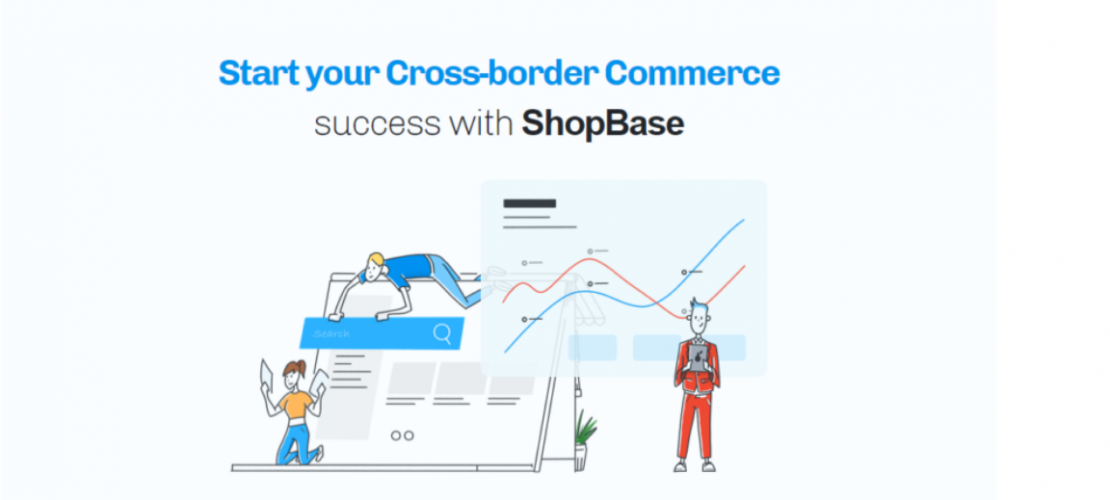 ShopBase Review: A Newfangled Cross-Border eCommerce Store Builder
The content is originally posted on eCommerce platforms for ShopBase review, contributed and rated by Ecommerce Platforms Editorial Team.
Catch a sidelong glance of this cross-border e-commerce selling channel.
So far, it's a verifiable fact that drop shipping never comes along with newbies pretty easily. Not even with a mere blueprint of how ShopBase works. Yet at the same time, with existing e-commerce channels striving for a fairly good dominance in the market, it's hard to find an all-in-one platform that's honed to perfection.
One that centrally manages drop shipping, white labels, and print-on-demand orders, concurrently.
Our blog site is a huge proponent of e-commerce solutions that are not only savvy but also have the capacity for cross-border sales transactions. ShopBase is seemingly closing in on its competitors quite briskly.
In this review, we'll look at a couple of features that ShopBase has in store for its 'freshman' users. Just to give you a short blueprint, this guide covers the following:
How it works
ShopBase's marketplace
Pricing
Overall features
Integrations
Customer Support
Pros and cons
So let's get started.
What is ShopBase?
First of all, let's have a quick breakdown to understand how it all began.
The team behind ShopBase started way back in 2008 where they launched Beeketing, a software that helps e-commerce merchants grow their sales and revenue, pretty fast.
Later on, they released a couple of other automation tools mostly for the Shopify selling channel. This led the team to break even way sooner than anticipated.
And a decade after stepping in the right direction, the team attempted to resolve patent issues merchants have had to cope with while handling cross-border e-commerce transactions.
Part of their objectives was to come up with an automated solution that can loosen up these snags:
Poor product quality ( print-on-demand products, drop-shipped items)
Longer shipping times
Sub-standard packaging
Such falloffs often result in numerous chargeback claims, poor customer ratings, a low customer retention rate, stunted ROI from ads, blocked payment gateways and marketing accounts, the list is long.
With a high success rate in helping ecommerce retailers build a high conversion portfolio of up to 80% on their online stores, cross-border commerce was still a worthwhile proposition to give a shot at.
And the startup, dubbed ShopBase, was designed to give an integrated solution for white labels, POD, and drop shipping setups.
And to make it a perfect stronghold in e-commerce transactions, ShopBase comes with these unique elements which we'll look at later in this guide:
A gripping POD&Dropshipping website builder
Free migration to ShopBase. The app gives you a stable backup solution
Capacity to hold multiple product variants(up to 1000 variants)
Conversion optimization tools
Swift product import apps
Cart abandonment recovery
ShopBase payments (coming real soon)
Global order fulfillment services integration
That's just a snippet of what to expect. Let's get into the finer details.
 ShopBase Review: How the store-builder works
As we mentioned earlier in this review, ShopBase works largely as a cross-border channel built for users looking to toss into drop shipping, white labels, and print on demand products from a single dashboard.
If you want to rebrand products from your supplier with your logo and make them seem like they're shipped from your store, ShopBase is all set to help you out.
Such a crafty technique gives your products a refined look, builds your customers' brand loyalty, and gives it an indefinite authority in the market.
Mostly, ShopBase, through an app extension, is best known to personalize print-on-demand products such as:
Hoodies
T-shirts
Sweatshirts
Leggings
Long sleeve shirts
But the list doesn't end here.
ShopBase is tuned up to sort any pertinent needs different users have. The company has a packaging solution that seamlessly broadens the drop shippers order fulfillment success rate.
Same as other pioneering drop shipping platforms, ShopBase offers its new users a 14-day free trial package once they complete the sign-up process. It has beginner-friendly tools to help you create a drop-shipping store in less than 15 minutes.
So let's dig in further to see how practical ShopBase can get.
ShopBase Review: Prevailing Features
Storefront Builder
The first step to start drop-shipping or virtually sell print on demand products is to have a responsive online presence. In other words, you need an online store to start selling your niche products.
And this is why.
About 52% of website traffic comes from mobile devices. A drop shipper, therefore, needs to have mobile-responsive product pages that load quite fast. To that effect, ShopBase goes overboard to extensively elevate the overall users' experience.
As you'd expect from any top-notch store builder, its online store is entirely mobile-friendly. The setup process is quick and easy for starters. As soon as you're done with this part, ShopBase promptly redirects you to the admin dashboard.
The dashboard allows you to set these priorities in order:
Order management
This part lets you sort the customers' order information to avoid missing out on pending deliveries. Its dashboard gives you access to an orders' list. It shows you the payment and fulfillment status of an ordered item as well as the shipping details of the customer.
You can ascertain whether products are partially fulfilled or if they're entirely unfulfilled.
In case of any chargeback issues or any other pertinent inquiries, you can resolve the claim from this point to maintain your store's reputation and credibility status.
Checkout page
ShopBase automates the checkout process to give you a circular-knit control over all the conversion signals. While there are several segments you need to reduce the purchasing barriers, ShopBase's checkout pages are easy to navigate through.
To avoid all possibilities of making sales from getting trashed, ShopBase helps you deal with cart abandonment by maxing out on all recovery options. You can schedule emails to persuade your store's visitors into buying a product.
The seller gets to follow through all the prevalent funnel cracks. ShopBase lets you identify all windows that could potentially help your store heighten its conversion rate.
It's open to all sorts of customizations you need your store's checkout page to have. Such kind of distinctive attribute lets the drop shipper optimize the checkout pages to enhance the visitors' average conversion rate.
ShopBase gives you all the key entries to adjust your shipping rates. You can choose to go with options such as weight-based, tiered pricing, location-based, or use a fixed pricing formula to calculate the shipping costs.
Built-in payment gateway
Whichever niche you want to go down the line for; be it white-label, dropshipping or print-on-demand, ShopBase guarantees the most convenient payment methods. These scalable channels cover an extensive demographic range of where your potential customers are distinctly possible to be based at.
The e-commerce store builder directly accepts payments from PayPal, Stripe, and BlueSnap. Store owners can also complete transactions from debit and credit card networks such as Mastercard and Visa.
Reports and analytics
It's untenable to analyze your drop-shipping or print-on-demand store's information without data-driven insights.
Just to contextualize how ShopBase works, let's get up to speed with how to monitor all the visitors' actions. The dashboard shows real-time updates on all your sales, orders, your store's traffic, and the average earned revenue.
There's also a product report to hang on. This leads you to the products that are high selling as well as those that aren't. To keep a concise track of all visits, ShopBase connects to Google Analytics via a unique ID.
This tool puts to an end any unsubstantiated assumptions by giving authentic reports on these real-time actions:
Your marketing campaigns' performance
The total number of your products pages' visits
Conversion rate
Bounce rate
You can integrate this tool with ShopBase to measure how customers engage with your store and analyze how their actions affect metrics such as conversions and page views per session.
Products upload
You can add products in bulk either via a CSV file or from 3rd party apps like Dropship Connector.
The layout on the backend captures a product's information(color, size) if it's in stock and the vendor's contact details. This simply means that the drop shipper can upload their products right from the inventory page.
You also get to choose your fulfillment service. Whether it's AliExpress drop-shipping or selling print-on-demand products, you can monitor all actions from a single entry point. Since it stores the product's SKU number, the user gets notified when a listed item is out of stock.
As part of product management, ShopBase allows you to sort your collections either manually or automatically. Both methods give you options to edit a product's title and its overall condition.
Users can manage the product feeds and upload the same information to selling channels like Google shopping, Instagram, or Facebook.
Mobile app
Its mobile app gives you quick access to your dashboard at any point in time. This allows you to monitor the performance of all pre-set metrics at a glance.
You don't have to make hefty steps to fulfill an order. Every action from your mobile app syncs with your online store. This includes your customers' orders, fulfillment status, and the number of sold products.
Web hosting
ShopBase gives you unlimited bandwidth on any of its plans. Space for storing data is enough to accommodate your store's visits and give it a sweeping performance. To set your online store's domain name, the store builder gives you elementary methods to put your hosting account's DNS settings in order. In other words, there's no coding whatsoever.
It's 256-bit SSL certificate gives your drop-shipping store a smooth run while executing customers' transactions. In essence, this protects all the payment credentials and secures the store's data every single second.
ShopBase makes sure there are no loose ends when it comes to your online store's uptime speed. It's 99% uptime pace helps you make insightful decisions from real-time updates on sales, orders, and customers' inquiries.
 ShopBase Review: Apps integration
ShopBase has a peculiar way of connecting to apps that are designed for optimal performance. There's little to zero coding required while integrating the apps with your store. Most of these apps are built to help the store owner deal with;
Products marketing and automation
manufacturing(PODs), shipping, and fulfillment
Sales and conversion optimization
Customer support
Online store management
For starters, these are the most popular and savvy apps to help you optimize your online store:
Print Hub ( Print-on-Demand app for ShopBase stores)
Print Hub is a free tool for online store owners looking to sell print-on-demand products. Reaching your business goals using this automated tool has never been easier. It has worked for over 7 million customers and counting.
In a nutshell, here's how Print Hub works.
Whenever the customer places an order from your store and it's in sync with Print Hub, the order processing begins instantaneously. The app generates automatic tracking updates that notify both the buyer and the drop shipper on the order status.
Not only does Print Hub process the order, but the team also prints and ships it to the customer. So this technically means that there's nothing much needed from the seller's end. Not even product designs.
Its production is quick and the product quality is suitable for your customers' widespread needs. Print Hub has a rich catalog of decent quality POD products like hoodies, t-shirts, tank tops, rugs, towels, you name it. Anything that's high-selling in the POD business, they've got it.
To integrate the app with your store, you only need to hit the "Add app" button, and that's it.
The app's name speaks so much about its main objective. To put it simply, Boost Upsell gives you selling techniques designed to cross-sell products. I know, you might wonder what the phrase 'cross-sell' means.
So here's how it works:
Besides the product a customer picks, you might want to persuade them to add complementary items to the cart. The key objective here is to boost your store's average order value.
To make the process facile, customers can add a bunch of related products in a single click.
Boost Upsell's cross-sell technique works in the same design as that of Amazon. If let's presume, a customer adds a laptop to their cart, then this tool can help you recommend related products like the keyboard cover and laptop bag via a mobile responsive popup window.
Another perk to leverage from this tool is up-selling. This app uses AI technology to help users make offers that highly convert. Boost Upsell makes the best use of your online store's historical data to predict your customers' behavior.
As such, the seller happens to feature the most relevant products without any manual efforts.
Assuming that a massive wave of first-timers is looking to drop-ship products, this tool would be the perfect fit for workflow automation.
Dropship Connector eases all your dropshipping priorities by performing these constructive tasks:
The app allows you to import products including their variants from AliExpress via a Chrome extension
Fulfill products even when they're in bulk and from different suppliers automatically
Change your suppliers without having to edit your product listings. This suggests that you can switch into a new product listed on AliExpress and keep the same product information in your ShopBase drop-shipping store.
Keep a stable track of the order status in real-time
Work with as many shipping options depending on your customers' regions
Auto-update your inventory and make alterations to your pricing formula
Integrate all products and orders from different drop-shipping platforms.
The better part is that the Dropship connector is a free app and actively accessible at the click of a button.
ShopBase Review: Pricing
Everything valuable has got a price. That's pretty definite. And so does this cross-border e-commerce platform. Aside from the 14-day free trial perk, ShopBase gives you a 10% discount on any plan if you pay annually.
After all, you don't need to leave your credit card details to access the freebie window. For each of its three plans, the drop-shipper gets to bank on these features:
Access to the online store builder
Users can make unlimited product uploads, sales, and bandwidth.
24/7 customer support
AliExpress drop-shipping app and support
Automatic sync to payment gateways(PayPal, Stripe)
Auto-import products via a CSV file
Exclusive Print-on-Demand support
 A fraud analysis report
Free SSL certificate
ShopBase's Up-sell and cross-sell strategies
Abandoned cart recovery
All these elements you get from any of the ShopBase accounts are handy and cut above the bare-bone expectations. The company also plans to launch the ShopBase payments which will come with discounted rates for all transactions. Below is the pricing for the plans.
Basic Base plan
ShopBase gives you a wide-reaching platform to set up your online store especially if you're on a strapped budget.
The price for this plan is $19 per month. Users can open up to 5 staff accounts and hand over tasks such as inventory handling and order fulfillment to their employees.
For each transaction, ShopBase charges a 2% fee if you're using the Basic Base plan.
Standard Base plan
The Standard Base plan is ranked as the most popular solution for store owners looking to scale exponentially without any daunting efforts or steep costs.
ShopBase charges its users $59 per month for the standard plan. As part of the bargain, this solution can hold up to 10 staff accounts. Over and above that, the drop shipper only pays a 1% transaction fee for each sale.
Pro Base plan
If you want to manage your online store at an enterprise level, then there's no other way to go about it. This plan is meant for store owners who make high-volume sales and work with a large team.
You'll need to pay about $249 per month to use the Pro Base. The amount is a bit pricey but just a fraction if we compare what other e-commerce Saas companies like Magneto charge for their enterprise plans.
Since this package is tuned to help you scale to optimum levels, you get to open up to 100 staff accounts and pay only a 0.5% transaction fee per sale.
ShopBase Review: Customer support
ShopBase has a well-trained and dedicated support team. Whenever you need to resolve any snags, rest assured that you can access prompt assistance by phone, live chat, or email.
In the contact section, there are frequently asked articles to help you learn all the curves on this cross-border e-commerce platform. Each new user gets an account manager to help them with the store's layout, configurations, and scale to an enterprise level.
Same as other big wig store builders, ShopBase has an active community that gives members a window of opportunity to exchange views on drop-shipping, POD products, marketing, and so forth.
ShopBase Review: Pros
The dashboard's layout design is pretty friendly for beginners
The mobile app allows you to monitor your store from any location
Has plans for sellers in any sales level.
A simplified cross-border channel for drop-shippers looking to sell white labels and POD products
Allows customizations(checkout pages, themes)
It includes workable e-commerce hosting plans
The storefront is highly optimized for conversions
All the apps on the ShopBase app store are free
ShopBase Review: Cons
ShopBase's marketplace is not as diverse as you'd expect it to be. The limited number of apps is a little discouraging
The ShopBase community isn't quite engaging. As a starter, you might need to seek deep insights elsewhere.
Final Mark
Did this review get you closer to what you need to source from ShopBase to spread out your brand's base in the e-commerce space?
If so, then note this final roundup down.
First of all, we care to help beginners launch their stores on safer grounds. ShopBase is technically one of those platforms to help you reach your significant stages of hailing a milestone in your niche area.
If you're a bit frugal on the startup costs, then ShopBase is perhaps one of the discounted platforms to help you grease your online store in motion.
Having a cross-border channel is such an ingenious and pioneering stride to making massive revenue from all ends. There's nothing more rewarding in e-commerce than launching your store on a mobile responsive and conversion-oriented platform.
Despite the limited number of apps, ShopBase doesn't fall short on its many other features. Its performance is stable to hang freely on your large volume of visits, product uploads, and conversion-optimized integrations.
Just in case we've missed out on anything, please let us know in the comment section. We'll also bring you up to date on any future refinement that ShopBase throws in the e-commerce market.
So stay tuned.