ShopBase Affiliate program: How to go from $0 to extra $5,000 passive income each month?
It's no overstatement to say that Affiliate marketing is one of the most effective ways to make money online. 
However, great things just don't fall down from the sky that easy. Just like other MMO methods, affiliate marketing is nowhere near an overnight "get rich quick scheme". It's more complex than it might seem. You need to invest time and effort to make it work. 
To untie the knot, we'll give you ShopBase as the ultimate way to earn you real good money, and yes, even when you're sleeping. 
If you don't feel like getting along well with other platform affiliate programs and desperately look for a better alternative, or you are just too dedicated to providing online store owners an excellent experience, you are now in the right place. 
So in this post, we'll cover all the essentials and materials to show you how to create an affiliate account with ShopBase and earn fast money. 
Table of content 
Why should you make money with ShopBase Affiliate program?
And benefits when referring to ShopBase?
How to become a ShopBase Affiliate
Why should you make money with ShopBase Affiliate program? 
Making its debut in June 2019, ShopBase is still a new runner in the eCommerce industry. But our platform has already made a great leap in the commerce market. 
Successfully generated an extra number of over 6,000 merchants (and still counting) after launching in just less than 9 months. 

ShopBase stores' average monthly revenue ranges from $20k up to more than $800k, and even $1,000k per month. Yes, you read it right, one million dollars per month!
We've received tons of sweet feedback from our beloved customers, showing their trust and support to ShopBase. 
You can read their full reviews at ShopBase International Community
ShopBase also has its unique selling points that will definitely convince eCommerce merchants to give it a try: 
You get a full-fledged online store right after signing up. All elements on the storefront are well optimized for high conversions.

Create up to 250 variants for a product – 2.5 times higher than Shopify's limit (100 variants).

It's quick and easy to migrate from Shopify or WooCommerce to ShopBase by importing products via URLs and CSV:

https://app.migratetoshopbase.com/login

. 
As a result, you'll receive the commission for referring and promoting ShopBase via different channels. This is a win-win business relationship between you and ShopBase.  
And benefits when referring to ShopBase? 
#1: You receive a generous commission
We know you love to hear that "ting ting" sound!
So, you'll get a percentage of everything for when your referring merchants sign up to ShopBase through your unique affiliate link & pay for their plan. 
The higher the number of merchants you refer, the better the benefit you'll receive as long as your referrals remain ShopBase's customers. Your wallet will definitely extend more as the higher package you choose to partner with ShopBase Affiliate program. 
For all referred customers that subscribe to one of our 3 paid plan options, you'll earn up to 12% commission of all revenue as long as your referrals remain ShopBase's customers. 
We have a wide range of offers for you to pick according to your needs. The commission includes both monthly subscriptions & transaction fees. 
This commission hits your bank account monthly, all you have to do is to sit back and watch the cash roll in. 
A ShopBase Affiliate partner has earned nearly $300 for just one customer he generated 
#2: Discount, great advice and lots more!
For your referrals who sign up to ShopBase, they will get a 20% off subscription fee for the first 3 months.
Plus, we support your referrals with marketing education, tech support, and great tools to keep them excited to use our product (which also means more commissions for you!).
How to become a ShopBase Affiliate
#1: Create an affiliate account with ShopBase
The road to becoming a ShopBase Affiliate partner is surprisingly easy. All you have to do is:
Generate your unique tracking link in your Affiliate Dashboard
After this, you're good to go!
To understand clearly about ShopBase Affiliate flow, please refer to the ShopBase Help Center document for more information. 
#2: Find different channels to promote ShopBase effectively 
If you're a merchant or affiliate, here are some suggestions of online groups and communities you can do reviews about ShopBase: 
Facebook 
Facebook is a huge market to grow your affiliate business with more than 2 million active members each month. With no upfront fee, Facebook is an effective platform that helps to expand the network and generate more potential customers for affiliates. So here are our suggestions: 
Update your Facebook personal profile
The constant change in Facebook algorithms has made it difficult for users to see posts on Fanpage so it's a better option to make your personal profile look more appealing and professional. Be mindful of what to post and write on your feed so that your friends and your followers can stay updated with your work and have more open discussions to what you're sharing.
Facebook groups about Dropshipping with a high engagement rate
Facebook group is another free source to make the most out of your affiliate program. For groups with high engagement, there are tons of hot topics for you to join in and raise your thoughts with other dropshippers. 
This can be the perfect time for you to refer to ShopBase along with its advantages to make a win-win scenario for eCommerce merchants who are encountering many difficulties running their online business. When you successfully generate a sign up through your affiliate link, your customers get a coupon code for a month free trial adn you receive the commission you've always been waiting for. 
So below are our recommendations for Dropshipping Facebook groups with considerable active members and high engagement:
Thomas Schoenecker has referred ShopBase to other dropshipping fellows in his tip post with an affiliate link in Verum Ecom group on Facebook. Let's take a look.
>> Become ShopBase active member in ShopBase International Community on Facebook.
Youtube 
It's undeniable the power of videos, especially on Youtube with 30 million daily active users. This is such a rich market to land your affiliate program with insightful and eye-catching content. 
You can watch these Youtube channels below for more insights: 
Apart from these, you can post videos with actual valuable content about eCommerce on Youtube with an attached affiliate link. If you're not used to appearing on camera, there's still a way to work around this. Be fun and creative with your content using image or motion graphics instead. 
However, we still encourage you to join in as a person to boost engagement and add more credibility to your videos. And videos about tutorials and practical guides are highly recommended!
More tips when it comes to starting a brand new Youtube channel to drag more attention:
Make every second count with your content. It should be related to online merchants' problems or how to solve them with proven solutions

Optimize your videos to help it rank higher on Youtube by giving it a hook title and an eye-catching thumbnail. Make sure to include your keyword or key phrase in the description box and use relevant tags with the content to reach out to more audiences. 

Update your videos regularly. It's better to set up a weekly post schedule and let more subscribers update with your content.

Connect with the viewers by replying to them in the comment section and answer their question if possible!
Also, share your videos on social media with hook titles to drive more viewers to your site.  
One of our affiliates, Melvin Tan, did a comparison video about ShopBase vs Shopify on Youtube and share it with his eCommerce fellows, alongside with his affiliate link: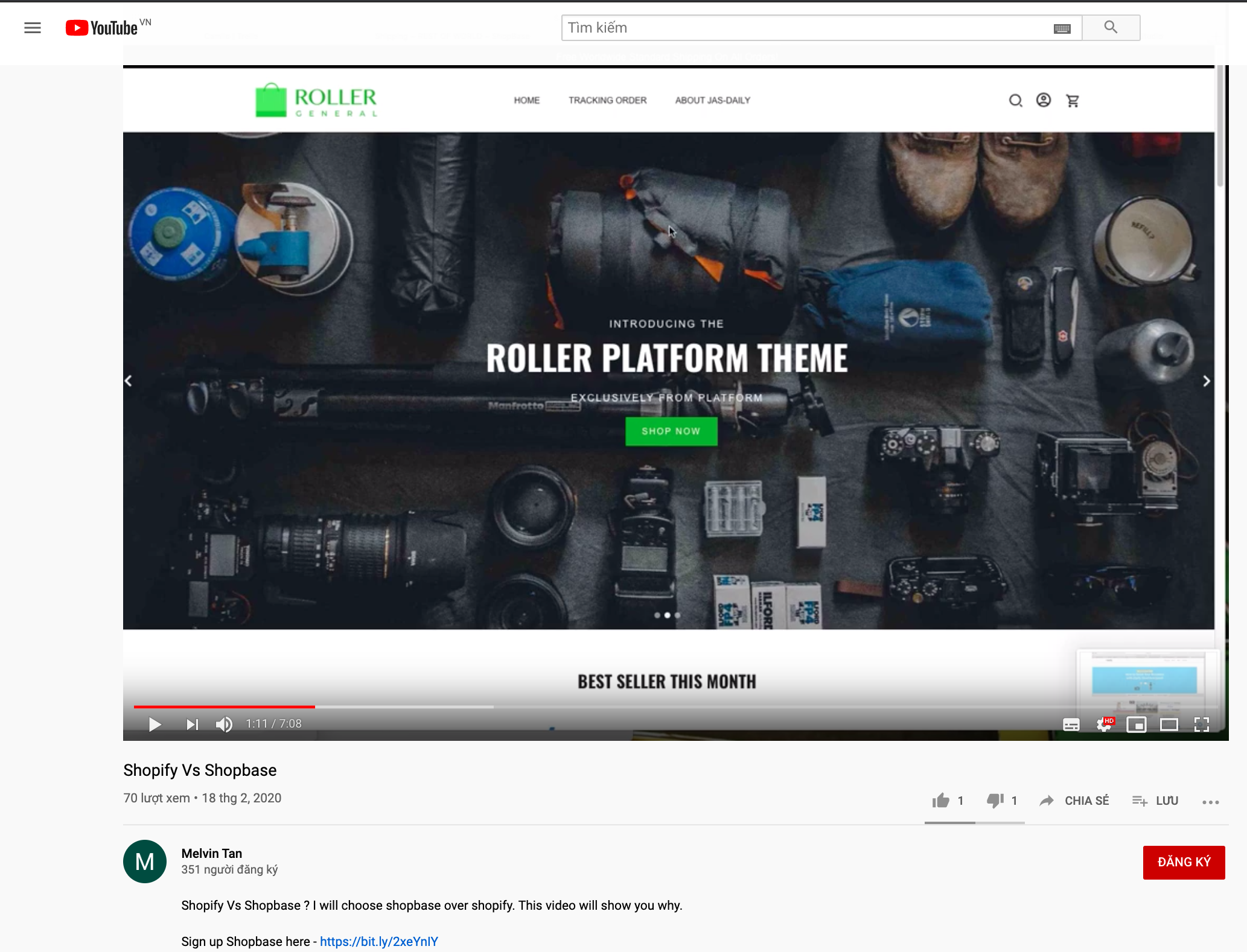 Instagram
Instagram is an amazing tool for affiliate marketing and the best to reach out to your targeted audience. Since it has been integrated with Facebook, it's a good time to link your information from Facebook to Instagram for a better chance of expanding your network. 
Place the ShopBase affiliate link or related-post prominently in your bio with emojis or a hook CTA.
For a better engagement on Instagram, here are some saveable tips to follow:
Optimize your Instagram feed with inspiring and impressive images. You need to regularly test and renew your content types from how-to-tips, eCommerce quotes, etc.

Connect with your followers and start conversions with Instagram live, stickers or surveys to get more insights from viewers. 

Using more relevant hashtags when it comes to writing image descriptions for your Instagram post to drive more natural followers. For example:
#ShopBase
#Shopifyalternative
#eCommerce
#growthhacking
….
Don't forget to share your Youtube videos on Instagram to create a stronger branding for your affiliate program.

Actively follow people and brands in the eCommerce industry. This way is really effective to gain more followers and if you're lucky enough, Instagram will eventually prompt your Instagram account to others.
Twitter
This little blue bird can help your affiliate promotion to fly high if you know how to do it right.
Even though the Twitter character is limited to 280 words, there are still places for you to increase followers and optimize your affiliate marketing: 
Work on your profile bio. Feel free to put down anything but remember to make it positively impressive and convey a message about who you are. Don't forget to add in important links to your site or landing page to guide your viewers

Be sociable. Join in an open Twitter chat to share your opinions with like-minded people and engage with them to expand your network. 

Twitter is also a good place for you to have a chance to search for an influencer to partner with your affiliate program. This could be hard at first, but be patient and find a proper way to communicate with them, the result will be worth the effort you put out. 

Frequently post news, pictures (gifs), share helpful information, most likely about what you're promoting and retweet insightful content from trustworthy content. 
>> Tweet with ShopBase on Twitter here 
Blog 
Content is king. There's no denial to it and that's also the reason why blog is considered to be one of the most effective ways to sprinkle affiliate links throughout the content. 
Choose a suitable blog niche so that your targeted audience can find it relevant to what they're looking for. Your blog should give readers valuable and helpful topics so that the affiliate link can work at its best. The more effort you put in designing and writing insightful information, the more you can monetize your blog. 
Remember this when you create a blog to promote your affiliate program:
Hook title and clickable anchor text to catch readers' attention. This way, of course, needs overall high-quality content.

Don't clutter or use too many promoted links. It's better to add in one or two in the whole article.

Don't forget to highlight the affiliate link. Use the bold fonts or underline it. Whatever you do, make it noticeable. 
SEM (Search Engine Marketing) Campaign 
Organic traffic is great but there comes a time when all the manual strategy doesn't work as well as you expected anymore. It's time to implement different marketing campaigns to leverage your affiliate program. This is where the search engine optimization using paid ads methods do the work.
The main difference between SEM and SEO is that while SEO improves the visibility of organic search results, SEM focuses on the visibility in the paid search and targets the bottom-of-the-funnel customers. And the final-end customer is what really matters.
So in order to launch a successful SEM campaign for your affiliate program and earn more profit, keyword research is the foundation of all this process. Make sure to find the relevant keyword to your business and what you're targeting. And the next step, you need to follow best practices on the main structure following:
Account

Campaign 

Ad groups
>> Get more insights about the Search Engine Marketing and how to do it right here 
Online communities
Quora is another free platform that allows you to conduct effective affiliate marketing. You can give full details about your major, your business and Quora will hint you people in the same industry as you. 
Therefore, you'll easily find more eCommerce mates who have the same interest as you and naturally refer ShopBase to those who run into problems when starting their own online business. 
By answering relevant questions or creating your own space and inviting people to join in, it's easier to promote your affiliate program. 
>> Follow space for ShopBase on Quora here 
Reddit is not so easy a discussion platform for direct advertising, however, it will help to generate massive amounts of traffic when you do it right. 
Join r/dropship, r/eCommerce, r/smallbussiness, r/emailmarketing, etc, and related groups. Actively participate in these Reddit groups and be helpful when sharing lots of useful information to all eCommerce fellows in there. 
After a while, you can recommend a solution to a problem by linking to your own website where you offer the solution that ShopBase can help or you can reach out to them via Reddit direct message.
>> Join and discuss in r/ShopBase on Reddit today!
NOTE: You need to have a handful of resources that both you and your referrals need to understand ShopBase & its benefits when using ShopBase.
#3: Produce high-quality content 
The very next important thing you need to be mindful of is the content you create to promote ShopBase. Quality content can be considered as a long-term approach and effectively drive the traffic to your affiliate offer. 
Whether it's a video marketing or a long post on social platforms like Facebook, Instagram, etc, you still need to focus on producing highly converted content to demonstrate what you're promoting. 
Your post's content should be straightforward to the targeted audience so that they can understand clearly the benefits ShopBase can bring to them. 
Note: Don't forget to insert the affiliate link into your post. You can place it on the bottom line of your article. 
If the community you join has a strict posting rule, try to leave the link in the comment section to avoid getting banned from self-promoting or link spamming. 
For more tips about how to produce quality content for your affiliate program, read this full article: How To Write Content For Affiliate Marketing That Ranks
#4: Track your result 
Tracking your result is a way to know how well your affiliate program has been performing so far. From which you can put in place the goal for your next KPIs and find the most practical way to optimize your affiliate program. 
Understand key metrics to learn more about your affiliate program performance here: How to track and measure your affiliate program
Final thoughts
In a word, ShopBase Affiliate program is effective, doable, and becomes the best choice for you to generate online income. 
Just create yourself a "pretty" and trustworthy link, feed your promotional post with remarkable content and draw the audience's attention to your site. 
Let's join ShopBase Affiliate program and grab a chance of receiving the highest commission ever!