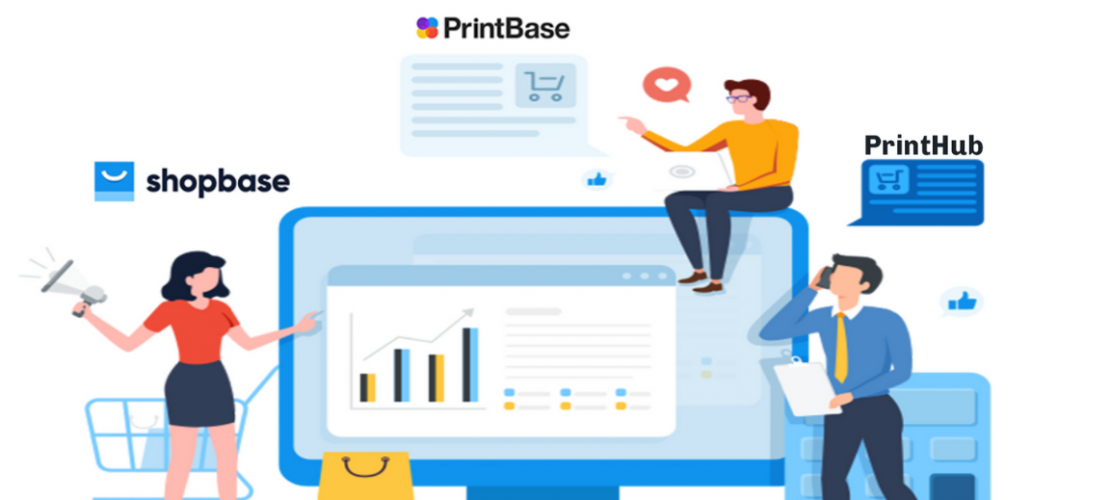 Learn The Differences "PrintBase – ShopBase": Know What's Best For Your Print-on-demand Business.
OpenCommerce always strives for excellence with a diverse and beneficial ecosystem for not only eCommerce merchants but also for customers with the aim of giving them the best online experience.
Understanding the difficulties of online merchants when running their Print-on-Demand business, we launched PrintBase and the ultimate automatic fulfill apps PrintHub as a print on demand platform that helps to maximize the opportunities to sell their POD products.
This article will help you differentiate and understand clearly the core function of our 3 eCommerce services: ShopBase and PrintBase, from which to find the best choice for your Print On Demand business.
Let's dive in now!
A. What is ShopBase and PrintBase?
1. What is ShopBase?
ShopBase is a cross-border eCommerce platform specialized for Dropshipping, Print on Demand, and White Label business. ShopBase was created with the ultimate goal of leveraging eCommerce experience for online merchants and their customers.
2. What is PrintBase?
PrintBase is an all-in-one platform specialized in providing to create and sell printed products for print on demand merchants: from creating a print on demand online store, fulfilling products, the payment gateway to customer service.
B. The similarities between the two platforms
1. Online Automated Store Builder – Ready-to-use store in just one click!
With ShopBase innovative store builder, there's no need to create your website from scratch, or any technical skills. Whether you choose to go with a general/niche-focused dropshipping store or print-on-demand business, you'll receive a fully-hosted store the moment you sign up with ShopBase. Like this: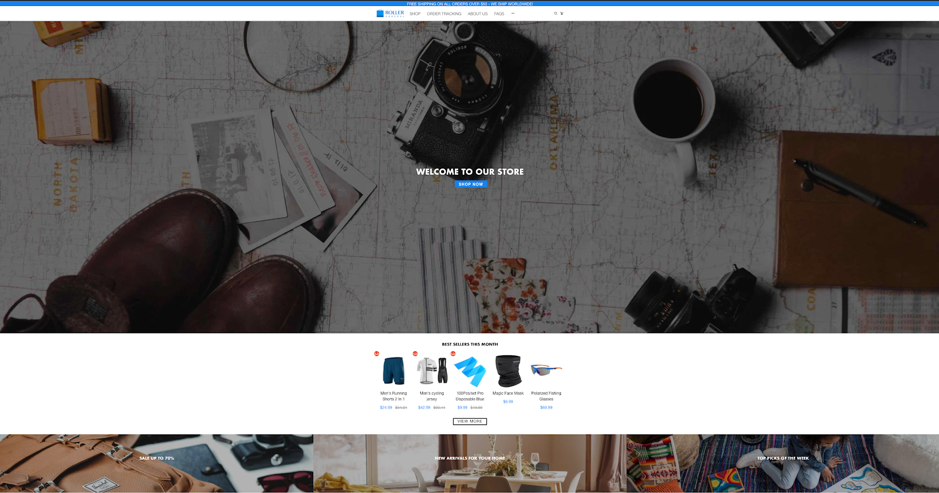 >> Click to visit ShopBase demo store
Powered by ShopBase, PrintBase also allows you to create a fully customized and optimized Print-on-demand online store in just a few clicks.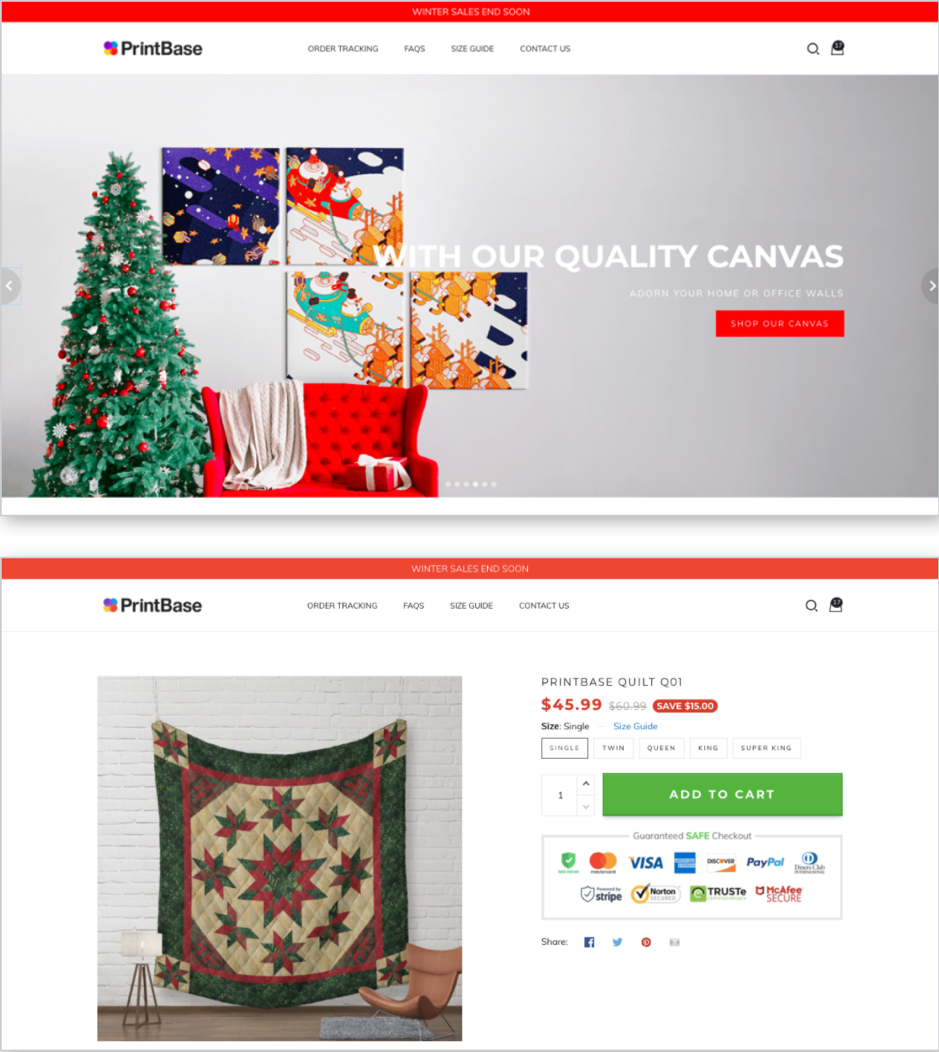 >> Click to visit PrintBase demo store
2. All are optimized for conversion funnel
Every feature on ShopBase and PrintBase is all well designed with the aim of optimization and boosting the website's conversion rate, which also helps to influence the buying decision of customers. With ShopBase, you will have the utmost chance to convert every visitor into customers in your store.
Display the "Add-to-Cart" button on every screen and set up the social proof as well as the stock limit/countdown timer to encourage customers to make quick buying decisions.

Showcase the "Trust badges" on the product pages, checkout pages, etc. in order to increase the reliability and credibility of your store.

Optimize one-page checkout to save time for your customers and recover the abandonment rate up to 61.45%.

Built-in features like Upsell & Cross-sell to increase the store's average order value up to $61.76.

Show discount codes/ free shipping offer on sticky header bar or exit-intent popup as a killer incentive to convert visitors to buyers.

…
Apart from that, the page loading speed is no longer a problem for online merchants during rush seasons. With new technology applied by both ShopBase and PrintBase, the page loading speed of merchants' stores has been upgraded as you don't have to reload the whole page but only the newly updated content.
This is a crucial factor for online merchants to promote their stores and give customers pleasant shopping experience.
3. Extremely affordable pricing plan
ShopBase and PrintBase offer you a 14-day free trial with no credit card requirement or any string attached. Especially when compared to other popular platforms like Shopify, ShopBase pricing plan is much more profitable as online merchants can leverage their online website by using Free powerful features (default store optimization for high CR, easy storefront customization, auto-sync Paypal tracking…).
Besides, while it takes you a major amount of money to install the third-party apps on Shopify, you can get full access to ShopBase and PrintBase Appstore with no extra fee charged to optimize your website and skyrocket sales.
C. The differences between building Print-on-demand business with PrintBase and ShopBase
1. Pricing plan
PrintBase
Compared to other Print-on-demand platforms like Teespring, Teechip, Gearlaunch, etc, PrintBase's base cost is guaranteed to be among the cheapest in the market.
Other than that, with every order placed, you can get more profits as PrintBase also offers a Cashback program so you can get a return up to $1.00/product when you successfully sold a product range of 500+, 1000+.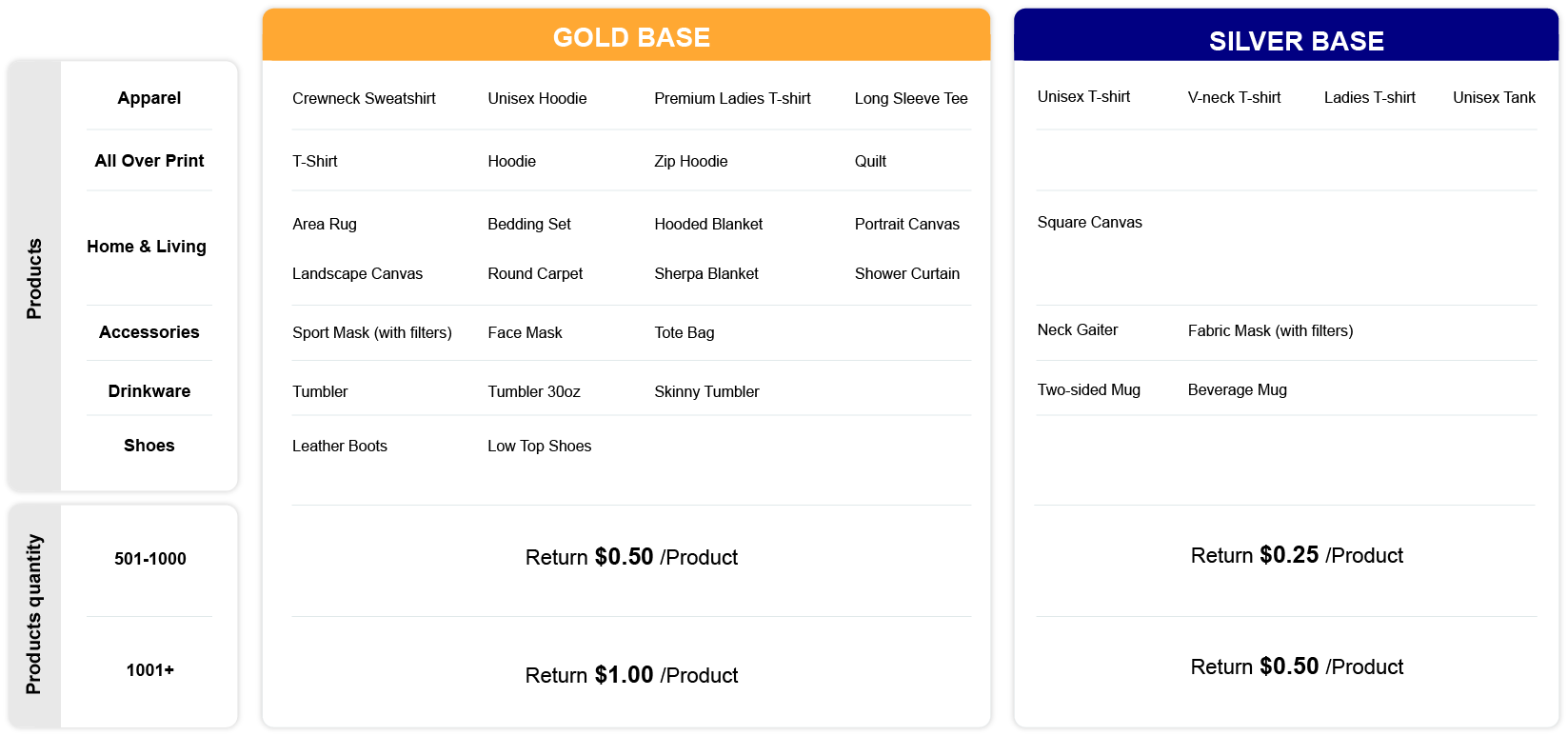 PrintBase has been partnering seamlessly with trustworthy fulfillment services and worldwide suppliers (ScalablePress, CrossPanda, CustomCat) to bring out the hottest product designs such as Tumbler, Hooked Blanket, etc.
>> Visit PrintBase product catalog here
ShopBase
Meanwhile, ShopBase offers you a fully-hosted service at only $19/month to help you start your online business in a secure way with unlimited products and free built-in features.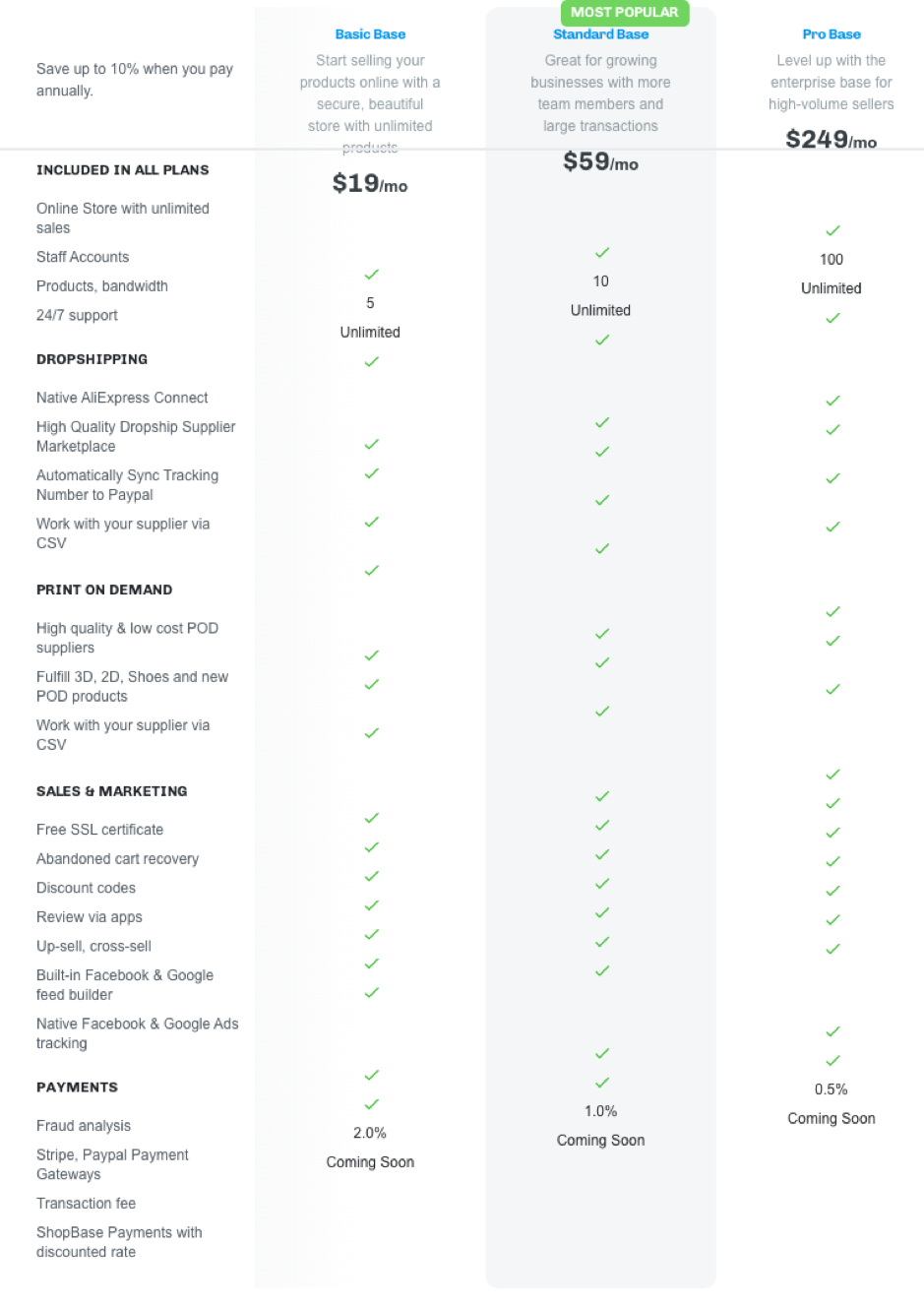 >> Click to see the detailed pricing plan
2. Fulfillment service
PrintBase
As a specialized platform for Print-on-Demand business, PrintBase will handle everything for you from creating products to fulfillment service. You don't need to pay any extra fee to install third-party apps or plugins at all.
Right the moment your customers finish checking out, PrintBase will immediately process the orders and handle your orders with lightning speed as it takes only 1 to 3 days for 2D products and 3 to 4 days for 3D products.
With PrintBase smooth order processing, you can focus entirely on researching and brainstorming your trendy, creative designs to scale your print-on-demand business at its finest.
ShopBase
With ShopBase, you can install Printhub then connect to print-on-demand fulfillment partners of ShopBase for free and fulfill your products.
PrintHub will help you to:
Fulfill automated products that help to reduce the burden while running your print-on-demand website.

Product fulfillment with high quality, fast shipping time, and very competitive base cost.

The best thing is that PrintHub comes with no extra fee!. You could install this app into your store in just 1 click!
Online merchants will still be in charge of customer service to deal with order complaints and handle payment issues only when PrintHub's fulfillment service doesn't meet the processing/shipping due date or deliver flawed products. On the other hand, this will require you to invest more time and resources to handle this amount of workload.
Besides, PrintHub will constantly keep you updated with new products including 2D/3D items, and automatically process payment through ShopBase Balance.
You can still find your own supplier and fulfillment service to run your print-on-demand business with ShopBase.
3. Products types
PrintBase provides online merchants with a variety of 2D and all-over-print (3D) products from apparels, masks, canvas, etc at a reasonable price range.
>> Check out PrintBase catalog
Besides, PrintBase offers a profitable cashback program as you can earn up to $1.00 refund for each product sold.
There's one thing that you can't skip is the PrintBase advantage of personalized products.The personalized feature has been automatically integrated into your online store the moment you sign up with PrintBase.
After creating an online store, you now can do everything at ease:
PrintBase will give you full options of custom product variants from not only text but also the images, fonts, colors, effects, etc.

Instead of editing manually every PSD file each time you want to upload different designs for your product, PrintBase will automatically handle this process for you.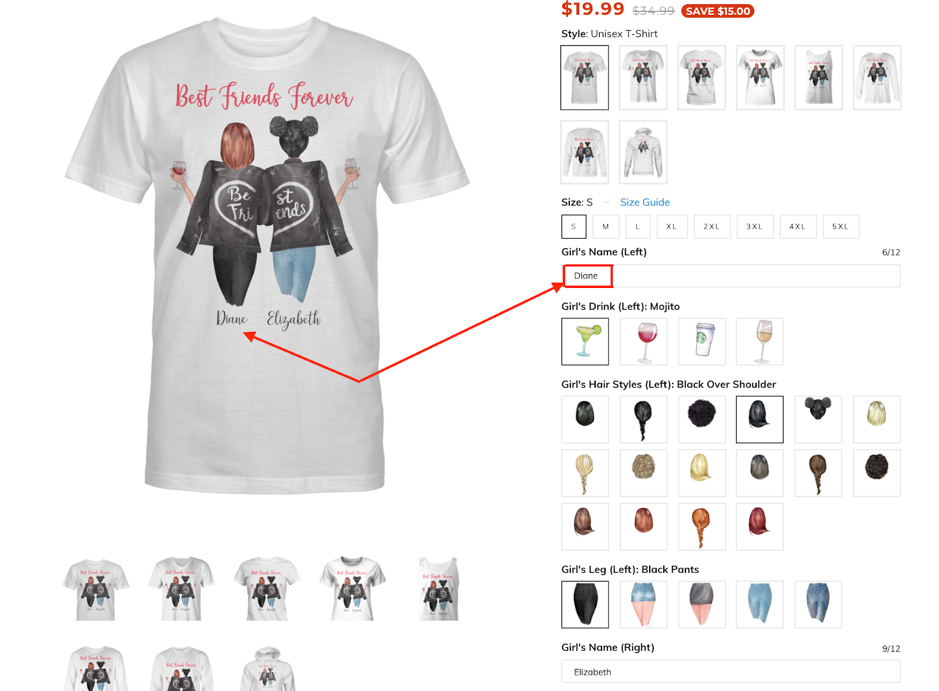 From the personalized options you have, your customers can easily customize the item to their preference.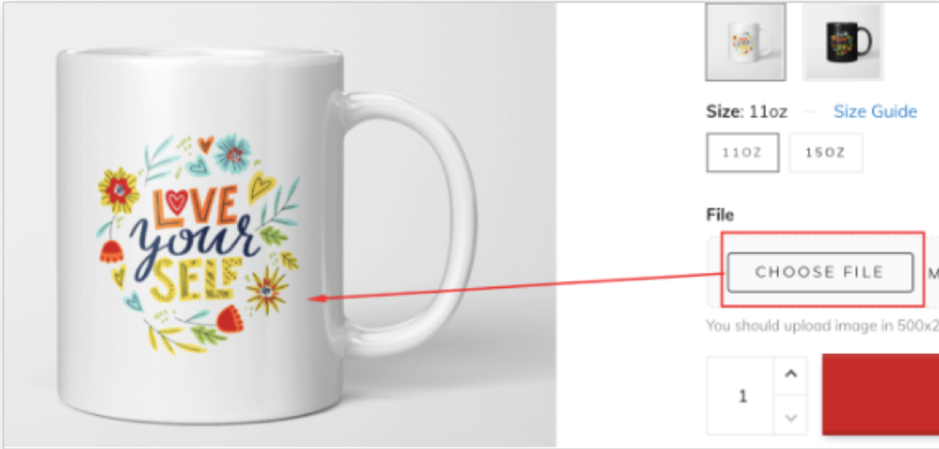 Customers can upload their designs to create their own personalized products at ease.
ShopBase
ShopBase merchants who use PrintHub can also fulfill 2D, 3D products like basic tee, hoodie, sleeves, etc. However, please note that all products fulfilled with ShopBase are set at different price ranges and there's no cashback program available for online merchants.
4. Payment Gateway
PrintBase
Unlike other platforms, with PrintBase, you don't have to add in any extra information or integrate any other third-party payment methods. PrintBase built-in payment gateway allows you to withdraw your payout after only 3 days without having to wait for customers to receive their orders.
With PrintBase responsive and smooth built-in payment gateway, there's no need to worry about the payment dispute and unclear payment pending or blocked account.
ShopBase
With ShopBase, it'll be flexible to process and receive money as ShopBase allows you to integrate multiple payment options such as Paypal, Stripe, ShopBase payments, BrainTree, and Checkout.com to your online store.
5. Customer Service
PrintBase
PrintBase as store owners' representative, also takes care of your customers' complaints and supports them to resolve frequently asked questions about return/refund policy, order tracking, etc, and keep the dispute rate under 0.5% with our service!
ShopBase
When using ShopBase to run your print-on-demand business, you'll still actively manage and control the customer service in your store to resolve customers' complaints.
C. Which one should you choose?
PrintBase
With more than 10 years of experience in the eCommerce industry, we created PrintBase as a proven solution for your print-on-demand business to create & sell printed products online.
PrintBase would be a perfect platform if you:
Want to concentrate on working with profitable and creative design ideas to earn millions of sales as PrintBase gives you the end to end solution from creating your store to handling customers' complaints.

Desire to grow your print-on-demand business in the fastest way? PrintBase's system can help you to process more than 10k orders/day, you just need to focus on running your ads campaigns to bring out the best results for your business. Not to mention that PrintBase will arm you with the best upsell features of PrintBase to skyrocket the ROI for your ads campaign.

Or even if you are a print-on-demand newbie who is eager to learn and become successful in this industry, we make sure to walk you through step-by-step to optimize your store and scale your business.
>> Don't hesitate to try out with PrintBase for a free trial today and discover all the features, services you need to scale your print-on-demand business
ShopBase
ShopBase should be your number one go-to platform if you:
Actively control and manage your whole business

Collab with a team to handle things from sourcing for winning products, order processing to customer support.
Otherwise, if you want to focus entirely on brainstorming on new design ideas and freely creating your products but don't want to get involved too much on a fulfilling process or common issues related to the payment gateway or customer support. Then PrintBase will be the perfect choice for you.
Now, let's check the list one more time to know how to differentiate PrintBase and ShopBase:
PrintBase & ShopBase Similarities

Online automated store builder to create a fully-hosted website of all niches

Everything elements in your online store are well designed and optimized to skyrocket the conversion rate.

Extremely affordable price for both beginners and entrepreneurs who desire to expand their business. (A 14-day free trial and FREE built-in apps)

PrintBase & ShopBase Differences

PrintBase 

ShopBase

Pricing plan

Pricing starts at

$39/month

Cheapest base cost with high-quality products in the market

Monthly subscription fee at only

$19/month

Product and fulfilment service

Available personalized designs to keep you updated with the latest trends.

PrintBase will process the orders placed and handle shipments to your customers.

ShopBase's merchants will process their orders via a free built-in fulfillment service called PrintHub.

Or online merchants can actively find their own suppliers and third-party fulfillment service.

Payment gateway

PrintBase built-in payment gateway will help you to process and receive money faster without the fear of pending payment or blocked accounts. 

Online merchants can add multiple payment gateways to their stores: Paypal, Stripe, Cardpay, Checkout.com, Braintree.

Customer service

PrintBase will take care of your customers to deal with their complaints and reduce the dispute rate.

Online merchants will directly support customers with their issues.
Now it's your turn to make the choice…
Congrats, you made it here!
Now that you've understood more clearly about PrintBase and ShopBase. It's time to make your own move and decide which service meets your own needs and suits the best to skyrocket your print-on-demand business.
Good luck and we can't wait to see you succeed!