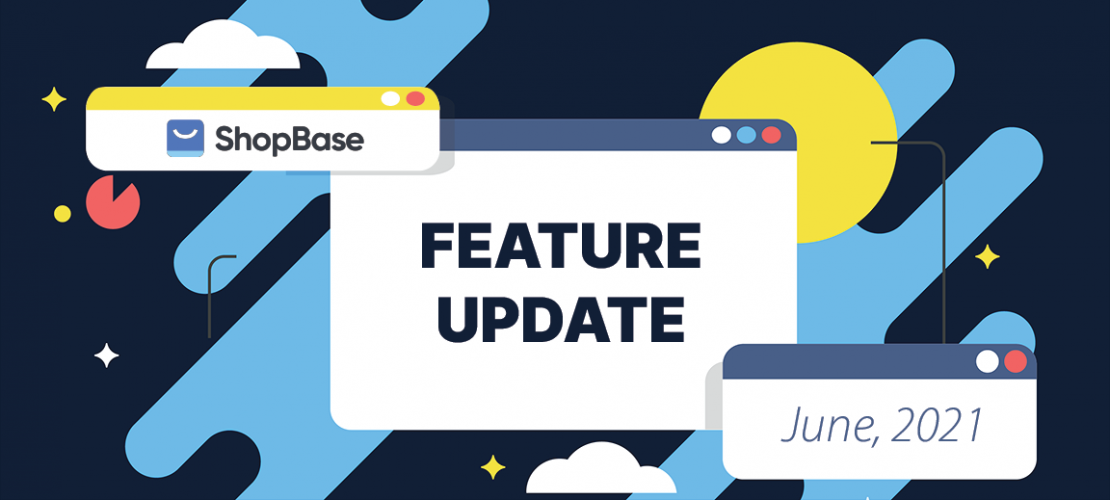 New features from ShopBase/PrintBase – June, 2021
This month, ShopBase has added a bunch of cool new features and made some major improvements. We're super excited to tell you all about these new features/improvements and we hope you enjoy them as much as we do.
New features
[ShopBase, PrintBase]
Free shipping type for Automatic discount

: Allow merchants to set up free shipping type for Automatic discount with certain conditions
Update store's conversion rate overtime report breakdown by country

Update sales report by product breakdown by country

Update total orders by country & Analytics of the countries from which visitors are accessing the website with orders & sales.
UTM tracking on Analytics dashboard

: Allow to track UTM parameters of store product link by source, medium (or source/medium combination), campaign with sessions of view product, add to cart, checkout, orders & sales.

Add Auto-collapsed layout to the footer on mobile: Allow merchants to set up auto collapse content in the footer on mobile for better store performance. This setting is available for Roller Theme and Inside Theme (only for the Rich layout of Footer).

Conditional logic for POD campaign

: Users can upload the assets for picture choice to

Clipart folders

and set them on a Group to optimize the display on storefront; add the multiple-choice custom options, set up more personalization ideas by using conditional logic for these custom options to show/hide the customized field on the storefront.
[ShopBase]
Import order to PrintHub via API

: Merchants can create imported orders on PrintHub, update orders (using param order_id), and get tracking numbers to update on sale channels via API.

Payment Providers Integration: Add two new payment providers (

OceanPayment

,

Pacypay

), and activate Cash on Delivery (COD) as new payment methods.

Add new payout method for ShopBase Payments

: Merchants using ShopBase Payment will have the option to payout into ShopBase Balance.
Improvement
[ShopBase]
Import Product: Show specific status of image and product data when importing a product.

Edit Products/Collections: Show specific error messages when creating/editing a product & collection.

ShopBase Balance: Show balance history by last updated time, update to show the invoices that have the last transaction time on the top.
[PrintBase, PrintHub]
POD Campaign: Allow to edit custom options of a POD campaign such as adding, deleting, and making changes to the custom options for an existing campaign.
Upcoming Features!
Keep an eye out for some other much-requested features at ShopBase Ideas coming out in the next few weeks – they'll be big ones!