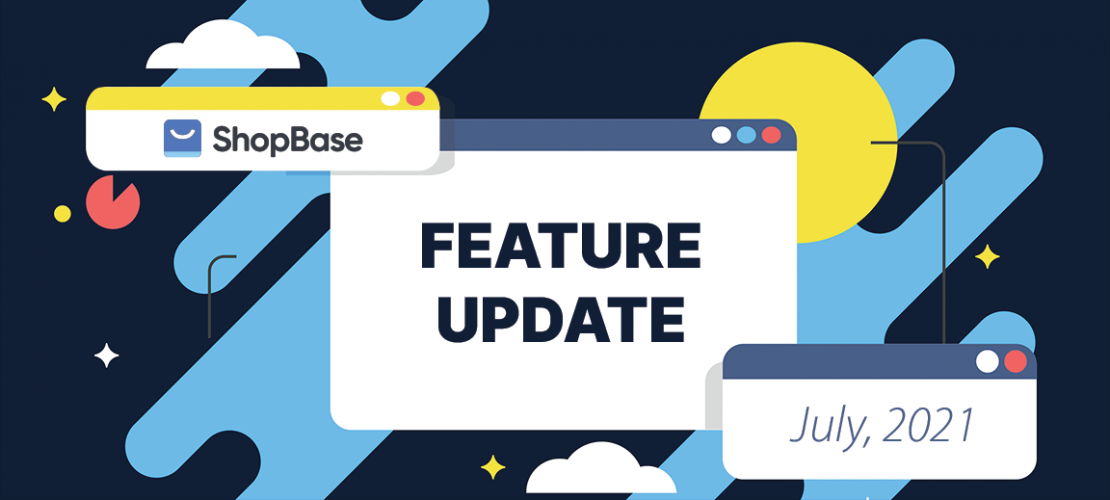 New features from ShopBase/PrintBase – July, 2021
We're going to combine these releases and updates and how they'll improve your experience with ShopBase in this July 2021| ShopBase new features and updates. This blog is dedicated to providing new features you might be expecting and love, including new possibilities of upcoming features. We hope you enjoy them as much as we do.
New features
[ShopBase, PrintBase]
Security system to protect merchant's assets and business: merchants' business info and data will be protected from risk actions (update profile, change payment, delete products) by:

Confirming password or OTP (via SMS/email)

Receiving notifications via owner's email if there are changes in Admin, new login from new device/IP

Review store's activities log which are taken actions by owner and staff accounts
[PrintBase]
Auto sync PrintBase shipping rule to  Google Merchant Center (GM)C: Merchants do not need to set up the PrintBase shipping rule manually in GMC.
[PrintBase/PrintHub]
[Store Templates]
[ShopBase Apps Store]
ShopBase Apps Store released new apps for merchants to invite their customers to follow and interact in different social channels, and merchants can increase traffic and optimize their business.
Upcoming features
[ShopBase, PrintBase]
Integrate sale channels – Pinterest, TikTok, Snapchat, Twitter, Bing Ads, Yahoo Dot: Merchants can connect and set up easier and faster in ShopBase Admin dashboard to optimize business.

Live View-Real-time Analytics: Merchants can watch data about their customers visiting on site, and monitor ads campaign's effectiveness.

Customer Returning Report: Merchants can monitor customer returning rate and their value to improve and optimize conversion and business.

Update filter for Google Merchant Center (GMC) feed/integration: Add new tools for feed optimization before sending to GMC to increase effectiveness of advertisement.

Etsy Integration: Support merchants to sync orders from Etsy to ShopBase faster.

Theme editor update: 

Add a section for replacing payment logos at Footer, applied for Bassy and Roller themes.

Add size options for logos in theme editor: small, medium, large
[ShopBase]
ShopBase personalization: Add new features of live preview and generate print files for non-PrintBase/ PrintHub App products, support merchants to create campaigns easier, saving cost and optimize customers' experience as well as conversion rate of stores.

New payment method – Bank transfer: Merchants can set up Bank transfer as a new manual payment method. This will help customers have different ways to make payments and optimize conversion rate of stores.

Switch domain: Merchants can switch to the domain that is suitable for their location to speed up dashboard loading, at any time on Sign in/Sign up page, Select shop page or in ShopBase Dashboard.
[PrintBase]
Custom Art: this feature provides a service that ShopBase designers will manually prepare every item for customers. Merchants can create customized and sophisticated campaigns to attract and satisfy customers and increase conversion rate.
[PrintBase/PrintHub]
Customize mockup: Merchants can create their own expected mockups for campaigns, to increase advertisement campaigns and customer experience. 
Keep an eye out for some other much-requested features at ShopBase Ideas coming out in the upcoming time – they'll be big ones!