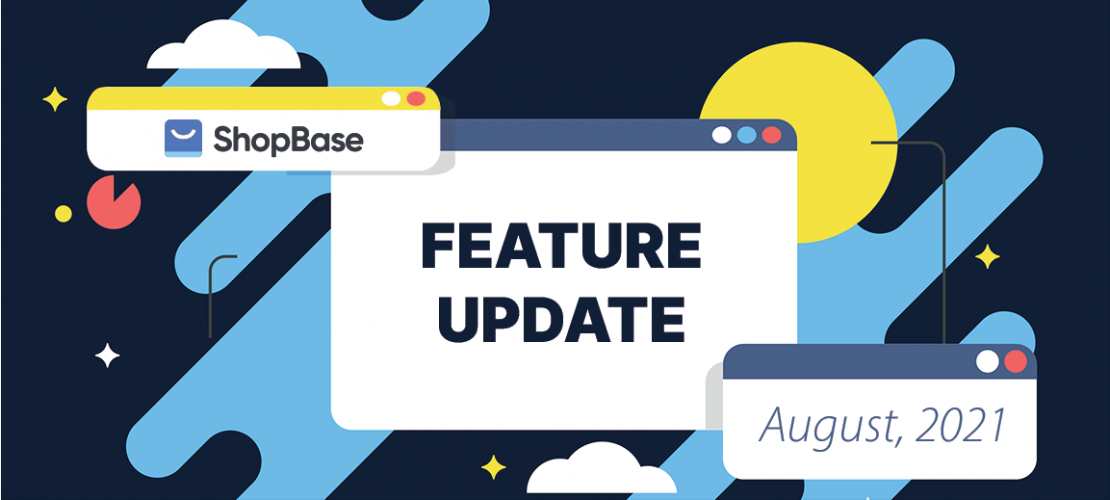 New features from ShopBase/PrintBase – August, 2021
We're going to combine these releases and updates and how they'll improve your experience with ShopBase in August 2021.
This blog is dedicated to providing new features you might be expecting and love, including new possibilities of upcoming features. We hope you enjoy them as much as we do.
Here's a roundup of everything we released in the latest month:
New features
[ShopBase, PrintBase]
Add an action of Delete custom options in

Bulk Update

tool: Merchants can delete custom options from the bulk update tool, besides adding new custom options or replace custom options. Please note that the last custom option of the POD campaigns won't be deleted.

Additional settings in theme editor: Merchants can optimize themes to improve logos and footer to make the storefront more professional and trusted.

Add a section for replacing payment logos at Footer, applied for Bassy and Roller themes.

Add size options for logos in theme editor: small, medium, large
[ShopBase]
Bank transfer

: Merchants can set up Bank transfer as a new manual payment method. This will help customers have different ways to make payments and optimize the conversion rate of stores.

Export orders

dispute: The exported file will include information about the dispute of orders (Dispute date, dispute reason, due date, status) so that you can easily manage your orders, submit your chargeback response on time, and avoid loss disputes.
[ShopBase Apps Store]
ShopBase adds 06 new Smartarget apps in

ShopBase Apps Store

: Merchants can have different choices to improve the store's interactions, trust, and professional contact between merchants and buyers.
Improvements
Increase size limitation of artwork upload up to 1.5GB: Now users can upload artwork up to 1,5GB to PrintBase/PrintHub library. If their file exceeds that limit, ShopBase will show a message and give some

suggestions or tips to reduce the file size

.  

Increase the number of domains connected to a store:

Applied for Standard Base and Pro Base package, merchants can maximize traffic from different sources, and increase sales. 

Standard Base: 5 domains -> 10 domains

Pro Base: 10 domains -> 20 domains

Improve

product feeds

and

GMC connection flow

: ShopBase update filter tool for feeds and GMC Integration, that will help merchants to optimize their feeds before sending to GMC, and improve advertisement.

Storefront Translations improvement: Aims at increasing European buyers' experience (Germany, France, Spain, Portugal, and Russia) when visiting and placing orders, ShopBase has updated the translation tool which is applied for ShopBase native apps such as Boost Upsell, Boost Convert, Product Reviews.
Upcoming features
[ShopBase, PrintBase]
I

n-cart offers: Merchants

can set up the in-cart offers of Boost Upsell in cart drawer or mini cart to increase the opportunity that buyers will add on more items with incentives, and merchants can optimize sales and revenue.

Integrate sale channels – Pinterest, TikTok, Snapchat, Twitter, Bing Ads, Yahoo Dot: Merchants can connect and set up easier and faster in ShopBase Admin dashboard to optimize business.

Theme editor updates: Adding more settings in the theme editor that helps merchants adjust upsell offers, add images in Review carousel/Customer testimonials, logos at footer, change the display position of search buttons, buttons change the currency and language, or add video sliders… Merchants can change the store's appearance with professional content, increasing the conversion rate and trust of the store.
[ShopBase]
Customer Returning Report: By adding data about new and old customers who are purchasing, merchants can analyze, optimize, and scale up their business.

ShopBase personalization: Add new features of live preview and generate print files for non-PrintBase/ PrintHub App products, support merchants to create campaigns easier, save cost, and optimize customers' experience as well as the conversion rate of stores.
Add dynamic checkout button: Merchants can set up the appearance of a checkout button such as Buy with PayPal on product page. With the update, the opportunity of increasing conversion rate and revenue is higher.

Etsy Integration: Support merchants to sync orders from Etsy to ShopBase faster when using ShopBase Fulfillment service.

Theme Code Editor

: Merchant can edit theme for their store to build trust and brand. In addition, merchants can share themes between stores under the same account owner, have options to upgrade or keep current themes when ShopBase makes changes.
ShopBase hopes to receive users' feedback to further improve and enhance the experiences of merchants and buyers. Keep an eye out for some other much-requested features at ShopBase Ideas coming out in the upcoming time!