Kicksta Review: Drive More Traffic To Your Ecommerce Site Through Instagram
Social networks significantly changed people's shopping habits because of how engaging social media is. Platforms like Instagram have been crowned as one of the central players for driving sales. It's now a key source of Ecommerce sites to drive traffic. But how can brands take advantage of such reach and drive more people to their Ecommerce sites? This Kicksta review will give you everything you need to know to get started. 
You'll first have to know how to get more Instagram followers – your potential target market. Then, strategies for driving traffic to your site will be the next priority. 
Instagram For Ecommerce Marketing
As of July 2021, there are about one billion active Instagram users monthly. In the U.S. alone, 170 million use Instagram and this number is projected to surpass 120 million monthly active users in 2023. This only means when brands push their products or services forward, Instagram guarantees maximum exposure. 
Instagram brings an abundance of fresh and creative opportunities to gain visitors, leading to increased conversion rates. So, if your Ecommerce business isn't on Instagram yet, now is the perfect time to do that.  
Why Your Ecommerce Businesses Should Be Using Instagram
Did you know that 80% of Instagram users follow at least one business on the platform? According to Hootsuite, 70% of these users will be more likely to purchase something via mobile phones. Another study shows that 68% of Instagram followers engage with brands regularly. On average, the engagement ratio on Instagram is eight times greater than any other social marketing platform. 
These numbers show how Instagram can bring great ROI for your ecommerce business since users are in a buying mindset. So, with the right strategies, Instagram can be a fast-pass ticket to more clicks and conversions for your business.
Another reason why your Ecommerce business should be on Instagram is any type of business can thrive. Whether your business is a startup, a small business, or a large business, entrepreneurs and brands can raise brand awareness and reach their audience through an active presence on the platform. 
Businesses can also make money directly from Instagram through on-platform Ecommerce sales. In particular, the Shop tab, Ecommerce located on the home dock allows users to discover and buy from brands instantly through Instagram. You can create shoppable posts that will enable you to add tags to the products in their photos. Links can also be added that include product descriptions, price, and the option to "shop now." These nifty conveniences will lead users to your online business. 
Instagram can also make your brand go further with influencer marketing. It's one thing to have regular users. It's another thing to have influencers. Influencers are like online celebrities who can take a brand or product into the mainstream through non-traditional means of promotion. If you find a dependable influencer, you can bring your Ecommerce business sales to a new level through access to demographics you won't usually be able to reach. 
Finally, having your business on Instagram helps you effectively engage with your customers. Users on Instagram engage with posts. They like, comment, and share posts they relate to and like. So, the more likes and comments you get, the more visible your brand becomes. Also, remember that repost shares lengthens the period your content stays active, so you'll keep growing brand awareness.
Attract New Customers With Kicksta 
Now that you're fully convinced to have your business set up for Instagram, the next thing to do is to grow real Instagram followers. To do this successfully, you'll need an Instagram growth tool like Kicksta to get results faster. We came up with an in-depth Kicksta review on the tool so you can maximize the service and its features.  

How It Works 
Kicksta is an Instagram growth service that's considered one of the most preferred options in the market. This particular Instagram growth tool does not use spam, bots, nor fake followers. Kicksta prides itself on growing real followers organically powered by artificial intelligence. 
How Kicksta Will Help Increase Transactions Through Instagram 
After signing up for Kicksta, you'll provide a list of targeted Instagram accounts. The followers of these Instagram accounts are the same kind of followers you want to attract. So, feel free to look to competitors, complementary brands, and influencers in your niche to create that list. After turning over your list, Kicksta begins its work.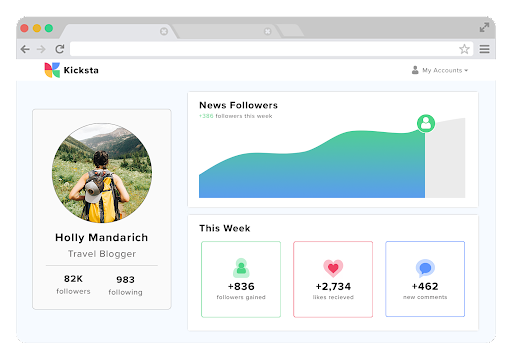 Kicksta will begin with hitting "like" on one or two photos from all the users that follow the targeted accounts you provided in your list. Those users will then receive a notification about when they liked their photo in the hopes of checking out your profile. Since you target very similar accounts to yours, those users will most likely relate to your brand and want to follow you.
Features 
As one of the leading Instagram growth service providers, Kicksta provides its users with a wide range of features.
Smart Targeting
The smart targeting methods of Kicksta are one of its biggest attractions. Kicksta guarantees they'll only interact with the accounts that match your set criteria. This helps bring in followers who are more likely to engage with your content. 
Sifting Out Bad Instagram Profiles 
Beyond smart targeting, Kicksta will also sift out any accounts that you don't want following you. This helps guarantee that you only grow with accounts that are useful to your business. The filters include inactive accounts, suspicious accounts, private accounts, new accounts, and gender.
In-Depth Reports
Every month, Kicksta provides clients with detailed reports with the breakdown of how the account performed. Such data includes overall growth and additional engagement information that's great to have for your digital marketing strategy. One notable detail is how the report also allows you to see how your targeted accounts performed. 
Round-the-Clock Growth
The Artificial Intelligence system works 24/7. This means your marketing strategy is fully automated and working around the clock. Just be aware of the interaction limit on Instagram while using Kicksta, so you don't end up being blocked.
High-Level Security
When you hand over your data to Kicksta as a third-party service, you won't have to worry. Kicksta uses a 256-bit SSL encryption process in handling your data. This level of encryption is similar to what banks use. 
Instagram hashtag generator
Kicksta's Instagram Hashtag Generator is an easy way to increase your brand reach on the platform. It gives you the exact hashtags you need to improve your presence on the platform. Using hashtags increases impressions, enhances engagement, and strengthens your brand voice or image. 
The hashtag generator gives you three options. Click "top" to check the most popular Instagram hashtags related to your search. Choose the "random" option to let the hashtag generator give you unique and creative hashtags you've never thought of before. Lastly, you can click on "best match," which enables you to see hashtags closely related to your original hashtag. 
Pricing 
Kicksta has two monthly pricing plans. The cheaper option, Standard, costs $49 per use per month. The Premium account, on the other hand, costs $99. The Standard Kicksta package is designed to provide steady growth, while the Premium package offers maximum growth.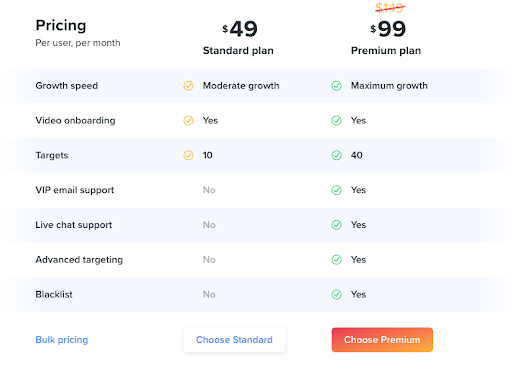 Both packages allow your business to grow real followers organically, but there are a few differences:
Standard Package
Steady growth speed

Video onboarding

Up to 10 targets

No VIP email support

No live chat support

No advanced targeting

No blacklist
Premium Package
Maximum growth speed

Video onboarding

Up to 40 targets

VIP email support

Live chat support

Advanced Targeting

Blacklist
Kicksta also offers its customers the option to request bulk pricing for your organic growth campaigns. It has proven to be a useful tool and has helped many businesses and customers grow their Instagram accounts. 
Additional Tips For Ecommerce Stores On Instagram  
Instagram is a lucrative Ecommerce channel that gives your business plenty of opportunities to drive more sales and revenue. This Kicksta Review presents tips on how to do it right:
Optimize Your Profile 

To drive traffic to your eCommerce site from Instagram, optimize your Instagram bio link. The link in your bio is easy to find and is clickable. It's vital to give clever thought to writing a good Instagram bio because it's a valuable traffic-driver to your account and your site. What you need to do is to make your link in bio work harder for your business. 
Post Consistently 
This may sound simple, but posting consistently is one of the best ways to drive traffic to your Ecommerce site. It's basically "showing up" for the people who follow your brand. Create a publishing pattern that can include regular call-to-actions, quotes, high-quality lifestyle images, reels, stories, IGTVs, and more. It's essential to be committed to consistency and let your audience know what they'll expect from you. 
Target Your Niche 
One of the basic rules for Instagram success is picking a niche, sticking to it, and targeting an audience in a similar niche. With a niche, you're attracting a specific group of people who will do more than engage with your content. They'll become a more loyal following. 
Use your Insights to get information on your audience. Once you know who they are based on the data, you can create posts explicitly tailored to them. You want to create relevant, personalized content to foster that authentic connection between your audience and your brand. You'll notice that as your brand grows with them, your audience will also keep evolving. So, keep re-evaluating to maintain a steady pace in engagement and growth.
Instagram Shopping 
Make your Instagram account your Ecommerce storefront with Instagram Shopping. First, check your eligibility and complete the account setup. Be sure that your Instagram account and business are:
Located in a supported market

sells physical goods

follows

Instagram's commerce policies

set up as a business account

connected to your Facebook business page
Setting Up and Synching your Catalog
Once that's settled, you can go ahead with creating your Facebook shopping catalog and getting this synched up to your Instagram business profile. Take note that although setting this up won't take long, it may take a few days to process your Facebook Catalog Manager and Instagram Shopping. 
If you're setting up your Catalog Manager yourself, you can go to Facebook's Catalog Manager and choose the "Ecommerce Catalog" option. For more details, a help section is readily available in Facebook's Catalog setup details. 
If you'd prefer to get some assistance in setting up your catalog, you can check out Shopify or BigCommerce – Facebook's certified partners to help simplify the process. 
Once completed, you can now submit your account for review and wait for Instagram to notify you within the app.
Signing up for Instagram Shopping
Once your Instagram account and catalog are connected, go to the Instagram app to sign up for Shopping. Go to your profile, click "Settings," then "Business," then "Shopping." After that, wait (again). 
Your account will be submitted for review and will take a few days before you get an update. But once you're approved, you'll get a notification from Instagram. When you receive that, you can finish setting up your Shopping settings and tagging your products in your posts and stories. 
Instagram-Ecommerce Site Kicksta Review: Final Thoughts 
With over a billion active Instagram users, your business can drive more traffic to your Ecommerce site through Instagram. You can also engage with your customers to foster brand loyalty while positioning your products in a real-world setting. Ultimately, you'll be increasing your sales in due time. The role of Instagram as a tool for social selling is also clearly very effective.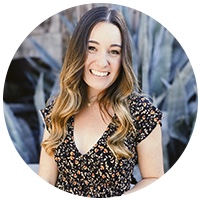 Samantha is a Marketing Coordinator at Kicksta with an expertise in all things Instagram and social media marketing. Our passion is to help companies grow their presence online and kill it in social media!
Other articles that you might like: