How to select the ultimate dropshipping platform to rocket sales
Today there are many dropshipping platforms with one-stop-shop support for merchants, from store setup to sales optimization. Big brands such as Shopify, Magento, and WooCommerce are considered a safe bet among all, given their large customer base.
However, following the crowd is not always the way to go. There is no one-size-fits-all e-commerce solution for every single store, so the dropshipping platform suitable for yours may not fit the others, and vice versa. Therefore, it is highly recommended to evaluate different platforms based on a checklist of criteria and then pick the one that checks the most boxes.
After that, you need to create a dropshipping store where your customers visit and buy stuff. For those of you who have never done this before, it can seem like a daunting task. But actually, it's not as difficult as you think. Follow our lead and you'll know how to set up a store in just 3 days. 
Overall, this article includes:
Criteria to evaluate the best dropshipping platform for your business.

Comparison of big platforms.

Guideline to set up a dropshipping store within 3 days.
Now, it's time to get started!
1. Criteria to choose the right dropshipping platform
User-friendliness
The dropshipping platform you opt for should have a simple GUI (graphical user interface)  that any newbie can understand. Also, its store settings process should be quick and it should allow you to set up a free trial to test out whether it is right for you or not.
Support
The dropshipping platform should provide 24/7 support via various channels such as email, live chat, phone, forum and groups on social networks.
Price
Types of fees charged by a typical e-commerce platform are subscription fees, transaction fees, and additional fees for using themes and apps. You should select the dropshipping platform which provides FREE-OF-CHARGE themes and apps as it is quite risky to put in too much money in any platform at the beginning. 
Payment gateways
The dropshipping platform should be compatible with payment gateway integrations. Also, it should provide many options of payment gateways or at least popular ones such as PayPal and Stripe.
Optimization tools
The dropshipping platform should offer various optimization tools to draw Internet users to your store and turn them into your prospective customers. 
Automated marketing tools
In case you know nothing about marketing, you need a dropshipping platform that provides automatic marketing tools to help you increase sales.
2. Shopify, WooCommerce, Magento, or ShopBase?
You might have done market research about what are the best e-commerce platforms for a dropshipping business. See what you've got so far: Shopify, WooCommerce, and Magento? However, you should spend time reading the following before deciding to pick any of them. 
Shopify
Actually, Shopify offers users just a demo store, which is not ready to use and optimized yet. This means that the users have to manually set up and optimize their store by themselves, which is such a major headache that no one, not to mention beginners, wants to deal with. It also means that those users are given no choice but to use built-in advanced features (e.g. gift cards, professional report) or third-party apps, which always come with costly fees.
So, it can be said that high prices and user-unfriendliness are the main factors driving merchants to be in search of free Shopify alternatives.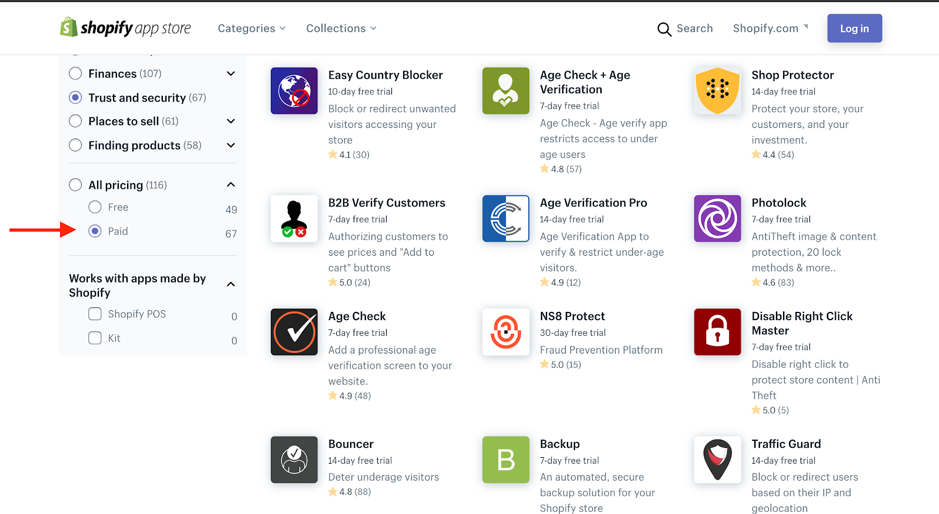 On Shopify, most advanced features required for your business come from paid apps
WooCommerce
When Shopify is not as good as it looks outside, many merchants must be thinking of WooCommerce. However, WooCommerce is a far more technical platform that requires a certain level of knowledge to use, or a willingness to spend time learning.
So, unless you have sufficient knowledge of coding, you will struggle to build an online store on WooCommerce. Besides, pricing is another issue that many merchants concern while using WooCommerce. 
Theoretically, WooCommerce is free. But, when you dig a bit deeper, here is how it turns out: First, you download the WooCommerce plugin on your WordPress which is free. Second, you need a hosting provider, which may cost you at least $10/month. Next, it may charge you somewhere between $30 and $300 for a paid theme. Finally, you need important add ons and plugins to sell better. Each paid plugin costs you about $50 on average. So, WooCommerce is not as cheap as it seems.
Magento
In terms of pricing, big dropshipping platforms seem to cause the same serious problem for merchants. Magento is not an exception.
The platform Magento is available in many versions. The community version is free of charge, while the enterprise version costs users more than $15.000 approximately. Moreover, the Premium Enterprise version for large businesses costs users more than $50.000 per year.
In addition, Magento has a slow loading time. It is not easy to switch from another e-commerce platform to Magento or vice versa because data import is a very slow process.
Overall, Shopify may be suitable for those merchants having a big budget, Magento for big enterprises, and WooCommerce for those having adequate technical expertise.
ShopBase
Unlike those big brands above, ShopBase is very beginner-friendly in terms of interface, pricing, and customizability. The platform enjoys its latecomer advantage to perfect other platform's drawbacks and support merchants better. It already creates its customized features, theme library, and app store by specializing in dropshipping only.
Moreover, unlike WooCommerce, ShopBase is very beginner-friendly. It already has an automated store creator, which helps you to create a store within a few clicks. After that, you also can use premade themes to boost the conversion rate by up to 9%.
Besides, ShopBase already runs an in-house fulfillment agent in China, which can help you automatically and massively fulfill and deliver orders to your customers' doors.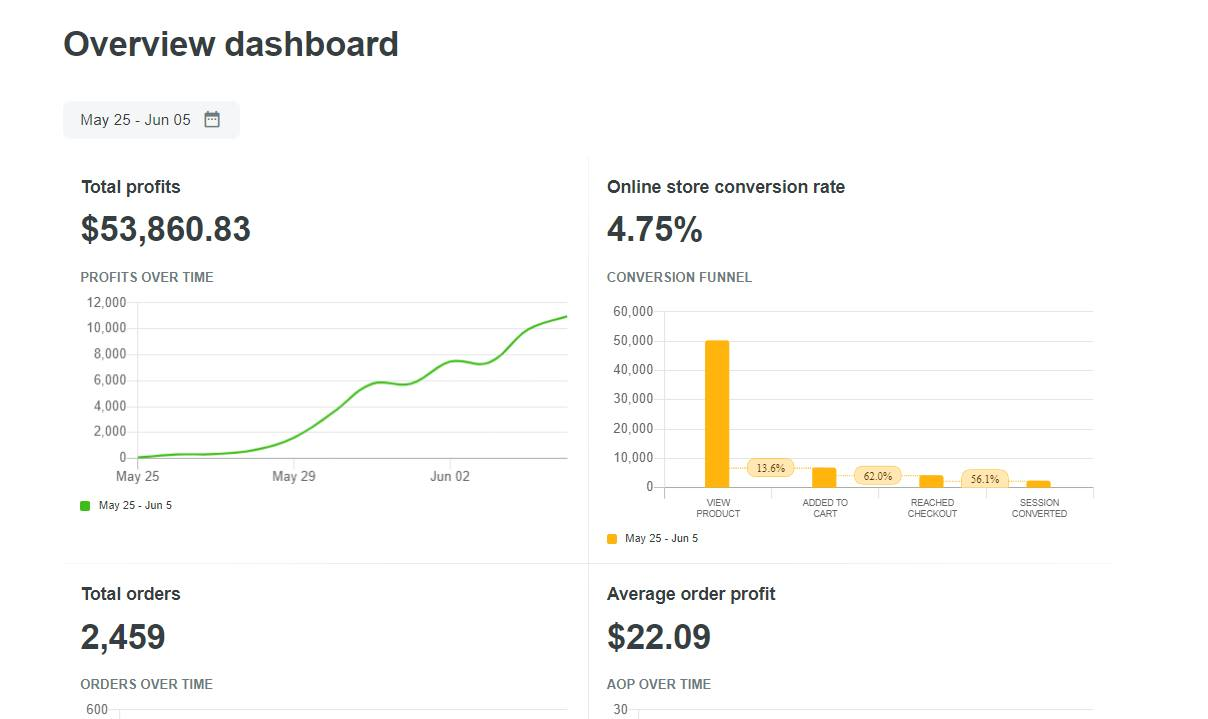 A ShopBase seller's dashboard showing the great conversion rate (almost 5%), compared to Shopify average CR (only 1-2%)
Via the analysis presented above, you may already have the answer to the question of which dropshipping platform you should use. Now, let's dive into the first chapter and you will be instructed how to set up a store within a few clicks.
3. How to build a dropshipping store within 3 days
Reaching here might mean that you have done the dropshipping platform selection part. Now, it is time for you to create your own store.
Add products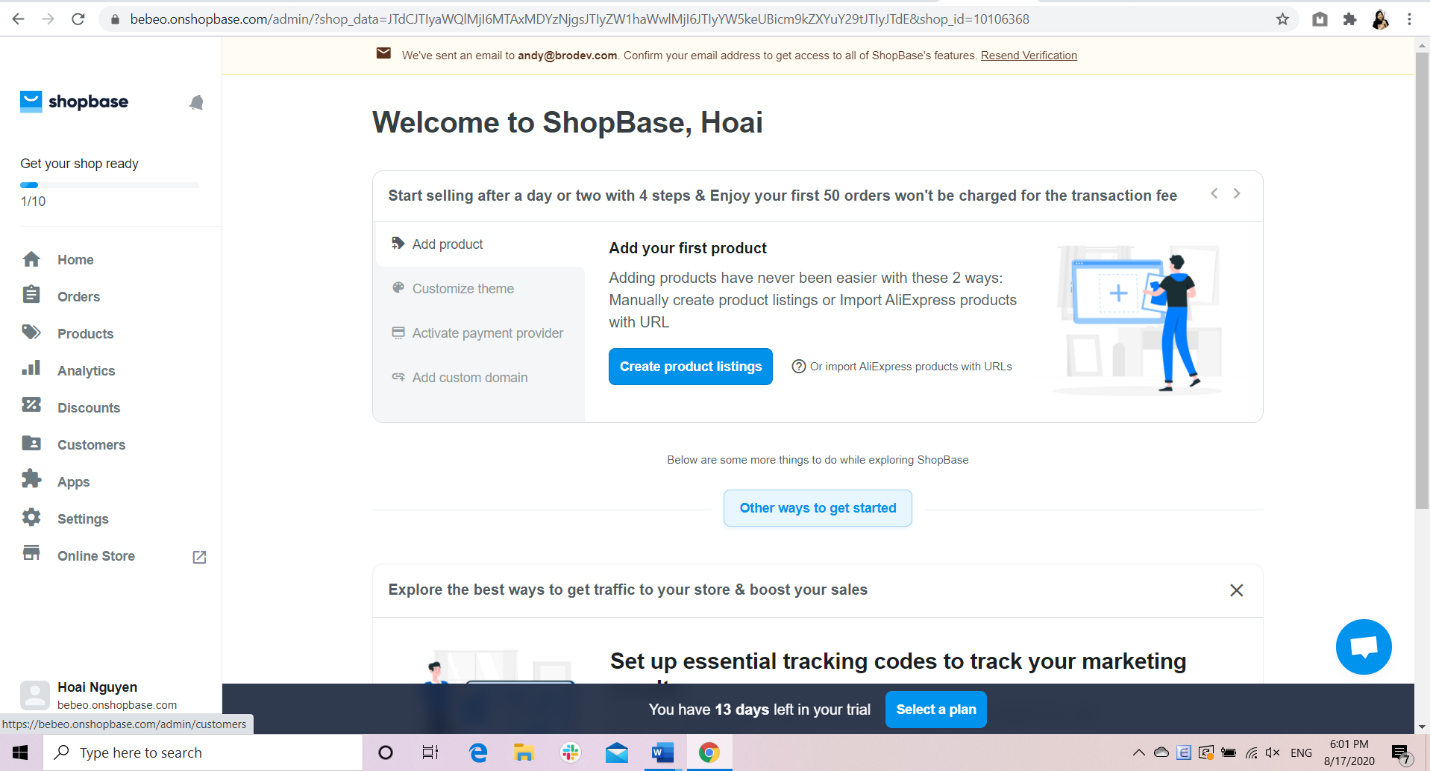 4 basic steps to build up your store with ShopBase
When you get there, the next thing you have to do is to add products. On ShopBase, you are offered 4 options as follows:
(1) To add products manually, or to use AliDropship Connector app if you don't have a product list yet.
(2) To import products by CSV files, or use Migrate to Shopase app if you already have selling experience. 
The easiest way to import products is to add products manually via ShopBase admin. This sounds time-consuming but if you're a newbie and don't have up to hundreds of items in your store, adding products manually is an excellent way to take care of every aspect of your item, from color, size, to product description.
AliDropship Connector meets the needs of those merchants who want to import products directly from AliExpress, then fulfill orders from suppliers there. All tasks including importing multiple products, massive order fulfillment, update order tracking numbers are in one place.
This should be your choice if you want to import/export a large number of items together with various types of product information (e.g. name, variant, vendor, type, tags, options, etc) from one store to another at once.
If you are attempting to switch from Shopify or WooCommerce to ShopBase, use this tool. It helps you to quickly move data to your ShopBase store from other platforms while still keeping products & variants unchanged. Also, your ad performance remains the same while you use this tool.
Add payment
It goes without saying that a payment gateway is doubtlessly important to online business. It allows the merchants to process transactions via multiple payment methods (debit, debit, and other alternative online payments). Furthermore, payment gateways also protect the online businesses from fraud. With that in mind, ShopBase has been partnering with reliable payment gateways only in order to maximize the security level of your online business. ShopBase supports various payment gateways as follows:
– Stripe
– PayPal 
– Cardpay
– Braintree
– Checkout.com
– ShopBase payments
It is highly recommended to provide your customers with various payment methods, so they can go for the most convenient one. In addition, when your business gets bigger, you probably have trouble with payment limits – the amount of payment limited by payment gateways for a certain period of time, mainly for fraud prevention purposes. The problem can be solved easily by payment rotation, a function to rotate payment gateways automatically to solve the problem.
Add domain 
Did you have a custom domain for your business? Did you know that a custom domain is really important because it:
Increases the professional credibility of your business and separates it from millions of get-rich-quick-scheme sites out there.

Increases visibility for your brand. Much like a storefront window, a custom domain creates awareness and attracts customers.

Creates mobility for your internet presence. If you want to change web hosting services, relocate to a different nation, or switch to your own in-house server, your domain name stays with you. You don't have to start all over.

Optimizes SEO. In addition to quality content, a custom domain that is far more recognizable on search engines such as Google and Safari can help your store rank higher on search results.
So, for these reasons, ShopBase highly recommends you to sell with our own domain. If you already have an existing domain, you can connect that domain to your ShopBase store. But if not, you can choose to buy one right from the admin dashboard of ShopBase with the annual price starting from $14. If you are not familiar with terms such as CNAME or A point, this option is totally for you.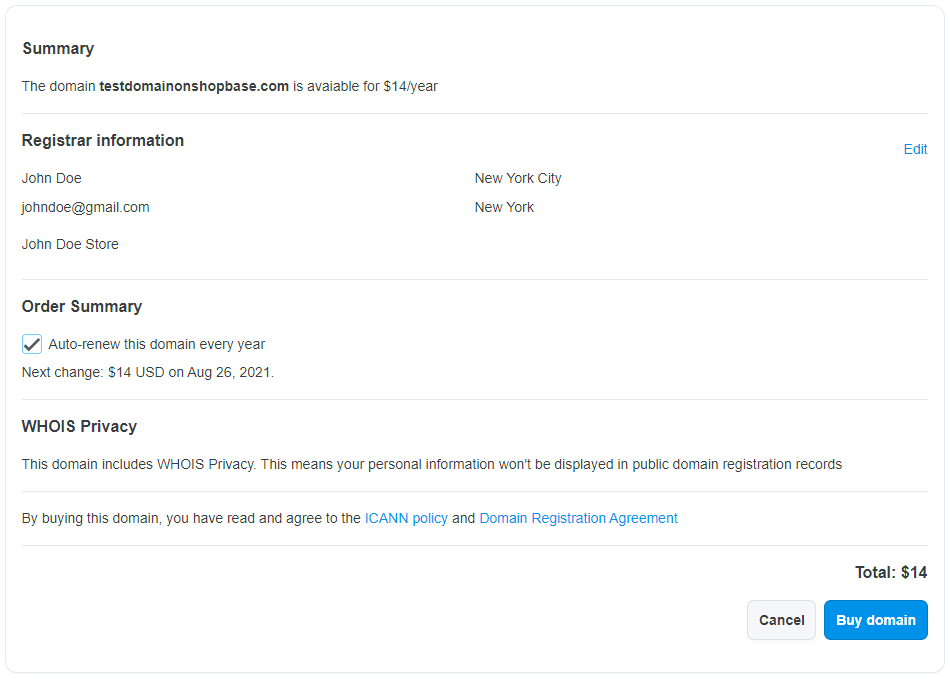 Click "Buy domain" in the Confirmation Page to complete the domain purchase with ShopBase
Modify store themes
When you visit a brick-and-mortar shop, you expect it to be clean, aesthetically pleasing, and well-organized. Your customers expect the same too, even what they walk in is an online store.
In the first place, ShopBase provides you with pre-made templates, which is already optimized to make your customers' buying experience smoother than ever.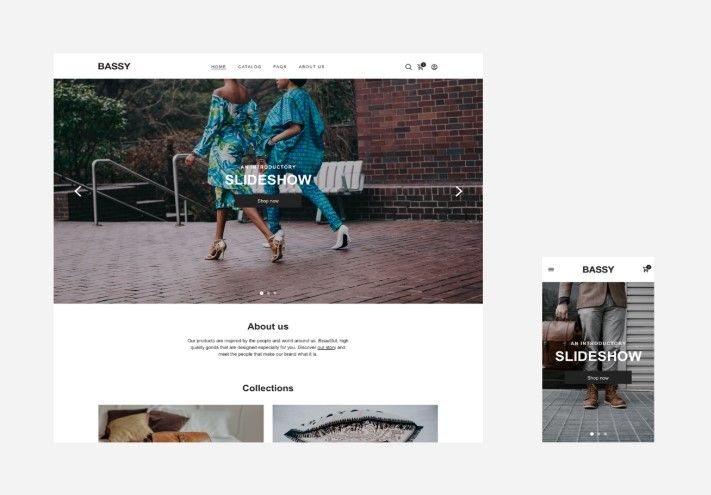 Bassy theme saves your time and creates an elegant and eye-catching look for your store
However, some merchants prefer to customize themes on their own, because nothing can be better than a theme that suits the taste of target customers. Also, every single thing in your shop (e.g. colors and text, details of banners and ads) matters. It helps to draw Internet users' attention, and trigger their shopping appetite and even come back to you sooner.
On ShopBase, you are given 3 themes (Bassy, Inside, Roller) and 12 templates, all FREE-OF-CHARGE.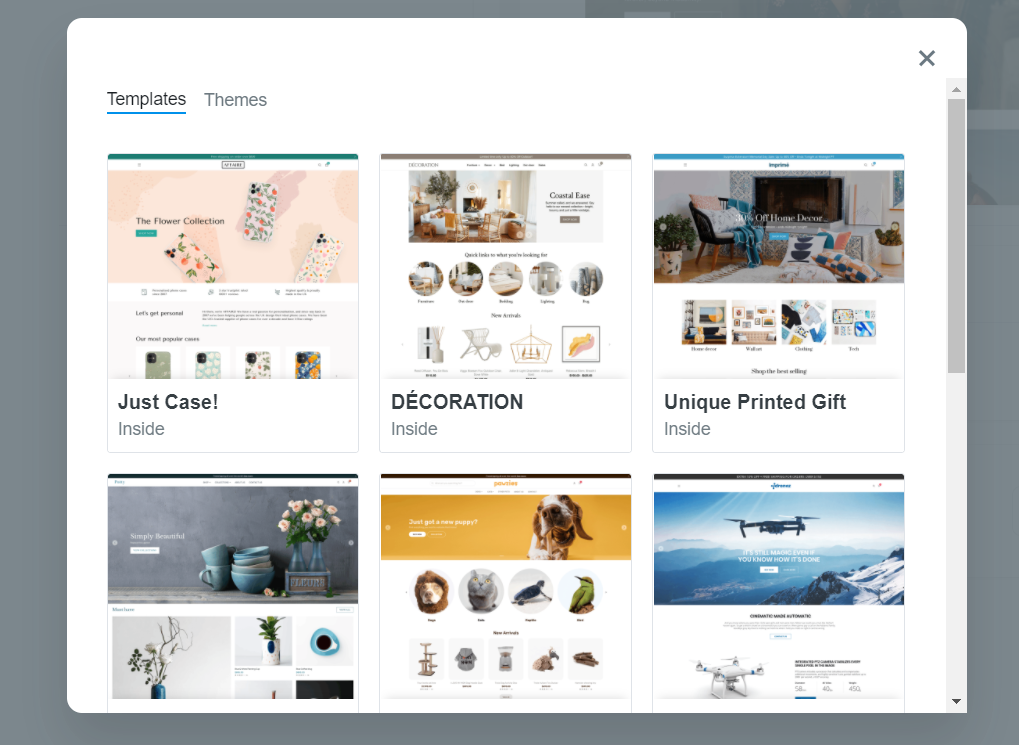 ShopBase template library
Your turn
Hopefully, you can make the most informed decision on dropshipping platform selection based on the 6 above-mentioned criteria and get your dropshipping store up in no time. Now it's time to put all of what you've read into practice.
Nothing required to get started. No credit card for account registration. No coding skills for website creation. Pre-made themes and ready-to-use apps are waiting for you to kick off off your business right now.