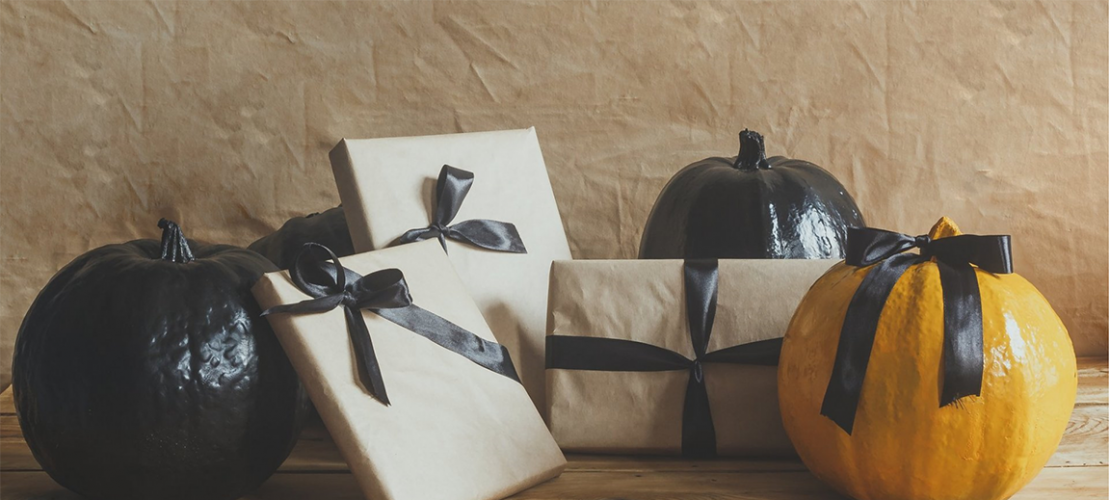 7 Last-Minute Halloween Marketing Ideas to Uplift your Sales
Major shopping events, like Black Friday, Thanksgiving, Cyber Monday, and Christmas, all follow Halloween. So the spooky season is the perfect time to get ready for the beginning of the end-of-year holiday period, starting with some frighteningly easy Halloween marketing ideas.
Halloween is not only about wicked tricks and scary fun. It also upholds creative marketing campaigns. This year, when people are being creative with their products and marketing to cope up with the downscale economic trends because of the COVID-19 pandemic, it will be interesting to see the creative wave of haunted joy and fun of Halloween.
In order to make the most out of this Halloween season, you must now start preparing Halloween marketing campaigns for your dropshipping business. Since Halloween 2021 is just around the corner, we've gathered the 07 last-minute Halloween marketing ideas for you to implement and gain scary-good results!
1 – Add festive Halloween flairs to your storefront
Inserting spooky Halloween patterns into your store can put your customers in the mood and show that you're a fun-loving brand. Yet, it is not recommended to apply a whole new theme, as it can be costly and troublesome to your back-end. To avoid that, consider these Halloween marketing ideas for redesigning your website:
Welcome pop-up: When a customer first enters your store, make a pop-up that invites them to get a discount, a freebie, a coupon, or free shipping.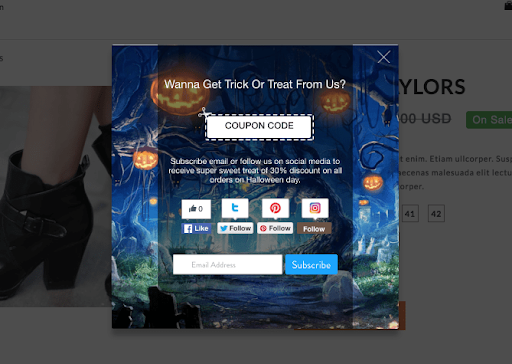 Homepage slider: Make a Halloween banner and add it to the slider. It is also a good position to promote any promotions, contests, or giveaways for Halloween too because 90% of new visitors will lay eyes on your banner to grasp the first impression about offerings on the store.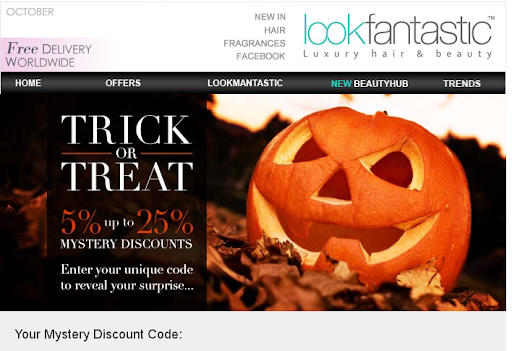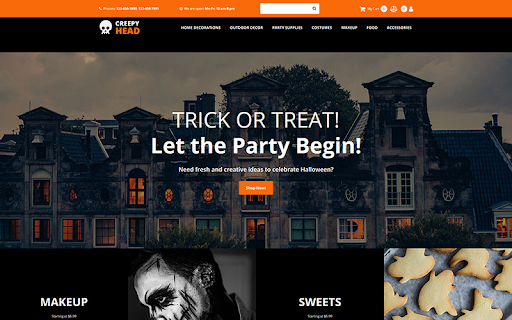 Header bar + CTA: Instead of the normal "We offer free shipping on orders from $50", change it to, for example, "Buy from $50+ to have the Vampire ship your order FREE to your window on Halloween night".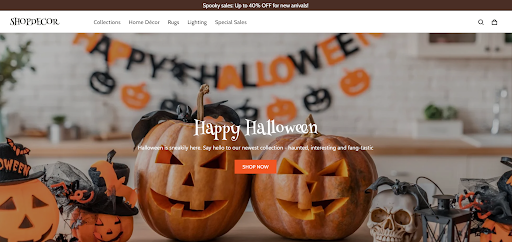 >> Check out the fully Halloween-themed store on ShopBase here!
2 – Dress up your Halloween product packaging
Seasonal packaging is often a hit with consumers and Halloween is no exception. This spooky time of the year allows you to play with colors and textures in cool and creative ways.
Even if your products themselves may not have anything to do with Halloween — you can always change up your packaging to be festive. It will create a buzz around everyday products, whilst potentially reaching new consumer groups and tapping into impulsive consumer purchasing behaviors.
Our Halloween product packaging recommendations:
Use spooky symbols and characters to spice up current packaging.
Incorporate traditional black and orange Halloween colors.
Incorporate packaging that reflects current costume trends: For example, this year, the top children's costume is a superhero according to surveys. So, if you have an apparel product aimed at kids, incorporating superhero motifs into your packaging could allow you to score big with kids.
Create packaging that can double as a Halloween decoration: For example, a Halloween-themed Fanta box can be transformed into a jack o'lantern when it's emptied. Placing a flashlight or night light inside the box turns it into a fun Halloween decoration — a hit with both kids and adults.
3 – Make your Halloween email marketing stand out
People hate promotional emails, but not on holidays season because promotion emails coming during the holidays bring discounts, freebies, free shipping, and very good deals that they've been waiting the whole year to spend 2/3 of their annual shopping budget on.
If your store doesn't sell horror movie memorabilia, costumes, or candy, it might seem like Halloween isn't a natural fit. But that's not the case at all. There are creative ways for brands of all stripes to get in on the holiday fun and cater to people who want to enjoy Halloween regardless of how different it looks every year.
Here's what you can do to create scary good Halloween email marketing (and few good examples):
Use an appealing subject line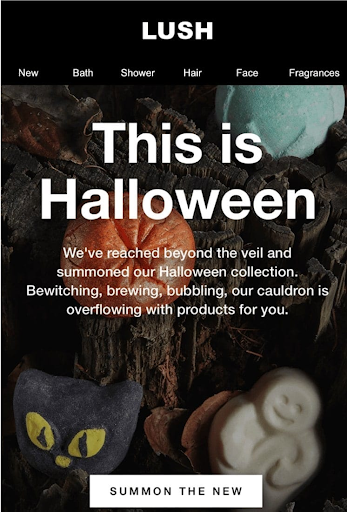 Use Halloween-related wit and humor to make your customers smile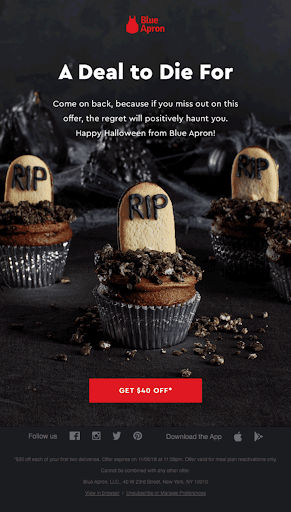 Include Halloween-themed product recommendations if possible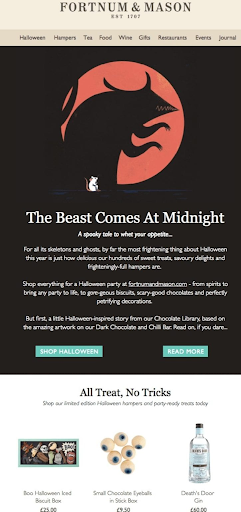 Add a Halloween touch to discount codes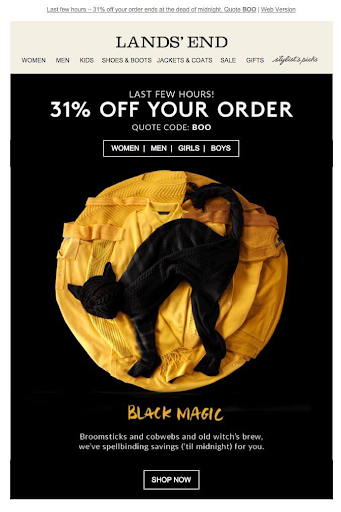 Implement Halloween-style fonts and colors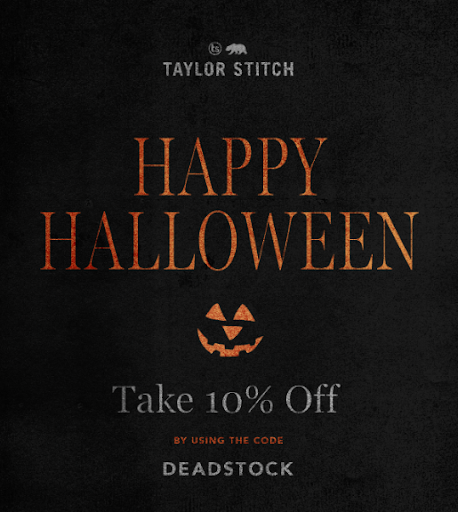 4 – Encourage UGC through social media
Today, many consumers don't always believe what brands are saying through their advertisements and rely more heavily on referrals from friends, family, or trusted Internet personalities for the "truth". That is why user-generated contents work – because of the authenticity of the post.
You can amp up your UGC strategy with these Halloween marketing ideas to build up the hype among your target audience and also help generate traffic to your site:
Submission contests that require participants to submit a video, photo, or text-based entry are extremely popular at this time of year. Some favorites for Halloween-themed submission contests include before and after decoration photos, costume voting contests, and spooky videos.
Basically, you give entrants extra chances to win in exchange for completing actions, such as sharing the contest with others, following your Instagram profile, or visiting your website. Points-for-actions contests, by design, are the most likely contest format to go viral organically.
You could have participants earn points for voting on Halloween costumes, video submissions, decorations, or simply by encouraging their friends to enter, too.
This type of content allows you to distribute prizes or unique coupon codes to winners immediately after they enter. The coupon may be for purchasing a new Halloween-inspired product line, a branded costume, a bag of candy, or any number of incentives that grab your audience's attention.
ShopBase's Sitekit offers Smart Bar and Popup, which are two powerful features helping you increase the conversion rate of visitors to customers:
Smartbar: With this, you can display the title bar to inform holiday-only promotions, offers, newly launched products, or suggest email subscriptions.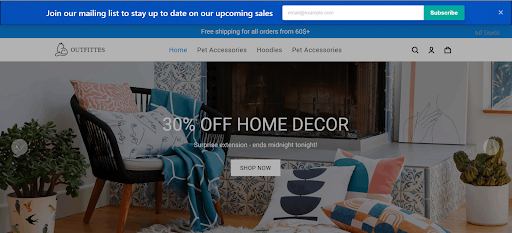 Smart Bar allows you to create different kinds of header bars on your website
Popup: It helps encourage users to take different actions on your website.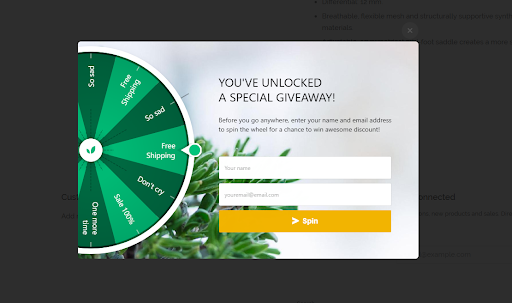 Win Wheel is a Popup feature that the Sitekit app offers to collect emails from customers who have visited your store.
>> Apply these Halloween marketing ideas to your store with ShopBase now
5 – Offer Bundles using Cross-sell & Upsell technique
Halloween is one of the finest times to upsell and cross-sell. If clients are buying from your store, they don't buy just one piece of decoration or costume. They need a full matching set.
You can help them out by preparing special promo bundles and offering them at a discount. Providing more relevant goods at a lower price will save money and time for your clients and help you to sell more.
It is also recommended for online stores to get a little more creative by offering a free gift or incentive that is appropriate during Halloween. Find a low-cost freebie item that's mini-sized and light to ship with every Halloween order– such as trick-or-treat bags. These delighters will help you convert reluctant shoppers and make regular shoppers feel a little special.
ShopBase's Boost Upsell allows sellers to apply Bundles by displaying products groups related to the main product just below the Add to cart button on the product page. There are also other forms of Cross-sell on ShopBase for you to take all advantage of, such as Quality Discounts and Product Widgets.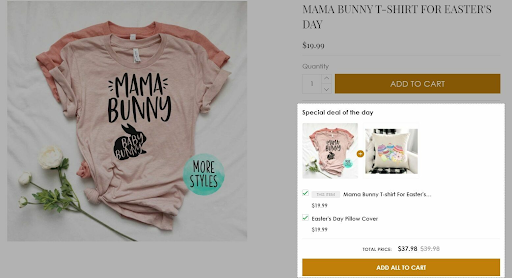 >> Try Upselling and Cross-selling on ShopBase for FREE today
Read more: Shoot up your sales with these Upselling and Cross-selling strategies
6 – Create Halloween time-sensitive offers
Flash sales and time-limited offers are suitable for nudging people. When visitors see a deal that will end soon, they experience the fear of missing out (FOMO), which drives them towards the purchase. The closer it gets to the holiday, the more urgent your deals need to be since people will finish their preparatory shopping when the holiday ends.
Using flash deals with urging messages like:
'Limited for Today only'
'Discounts valid until Midnight'
'Deals vanish in 1 hour'
'1-hour ghost discounts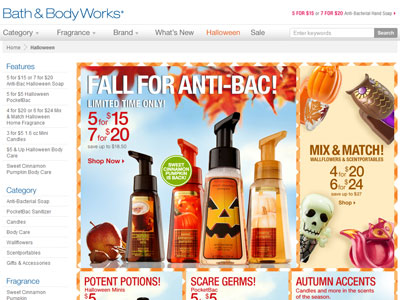 You can also make people crave more by issuing a daily countdown flash sale for two weeks before Halloween. You may spice it up more by showing what products will be on discount sale tomorrow, but not reveal the discount amount. In these cases, if a person doesn't like the offers today but finds an interesting product to be on sale the next day, he/she will come back.
ShopBase's Countdown Tools can be used to motivate customers to purchase before products run out of stock or promotions expire, by adding product countdown & timer countdown.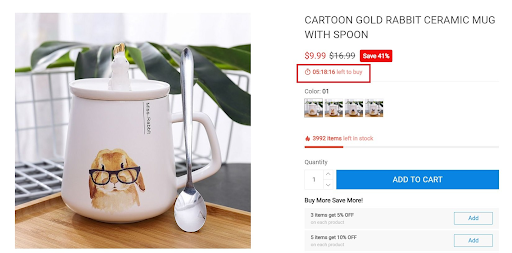 Instill urgency in the upsell offer with ShopBase's feature for free
7 – Give creative Halloween how-tos and DIY advice
If your business can't afford any freebies, discounts, free shipping, or other costly promotions, a safe option could be handing customers useful Halloween content. It can be anything relevant to your target audience – ideas, tips, advice, or some other information within your area of expertise.
British retailer ASDA takes it one step further and even has a website section dedicated entirely to Halloween ideas, decoration tips, games, recipes, and goods. Such a comprehensive campaign means that customers are more likely to associate ASDA with Halloween in the coming years.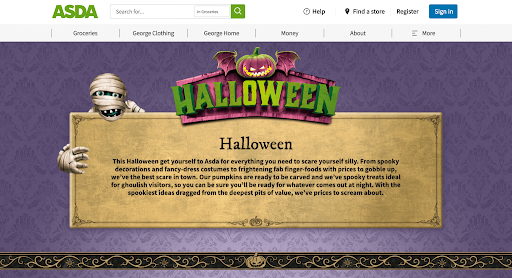 It's your turn!
Remember, Halloween is not exciting for buyers unless you make it for them. The more exciting Halloween marketing ideas you create, the more sales you can expect.
So do put an extra effort into crafting ideas and launching campaigns that people will love to take on. And use most of the unique Halloween marketing ideas you just learned here, to make the most out of all the visitors you will get during Halloween.
Skyrocket the 2021 holiday sales season with ShopBase
Read more:
>> Halloween Dropshipping: Best Products to Sell in 2021
>> 40+ killer tactics to drive traffic and increase conversion rates this holiday