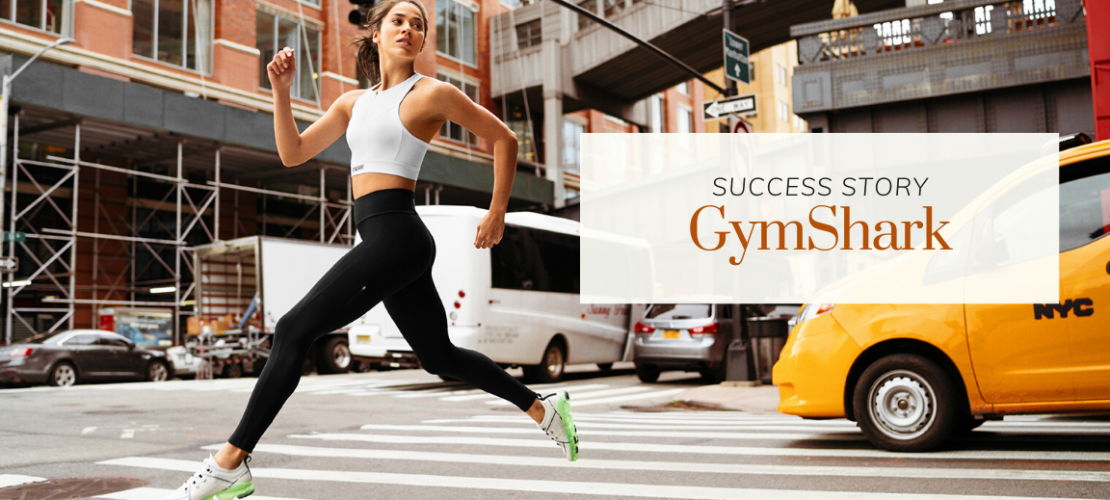 How Gymshark Grew by 200%+ Year On Year and Hit £41M in Sales
In nearly 7 years, Gymshark achieves great success (perhaps we should say a cult-like following):
If you search for Gymshark on Google Trends, you can see people have continually been crazy about the Gymshark brand (ignore the result of "oceans apart", please).
Best of all, Gymshark has grown – and continues to grow – using merely social media and influencer marketing.
This means you can do it for your business, too.
Today we'll show you EXACTLY how Gymshark has become a wildly successful fitness brand and one of the fastest-growing companies in the UK.   
Table of Content
1️⃣ A short history of multi-millionaire 'Gymshark' empire: How it disrupts the gym apparels market
2️⃣ A breakdown of all Gymshark's traffic sources: from search engines to social media networks
3️⃣ Tip 1. Influencer marketing: Gymshark's powerful weapon to turn fitness athletes into ambassadors
4️⃣ Tip 2. Brand community: Be present on the biggest social networks to build a long-lasting relationship with fans  
5️⃣ Tip 3. A sure-fire Black Friday marketing strategy to sell out 90% of products within a day
6️⃣ Tip 4. A perfect strategy to bridge the gap between online and offline, and sell exactly where customers are
Before we jump into Gymshark's strategies, let's take a look at their journey from a supplement online store to a global fitness brand with triple-digit growth.
Bee doo bee doo bee doo
A short history of multi-millionaire 'Gymshark' empire: How it disrupts the gym apparels market
The entrepreneurial fire was already burned in Ben Francis's belly for a long time. When he was still a young teenager, he created an online store to sell car license plates. He developed two iPhone fitness tracking apps, and then made around £8,000 from one of which. He also worked as a pizza delivery man at Pizza Hut.
In 2012, his idea of Gymshark was born. At that time, he was just a full-time, 19-year-old student.
At first, Francis focused on only health supplements. Since he started with zero funding, he had to dropship the products from other retailers. "You have to be creative with the front end and back end of your business when starting", he said.
Not long after that, he realized the profit margins of this business were too low and had no potential in the future. So, he decided to switch to clothing.
Francis admitted he didn't have any immediate grand business plan. He just thought "it was more a case of 'I really want to wear this,' so I made it,". He also had no idea how to price items. "It was literally a case of what would we want to pay for something… There was no considered approach. We were like, 'we would pay £20."
With such a weak foundation, how could this "little" Gymshark beat other competitors and become a £400M eCommerce empire?  
BodyPower Expo, one of the premier fitness trade shows, is where it all began. This is the big time and idea for Gymshark to move forward.
At the end of 2012, Francis attended BodyPower. He wanted to bring Gymshark to the upcoming show, and in order to do so, he almost emptied his bank account to get space on the trade show floor. He and his friends worked so hard to develop the Luxe fitted tracksuit and build the brand name, which eventually paid off. This product spiked Gymshark's growth with the so-high order quantity that they never expected.  
After getting back from the trade show, they put products online, and then things went nuts. Within half an hour, they had more traffic and more sales than ever, roughly $42,000 in a single day, compared to $400/day in the past. Following this momentum, Ben and his teams started off scaling Gymshark.
Another interesting thing about Gymshark is they sell and ship every product. They invested in their own warehousing to control the whole supply chain without hiring a third-party logistics company. This sets them apart and also ensures everything is under their control.
---
Are you into eCommerce and dropshipping?
We just created our official community called ShopBase International Community to open a place where merchants can talk about all eCommerce things related, give insights as well as get updates from our team.
With all that said, welcome to join our eCommerce community here.
---
Over six years later, Gymshark becomes a global fitness apparel & accessories brand, manufacturer and online retailer which sells to 131 countries. They also have a combined audience of 65M followers, creating such demand for its products that many new launches sell out within hours. To prove that we don't make this stuff up, take a look at this:
Their sales increased dramatically, right?
And, here is their 42,000 sq ft Solihull-based headquarter with the capacity to accommodate 450 staff.
Source: Oktra
As for the future, Francis and his team plan to expand Gymshark's overseas sales. They aim to open more than 25 international online stores by 2020, from their current number at 11.  
A breakdown of all Gymshark's traffic sources: from search engines to social media networks
Now, take a look at Gymshark's traffic from Apr 2016 until now.
As you can see, Gymshark's traffic has gradually increased over time. Their traffic reached a peak at 6.3M in Nov 2018, when they ran a huge Black Friday campaign called Blackout with up to 70% off site-wide (more on this later).
Here's a quick look at how Gymshark gets most of their web traffic:
With a cult-like following and a focus on exclusive products, it makes sense Gymshark relies on direct and search traffic as their main traffic drivers. They get the majority of traffic without needing a large paid search investment.
Also, a considerable amount of direct traffic can be attributed to a word-of-mouth awareness (through pop-up stores and events) that Gymshark worked on so hard from Oct 2017 up until now. Put it differently, since so many people already know Gymshark by name, they just type Gymshark directly into the search engines. This leads to a huge amount of branded traffic for Gymshark.
Look at the keywords that really bring the most amount of traffic to Gymshark, and you can see the word "Gymshark" shows up in every single one!
Their other top keywords usually relate directly to their product offering, such as gym shorts, workout clothes, etc.
The following is a breakdown of the traffic that Gymshark gets from social media:
As might be seen, YouTube is a major driver, pulling in more than half of all this traffic. To get traffic from YouTube, Gymshark created a YouTube channel where they shared a lot of inspirational videos featured by fitness celebrities. Read on to find out more juicy details about this.
OK, now you've understood an overview of Gymshark's traffic sources. It's time to figure out how they could build this massive amount of buzz for their brand.
Here's a leak: it's all about marketing strategies.
Tip 1. Influencer marketing: Gymshark's powerful weapon to turn fitness athletes into ambassadors
Gymshark's marketing strategy can be considered as "a redefinition of the approach" to launching a new brand. The focus of their growth has been built around social media and brand strategy to leverage the power of community. Some marketers and strategists may not agree with their strategies, but the truth is they have employed them with great success.
Francis partnered with a bunch of social influencers and transformed them into their ambassadors. Each of these ambassadors has hundreds and thousands of followers on many social media channels, which naturally brings Gymshark a decent number of fans.
1. Not everyone can become Gymshark's influencers
When doing research for Gymshark's growth story, we read so many comments like this:
"My wish to be athlete of gymshark."
There are many wishes that will possibly never come true. Why? Because even though Gymshark said they didn't have any set of criteria when choosing their athletes, it's not easier for anyone to figure out this:
Source: Gymshark
Ben Francis also said so.  
Initially, Gymshark wanted to work with YouTubers they were inspired to enhance visibility. They wanted to create a family that shared the same passion for fitness and in helping others, along with a vision to grow into something bigger than themselves.
Therefore, they chose the ones who had the power to make their brand catch fire, absolutely loved their products, and would be with them for a long time. At that time, no one else was really doing this in eCommerce. (Now we call it influencer marketing.)
On Instagram, Gymshark chooses large-following fitness accounts. Then, they reach out and sponsor those influencers. In return, the athletes wear Gymshark and create Instagram posts about the brand; at the same time, insert a reference to the Gymshark site in their Instagram bio. How smart they are!
A worthy note that for Gymshark, it isn't all about the numbers. To become their brand ambassador, a person has to have a substantial following coupled with strong engagement. Besides, they must fit their products and customers to ensure authenticity and credibility.
2. Those who are chosen will be Gymshark's ambassadors
All chosen athletes will represent the Gymshark brand to their own communities. This allows them to individually engage with their fans on a personal level as a reflection of the brand.
In 2013, Gymshark started collaborating with two fitness YouTubers, namely, Lex Griffin of Lex Fitness, whose channel now has over 440,000 followers, and Chris Lavado, whose channel has 65,000 subscribers today. The brand sent them some samples with the hope for a stamp of approval – and a video to prove it.
Gymshark soon expanded its social media strategy by sponsoring various fitness Instagrammers, YouTubers, and bloggers. To engage their ambassadors and products with their customers, they organized meet-ups.
Before any event happens, the influencers will connect with their fans to tell them how much they can't wait to meet them, and how much they love their fans. This approach is a huge investment in their ROI but also in their brand ethos.
Now, let's look at one of Gymshark's most successful influencer marketing campaigns: TikTok.
3. How Gymshark succeeded with TikTok
For those who have never heard about TikTok, it is the most downloaded social media app in the US in Sep 2018, with over 500 million global monthly active users.
Gymshark took notice of TikTok's potential as a marketing channel. On average, TikTok is younger than other popular platforms, and its community has a strong passion for music. So, working with it will offer a means to reach and engage a distinct audience and demographics.
To kick things off, Gymshark partnered with fitness and lifestyle influencers on TikTok. Then, they announced their "66 Days | Change Your Life" challenge on their site and other social media platforms. Followers were asked to choose a personal goal and upload an initial photo of themselves. 66 days later, they had to update their photo for a chance to win a year's supply of Gymshark goods.
Goals:
Improve Gymshark's brand and awareness.

Promote the "66 Days | Change Your Life" challenge.

Create an active and meaningful connection with fans by inviting them to join the brand's challenge.
Approach:
Channel: TikTok.

6 influencers: Wilking Sisters (1.2m fans), Rybka Twins (5.7m fans), Laurie Elle (2.8m fans), Twin Melody (6.3m fans), Lesotwins (1.5m fans), and Antonie Lokhorst (4m fans). Their videos are in the health, fitness, lifestyle, and dance categories.
Implementation:
Work with TikTok creators to create high-quality and compelling videos with a length of 15 seconds.

Videos featured choreographed movement set to music.

Post themes included dance, acrobatics, lip-syncing, and other activities.
? Wait! If you're still struggling to come up with influencer marketing ideas, check out our Beeketing write-up of eCommerce influencer marketing guide (you'll see that some of these are strategies Gymshark itself is using).
Only a few weeks after running the campaign, the #Gymshark66 hashtag flooded Facebook, Twitter, and Instagram, which expanded Gymshark's presence and reach.
In addition, this campaign drives a lot of user-generated content for Gymshark, not only on social platforms but also on other sites. The content is created by those who want to show off their success in their own place.
Source: Evolve with Elise
Results:
Targeted 19.8 million fans on TikTok.

Overall engagement rate: 11.11%. (Hearts: 1,916,400, and comments: 12,576).

Hashtag usage (in views) #gymshark66: 45.5 million views.

  
They don't need any investors for capital!
Key takeaway
:
Look at the influencers your target audience admires. Make sure they match their products and their goals. Then, brainstorm ways to collaborate with them effectively.
Tip 2. Brand community: Be present on the biggest social networks to build a long-lasting relationship with fans
Gymshark's growth has largely been fueled by social networks. They have a huge number of followers on Instagram, Facebook, Twitter, Pinterest, YouTube, and even Spotify. The cool thing is everything they post, from images to videos, always looks professional and consistent across these platforms.
Note that Gymshark doesn't use social media as a way to generate direct sales. Instead, their goal is building brand awareness and providing their fans with value.
1. Gymshark Instagram
Every day, Gymshark reaches a huge amount of engagement via Instagram.
The truth is Instagram has always been Gymshark's main focus. Then, everything else is basically a version of what they did on Instagram, no matter the fact that more than 50% of their traffic is from YouTube.
As said earlier, Gymshark currently owns three different Instagram accounts with a total of over 5M followers.  
@gymshark

with 3.1M followers. This main account is meant for news, events, promotions, etc. from Gymshark.

@gymsharkwomen

with 2.1M followers. The name tells it all: it's where Gymshark's women show off.

@gymsharktrain

with 532K followers, where you can find training or inspirational daily videos from the Gymshark family.
In their main @gymshark account, they don't add a link to their product page, instead of a link to their campaign or event. Why? Because their main goal is to educate and engage with their followers, which eventually drives their sales.
2. Gymshark Facebook
Gymshark has over 1.5M loyal Facebook fans who are always hungry for their products. On this network, they often share pictures of their fitness athletes to inspire their followers and communicate with them.
If someone you follow does the same thing day by day, you may feel bored quickly and want to unfollow them. But Gymshark actually does this. Their posts are even short and simple – just two or three lines of text without using any copywriting tricks.
The coolest part about Gymshark's Facebook page is they always include the hashtag #gymshark in every single post. Considering Facebook handles billions of searches per day, using this hashtag clearly helps Gymshark reach a lot of new people. If posts surrounding a certain hashtag or campaign perform well, that's a direct signal to keep that topic in the spotlight.
Apart from the official account, Gymshark also created the Gymshark Community Facebook group. This group is dedicated to strengthening the connection between Gymshark and their followers. Every member can share their fitness journey and get inspired by the stories of others.
Gymshark Community Facebook group with a very engaging photo cover
3. Gymshark Twitter
Thousands of people are following Gymshark on Twitter.
Unlike Facebook, Gymshark uses diverse hashtags on their Twitter posts. If you look through their account, you'll notice this thing: they create a separate hashtag for every day of the week, for example, #MondayMotivation, #TuesdayThought, or #ThrowbackThursday. Each post comes with a highly relevant picture or video.
4. Gymshark Pinterest
Pinterest is an ideal choice for fitness or lifestyle eCommerce store owners to drive traffic. Gymshark has executed this hack flawlessly. Don't believe us? See the number of followers and views Gymshark has acquired on this platform.
10M+ monthly viewers and 400K followers, those numbers count!
Understanding what the audience is actually interacting with, Gymshark also creates several Pinterest boards like Gymshark Men, Gymshark Women, Purple Passion, and Vital Seamless.
This classification isn't an accident because most of those boards are corresponding to their product collections on their site. Need proof? The Vital Seamless page received the highest number of shares, which is also the name of a board on their Pinterest.
By grouping pins like this, Gymshark makes it easier for their fans to view their products and share their boards.
And, if you click the Gymshark Women button at the top-right corner of their Pinterest cover, you'll be directed to this:
385,441 followers on this page only. Everything is for women.  
And (again), Gymshark gives their followers the #GymsharkWomen hashtag. If someone types this hashtag to the Pinterest search box, they'll see this:
Gymshark, admittedly, does Pinterest marketing so well.
5. Gymshark YouTube
The majority of Gymshark's audience is young people aged from 18 – 31 years old.
Source: HypeAuditor
To keep those millennial viewers stay longer (and forever) with the brand, smart guys at Gymshark decided to change their YouTube influencer marketing a bit. They want to add more value-based and topical content to their videos, besides showcasing their brand campaigns. This way, they can diversify their approach, and also encourage potential viewers to subscribe to their channel.
Their first step of conducting this change is sharing behind-the-scenes videos about the story of their brand, athletes, and other incredible people. They don't feel ashamed to share their highs and lows, trying to maintain transparency and relatability. This is a great way to give their fans new things, better resonate with them, and build trust.
Source: YouTube
Gymshark has mastered the art of creating inspirational and motivational videos like this. 
Those videos are great for a few reasons:
They are not too long (at least for a super inspirational story of a celebrity).

They are of high quality (if not perfect), in terms of images, sound, music, etc.

They show stories of real (and famous) fitness athletes who had the same difficulties as many others but determined to go beyond their limit.  
Additionally, Gymshark responds to as many fan interactions as quickly as possible. They make use of every feedback they receive and use them to shape their future concepts and approaches. 
"The Big Why" Gymshark continues doing what they're VERY good at!
The results? Gymshark receives so many mentions, social media reaches, likes, shares, and comments on YouTube.
Using this smart strategy, Gymshark also brought their audience a lot of positive sentiment. The more they love Gymshark, the more likely they will share the brand with their friends. It's like a snowball effect!
When Gymshark's new collections launch or after their sales end, Gymshark athletes and dozens of unsponsored YouTube vlogs show off their Gymshark hauls – everything they've bought from the brand. If you watch some videos, you'll see those YouTubers genuinely love Gymshark products and don't hesitate to give compliments. Even when they aren't satisfied with something, their feedback is always constructive. This is a strong social proof for Gymshark.
6. Gymshark Spotify
Gyms/fitness might be the most aligned industry to utilize Spotify to reach a broader audience. Gymshark has already known this fact for a long time, and they did a good job of using Spotify to connect with their follows.
See this:
Source: Gymshark Spotify
Gymshark uses Spotify to create motivational playlists that in turn, push people to drive to the gym, and complete a workout! Notice the way they named their playlists. Each playlist name always started with Gymshark, followed by the name of their athlete or type of workout. 
By doing this, Gymshark can connect with their fans on a daily basis and help them improve their life as they promised. 
Key takeaway
:
Your audience reacts differently to a campaign on Facebook than to the same campaign on Instagram. So, figure out what your tone of voice needs to be on each channel and make sure you're delivering the right message – wording it in a way that those fans want to see it or read it. Don't get lazy and just spread the same content across all your social media platforms because it's easy.
At the same time, be present everywhere. Take advantage of them to create a huge buzz for your brand. Remember to keep professional and consistent across all the channels.
Tip 3. A sure-fire Black Friday marketing strategy to sell out 90% of products within a day
On Gymshark's Blackout FAQ page, they stated, "Suffice to say, we rarely have sales".
Let us finish this sentence: "But when we [Gymshark] have, we make a BIG one".
Just kidding, but that's true!
Every year, Gymshark gives their customers two big sales, and Black Friday is one of them. In Nov 2017, they ran a very successful Black Friday campaign, which led to a huge influx of sales.  
To ensure its brand awareness and sales were maximized during this crucial retail occasion, Gymshark worked with the Facebook Creative Shop to devise a powerful campaign.
Source: Gymshark
The brand decided to take the opposite approach to its usual tactics. Instead of using bright images, they switched to blacked-out pictures instead.
Gymshark began its Black Friday sale on Monday and ran it for a week (called Blackout), using an array of different content each day. The Black Out campaign featured models wearing Gymshark's Black Friday exclusive product and even featured user-generated content from fans who truly brought into the campaign. A combination of Instagram ads was used, including Stories ads, carousel ads, and dynamic ads in the Instagram feed.
At that point, a question is raised: Why did Gymshark extend the sale to 7 days instead of 1 day as normal?
There are two main reasons. First, their potential customers wouldn't have to spend their hard-earned cash on a different sale, meaning they can buy more at Gymshark. Second, a week-long sale means they were more likely to get more customers. However, this practice has been widely used by many eCommerce retailers, so what made Gymshark stand out of the crowd?
1. The feeling of missing out (FOMO)
When used properly, FOMO can bring massive success for a business. Gymshark took advantage of this psychology phenomena by setting the start of the sale on Monday at 3 PM and shutting down the site by only showing this countdown timer:
Source: Strategy Plus
The timer and the blackout deals were also hyped on various Influencers' social media platform, making it the perfect storm. As soon as the timer stroke the last second, the blackout site appeared, showing the offers, then, it was all up for grabs.
Bee doo bee doo bee doo
2. The checkout line
On the first day of the Black Friday sale, two minutes before a customer proceeded to checkout, he was stuck in a line:
Source: Strategy Plus
After approximately 10 minutes, he finally managed to get to the last page. However, by the time he got to this point of the process, his chosen product was sold out!
Source: Strategy Plus
He didn't see his wanted item in the cart. This means someone else also had the same item in their cart, and the first one to get to the last page would get it.
The unexpected influx of people caused many items to result as 'sold out' and for the website to crash almost straight away. But, this increased the aura of exclusivity that surrounds the Gymshark brand and was no doubt a show of the incredible success that was, despite the difficulties encountered.
Gymshark saw phenomenal results across the board. The campaign reached 16.4 million people, and 40% of purchases made during the campaign period came from Instagram. They also achieved a 6.6X return on ad spend.
Key takeaway
:
How could Gymshark survive when they only have two sales a year, not to mention they don't give any discount or coupon code on the page? It's because they own exclusive products and have a huge community of people who are willing to pay more to get one from them.
If you are going to try something like this, be sure you've created strong foundations like Gymshark.  
Tip 4. A perfect strategy to bridge the gap between online and offline, and sell exactly where customers are
In order to become different from competitors and cut through all the noise that now exists online, Gymshark established their authentic community. And they did this so well.
1. The Gymshark Central blog to give more values to customers
Using the Gymshark Central blog as a hub, they make it easy for new and returning customers alike to dive into their community without having to do any heavy lifting.
Gymshark Central is full of articles with tips, tutorials, and recipes which provide customers useful information about health and fitness. By offering this, Gymshark has clearly positioned them as their fans' go-to source for health and fitness. Also, their customers find it easier to make a buying decision after reading their articles.
2. Open pop-up stores to reach local, build buzz, and boost revenue
From its core, Gymshark has always been a brand looking to engage face to face with its customers. After a few years attending trade shows, Gymshark's guys realized this wasn't the best avenue to create the best in-person experiences.
They decided to stop doing trade shows and experimented with pop-up stores. They tried to keep the same experiences as they used to do at trade shows while bringing in their awesome team of athletes to meet face-to-face with their fans. Doing this, Gymshark could raise awareness of their new products, educate their fans, boost sales, and take free product returns.
Here is Gymshark's first pop-up store in New York:
By the end of Mar 2019, they already had 7 pop-up stores in total, namely, Los Angeles, Melbourne, Birmingham, Dublin, Toronto, Sydney, and Amsterdam.
Take the Gymshark Toronto pop-up store as an example. This is considered as their most successful outdoor event to date.
To promote this pop-up shop, Gymshark did a bunch of things:
#1 Wrote a short article with an attention-grabbing title 'We lift the city' and publish it on their Gymshark Central blog. In the article, they listed all of their athletes who would show up at the pop-up store.
Notice the number of comments this article got. It's incredible, right?
#2 Created an event on Facebook and regularly update it. They even replied to (almost) all comments.
#3 Created a consistent hashtag starting with #lift for all pop-up stores (in this case, #lifttoronto). Anyone could easily remember the name and search for the event. For example, if you type #lifttoronto to the Twitter search box,  you'll get a lot of tweets about the event.
In anticipation of the pop-up, Gymshark advertised their Canadian eCommerce site offering free returns and prices that included duties. This created a buzz in the Canadian market and served as a marketing play in prelude to their activation announcement. Despite access to products online, dedicated fans still drove from far and wide to attend the event, jumping at the chance to meet the athletes they admire and follow so closely on YouTube and Instagram.
The turnout exceeded Gymshark's expectation. They sold through all 300,000 products on hand, nearly all on day 1. Moreover, Gymshark pushed people to take action all their ideas, promoting the message "Be all that you imagined you could be. Be a visionary." Toronto was lifted.
Gymshark was good at combining social interactions with customers' strong purchase intent. This is most clear at many of their pop-up stores that spring up across the UK. They featured special sales, live classes, demonstrations, and their athletes' appearance, which attracted their fans' attention and got them to wait for hours for the doors to open in the hope of scooping up some exclusive gear and meeting up with other like-minded people.
By growing their community both on-and-offline, Gymshark is a prime example of what it means to build a brand experience customers can't wait to be a part of.
Key takeaway
:
There are a lot of reasons why pop-up stores beat out permanent brick-and-mortar stores, which is why Gymshark chose them. For example:
Much cheaper: You have to pay to rent the space, design your display, and hire employees, but it'll still be much less than a permanent location in the short term.

More portable: You can put the store exactly where your customers are – almost anywhere. If a location isn't working or generating enough profit, you can move elsewhere.

Easier to scale: You can decrease and increase the size of your area as needed, depending on the possible number of fans who will go to your shop.

Lower commitment: You can be open for just a sale or an occasion.
With these in mind, it's worth to put pop-up stores into your marketing and sales strategy.
5 key takeaways from Gymshark's multi-million dollar success
Where you're in eCommerce or an entirely different industry, there are five golden nuggets of wisdom you can steal from Gymshark and try them out.
Here are the five key takeaways:
1. Get collab with the right influencers. Turn them into your ambassadors, help them hit their goal, build your product with them, and they'll stay with you forever.
2. Focus on growing your social media channels. Go with any platform you think it's potential and suits your business. Then, find what type of posts your audience most like to enjoy.  
3. Don't overlook the power of the blog on your store. This is a great way to connect with your customers, give them more values, and build trust.
4. Put your products directly in front of your customers. Sometimes, you need to let your customers "touch" your products (at least) once, so they can feel more confident to shop your online store in the future.
5. Apply the FOMO marketing and create exclusivity for every product you sell. By doing so, you can create a large group of fans who are so crazed about your products.
What are you waiting for? It's time to take actions to build your eCommerce store you've ever dreamed of.