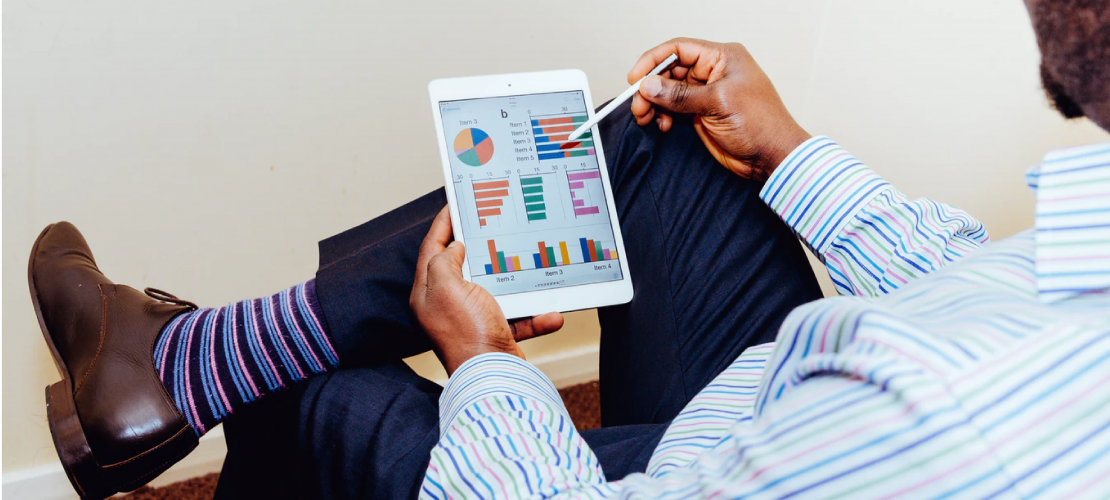 Dropshipping Business Model: General or Niche Dropshipping Store?
You might read this article as you're not sure whether to dwell on niche dropshipping store or general dropshipping store
This is a frequent question for not only newcomers but also veterans of the eCommerce industry. Will you go with something like a "jewelry store" or rather go with a "crafted ring store"? Once you've decided on your business type, you have to go all the way to ensure that it works well!
To guide (not to choose for) you in picking what suits best for your preference, we'll shed some light on all the things you need to know about each dropshipping business type.
In the end, it's all about how much you are willing to do and what you love most.
Now let's dive deeper into our discussion!
A. Why choose Dropshipping for your business?
Dropshipping has become more popular in recent times and you can see that the trend for dropshipping is rising dramatically!

According to ShopBase Wikipedia, dropshipping is "an order fulfillment method that does not require a store to keep products in stock. Instead, the store sells the product, forwards the order to a third-party supplier, who then has it packed and shipped to the customers"
Simply speaking, you don't hold any product inventory or manage the shipping process. You just need to control everything in your store and know the effective way to promote your products.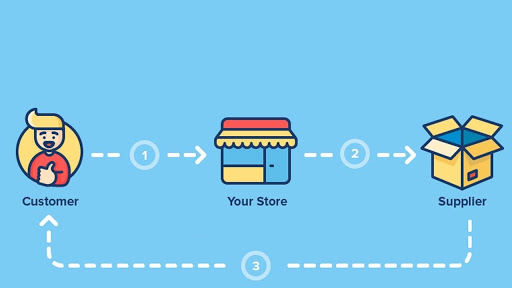 This is why dropshipping is easy to get started with and a great approach for soon-to-be eCommerce merchants who want to earn passive income, with a low overhead cost!
Of course, with advantages come challenges. Dropshipping is not some typical "get rich quick scheme" as you read it on the Internet. On the contrary, dropshipping is a competitive landscape where everyone wants to get a slice of that profitable pie. So be mindful of your strategy to find a way to differentiate your business from others and outplay all your competitors!
To learn more dropshipping details in 2021, you can refer to What is dropshipping? Is it still worth it in 2021?
Now that you know dropshipping is a profitable choice, and you're eager to kick start your business right away, there are still things you need to consider carefully!
B. What is a general dropshipping store?
A general dropshipping store is set up to sell multiple niches. You can add a wide range of niches to your store (literally everything) from tech products, clothing, decoration, and many more. There's no specific theme to the store!
This type of dropshipping store allows you to flexibly ride on the trend and add on whatever items you consider will be the best-sellers in the near time.
A clear example of this is Inspire Uplift. As you can see, they have sold hundreds of products across different categories to get inspired from and as I said, these items have no actual connections to one another. But it makes a great example of a general store!
Advantages of general dropshipping stores
A general dropshipping store offers some significant advantages. Simply put, it lets you:
Huge product range: Basically there's no limitation to what you can add to your store. Make a list of trending products, cool items in all kinds of niches that you think your customers love and sell anything you want!
Expand potential customer base: Since the products you offer are varied, anyone/everyone could be your targeted customers and you can make use of this advantage to skyrocket sales!
Test different niches at once: If you're unsure about what's going to sell well, with a general store, you can test a bunch of products at the same time to find your winning one!
Disadvantages of general dropshipping stores
With advantages come the downsides, a general dropshipping store isn't always. You might face some problems:
Intense competition: As you're selling products from all niches, you'll be more likely to attract more indirect competitors as basically, every dropshipping store out there is now in the game to compete with you
Not SEO-focused: With a wide range of products in your store, it'll be more challenging to target a specific keyword. Therefore, the general dropshipping store will be tough to compete with other competitors, who focus on a more generic product.
Hard to make your store stand out: When you're into various products, your brand awareness is on the blurry line. If you can't find your unique selling point and distinguish your store from others, how can you outplay your competitors and win customers from them!
C. What is a niche dropshipping store?
Contrary to a general dropshipping store, a niche dropshipping store is a store that builds around just one specific niche market.
Meowingtons is an excellent example of a branded niche dropshipping store. By the name, I bet you can guess what their store is all about. Exactly, cats and everything around them!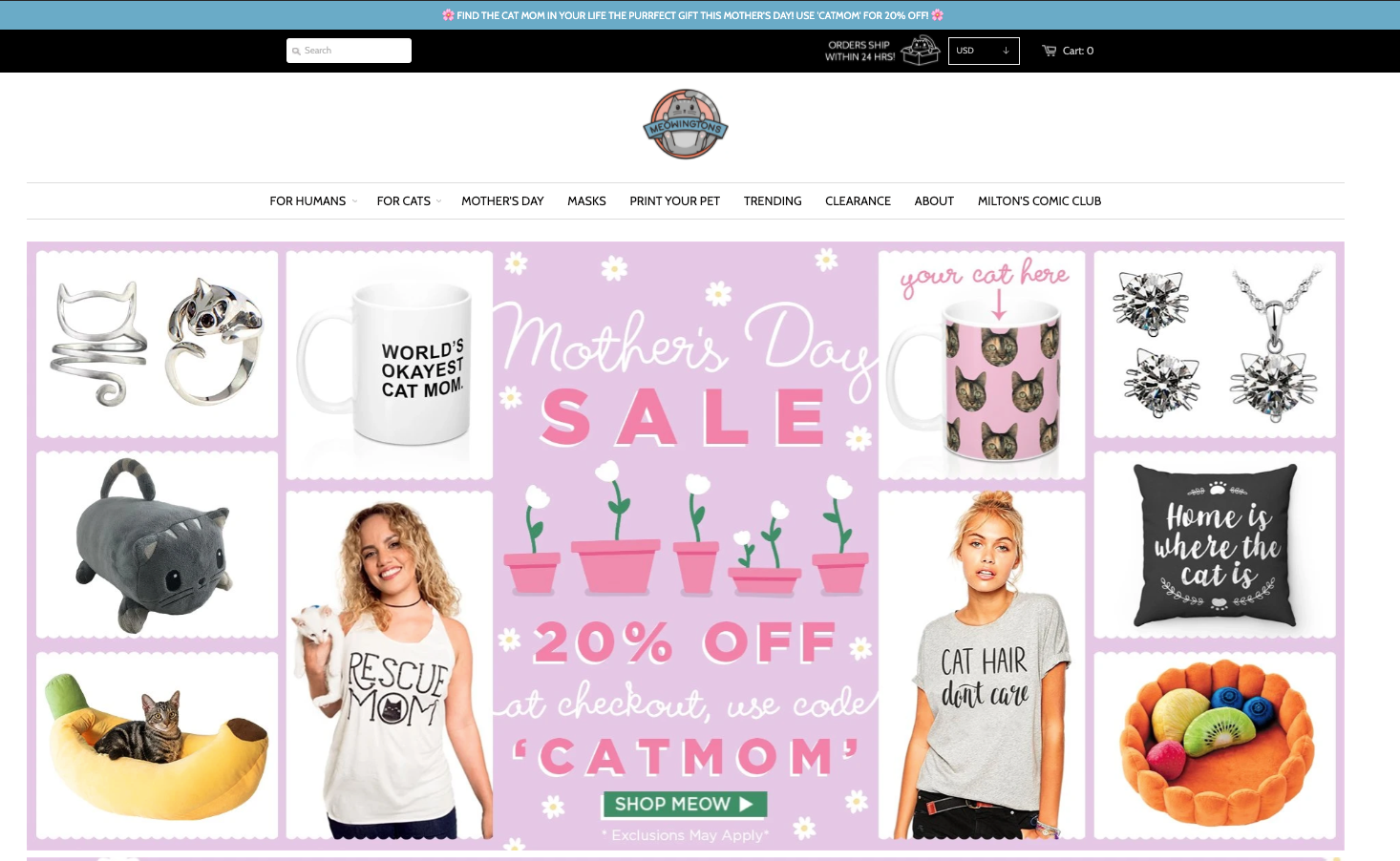 Apparently, with a store like this, people will think you have expertise in the cat niche. This is a cornerstone to build trust with them!
When you decide to go with a niche dropshipping store, this also means narrowing down your targeted customers!
Advantages of niche dropshipping stores
Sometimes, less is more and a niche dropshipping store can bring major upsides that can benefit you in the long run.
Efficient SEO: When you build everything around just one single niche, you're more likely to leverage your SEO plan to drive traffic. Google favors niche stores more than general stores when it comes to SEO in the eCommerce ranking competition.
Strengthen brand awareness: What it feels like when someone mentions one product, maybe a phone case, and immediately it reminds them of your brand. If you aim to gain your brand identity, a niche dropshipping store is by far the best option. When you're determined to promote one market niche, sooner or later, you'll be known for what you do in particular.
Upsell/cross-sell relevant products made easy: Since all the products displayed in your store are about one topic in a specific theme, it's easier to recommend related products to what customers intend to buy on the product page. For example, if you advertise a cat toy to a cataholic, it's more likely to convince them to buy cat teasers or chew toys. This way will help to increase the average order value for one purchase in your store.
Pro tip: ShopBase's Boost Upsell app has done a very good job in smart upselling and cross-selling products to skyrocket up to 22% of the total sales!
Reduce the competition: Unlike general dropshipping stores where you have to compete with tons of similar dropshipping businesses, the chance of coming across other niche dropshipping stores with a specific product is definitely fewer and you're more likely to focus on strategically promoting your products to outplay other competitors.
Disadvantages of niche dropshipping stores
Just like a general dropshipping store, still, a niche dropshipping store has some "so-called" drawbacks. Let's go through them anyway!
"Must-have" in-depth product research: With a niche dropshipping store, you need to know from A-to-Z the product you're selling and whom you're targeting. You need to find out if the product is too saturated or in high competition so as to avoid investing into the wrong niche.
Pro tip: Product research might be a burden for many Dropshipping merchants as it's super time-consuming and you need to rely too much on guesswork to figure out which products work best for your business. So if you want a quicker way to define what a winning product is and effective ways to apply for your business, here's the secret to winning product formula and build a 6-figure Dropshipping business with ShopBase!
>> Click to download our free ebook: Winning product formula – Little-known ways to conquer a multi-million dollar dropshipping business in 2021
Test niche one by one: This might be daunting, time-consuming, and money-wasting because a niche store doesn't have a wide range of "back-up" products like a general store. And if one doesn't work the way you want, you need to switch your direction to find another one and fill your store with different products.
Short-term plan: With just one niche only, you hardly know if it will be trending in the five or ten years ahead. People's interests and behaviors constantly change from time to time and every year tons of hot products emerge, you'll see something like "Hot XX winning product 202x". Eventually, you can tell whether your chosen niche can appeal to people for such a long time or not. This is also the reason why picking just a specific niche to rely on is pretty risky in the long run.
D. General vs niche dropshipping store: Which one is the best for your dropshipping venture?
There's an assumption that beginners should go with a general dropshipping store and the experienced ones will be more likely to create a niche dropshipping store. But you know what, no one can assure that. It all depends on your goal, target customers, and how you want your business to run in the long term. Let us give you a brief of our comparison:
Here's our suggestion:
If you find yourself excelling at finding new products and love experimenting with new things with your online business then a general dropshipping store might be your go-to choice.
From this, you'll get to know the market and understand a wide customer base to become more experienced.
Once you have more time to test different niches to find the best converting one and improve your marketing skills, it's time to carve out your niche and build a focused business.
ShopBase 6-figure dropshipping stores have also faced many failures before reaching their success today. Good things take time so don't rush yourself to something called "get rich quick scheme".
Final verdict
"Should I take a general dropshipping store or a niche dropshipping store?"
Now that we have walked you through the whole article to have a clear explanation of how both dropshipping business types work, their advantages and drawbacks. The decision is up to you!
The success of a dropshipping store lies in many things: customer research, your products, how you set up your store, the way you market your products and sometimes, you need luck too!
We can't guarantee to help you go from zero revenue to $100,000 in one month but with ShopBase, we promised to shorten your dropshipping journey to success. It's time to drive your dropshipping store to a whole new level!
>> Sign up ShopBase for a 14-day free trial now!
Have fun selling with us!