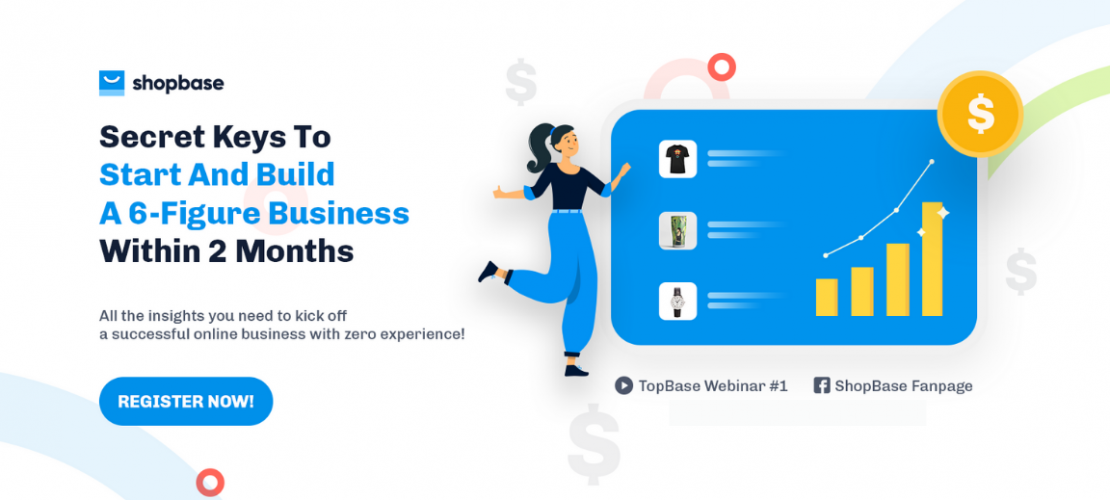 FREE TopBase webinar #1: Secret keys to build a 6-figure dropshipping business in 2 months
Thinking about kicking off your own dropshipping business in 2021? Attend our FREE webinar series that has helped over 52,000 entrepreneurs and get the key that unlocks your own success from it!
TopBase webinar series
Every month, ShopBase hosts a free webinar that walks you through how to set-up your online e-commerce store, step by step, using dropshipping to fulfill orders, and most importantly, make a 6-figure income from it.
How are you going to benefit from our webinar series?
Each webinar will be co-hosted by ShopBase and other agencies with strong knowledge and expertise in different fields, such as marketing, design, fulfillment, payment, etc.
With the experience shared from top performers in their fields, we hope the webinar series could provide prompt advice and support to our entrepreneurs, which can help them to win success on their own path.
How are you going to get updated from the webinar series?
Subscribe to our blog to get notified about our webinar series, fresh tips, and tricks for doing e-commerce business.
Besides, if you can't make it to view our live webinars, register here to get the recording. ? Get the webinar recording now! 
#1 TopBase webinar: Secret keys to start and build a 6-figure dropshipping business in 2 months
In this month's webinar, you will learn how to get the dropshipping business of your own up and running from scratch.

This 30-minute talk will include 2 main sessions:
1

st

session: Experience sharing
During this session, two e-commerce experts of ShopBase will share their knowledge, expertise, and experience in getting started with dropshipping from nothing.
You will also get to know the basics of dropshipping and its potential in 2021, which hopefully helps you make the most well-informed decision for your future.
In this session, our experts will be answering the questions which ShopBase previously collected from our audience.