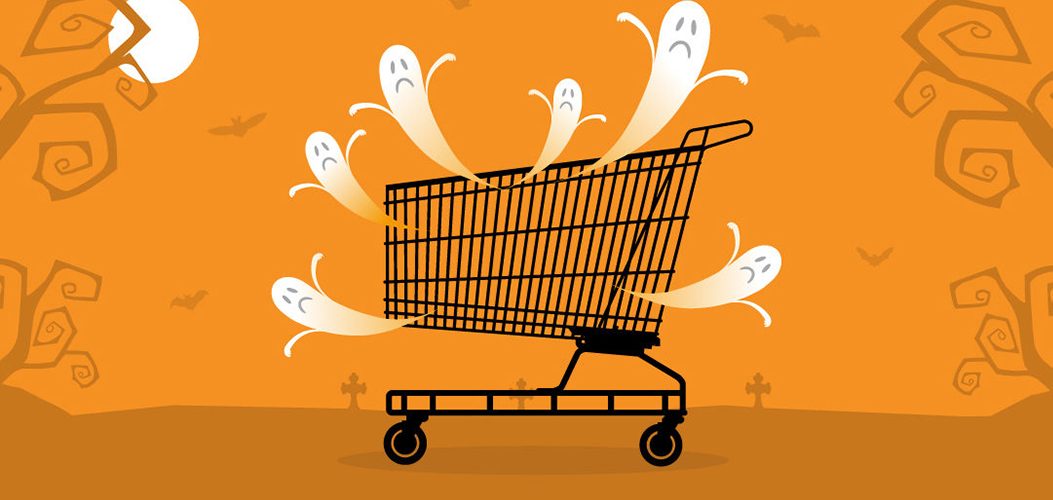 The 6 Best Free Dropshipping Apps to Win Big Sales on Halloween
Only in the United States was a total of $8 billion in Halloween product expenditure anticipated for 2020. Let's think about how they will participate in Halloween celebrations, as the vaccination rate has reached 363 million doses in this country. TrendAlytics recently reported:
Since April 2021, the phrase Halloween has had average weekly search traffic of 328 500.

In the final week of October 2020, there will be 30.5 million searches.

This year, searches are likely to outnumber those, as customers' enthusiasm is heightened by the possibility of a pandemic.
Seeing such an amazing chance to boost up your sales, ShopBase has provided many outstanding features throughout the ShopBase apps store.
In addition, ShopBase sellers have access to every app that a dropshipping store could need to rocket their sales this Halloween without any cost. These solutions enhance the conversion rate smartly so the sales can be optimized.
If you want to make more money from this holiday, this article is for you. ShopBase would like to introduce the top 6 dropshipping apps, which help sellers have more insightful strategies to win this Halloween.
Not wasting any more time. Here are the "The 6 Best Free Dropshipping Apps to Win Big Sales on Halloween "
Why you should use ShopBase Dropshipping apps?
ShopBase is a rising star in providing services that allow everyone to create a store and sell online. After 2 years improving and developing, ShopBase has reached several achievements such as:
78,500 users worldwide

Approximately 89,000 stores have been established

User map spreads across 170/193 nations

And more!
The platform also proves itself as a Shopify alternative in providing Dropshipping & Print-on-Demands services. By providing no-cost apps and comprehensive support, ShopBase seems to solve mostly the pain points of many sellers on other platforms.
Currently, there have been more than 7.63M orders delivered successfully helping ShopBase sellers reach massive revenue.
The main reason for the rapid rise could be the ShopBase Dropshipping apps. These free apps motivate users to sell more since they are applied and developed based on the buyer behavior process.
Win Big Sales on Halloween with ShopBase Free Dropshipping Apps
6 best free dropshipping apps to increase sales without spending money
Before purchase
You should initiate the sensation as soon as the client hits the Add-to-Cart button. This stage has proved to be successful in increasing sales by addressing users' emotions as they prepare to make a purchase choice. Customers may simply purchase more if they are offered the appropriate goods at a moment when emotions are strong.
Shopify apps store has way too many apps and this might not be the right time for quality. Therefore, sellers will not be oriented to a successful strategy and specific period for the campaign.
ShopBase, on the other hand, provides insightful apps to match with customers' behavior. With these apps, you can promote customers' emotions natively. Therefore, an app that allows you to set up some native website components should be the one that you need to focus on.
Product recommendation widgets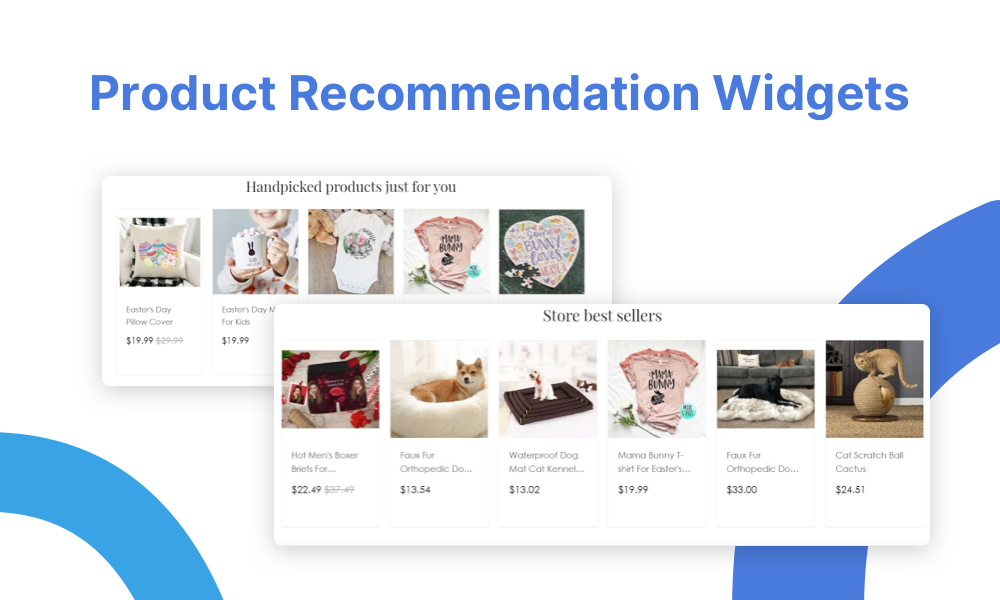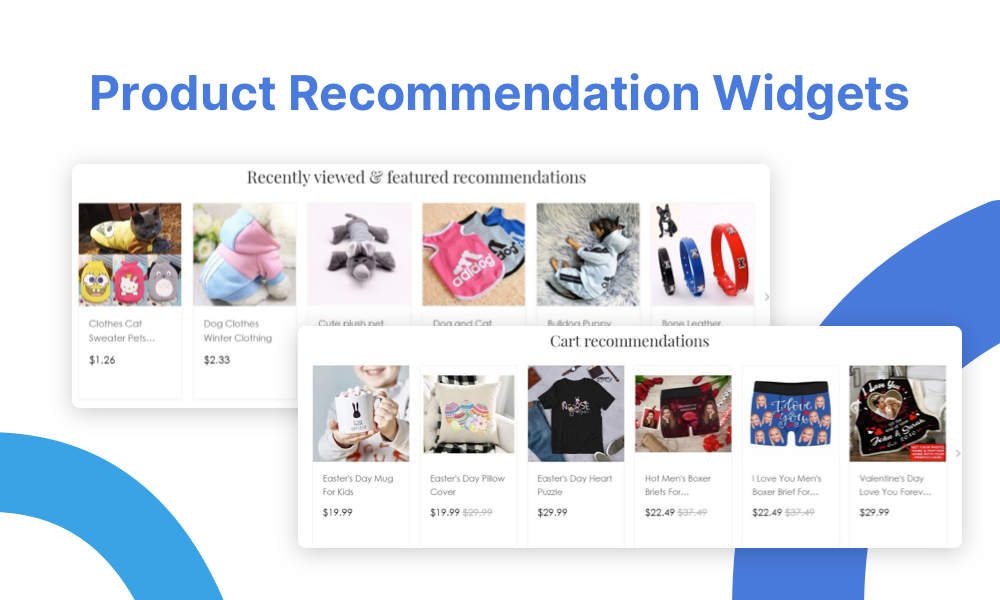 Product Widget is a website component that collects goods recommended to people viewing the page. If consumers find the suggested items essential, engaging, and helpful, product suggestion extensions may lead to an increase in in-store sales.
Simple to modify depending on your approach. Boost Upsell's Product Widget functionality supports six different kinds of product suggestion extensions. Each extension suggests a product that performs well on various shop pages.

To utilize the functionality, no coding skills are needed. You can add as many widgets as you like, all with an easy-to-use interface.
This app makes the native feeling since you can choose some message such as:
Handpicked Products

Bestsellers

Recently viewed

Who bought this also bought
In short, this app can provide ShopBase sellers with advanced features with many applications based on their type of products or marketing strategies. No need many apps for just a widget!
Purchasing
This is the nearly last stage in the purchasing process. Customers are checking their shopping carts and completing their purchases. You should provide them with additional value, such as buying another item.
When you propose items of the same design or an accessory for the primary purchase while the client is in the checkout process, you are practically compelling the buyer to pay attention to your recommendations.
Customers in the United States have a tendency to desire to "collect a complete set of goods with the same design." As a result, these applications will capitalize on this point, encouraging the urge to purchase more, provided your design is attractive enough.
At this stage, you might have many chances to increase your revenue. However, it is easy to be salesy and you are gonna lose sales. Unlike Shopify, ShopBase has developed these apps with advanced features which fit many requirements and satisfy your customers.
In-cart Upsell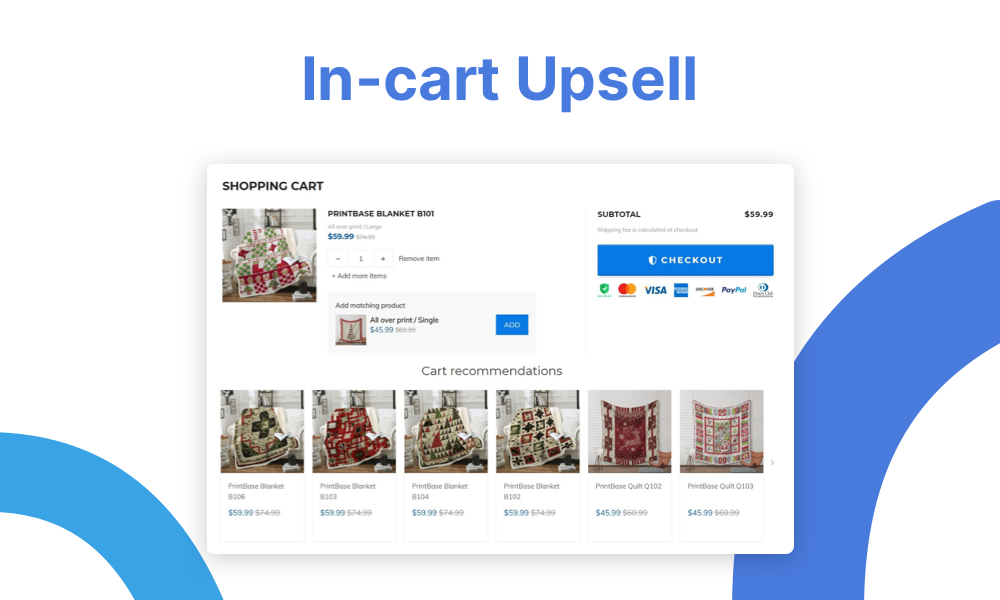 In-cart Upsell is a new feature in the Boost Upsell app that enables merchants to generate product suggestions that match the existing items in the customer's shopping basket. By nicely recommending, you can get customers to buy more – directly from their cart.
Here's what you can accomplish using In-cart Upsell:
Choose Target items so that when consumers add them to their shopping basket, In-cart Upsell offers appear in their cart. You may choose All goods (all products), Specific products (certain specific products), or Specific collections (some specific collections).

Prioritize the display of recommended items from highest to lowest price or vice versa.

After a client has previously added a recommended product to their basket, have the system immediately propose the following product.
See the ultimate guideline to Upsell
Accessories Cross-sell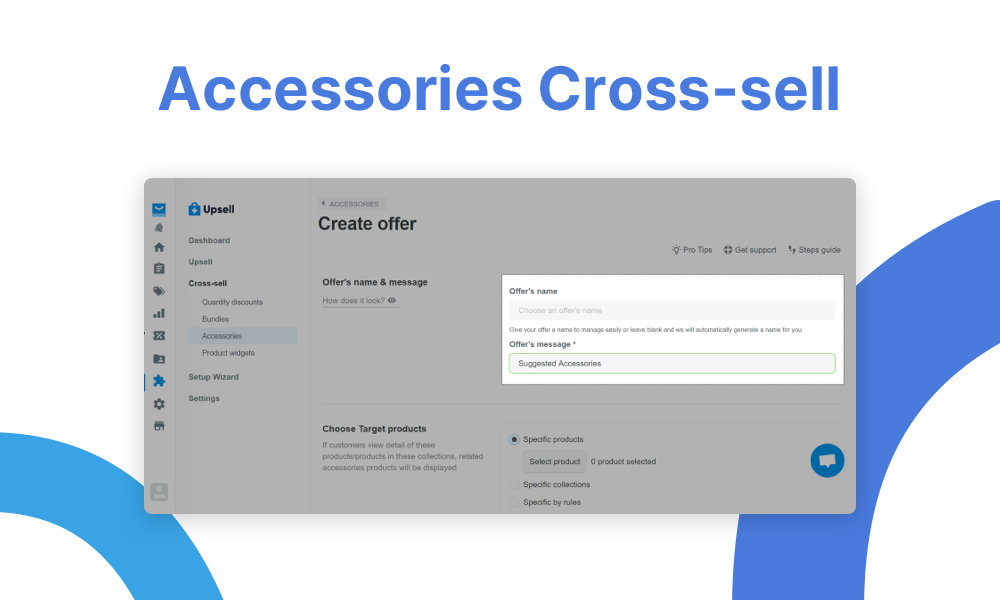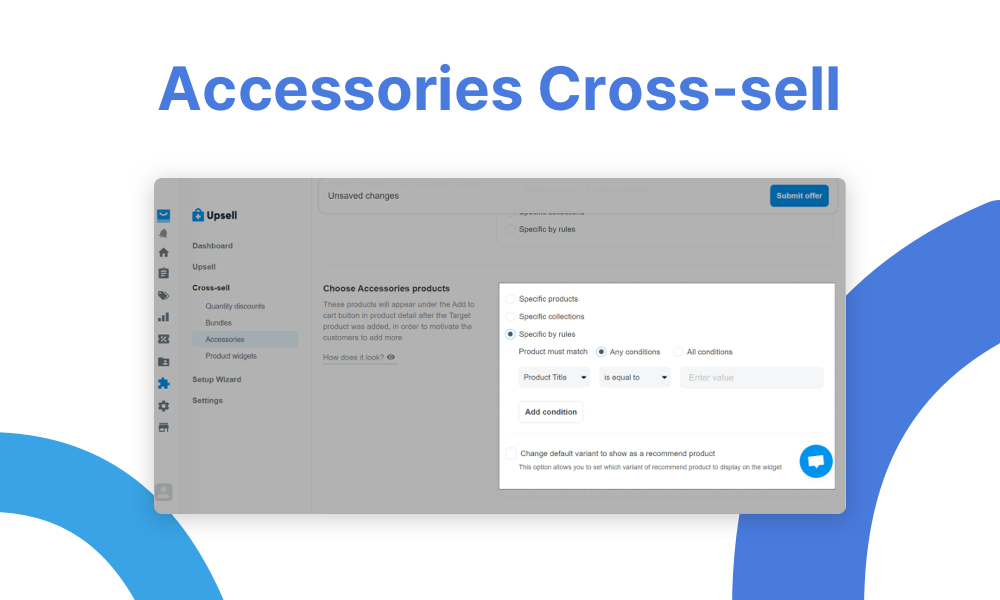 This app brings customers the most satisfying buying experience. Offering useful items that relate to the main product in their cart may make customers feel like they have more value (for example, the store will introduce accessories for mobile phones). Cross-selling accessories offers the most optimal features to help you sell more:
Smart suggestion.

You can select 'Any' conditions (product satisfying one of the conditions below) or 'All' conditions (product satisfying all of the conditions below). Create conditions to match your needs.

Native and convincing deal

.

You can manage offers easier. The application will automatically generate a name if you leave it blank.

Additionally, a meaningful message will help the offer look more attractive, creating a sense of excitement for your customers.
Product Bundles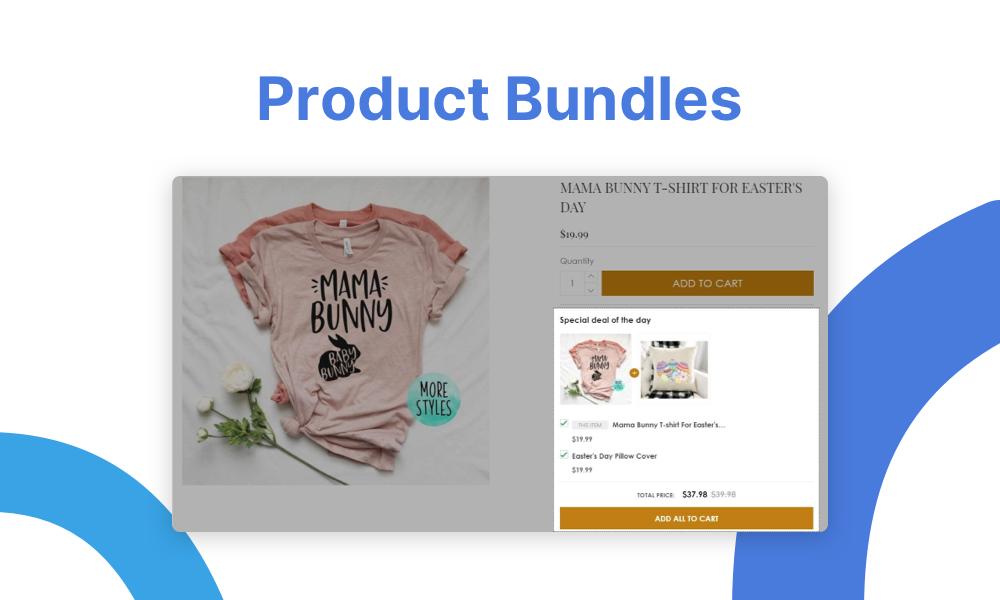 Product Bundles offer is a form of sales promotion that encourages customers to buy products related to the main product. By suggesting products that customers might be interested in, you can earn more money and customers will have better shopping experiences.
Native and convincing deal

. You can choose a name that describes your offer or leave it blank and ShopBase will automatically generate a name for you. Moreover, u

sing attractive and engaging messages can make your offer more irresistible.

Flexible promotion strategy

. With Product Bundles, you are allowed to set up multiple promotions such as Target Product, Group Products, and 'Only show this bundle' when customers visit the target product.

Optimized customer incentives

. Offer discounts to customers who buy whole groups of products and incorporate the discount percentage for their total cart.
This app can be called an advanced option to recommend products with bundles. You can totally customize and get this for free.
Quantity Discounts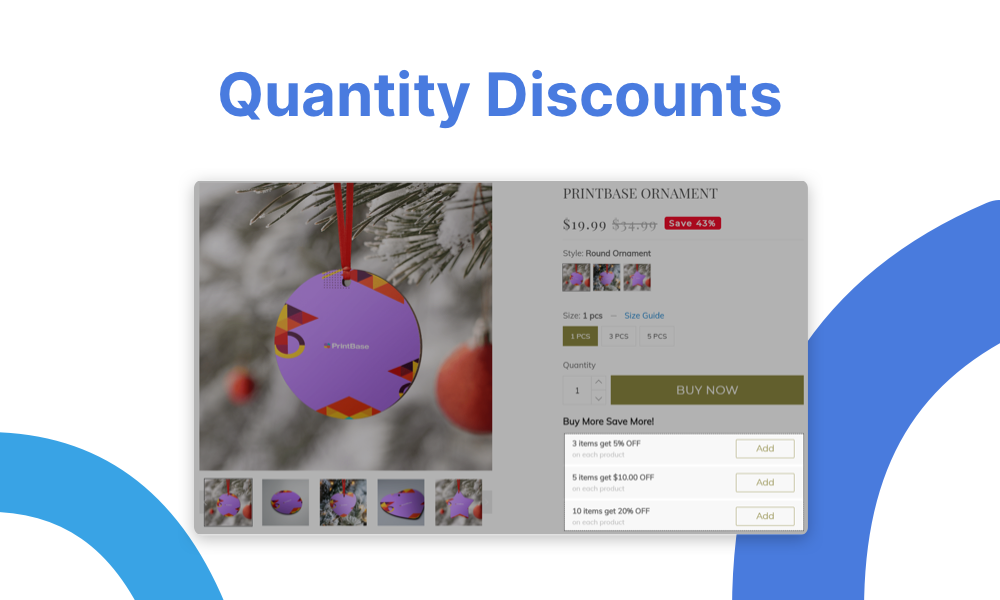 Not only cross-sell and upsell by recommending products to customers can increase sales. You can also offer discounts to encourage customers to spend more.
Quantity Discounts encourage customers to make purchases by offering attractive incentives: the more quantity a customer buys, the cheaper the price per product will be.
Utilize persuasion and expedited purchasing to close a deal

. You can add a message to entice more customers with the deal and save your customers time spent buying with the CTA button.

Flexible deals based on your promotion strategy

. You can choose to apply Quantity Discounts to:

All products

Specific products

Specific collections

Specific by rules

Easy to create and launch a discount

. You can choose the discount type on the last drop-down menu:

% sale off on each product

$ sale off on each product

$ on each product.
After purchase
This stage is usually forgotten. Post-purchase optimizing sales can occur after a consumer has completed a transaction successfully, between the checkout and the thank-you page. The thank-you page or order confirmation page are excellent methods to tell consumers how to maximize the value of their recent purchase.
With Post-purchase Upsell, you will encourage your customers to purchase appropriate products rather than incurring additional marketing expenses for the next time.
Post-purchase Upsell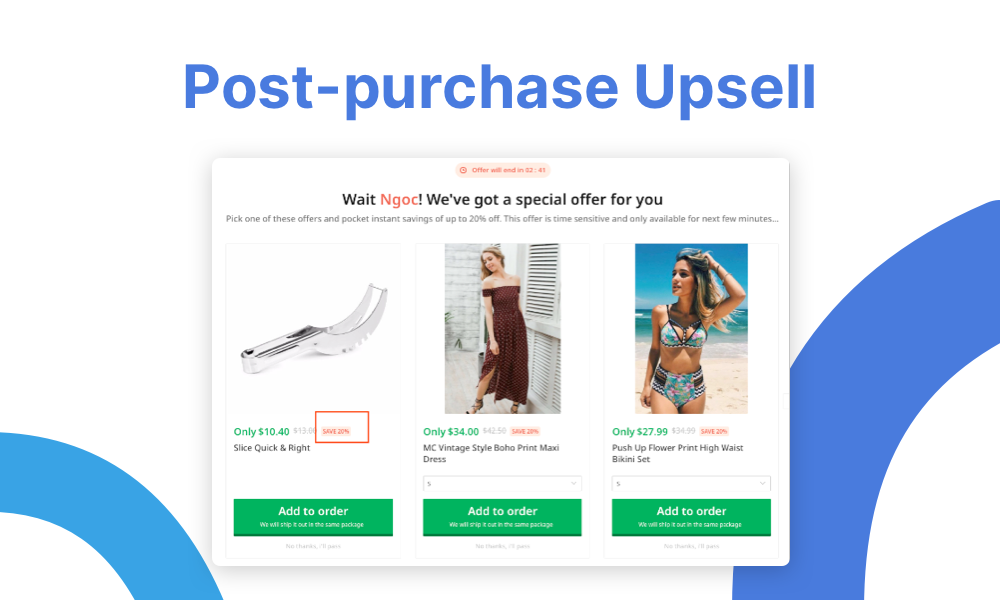 We gather all tools that you might need such as email marketing in just one app. No more messing around with choosing the right one for the process. You still get the amazing feature, such as:
Give a better offer (abandoned cart email).

You can increase sales by saving lost sales by using abandoned cart email.

When customers add items into their cart but they don't checkout,

you'd better provide them with good deals or special discounts via email with optimized abandoned cart email templates. By adding more value, the customers are more likely to make purchases. Moreover, you can easily edit and add promotion codes or direct links.
Match customer insights

. You can observe the deal to see how it looks before submitting the offer. So you can avoid being 'salesy' and upsell in a more subtle way.
Conclusion
With outstanding and free dropshipping apps by ShopBase, shooting up 4.5 times your revenue is no more impossible. You can totally enjoy ShopBase free apps and gain more with your business without spending too much money or blur strategies.
As a comprehensive support platform for Dropship and Print-on-Demand sellers, ShopBase is certainly indispensable for applications and features to support business owners.
Click here to get a free guide for a perfect holiday-themed Facebook Ads campaign
More strategies for Halloween you might like: