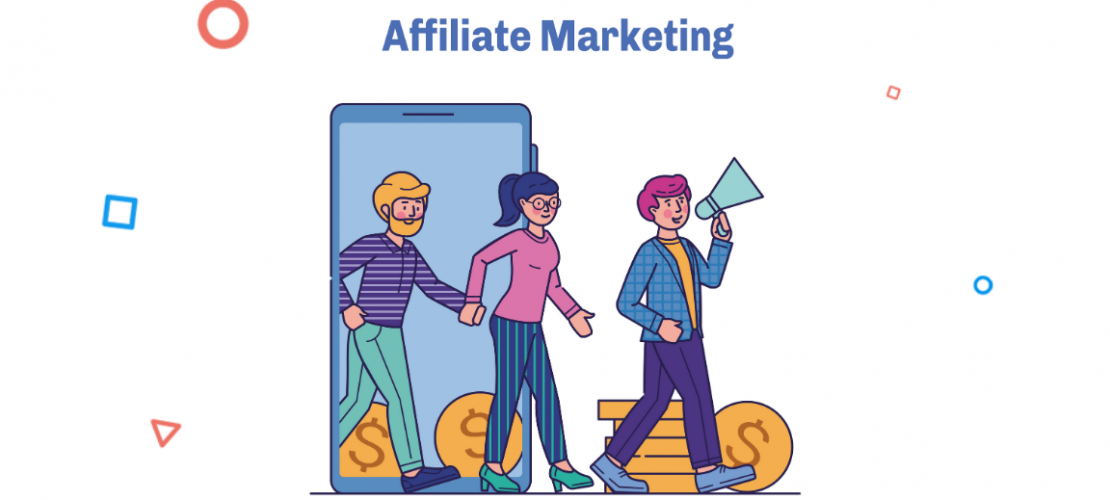 Affiliate Marketing: How it Transforms Your e-Commerce Business
Today's article on Affiliate Marketing: How it Transforms Your e-Commerce Business is brought to you by Aditya – Growth Assistant at AirTract
Let's welcome Aditya in our blog, and learn from his invaluable experience!
---
 "A successful business is only half-baked without an effective marketing strategy."
Communication is being redefined in this Information Age, driven by a hyper-connected population and an explosion of social networking and content sharing. Individuals are consuming information at a far higher pace than before. Hence, it is imperative that enterprises must take note of the changing dynamics of business.
Marketing has evolved from plain-vanilla newspaper and TV ads to more personalized forms in the digital age. Affiliate Marketing is one of the younger kids in the marketing space, but it is highly effective at driving sales.
Source: https://seopressor.com/blog/affiliate-marketing-for-bloggers/
Affiliate marketing is an online sales tactic that lets affiliates (individuals/companies) sell the product/service of their interest. The affiliates engage their potential buyers online in the form of blogs, social media, videos, and mobile and help the buyers make an informed decision on their purchase. Once the buyer purchase on the target website, the affiliate earn a commission.
It is a win-win situation for everyone – the seller, the buyer, and the affiliate. The seller gets additional revenue and recognition with marginal added expense; the buyer can make informed decisions using the information provided on the affiliate's pages. The affiliates earn their commission, which can serve as a healthy income stream for them.
What makes Affiliate Marketing so compelling for e-commerce?
Source: www.emarketer.com
Let's look at some numbers to answer this question.
[1][2][3][4] – As per data from emarketer, inc.com magazine, Forrester Consulting, and Web Market Support.
The trends reflect the enormous potential of the affiliate marketing ecosystem.
Why Does Your Business Need Affiliate Marketing?
Let's have a bottom-line impact analysis of the affiliate marketing system on e-commerce:
1- Economical: Affiliate marketing can be economical vis-à-vis other forms of marketing. Affiliates are generally paid as per the prevailing commission rates decided by the seller, as compared to traditional forms of marketing like advertisements, where pricing is market-driven.
2 – Return on Investment: High ROI is one of the appealing arguments in favor of affiliate marketing. This system is performance-based; hence, payouts are made only if there is a convert in some form – page landing, product purchase, etc. This contrasts with a TV advertisement, where one can only be hopeful that ad-spend results in revenue.
3 – Budgets: A new business or a young startup might not have deep pockets like their larger, well-established counterparts. For entities operating within a limited budget, affiliate marketing can drive higher revenue per dollar spent on marketing.
The option of paying only when you have revenue coming in is a big consideration for those with limited spending capacity.
Looking at this system from a lens focused away from economics, we can see the following benefits:
1- Control: Affiliate marketing system places more control in the hands of you, the seller. This comes from the seller's ability to decide the products that are to be promoted, the commission to be paid on the products, terms and conditions of revenue recognition, payouts, etc.
2 – Information validation: Affiliates promote the products and services through blogs, social media, review websites, video channels, etc. Entities which are considered authorities in their areas of interest provide validation and social proof that is much-needed to make an informed buying decision.
Some websites, forums, and video channels are considered such high authorities in their niche that they often have the final influence on the buying decision. Onboarding, such authorities in your ecosystem, will help you use their influence to gain valuable customers.
3 – Niche: If your e-commerce business deals with products having a niche market, affiliates can help you in a big way. Consider the drone market as an example. The drone is a relatively new product and has emerging areas of application like photography, sports, surveillance, security, etc.
If you partner with an affiliate who can provide consumers with a platform, you can gain a lot of revenue without a huge marketing spend.
The fact that a niche website/video may be consumed most by individuals who are specifically interested in that area is a very appealing argument in favor of affiliate marketing.
4 – Tracking: This system affords easy tracking of impressions, clicks, leads, sales, commissions, revenue drivers, etc. in the form of dashboards. There are plenty of Affiliate Marketing software available to track your conversion and all other statistics.
5 – Scalability: Affiliate marketing can be seamlessly integrated with your other marketing efforts and can be scaled easily and quickly.
How can Your eCommerce Business Benefit from Affiliate Marketing?
It is now evidently clear that Affiliate Marketing is one of the strategic tools that an eCommerce business should utilize. Getting started with Affiliate Marketing requires us to understand the few essentials on what makes a good affiliate.
Traffic generation – Look at affiliates who have the potential to drive traffic to your website/online store.
Influence – Some websites/blogs/individuals are regarded as an authority in their area of interest. Their people have a greater influence to help your potential customer become a paying customer.
Content Quality – Content is the King. High-quality content is not only reliable and accurate but also engaging. Readers are less likely to complete reading a blog that is completely text. Adding in multimedia goes a big way of keeping the reader engaged and decrease the bounce rate.
Updates – The world of the Internet literally changes every second. A month-old product review may seem to lose its charm. Affiliates who keep their content updated with the latest developments are placed better in terms of engaging readers, and also are optimized from an SEO perspective.
Now that we have made a good case for Why of Affiliate Marketing, let's dive into the How part. This is where we provide you with some valuable insights to help you get started with Affiliate Marketing for your online business.
Best Strategies to Employ Affiliate Marketing for the Success of your eCommerce Business
Know your objectives:
Businesses have different objectives at different periods. Marketing campaigns are aligned to help the enterprise achieve these objectives.
Let us consider a sample set of objectives.
Objective 1: Increase sales by $15,000 by the end of the year
Objective 2: Increase average order value by $ 200 by the end of the month
Objective 3: Increase conversion rate by 25% YOY
Know your metrics:
Now that clear goal-setting has been done; you would need a reliable measurement system to track the progress and effectiveness of your campaign. You may define certain metrics that would serve as KPIs (Key Performance Indicators) and help you manage the campaign.
Source: https://www.youtube.com/watch?v=EfgiLdvMoTU
Here are some examples of good KPIs –
Conversion: Percentage of users who bought an item after landing on your affiliate page
Clicks: Number of clicks your links received over a period
Gross Orders: Dollar value of the total orders received from the affiliate program
Net Orders: Dollar value of the total orders minus dollar value of returns, damages, reverse logistic charges, etc.
Commission: How much money was paid to affiliates
Affiliate Share: What percentage of gross orders and net orders are being generated from each affiliate
Dormancy (and productivity): How many affiliates signed up for your program but not generating any sales (dormant)
Earnings per click: Dollar value of earnings received by an affiliate per 100 clicks or per 1000 clicks
Map your business objectives with appropriate metrics to fine-tune your marketing campaign
Let's now see a sample mapping between the business objectives and metrics
| | | |
| --- | --- | --- |
| S.No. | Objective | Metrics to be used |
| 1 | Increase revenue | Gross and Net orders |
| 2 | Increase average order value | Gross orders per converted click |
| 3 | Increase conversion rate | Conversion and clicks |
Choose the best Affiliate Marketing Programs
You can be the best only if you work with the best. Taking cognizance of this, research and select the most suitable affiliate platform. A good affiliate program would match your niche and requirements to the merchant most suitable for you.
Top affiliate platforms in the world:
Amazon Associates: This name hardly needs an introduction. Amazon serves every niche there is. It can be a great starting point for your campaigns.
ShareASale Affiliates: Another leader that's been in the business for 19 years and caters to a wide range of product categories.
Rakuten Marketing Affiliates: Another top lister with a wide portfolio of products.
eBay, ClickBank, Shopify are some of the other prominent names in the business.
Multiple Streams
Employ multiple streams for conversion. Tweak your commission structure to promote the stream the serves you best.
A conversion stream could be
Sale of product/service
Survey response
The download of product literature
Email responses
Budgets and ROI
In most cases, a small percentage of revenue is shared with the affiliate when a KPI is met. To get maximum returns from your marketing efforts, choose your products well. Set appropriate budget and ROI numbers.
Revenue realized will go toward the cost of goods sold, affiliate commissions, profits, cost on returns, etc. Make sure that you have enough headroom for a healthy profit after deducting these operational costs.
Content Quality and Affiliate Credibility
Quality content promoted by a well-recognized, well-followed affiliate will be more efficient in conversion. More revenue can be realized with lesser clicks.
Associating with authorities in their respective fields also builds brand equity.
Track your Affiliates' Performance
Since affiliates are the driving force for this entire program, it is imperative that they are tracked well.
Let us consider the sample data set as given below for a home appliances online store:
| | | |
| --- | --- | --- |
| Affiliate Name | Products promoted (as a % of the total number of products in the portfolio) | Revenue share (as a % of total revenue generated from affiliate marketing program) |
| A | 23% | 18% |
| B | 35% | 10% |
| C | 40% | 22% |
| D | 10% | 41% |
| E | 15% | 5% |
| F | 10% | 4% |
A quick glance would indicate that affiliate D is doing a better job compared to the others. This affiliate is marketing only 10% of the products on the portfolio yet has a revenue share of 41%. Let's make some inferences from the data.
Affiliate D is a major driver of revenue for the business. Its departure could make the campaign suffer a big setback.
Affiliate A has a healthy mix of products promoted and revenue share
The niche category used by D has the potential to generate high sales
Based on these inferences, the business should engage in some risk management. Affiliates E and F have the potential to dent the business performance. At the same time, with proper support, they can be the shining stars of the campaign.
Connect and communicate
All content may not be timeless. It is good practice to connect with your affiliates, communicate about upcoming product launches, product promotions, changes in the marketing campaign, and other business decisions.
Regular communication will keep affiliates engaged and interested in your business. Regular connects go a big way in this direction. You can learn what help they need from you and provide them to the best of your abilities and resources.
Focus on the right products
Target to maximize the Average Order Value (AOV). The product promotion mix should be carefully chosen. Selecting the right products will get you more revenue per click. Identify products with high revenue generation potential, and then focus and promote these products through your affiliates.
Supplement your Campaign
Paid advertisements – text and banner, in combination with your affiliate program can greatly bolster traffic to your website. Consumer purchase is fast-tracked when they find the company promoting the product, along with an affiliate.
Beware of unscrupulous activities
Since you don't have direct control over the content published by the affiliates, you could be a victim of spam, forced clicks, false advertising, browser extensions, etc. For this reason, the tracking mechanism needs to be reliable and dynamic to help you run a better campaign.
Pay special attention to traffic sources generating excessive clicks, where those numbers don't fit. This step would also require you or your team to surf the web to understand if your system is being misused.
We hope we've made a compelling argument in favor of Affiliate Marketing for your eCommerce business. So, go ahead, turbocharge your campaign and reap the benefits.
References:
---
We feel honored to have Aditya's insights featured in our blog, and we are incredibly thankful for the knowledge he/ she has shared with us.
Aditya S – Author Bio
Aditya works as a Growth Assistant at AirTract, a go-to place for all expert advice wherein people ask questions, write articles, share and learn from online courses. He has a Bachelor's Degree in Computer Science Engineering and has been working in the field of Digital Marketing for the past two years. He is also a voracious reader and a big sports fan.