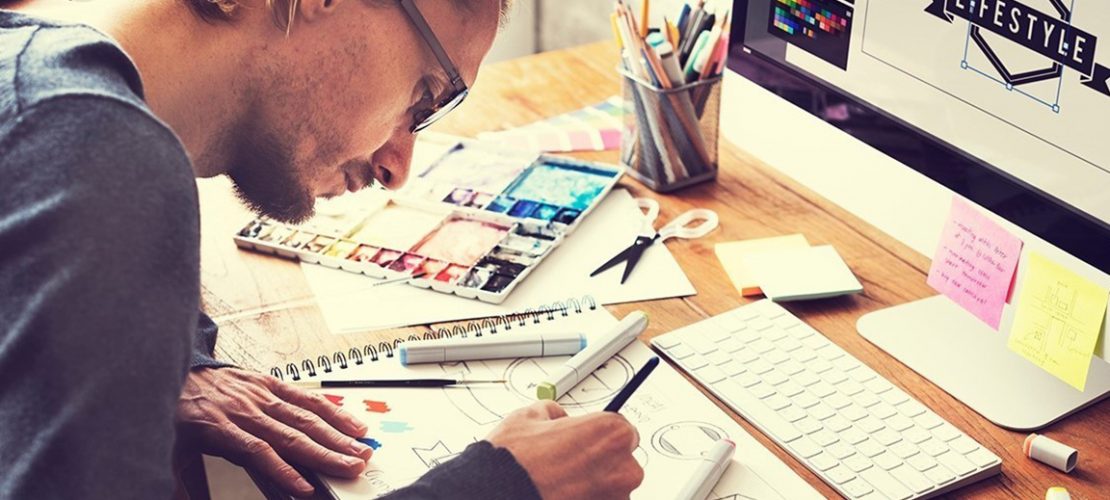 Easy online side job for busy designers: Start a Print-on-demand business and earn $1000 per month in 2021
Selling your artworks for thousands of dollars? You might think only famous artists or talented designers can do it. Since to sell you have to go through such a complicated process at the gallery. It is too many steps, lots of online artists/designers like you only want to focus on creating artworks as leisure activities or hobbies.
Whereas, you can sell your art online through a Print-on-Demand business. However, starting a Print-on-Demand business might be hard works, you might get lost and even give up then.
So, what about you keep creating as usual and earn more than $1000 per month from your Print-on-Demand store without doing anything much? No way, it sounds impossible. But you can just skip some steps such as finding suppliers, inventory, logistics, and customer support with PrintBase, an all-in-one platform optimized for selling Print-on-Demand.
This article will walk you through 2 simple steps to start earning $1000 a month from your artworks and optimize business strategies for a busy artist/designer.
Let's find out!
Table of contents
Why should you start a Print-on-Demand business and How does it work?
2 steps to start earning $1000 per month from artworks for busy designers/artists
Promotion strategy to maximize the profit within a month for newbie
Why should you start a Print-on-Demand business and How does it work?
In the first place, you need to know the definition of this business.
Print-on-Demand (POD) is a type of business that sells your own designs on various different products. These products are only printed when customers made an order and chose the design from available arts. This allows merchants to develop and sell their designs on a per-order basis before manufacturing. Therefore, the total time for a successful order will include producing and delivering and take about 5 to 7 days. This amount of time is short and ideal for a good Print-on-Demand business.
So to make it simple, selling Print-on-Demand is the process of creating artwork -> printing -> delivering.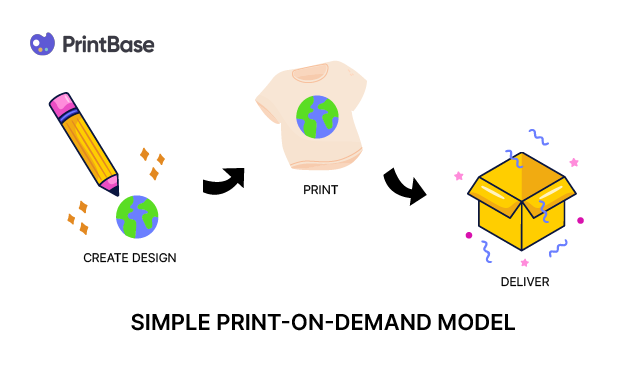 Let's take a look at Yehuda Devir and Maya Devir, Israeli comic artists. We will see how they turn their passion into a successful business.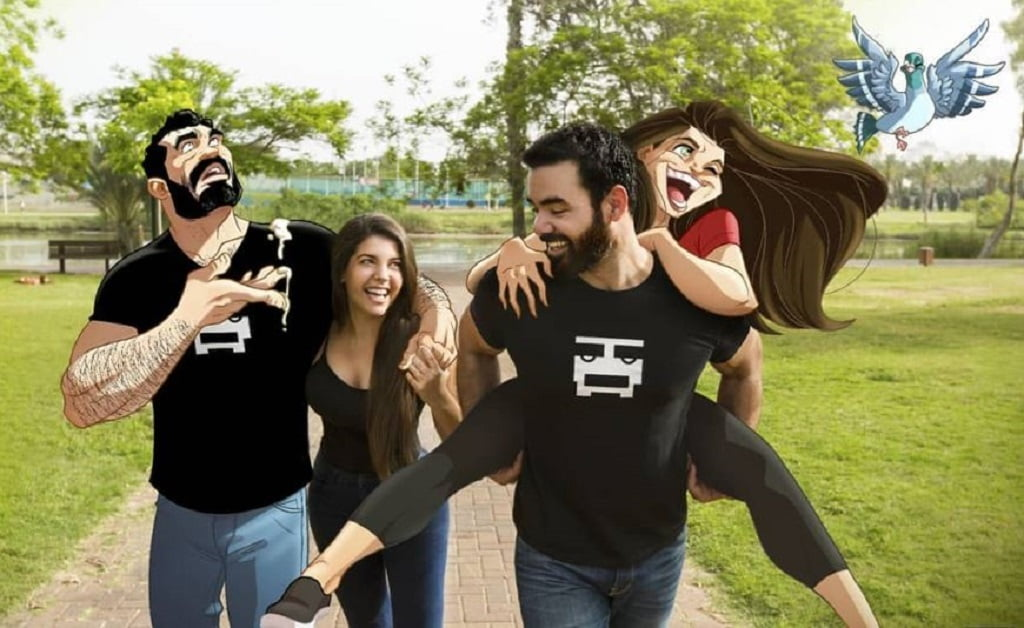 Everything starts just as a personal blog. First, this couple created funny and beautiful illustrations of their moments in daily life. They have never thought about selling their artworks until someone asked how they can purchase these pieces of art.
Then the couple starts a Print-on-Demand business and receives the first order from the prints of their illustrations. And customers ask for more merchandise. Now they have Prints, Books, Mugs, Dolls, and shower curtains.
As a result of the growing business, they have successfully turned their passion into money. This incredible outcome shows that a Print-on-Demand business earning thousands of dollars can start by creating artworks and let intermediaries take the rest. The story of this couple inspires many people worldwide to start making money from art.
If you are an artist or designer who already creates beautiful designs, you don't want to miss this job. To more effectively evaluate this way to make money, you must fully grasp both its positive and negative aspects.
Pros:
Create a new product quickly: When a new design comes to mind, it may be shown on your website for selling purposes right away.

Your supplier will manage the whole order fulfillment process (you don't need to print, pack, and deliver), freeing up your time (technical aspects).

Low risk and investment: since creating art is your hobby and leisure activity so you just need to invest time and ideas to start the business.

Build a brand with just some clicks: you can design a store and set up the interface due to personal style quickly and easily.
Cons:
You depend a lot on printing partners and product suppliers. Even your designs are good, the final products' quality still relies on these intermediaries. It will be a nightmare if your partners just stop providing you services.

Do not have much authority on shipping and product quality.

Complicated payment methodology.

Limited to the number of merchandise.

Hard to find a supplier who provides good quality products and also reasonable prices.
So are you ready to make profits from your artwork online? The next part will give you two simple steps to successfully start a Print-on-Demand business.
2 steps to start earning $1000 per month from artworks
for busy designers/artists
Nothing better than doing what you like. Therefore, we believe that the key point when you start a Print-on-Demand business is your creativity. With only two steps, we keep everything simple so you don't need to worry too much about other problems.
If you are a skillful designer, you might need to take a careful look at the first step, which helps you find out what to design and to have winning products.
On the other hand, an artist with a full mind of ideas, who wants to spread their art style as a personal brand, would like to see deeper at the second step. Since we will provide you a detailed guideline and strategy to build your brand.
Keep in mind that even you are an artist or designer you should go through both steps. As long as we believe if you follow this you will make more profit and grow faster.
Step 1: Define your niche & target customers. Focus on your artwork
Fundamentally, a niche market is a subgroup segmented from a larger market based on some similar characteristics. These features can be specific needs, identities, or preferences that help to define them out of a large market.
For example, you tend to sell children's clothing, and the market for it has many separated niches. Clothes for children who love princesses would be a niche market.
You may think it might be narrow and limit your customer base, as you can come up with many creative ideas for arts and designs to print. It is the optimal beginning when you just start a Print-on-Demand business. By focusing on a specific niche, you can be able to:
Lower cost since you will less likely to make mistakes in marketing tactics.

Increase profitability: your customers will come to you because they know you will provide what they want. So they don't have to spend more time searching, which makes the buying process faster.

Attract loyal customers: customers in the niche would have a connection in their reference group. When your store provides products that are good enough, they will recommend the store to others in their circle.
As a result, when brainstorming product niches for your Print-on-Demand company, bear in mind that you're searching for the ideal mix of passion and profit.
Well, the best way to begin is with the word 'passion'. This side of things does not need the use of any additional resources and will provide you with an excellent beginning place for your study.
A certain amount of creativity and personal understanding is needed, which may take some time. However, in practice, it is very simple—you just need to define what you're gonna sell based on a few categories:
Demographics (gender, age, income level)

Psychographics (values, interest, attitudes)

Geographics (the area that your customers live)
You might like: Find cool Print-on-Demand designs!
With PrintBase, you can:
Easily test and monitor

the effectiveness of the niche as we provide a powerful analytics tool. Instead of sticking with 1 niche and 1 store, let your creativity shine. You can design whatever would win a big amount of money and make some PrintBase stores for these kinds of designs.

Watch all data of your stores in one single dashboard

to make future decisions on your business growth, target the most profitable niche. Moreover, you can work with Google Analytics to track visits, sources, and conversions. Therefore, you have better insights, as well as build a stronger marketing strategy, which will be discussed later on.
Step 2: Build your own branded eCommerce site with PrintBase – an all-in-one solution for Print-on-Demand
It is never too early to start building your brand, as the uniqueness of the brand is the key to winning the market share. We strongly believe that today artists have tons of ideas with their talent to deliver to the world.
Keep in mind some questions to ask yourself, so you can be able to start a Print-on-Demand business with a consistent brand name:
Who are you? As an artist, you should define your style in making artworks. When you understand your style and clearly define it, you will keep it with the follow whenever you create products.

What words can describe your brand? Shorten your brand to a few words to assist simplify the process and drive your branding strategy.

How can you satisfy your ideal customers? This question might help you boost up your ability to make magnificent brand and product pieces.
Obviously, you want your Print-on-Demand website design to be an accurate reflection of your business. It should include all of your branding components, such as your color palette, brand voice, and brand typefaces. However, if you want your Print-on-Demand business to succeed, your consumers must have a consistent experience with your brand no matter where they come into contact with it.
PrintBase is by far the most effective platform to build a brand online when you just start a Print-on-demand business. With:
A massive number of mockups

, you can build your brand with suitable product types and designs as you like. You only have to upload art pieces and apply them to the products you want to print on.

Free theme and easy to adjust

, you can make your own style website to better represent your brand, which doesn't take you too long to finish.
But wait, Is that everything you need to care about when you start a Print-on-Demand with PrintBase? Yes, it is.
Using PrintBase, you don't have to worry about suppliers, payment gateways, inventory, logistics, or customer care. You are an artist/designer, so we want you to just focus on your work to come up with the best arts. Some FAQs may help you find out why:
How can the products be made?

PrintBase has partnered with many well-known and authority suppliers. We will make sure your products will be the best balance between quality and cost. Then the last thing you need to do is upload your art to print.

Why is PrintBase's payment gateway safer?

PrintBase will represent a trustworthy business. Therefore, there will be no money-hold from payment gateways. Having a store with PrintBase, your money will be safe.

How will the products be delivered to your customers?

PrintBase has the most effective fulfillment services, which are available worldwide. You don't need to find it on your own. We will help you do it.

Who will take care of my customers?

As mentioned above before, you just need to produce beautiful artwork. We will take care of your customers with any issues. PrintBase has a dedicated team to assist you whenever your customers have issues.
Start a Print-on-Demand business with PrintBase now
Once you got the two basic steps to start a Print-on-Demand business, you may want it to grow and earn more revenue. The next section will tell you how to optimize your store with many advanced tools.
Promotion strategy to maximize the profit within a month for newbie
We live in the Digital Opportunity Age, so why you skip this chance to have another income source. Print-on-Demand has provided a chance for all of us to build successful, low-risk, low-maintenance online businesses. Marketing is the essential part to spread your products' value to the market. So, besides creating beautiful artwork, please spend time and effort on marketing and promoting your business.
However, there are numerous approaches to marketing and promoting your business. We would like to wrap up some most important and effective strategies with the advanced tools supporting you the best to earn more money.
Optimize your website revenue
Step 1: Drive traffic to your store
The first thing to bear in mind, if you just start a Print-on-Demand business, traffic is such an important thing. The more traffic your site has, the more opportunities your business has to share the brand, make impressions, and build relationships.
There are numerous free/paid ways to drive traffic effectively to your site. However, these three ways are the best and most effective one we think it will work for busy artists/designers who just start a Print-on-Demand business:
Making a video of you making art

. A TikTok channel for your POD business is an excellent idea for artists or designers to increase personal brand. You can start making videos just with some simple steps that don't take too long. Once you attracted some audiences, you can drive them to your website. Such a good and free source of traffic.

Leverage Pinterest

. It is easier and faster to drive traffic to your website on Pinterest. Since this platform is optimized and friendly to share stunning pictures and links.

Join art discussion groups

. Post your arts on the art forums, a lot of people who keen on art will possibly see and visit your store.
This first step is the way to generate qualified leads, nurture and help solve their problem and ultimately sell your product or service. Once you have optimized traffic to your website, you can move to the next step to convert.
Step 2: Urgent discount
You can offer several types of discounts to attract customers, such as free shipping costs or get more products to get the special price.
Set a start and end date for the campaign to generate urgency. Marketers often discuss loss aversion, sometimes known as the fear of missing out! (FOMO) is a strong inducement to purchase.
PrintBase's Timer Countdown function completely assists you in applying this approach to your upselling and cross-selling campaign. This function is accessible for free in the App list and is immediately linked to your shop; all you need to do is configure it to suit your campaign. The goods will appear in front of you and assist you in promoting the important things.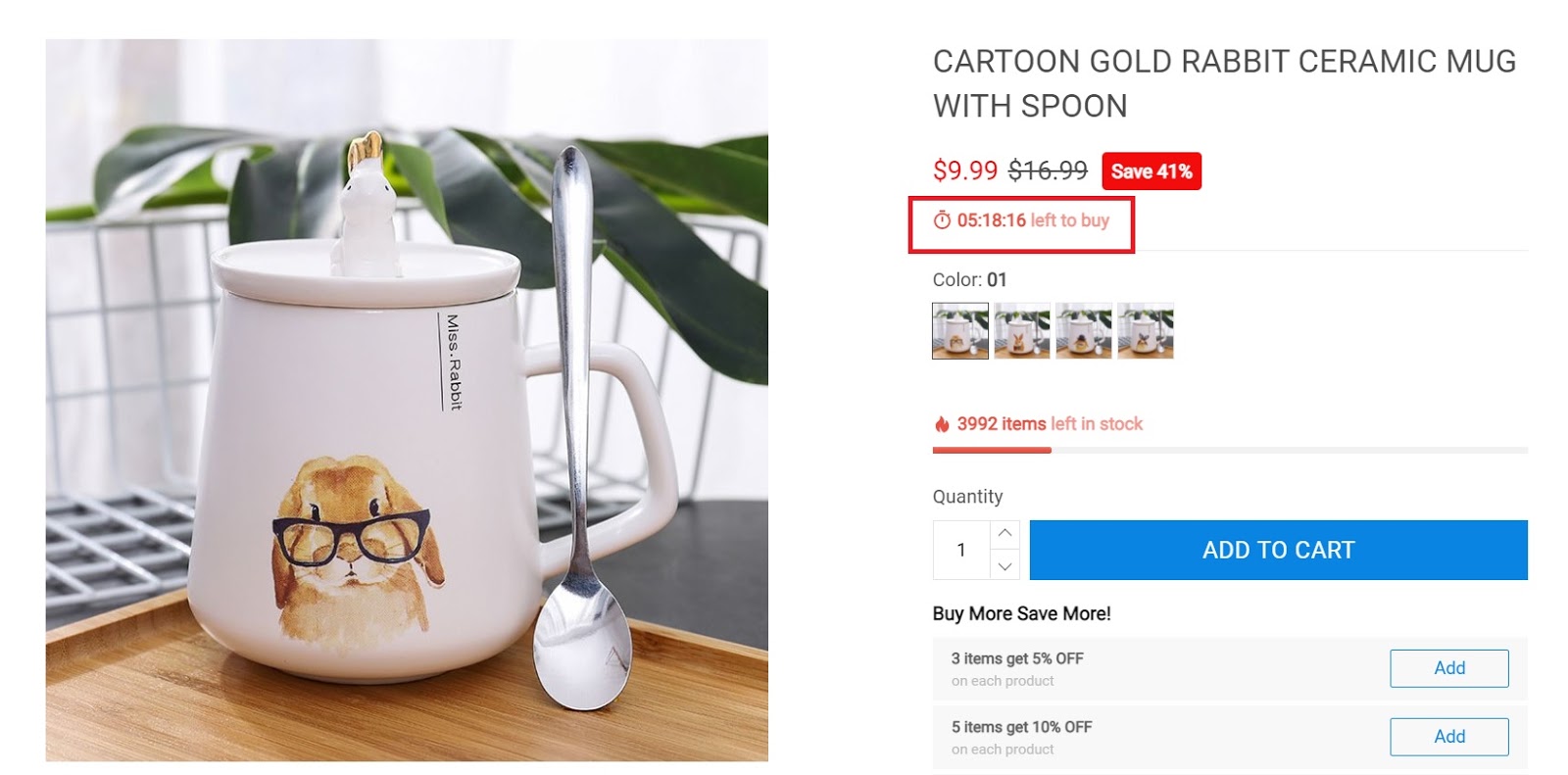 Step 3: Upsell and cross-sell
Upselling and cross-selling are both complex marketing strategies that may have a big effect on your small business. Although it may take some time to see results, this is one sure-fire way to boost sales, engagement, and customer loyalty.
As a comprehensive support platform for Print-on-Demand sellers, PrintBase provides Boost Upsell for FREE to our users to perform upsell and cross-sell.
Upsell and cross-sell types and functions are quite diverse on PrintBase. Such as:
Pre-purchase Upsell: as soon as the customer clicks the Add-to-Cart button, the right products suggested are more likely to increase sales.

During-purchase Upsell: if customers like the products and the design, they also like the same art on other products

Post-purchase Upsell: customers may feel they have more value and maybe come back again soon.

Moreover, with Bundles, Quantity discount, Accessories, and Product widgets, customers may be suggested what they want and have better shopping experiences.
So, it is up to you to customize these ideas for your product and audience. We hope that you will leverage this function to build a good strategy and shoot up your revenue.
Step 4: Reduce abandoned carts
Don't waste your effort at the first step. To provide the best experience for people who visit your store and maximize sales, don't forget to reduce abandoned carts.
The average cart abandonment rate is above 69%, according to the Baymard Institute. Abandoned cart sequences are intended to offer these 'may or might not' consumers a last push in the correct direction – and can make a significant difference to your bottom line! After all, 7 out of 10 online customers are more likely to convert if they are retargeted after leaving their basket, according to studies.
PrintBase also provides convincing email templates to recover abandoned carts. You can easily apply to your store and set up further functions to let it work as you want. Moreover, you can add code to increase the chance to save abandoned carts.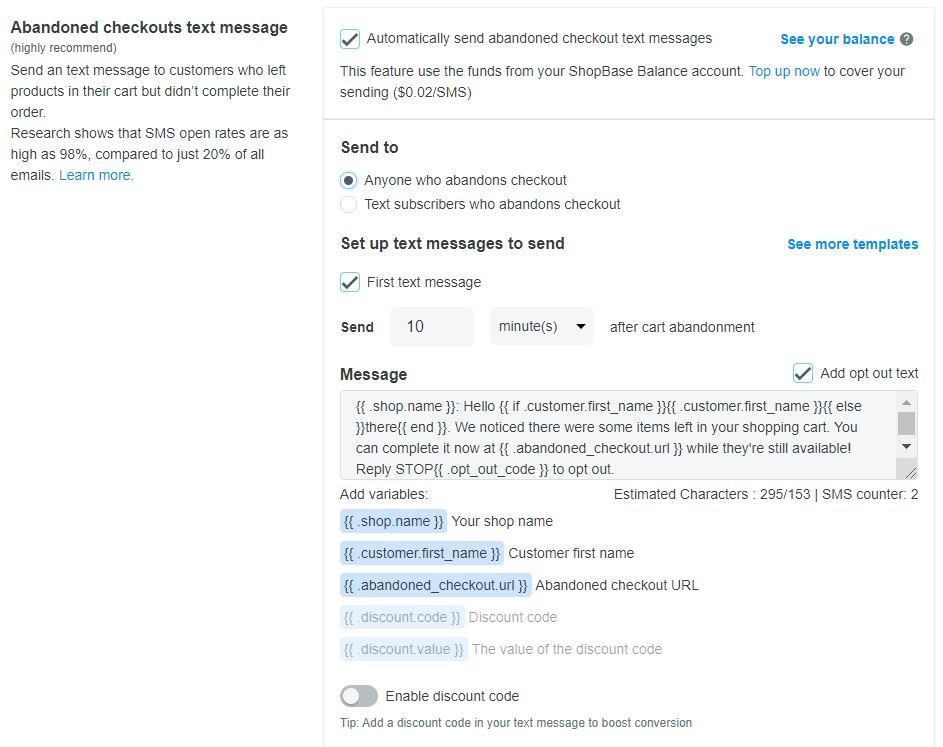 Optimize distribution channels to drive more traffic
Now, people use social media a lot. And it provides numerous advantages to Print-on-Demand businesses since it enables them to communicate with their consumers and attract the attention of additional people/potential customers. According to a recent Social Media Marketing Industry study, social media allows companies to acquire visibility, traffic, and industry insights.
So you need to focus on several points when you build a marketing strategy:
Promote your products on an online group

. A community will be the best place to form a loyal customer. The more value you provide to your community, the more loyal customers you can have. These values can be knowledge, discount, or entertainment included in your promotion. It also helps to increase your brand reputation and attract more traffic to your store.

Running ads

will also an optimum method to enhance conversion rate.

Affiliate marketing with KOLs or influencers

. You will attract more customers from these KOLs/influencers' reference groups. As you can see, TikTok is a rising platform for affiliate marketing. This is a wonderland for you if you just start a Print-on-Demand business.
And with ShopBase, we always want you to sell more so we keep everything simple and convenient for you to build an excellent marketing plan, even with third-party applications. You can observe data from multiple distribution channels just in your dashboard. Data from Facebook, TikTok, Google Analytics, and more now are available and easily accessible helping you save more time.
Conclusion
Traditional eCommerce company strategies often require a significant financial commitment as well as a significant amount of time to get up and operating. You must also often deal with inventory management, product packing, shipping, and a variety of other complex duties. Print-on-demand is an excellent choice for less responsibility and lesser risk while yet having the potential for success.
As a busy artist or designer, it is no longer an impossible thing to start a business and earn $1000 per month from this side job. You can turn your passion into business if you choose the right accompany. Just start a Print-on-Demand business with PrintBase, we will take care of everything you need. So, you just need to focus on making arts and build a good marketing strategy with our tools.
In short, you almost don't need to pay anything to start your own business and earn thousands of dollars. What are you waiting for?
Start Print-on-Demand Business With No Cost & Earn $1000 A Month
Other strategies to promote your online business you might like: