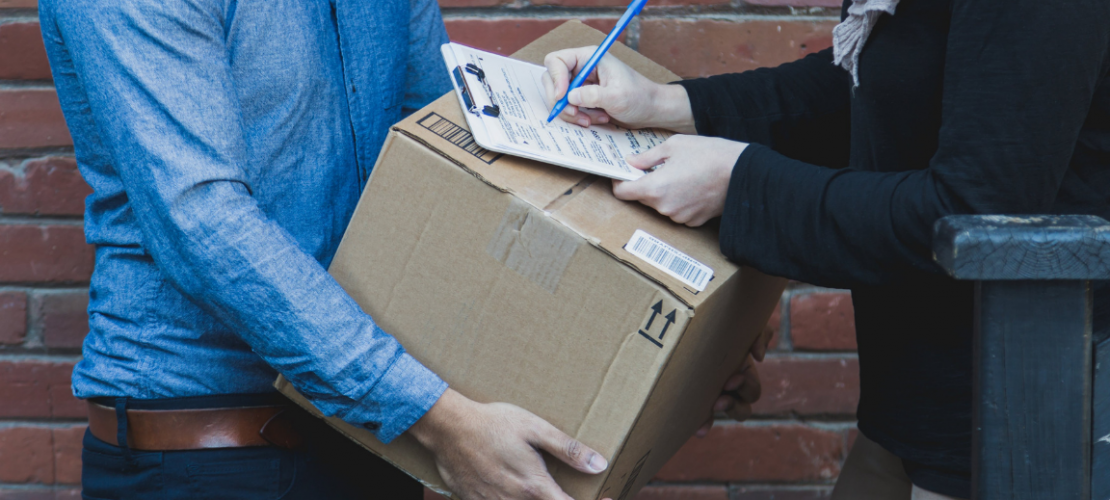 The Complete Guide to Choose the Right Dropshipping Suppliers for Your Store
It isn't easy to find the right dropshipping suppliers when it comes to starting out a store, especially for newbie dropshippers. This is one of the major reasons why most of dropshipping businesses fail.
So, is there any way to choose the best suppliers? Of course, YES! 
This article will walk you through two effective methods to identify the right dropshipping suppliers for your store. There is NO shortcut to perform this task. You need to spend enough time doing research and take everything into consideration.
Note: The words "suppliers" and "wholesalers" are used interchangeably. For the sake of this blog, they have the same meaning. 
Criteria of a good dropshipping supplier 
The following is the criteria you can use to search for a great dropshipping supplier. Pay much attention to them to make sure your chosen supplier strongly fits your business. 
Basically, an ideal dropshipping supplier should offer:
True supplier, not middleman

.

They aren't an aggregator or a distributor of dropshipped products. Therefore, you can get the best possible profit margin.

Low minimum order quantities

. Hence, you don't have to purchase inventory upfront. When it comes to dropshipping, there should generally be no need to have products in stock. 

High-quality products

. Your customers love this, and you should too. Good products can help you build brand trust and bring customer satisfaction.

Fast and reliable shipping

. Customers don't want to wait too long for their orders to arrive. If they can get the product in a short period of time, they're more likely to come back to you again.  

Great customer service

. Your dropshipping supplier should answer your emails and keep you informed about the status of products. 

Return policy

. It's important that your chosen supplier has created a return policy. Be sure you know what their return policy is and how they handle returns. 

Product samples

. The supplier should be willing to provide you with sample products. You may have to pay for the samples, but it's good to see the products in person. 
In the remaining parts of this blog, we'll cover the two most common approaches for finding a dropshipping supplier. They are: 
Using dropshipping platforms like AliExpress. 

Searching for suppliers outside dropshipping platforms. 
Now is the time to dive in each of these techniques. 
How to find dropshipping suppliers on dropshipping platforms 
There are a lot of dropshipping platforms that you can use to find your ideal supplier. Some of them are AliExpress, Alibaba, Amazon, and Walmart. You're free to choose any platform you want to work with. 
Let's say your choice is AliExpress. Then, take the next steps to find out which suppliers best suit you. 
1. Sort the product search results
Go to AliExpress and type your chosen product into the Search box. Tick the "4 stars & Up" box to show high-quality items. 
Besides, if you sort the results by orders, you'll see the most frequently bought items at the top of the product list. Take a look at the screenshot below. 
By doing so, you won't waste your time on poor quality items. Instead, you'll only focus on worthy offers that have already been purchased and approved by other buyers. 
2. Explore the seller stats
It's highly recommended that you go with AliExpress suppliers who gain more than 97% positive feedback. This ensures that your chosen wholesaler has built customer trust and credibility.  
Click a product to access its page on AliExpress. Then, hover the mouse over store name to view the stats on this seller's activity.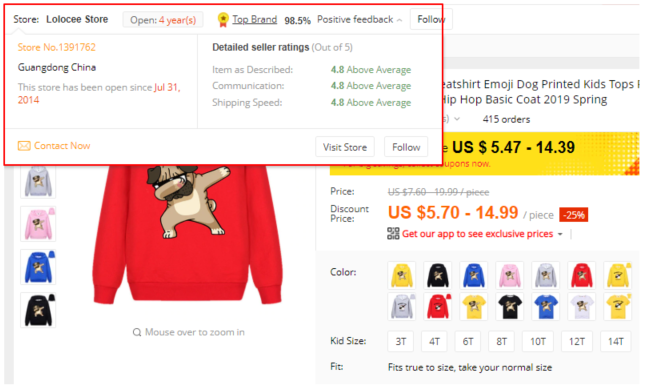 As you can see, this supplier has 98.5% positive feedback, which is above the 95% range. Added to that, all three seller ratings are green, meaning the customers are mostly satisfied with the product they bought. 
Tip: It's a good sign if the seller has a top brand badge. This indicates that they provide the highest quality products, deliver the best customer service, and earn a good reputation. 
3. Examine the product reviews
This step will tell you what is good and bad in the seller's activity. Within the selected seller's store, pick 8 – 10 items that have the highest number of orders. Then, go to their product pages > Feedback tab, and read customer reviews carefully.  
Take notice of the reviews that include pictures. They're useful to evaluate the quality of the product and clarify whether the customers' claims are fair. 
Some people complain about small details that aren't really relevant. But oftentimes, many customers point out the same problems they had during the buying process. That's exactly the thing you need to zero in on. 
4. Consider the shipping time
On the product page, look at the shipping section to see whether the seller can ship your order to the country you want.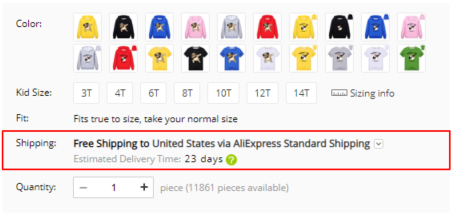 Click the tiny arrow to change the country of delivery and explore supported shipping methods. 
Here are some things you need to bear in mind:
Don't always select the free shipping method or the option with the cheapest fee. 

Focus more on the shipping method which has tracking information available. This facility allows your customers to know the status of delivery and why their package didn't arrive yet.

Choose the one which is the fastest with the best price. Regarding the above example, ePacket is a smart choice. It has good pricing and free shipping. 

Dropshippers mostly go with ePacket

if it is available. This is the best method for delivery to most large countries like the United States. 
5. Check the seller guarantees
With most sellers, the on-time delivery is set on 60 days, but in some cases, this duration can be shorter. 
If the item isn't shipped to your customers within 60 days, and you can't reach an agreement with your supplier, you can open a dispute. 
6. Contact the supplier and order a sample
Send a message to your potential supplier to check how active they are. For example, you can ask:
"Which type of products can I dropship?"

"How long does it take for you to ship a product to my customer in the US?"

"Do I get a discount when I'm getting consistent sales?"
Also, remember to order the same product from 3 – 5 different suppliers and then make a comparison. You can compare their answers to your questions, time for response, and the product quality to choose the best supplier. 
Another good tip is you can take a product and order its different sizes/colors. This way, you can check if the quality is the same for all items. 
How to find dropshipping suppliers outside dropshipping platforms 
Using wholesaler directories, working with search engines, or following dropshipping blogs is also a good way to look for suppliers. 
1. Use supplier directories
In a word, a supplier directory contains profiles for hundreds or thousands of dropshipping suppliers categorized by industry, niche, or product. For-profit companies manage these databases, and you have to pay a fee for access to them.  
Supplier directories are handy to quickly find and/or browse many suppliers in one place. They're of use when you want to brainstorm dropshipping product niche ideas to enter as well. Whether your niche is furniture or gear, you can search for it in those directories. 
There are many different supplier directories, such as:
Worldwide Brands

: This is one of the oldest and most popular supplier directories, which claims that it only includes legitimate and reputable suppliers. 

SaleHoo

: This provides over 8,000 dropshipping wholesalers and caters heavily to merchants on eBay and Amazon. 

Doba

: This only has 165 suppliers but allows you to place orders with multiple warehouses using its centralized interface.  
2. Use search engines 
It's common to use search engines to find high-quality dropshipping suppliers. You can enter "[product type name] suppliers [location]" to the search box. For example, if you want to find clothing dropshipping suppliers in China, type "phone case dropshipping suppliers China".  
Keep these in mind:
Do an extensive search

: Wholesalers often don't focus on marketing and promotion. Most of the time they aren't going to top the search results for "dropshipping suppliers for product X". This means you'll have to dig through a variety of search results to find the supplier's website listed way down at #20.

Don't judge by the website

: Wholesalers notoriously have poorly designed websites and don't keep up with modern search engine optimization tactics. This leads to the fact that for the first time, you won't find them on the first or second page of Google. However, don't let the poor design scare you off. Sometimes, you have to dive into page 10+ before finding something relevant.  

Use various modifiers

: Again, wholesalers aren't doing extensive SEO. That's why you need to try a variety of terms like "dropshipping wholesalers", "dropshipping product suppliers", dropshipping resellers", etc. Don't stop at just "dropshipping supplier". 
In addition, remember to use targeted keywords to find suppliers that are directly connected with your product idea. For example, try "clothing dropshipping supplier" or "yoga mat dropshipping supplier". 
3. Follow dropshipping blogs
When finding a dropshipping supplier, you shouldn't ignore dropshipping blogs. They provide you not only with useful information about the market, trending products, tips and tricks but also with top and emerging dropshipping suppliers. Follow them, and you'll find out many good suppliers you can't find anywhere else.
Some of the best dropshipping blogs are BoostFlow, ShopBase, and Dropshiplifestyle. You can subscribe them to get the latest list of top dropshipping suppliers sent straight to your inbox. 
Apart from these ways, you can attend a trade show to connect with manufacturers and sellers in a given niche. It's a great way to build relationships with suppliers and discover their products all in one spot. However, this only works well if you've already selected your niche and/or product. 
Wrap up
Suppliers are your business partners. They can make or break your dropshipping business, so you should pick them carefully. 
Try to use the methods above to choose the right dropshipping supplier you want. Also, let us know if you take any other step by commenting below.