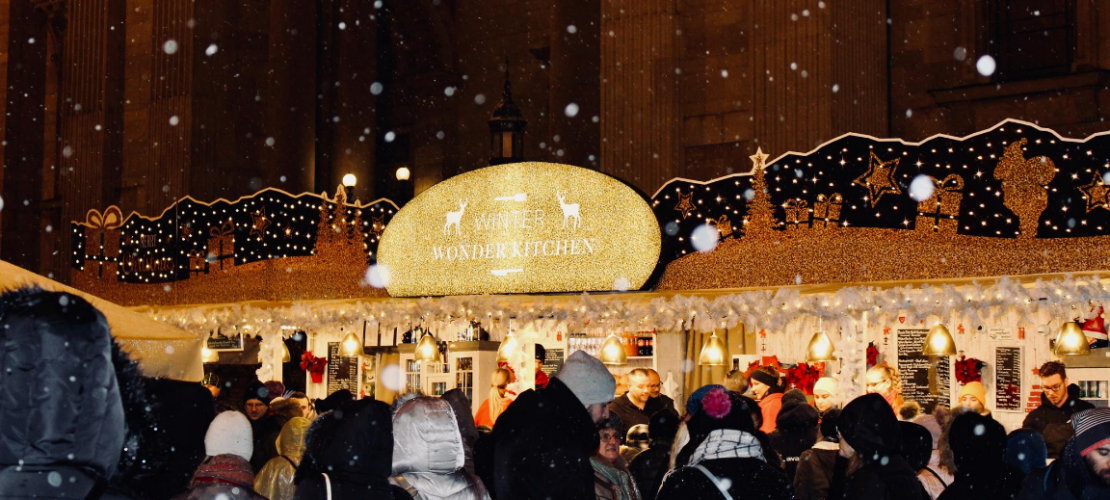 40+ killer tactics to drive traffic and increase conversion rates this holiday
A new holiday season is coming. What have you prepared for the peak in your revenue report? Not yet? Don't worry! You will find everything you need here. We know that you have tons of tasks to do, therefore, we have distilled our experience of accompanying with thousands of e-commerce entrepreneurs all over the world, in every niche market into this checklist of 40+ tactics. It covers marketing strategies for e-commerce businesses of all shapes and sizes to drive traffic and increase conversion rates for the upcoming holiday.
40+ tactics may sound huge but they are not really complicated to apply. The list will be divided into 3 parts that follow 3 main steps in your preparation work:
Improve user experience: This part is warm-up exercises you need to do before entering the big competition. You have to make sure your site is strong enough to maintain an unusual number of visits.
Drive traffic: When you are safely armed, it's time to boost your traffic. This is the first stage in your conversion funnel. What you are going to do is expand your audiences as much as possible. With a stable conversion rate, the more leads you get at this step, the more sales you will generate.
Increase conversion rates: This is the hardest task but we've got your back. There are so many easy and doable ways for you to apply and boost your revenue.
Let's get started!
Improve user experience
The first thing should be done before really getting traffic is improving your site UX. Your effort will be in vain if your store is not ready to maintain a large volume of traffic.
---
1. Speed up loading time:
According to a report by Kissmetrics, your loading speed should be a concern. 40% of your visitors may quit if it takes your website more than 3 seconds to fully load. So can you improve the page loading speed, especially in this rush season?
The best answer for this is to find your business a fast platform to help you build a solid website. Fortunately, ShopBase right here is the perfect solution for you. Armed with new technology, the page loading speed is always guaranteed to make sure that your website never crashes during the rush season and still skyrockets the conversion rate.
>> Sign up with ShopBase today to build an outstanding online store for 14-day FREE
2. Check the mobile usability of your store:
The challenge gets harder when it comes to mobile optimization. People don't care about your technical issues. What they expect is a smooth, seamless shopping journey when they visit your store.
Justin Smith, CEO of Outerboxdesign, has stated in his report that 62% of smartphone users make an online purchase in the last 6 months. That impressive number implies that you have to invest more resources to make sure customers will have a great, consistent experience with you. Besides a free tool from Google for you to quickly check if your site is mobile-friendly enough, you can refer to a thorough guideline by Quicksprout to achieve that goal.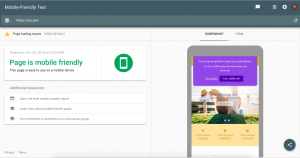 3. Create emotional effect:
Shopping is not just buying stuff in demand, shopping is a fully emotional activity. It's good when you can sell people what they need, but it's so great when you can stimulate the excitement and maintain the happy feeling all along their journey with you. People are more willing to pay when they're in a positive mood. It requires a more subtle way in designing your store. The key to trigger people emotions is images. Holidays are your chances to renew or make your store more lively, up-to-date. You can start with replacing old images with new ones with Holiday themes, adding promotion banners, updating featured collections,… Additional, if you are using pop-ups in your store, make sure they match your new decorations.
4. Create a holiday gift ideas section:
Christmas is the peak time in shopping demand since people will buy gifts for their beloved. However, there are 2 scenarios that they would probably face with: they have too many options or they don't have any idea. Both of the situations can be solved quickly if you thoughtfully give them your suggestions. Creating a new tab in your navigation bar would be a wow-factor. How quickly they could find a suitable item for them depends on how much specifically you can categorize this section. Some of filtering types you can take into account are gender, age, price,…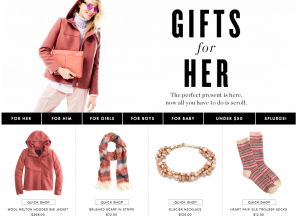 5. Offer gift cards:
In case you have a limited resource to immediately create a whole new section for holiday gift ideas, you can simply offer gift cards. With this option, people who are not sure which they should buy would never be bothered by tons of concerns. Decisions would be easier to be made. Gift cards can be quickly created and set up within your store admin.
Drive traffic
After your store is ready, you now can focus on driving traffic. This can be considered the most important part of your marketing strategy. This holiday you will not only raise awareness of your brand but also trigger the public's interest and bring them to your store.
Firstly, SEO is a go-to marketing strategy for a long-term vision. Doing SEO is not easy but it's a sustainable way to drive more organic traffic to your website.
6. On-page SEO:
You are probably selling new items in this period of time. In order to attract more visitors via search engines, make sure every detail of them revolve your holiday-related target keywords. It can be the product titles, descriptions, image alt tags,… Take time to do a keyword research first, then you will know how you should update elements.
7. Guest posting:
It's never better than this time to have a guest post on other websites. Showing up in front of totally new audiences will help you acquire new leads in a holiday. For women clothing goods, you can have an article, let say "10 gift ideas for your girlfriend", posting in a for-men forum or online newspaper.
Second, social media is a must when you think of increasing your traffic. It tops other channels by its popularity and a huge number of users.
8. Run Facebook ads:
Facebook ads is such a powerful marketing channel that it will definitely be an essential part in your biggest campaigns. One useful tip for you when running a Facebook ad is you need to have a call-to-action button in your post so people can instantly visit your store.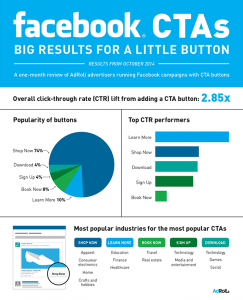 9. Run Instagram ads:
According to Adstage, while Facebook users vary in all ages, Instagram is more popular in young adults, who aged under 30. Depends on your target segments, you can decide which one is better to advertise your products.
>> Check out ShopBase free eBook: All-in-one guide to running Instagram advertising to learn more insights how to run effective ad campaigns on Instagram 
10. Use consistent messages across your marketing channels:
Running ads on both Facebook and Instagram at the same time should be considered to boost your social traffic. It's worthy to be aggressive in collecting leads for your biggest campaign. However, they need to work compatibly with each other and deliver the same message.
11. Give away freebies to get traffic in exchange:
Choose a kind of incentive that everyone will want and run ads for your giveaway post – that's how you double your number of shares and views. How about "Click share and let your family know how much you love them this Thanksgiving to get the whole holiday furniture decoration collection"?
12. Join a community in social media:
A smart way to widen your network is to join a community in social media which has demand for your niche products. You can not only learn more about your market and customers but also keep yourself up-to-date with trends.
13. Cooperate with influencers:
This can be considered as a more advanced version of social proof (that will be mentioned in "Optimizing conversion rate" part). Our tip here is how to choose the right influencer for you. If you are going to advertise your product on Instagram, do some hashtag searches to find who have already mentioned your product niche. It'd be natural for an influencer, who actually has interest in your products, to promote. Also, make sure their followers match your target customers. Besides reviewing their content, you can check other brands that they have mentioned in their channels. You definitely don't want to work with the same influencer as your direct competitors do, it may affect your brand somehow. Let's check how Gymshark has grown their business by applying this tactic.
14. Cross-sell with other brands:
It means you can cooperate with stores that are close to your niche but not direct competitors. For example, your gym clothing products would be displayed, recommended by a sports shoe store and vice versa. It's a two-sided affair and you both win.
15. Create your own community:
How about starting your own facebook group? If you have a stable number of loyal customers, this could help you nurture your relationship with them in a more friendly way. You will definitely need to invest so much time and other resources but you will have total control over the community and guide it in the way you want to.
We also have a facebook group for ShopBase users where you could find actionable tips about e-commerce and ask for advice from other enthusiastic entrepreneurs.
16. Start a Youtube Channel:
Youtube is another channel to drive awareness of your store. What makes it special and different from other channels is the human factor. Customers can literally see you and know who you really are. You can start with common content such as unboxing, tutorials, product reviews,…
Besides product-related content, this Thanksgiving and Christmas, you can send best wishes to customers on your Youtube channel. It will be a more personal, decent way to express your care.
17. Start a blog:
Becoming a reference source when people look for specific information within your niche market is a long-term strategy to build trust. You can refer to so many retail blogs, which are built by online store owners just like you.
There are some other unique ways for you to drive more traffic.
>> Visit ShopBase blog for more insightful tips to skyrocket your online business 
18. Build an affiliate program:
This is more suitable for wholesales stores. Using word-of-mouth to advertise will lessen the risk of loss. Because you only pay commissions when sales are generated.
19. Retarget bounced visitors:
There are many reasons for a person to leave your store before they add anything to cart. Quitting on this segment of customers is a waste of a reasonable amount of leads. Pixel-based retargeting is the most common way to turn potential customers into buyers. An email automation tool is a great choice for you to automatically apply this tactic.
20. Share-to-get:
Does getting traffic from your current customers make sense to you? Asking your customers to share your store in their Facebook account to get an incentive in return is a win-win strategy. When customers can take advantages of your offer, they will be motivated to help you achieve your goal. Sitekit, an automation marketing tool, provides so cool pre-built templates for you to create this kind of offers effortlessly and beautifully.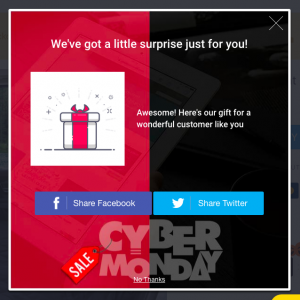 Increase conversion rates
Regarding conversion, there are some indicators for you to evaluate and measure your business performance. But the most common ones are add-to-cart rate, checkout rate, email sign-up rate,…
Let's see what we can do to improve the add-to-cart rate this holiday!
21. Reduce fields that need to be filled:
The more time and effort it takes customers to make decisions, the more risk you have. You don't want them to think too much then hesitate to buy so if possible, you should remove some not-really necessary fields in your products page or checkout process.
22. Use default options:
Many e-commerce businesses are selling customizable products. If you are allowing your customers to design their own items or choose add-on options to increase your order value, this tactic will help you skyrocket your revenue this holiday. A psychology research shows that people tend to accept pre-selected options rather than actively opt-in/opt-out. Therefore, in order to get the higher chance of upselling, make sure all options are ticked by default.
23. A/B test:
If you've never heard of the above phenomenon and are not sure about its effectiveness, A/B test would be helpful. You can measure, compare, analyze and decide if a new change should be applied to all of your products. We have already had a detailed instruction for A/B testing for you.
24. Create urgency:
Without an end date, it's not a promotion. A countdown timer will have an urgent effect and push people to take action as soon as possible. (This may be the only place where shorter is better)
25. Create scarcity:
Scarcity always works as a trigger for people to make purchase decisions quickly. People tend to take rather than leave when things are about to out of stock. Combining both urgency and scarcity is old but gold.
26. Display social proof:
What if urgency and scarcity are not enough? Provide social proof to persuade your customer! Let's check many examples from big e-commerce sites and learn the way they do.
Interested in a tool that can not only create urgency and scarcity but also show social proof? Let's try ShopBase Boost Convert feature. It'll help you to easily show the countdown timer/ stock countdown and social proof in your store with hassle-free setup, thus skyrocket your revenue and create trust on your website.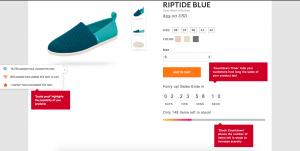 27. Support live-time:
One of the reasons that narrow your conversion funnel is that people are not sure about your products. Lacking of product details, color swatches and tons of other concerns will make people hesitate to add to cart. You will not know if you are not responsive to answer their questions. Providing live chat and email support is crucial to reduce the bounced rate.
28. Show reviews:
Besides the information provided by store owners, visitors would like to refer to reviews from other customers. Reviews in product pages would be a useful, objective reference source for them before making decisions.
29. Optimize CTA buttons:
Use urgency phrases to get attention and make people willing to click. Instead of the normal "Add-to-cart", how about "Take it now"? The color is an important factor as well. Highlight colors create the feelings or tendency to click more than neutral ones.
30. Use security badge:
You have great products, beautiful designs with high-quality images but all those things are not compelling enough for customers to add their credit card information. A security badge may help.
Speaking of this, ShopBase will provide online merchants with its trust badge to help them create a trustworthy website and encourage customers to take action with confidence.
Another index that causes so much headache to store owners is cart abandoned rate. In other words, a good number of add-to-cart cannot bring you any sales if all of your visitors leave before making it to check out.
31. Add a guarantee:
If you are pretty confident about your product quality and your excellent service, show it with a return policy. Allowing people to send back their orders could minimize their hesitation to purchase. Especially at the first time they have orders with you.
32. Don't ask for the sale too soon:
One of the common mistakes is showing so many add-to-cart buttons on the Homepage. The homepage should be a place for visitors to get to know you and your business. You don't want your storefront to bring a negative first impression there. Give your customers a pleasant shopping experience right from the start and they'll eventually finish their shopping flow by purchasing the items.
33. Accept different payment methods:
The more options of payment methods you have, the more convenient for customers to place an order. If you have the payment method that they trust, you will be trusted as well.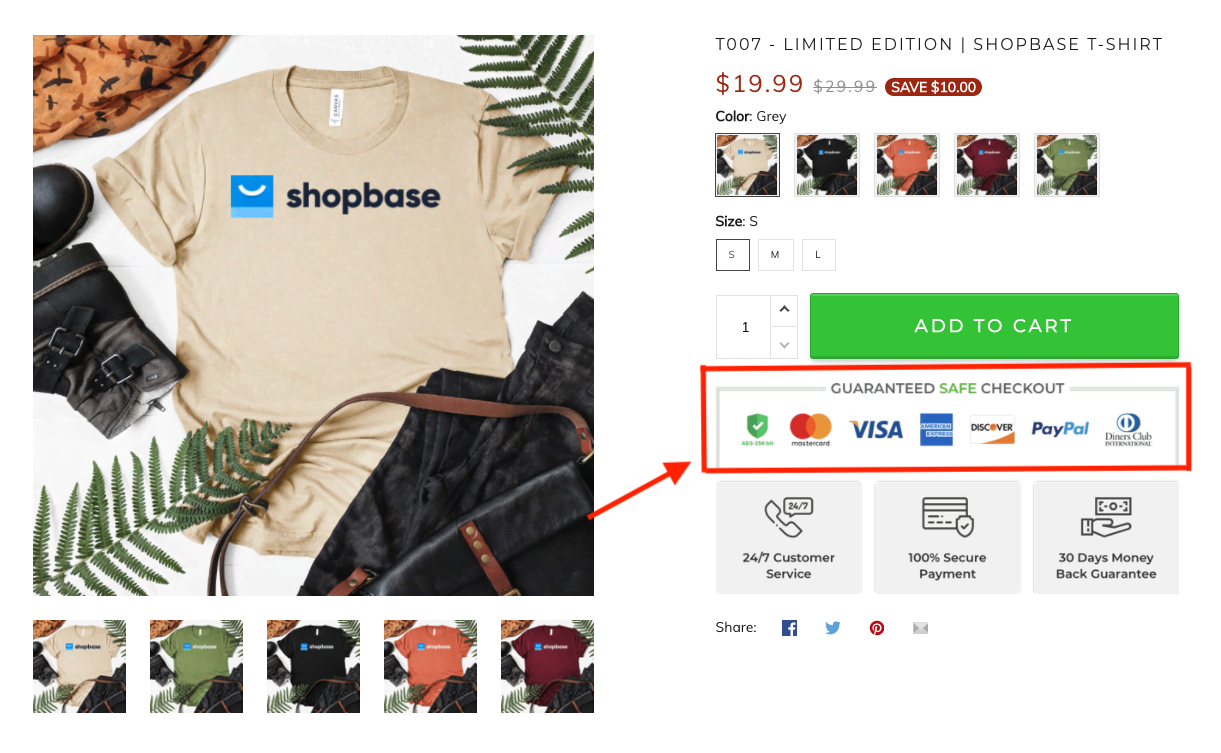 ShopBase gives you access to add these payment gateways: Paypal, Stripe, Braintree, Checkout.com and Cardpay. Other than this, you can use ShopBase Payment to process your payment at ease.
>> To learn more about ShopBase Payment and other payment gateways on ShopBase, please refer here
34. Having the fastest delivery service:
This may not be a big concern during the rest of time in the year. But in a holiday season, it matters. Your customers would expect their orders to arrive as soon as possible or just right on time when it comes to a gift for Thanksgiving or Christmas.
35. Expand your shipping area:
It'll be a big advantage if you provide shipping service regardless of the locations they are in the country. Your potential customer base would expand more than you could expect.
36. Offer a post-purchase incentive:
After customers place their orders, you can express your thanks by offering them a discount code so they can use for their next orders. You will want to set an expired date to your code to make them come back to you sooner.
37. Use exit-intent technology:
This technology is to detect when a visitor is about to leave. Knowing that would help you find a solution or give a reason for them to stay. It could be offering an incentive of free gift, free shipping or a discount.
One last number that every e-commerce business takes into account to evaluate the health of their businesses is retention rate. It really is the toughest one among others in your report that needs a systematic strategy rather than separate tips.
38. Run email marketing:
Email marketing never dies. It's always the best way to communicate and build a relationship with your customers in an automatic but personalized way. While your post may be easy to forget in seconds while an audience scroll down his Facebook news feed, sending an email to their email boxes is saving your information in their personal spaces. They can always search for your email any time they want.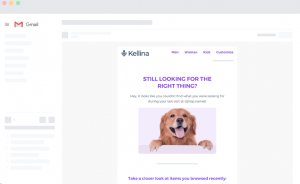 39. Collect email addresses:
Before sending emails, obviously, you need a contact list. It's always late to start collecting email addresses from your visitors. There are so many lead magnets that could help you create a nice sign-up form and you can install Sitekit, one of the popular ShopBase apps, for your store.
40. Recover Cart Abandonment:
Even when customers already abandon their carts, you haven't lost all of your chances yet. Re-targeting them using email marketing or abandoned cart recovery SMS after they leave would remind them about your products. Sometimes, you can offer a small discount in your email to make a stronger effort to get them back, thus increase the conversion rates. 
41. Have a membership program:
Building a membership program is not a new thing now. It becomes a common tactic to specially support loyal customers and encourage them to keep shopping in your store rather than your competitors. How about having a special promotion for members only this Thanksgiving? The side-effect is people will wish they should have joined your member program sooner.
42. Analyze your conversion funnel:
Lastly, in order to assess the efficiency of your tactics, you need to understand thoroughly what conversion funnel is and find a tool to keep track and calculate the result in numbers.
Above is 40+ killer tactics that we found most important for you to grow your revenue this holiday. Let's try and see how many of them work for you.