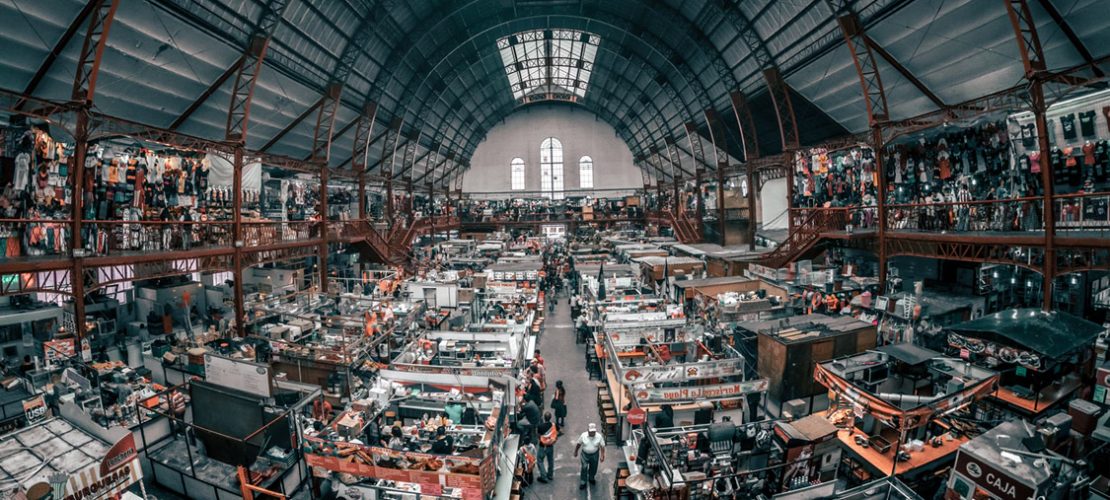 CrossPanda – Get Exclusive Access to a Trending, Cut-price Product Source
Let us begin with one simple fact: Dropshipping with AliExpress is no longer the best choice in 2019. Here's why:
Slow shipping time: Just imagine you couldn't wait to buy something that takes roughly 30-45 days to be delivered to your door. From the customer perspective, isn't it horrible?
Tattered packages with Chinese information printed all over the place: If you sell products from AliExpress, chances are your customers would crossly receive poor-made packages with Chinese words printed all over.
Troubles when working with multiple suppliers: If your store sells more than one niche, you certainly have to work with many suppliers from AliExpress. It's really time-consuming and difficult to manage or complain about issues with many suppliers.
Frauds and scams are everywhere: Yes, frauds and scams are indispensable parts of AliExpress market.
The list is still long. But those downsides are enough to prove the fact that dropshipping with AliExpress is not all roses. That's why we're here and have something better for you.
So just skip all the talking and discover it then and there, will you?
1. CrossPanda – An all-inclusive dropshipping agent for you to rock your sales

CrossPanda is a big, trustful dropshipping agent that provides you with a huge source of hot-trend products with better prices (which are surely much cheaper than the prices AliExpress could bring).
And of course, you don't have to worry about anything after having a product sold. CrossPanda will take good care of all the stocking and fulfillment process for you.
Sounds awesome? Well, don't be thrilled too soon. There are more exciting things to dive into. Let's go!
1.1. Request and source any trending products with the most reasonable prices
If you think the product prices in AliExpress is cheapest in the market, you would have to think again.
Not only the prices CrossPanda offers are lower than the average prices, but sometimes you even get the sweetest deal by negotiating the price.
Moreover, working with only one product source is way easier and quicker than working with multiple ones, especially for making the price deals.
Since CrossPanda is a separate dropshipping agent providing an all-inclusive service, it's needless to worry about all the troubles like when you dropship with multiple suppliers from AliExpress.
Request CrossPanda for quotations now >>
1.2. Growing sales becomes a breeze with trendy and high-quality products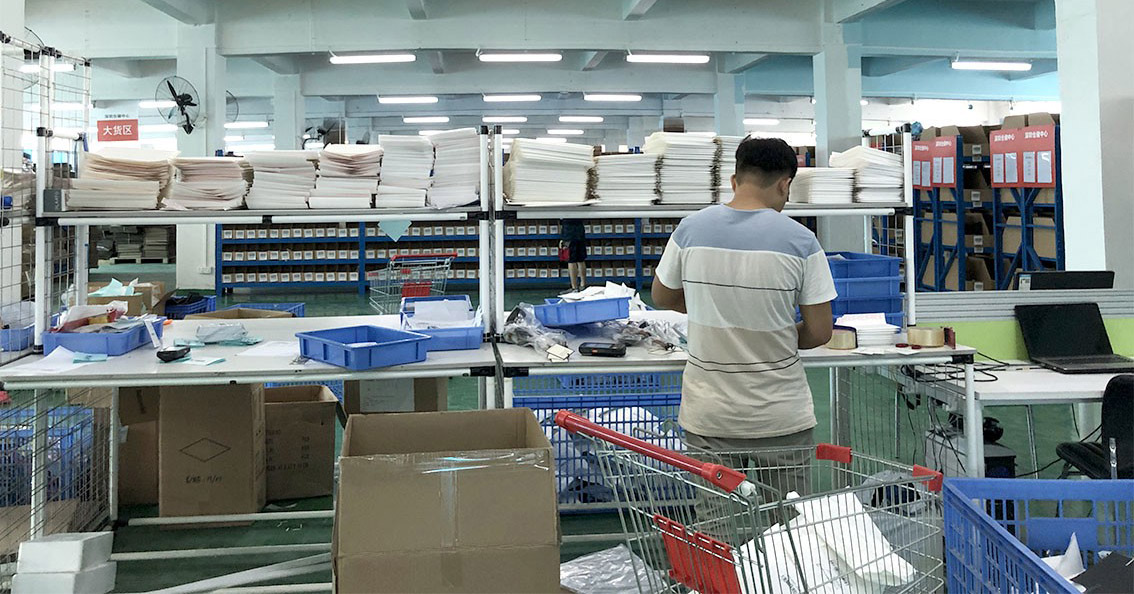 When it comes to dropshipping, what products to sell is the key element to build a successful store. No winning products, no sales, no business.
CrossPanda knows about it by heart. That's why the product quality and its high level of market-niche are what they care about most.
Before stocking any product, CrossPanda always sends their product research team to come and work directly with the manufacturers. To ensure the highest quality for those products, they'll diligently test them beforehand and only select what are the best.
And for the record, CrossPanda is proudly able to provide you with 99% of products from AliExpress or any trending item you find potential. And don't forget no matter what the products are, their prices are always amazing!
1.3. Fast and cost-effective delivery time
AliExpress takes about 15 – 45 days to ship your orders. CrossPanda shortens the delivery time by half.
CrossPanda only takes 1 day to process your orders and 8 – 10 business days to deliver all packages to your buyers' doors. Sometimes it may take around 20 business days but only in peak seasons like holidays, etc, and you'll be notified beforehand.
And altogether, faster shipping time means happier customers!
Besides, don't worry about the shipping fee. With Aliexpress, you must pay $10 – $40 to have quicker delivery (DHL, FedEx, etc.).
With CrossPanda, if your customers are lived in the United State, THE SHIPPING FEE IS TOTALLY FREE. For other regions, CrossPanda will keep the shipping fees as low as possible.
1.4. Premium and customized packaging
Along with the source of high-quality and low-cost products, you can benefit more from CrossPanda's packaging service to bring the most satisfying experience to your customers.
Unlike AliExpress which upsets your customers with its tattered and full-of-Chinese-word boxes, they now will enjoy the moment of receiving beautiful and premium packaging from CrossPanda.
You can even increase your perceived brand value with a customized Thank-You note included inside and have your logo printed on each package. Hence you will gain trust and love from customers easier then multiply your sales quicker.
Request CrossPanda for quotations now >>
2. 5 easy steps to leverage CrossPanda using an automated app
One last and most important thing, you don't have to bear the slow and old-fashioned excel files when working with CrossPanda.
Guess what? 90% of this process will be automated, thanks to the CrossPanda app.
So now let's have a quick tour of the process when working with CrossPanda with us. We broke it down into 5 following steps: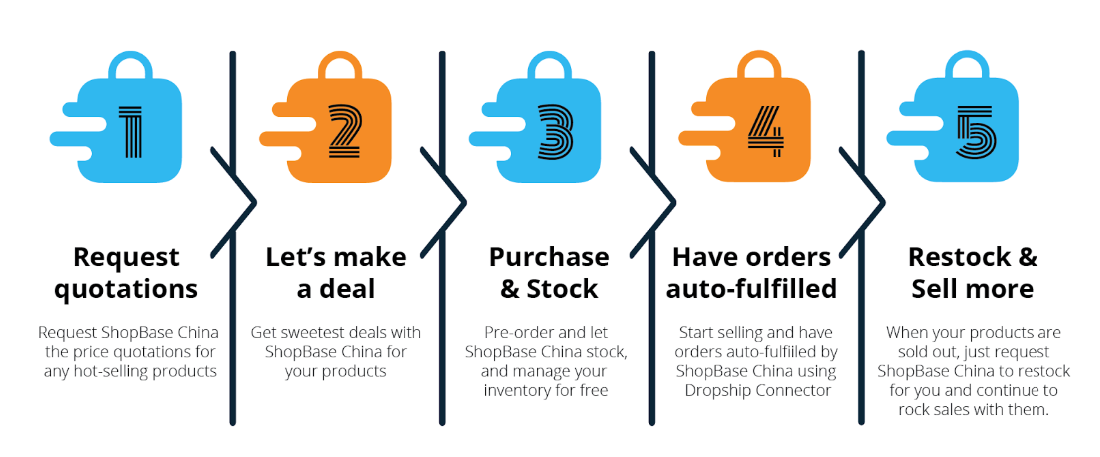 Each step will be smoothly handled by Dropship Connector. Let's see how you can finish the whole process with Dropship Connector.
2.1. Request price quotations
At first, you can request CrossPanda to offer you the quotations for any products you found in AliExpress or just any trending products in the market.
Just copy & paste URLs of the products you want to sell on the request box, wait for a maximum of 3 working days and then you will receive the best prices offered.
Request CrossPanda for quotations now >>
2.2. Deal the best prices
After receiving the quotations, sometimes if it's needed, you can negotiate the prices and have the sweetest deal with CrossPanda for those products you have requested.
Just keep in mind that CrossPanda will do whatever it takes to offer you the most reasonable prices, hence a significant increase in your profit margin.
2.3. Pre-purchase and stock products
The next step to do is pre-order those requested products. Note that the more you buy, the lower the prices are.
After finishing the purchase, your hands are free from there. CrossPanda will work directly with the manufacturers, test, and stock what is best, and then manage your inventory in their warehouse for free.
You can even track and monitor your inventory in real-time.
2.4. Start selling and have orders auto-fulfilled
The main point of dropshipping is that you sell the products and let other services handle the rest of the fulfillment process. The same rule applies here.
When you start having orders with those requested products, you'll have all of them auto-fulfilled by CrossPanda.
All you need is to click one click to place multiple orders and wait for the beautiful packages shipped to your customer doors.
2.5. Restock and sell more
Since CrossPanda handles all the inventory management for you, you don't have to worry when your products are about to be sold out.
Just request CrossPanda to replenish your stock. After a few days, CrossPanda will completely restock your products for you to keep up your sales growth.
3. Do you dare to take a big leap?
We don't write flashy words. So when reading to this end, you may have realized this is a new opportunity for you to make a bulky money bag with dropshipping.
If you're currently a CrossPanda user, then congrats!! Now you can instantly start a new, better way of doing dropshipping business with CrossPanda.
So start request your first quotations with CrossPanda now!
Request CrossPanda for quotations now >>
And in case you haven't installed the CrossPanda app yet, seriously, what is holding you back from this opportunity?
Since CrossPanda is totally free for you to use, what is left is that if you dare to take a big leap with your dropshipping business.
We think we've heard a big "yes" from you.