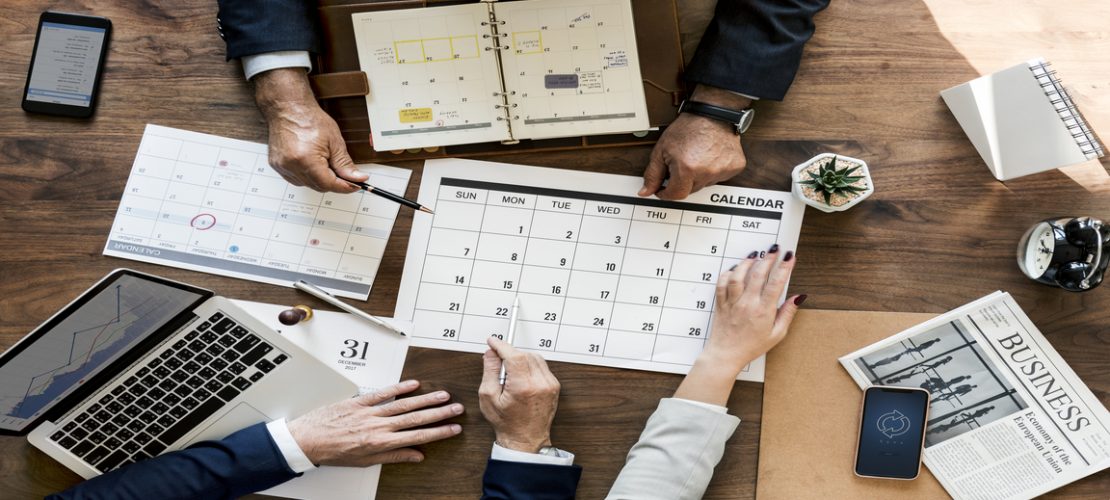 2020 eCommerce Promotional Calendar
With 2020 is just around the corner, it's time to have a look back on your achievement and lessons learned, then make a New Year's resolution on what you will do to achieve your goals. 
In this article, we've put together key eCommerce dates and recommend what to do to prepare your store for the upcoming 2020.
Are you ready? Let's get started!
Quarter 1: New year – New start!
Review 2019
The first thing you need to do before having a complete plan is to review your online business in 2019. By establishing a year in review, you're able to know your strengths and weaknesses, as well as what you need to do in the new year.
Improve your website performance
Keep in mind that a fully optimized store can drive higher conversion rates and boost sales. So, there is no better time than now to leverage your online store, especially on the Product page and Check-out page.
Here are some ways to do this:
Show trust badges on the Product page and Check-out page.

Optimize your store for mobile devices.

Add social proof (Reviews with images, Show social share count,…).
Quarter 2: Family Holidays
Preparing your store for family holidays
Quarter 2 is a perfect time for you to get more revenue in the first half of the year with a lot of special holidays for families. According to NRF's survey, in the U.S alone, Mother's Day and Father's Day generated new records of $25 billion U.S dollars and $16 billion U.S dollars respectively in 2019.
Therefore, as a dropshipping and POD business owner, you should make sure that you are prepared to embrace the influx of traffic by selling the amazing designs and the potential items at this time.
Promotion strategy
Create the product collection for each essential date
Creating a product collection dedicated to each holiday can help your customers find the products they need more easily, which enhances the shopping experience. Please keep in mind that the more satisfied a customer is when purchasing products from your store, the higher can your sale increases.
Besides, don't forget to use upsell and cross-sell tactics with products in the same collection to give your customers more shopping options. You can use Boost Upsell app in ShopBase App Store to recommend higher-end products without needing to pay a penny. 
Run special holiday promotions
Promo Codes: If you give out promo codes a few days before each holiday, you can increase the retention of old customers and attract new customers. 

Free Shipping: According to Invesp, the average value of free shipping orders is

30%

 higher than that of other normal orders. So remember this special offer to your online buyers to boost sales.
One note: You should test all these promotions, but each one at a time to find out what works and what doesn't. 
Quarter 3: Olympic fever and Back-to-school spirit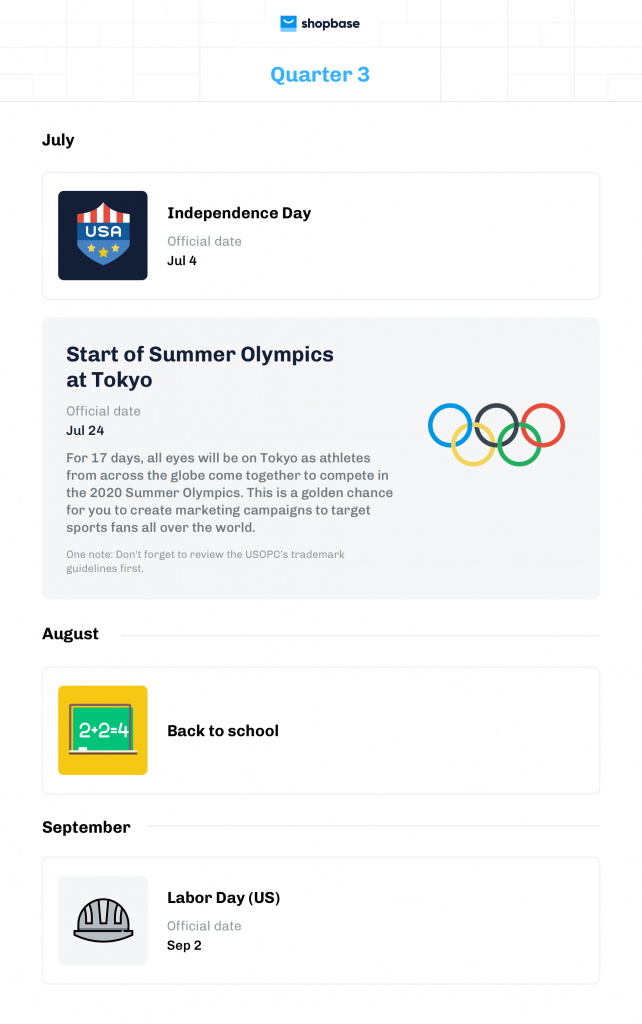 Summer Olympic Games – Tokyo 2020
In the 3rd quarter, pay attention to the world's foremost sports competition – 2020 Summer Olympics. This is a great opportunity for you to create marketing campaigns and sell anything related to sports to target sports fans all over the world.
One note: Don't forget to review the USOPC's trademark guidelines first to avoid violating a commercial rule.
Quarter 4: The biggest sales of the year
Preparing your store for the biggest festival
Quarter 4 is the most profitable shopping period for eCommerce stores. According to Adobe, U.S. online shoppers reported spending $126 billion U.S. dollar in the last 3 months of 2018.
On this special occasion, if you're a dropshipping seller, don't forget to fill your store with gifts for relatives and friends such as cards, home and kitchen appliances, gardening supplies, etc. 
Besides, people tend to travel on these holidays, so it's a good idea for you to sell must-have outdoor items such as travel organizers, anti-theft backpacks, neck pillows, etc.
If you are a POD seller, you need to be mindful of which designs to print on your most purchased products. 
This is the perfect time to promote a lot of products for the sales spike. Thus, you need to work with many suppliers and review the source regularly to ensure that you have sufficient inventory, which takes a lot of time and effort. So if you want to focus on just scaling and running ads, take a look at CrossPanda – An all-inclusive dropshipping agent provides you with a huge source of high-quality products at best prices and prompt service. Why CrossPanda?
International shipping within 6-10 business days.

Diligent product sourcing & quality checking.

Product prices are 5%-10% cheaper than AliExpress.

Premium packaging services (no Chinese messages).

Increase your brand awareness with your logo printed outside & a Thank-you note included inside each package.
Sales and marketing strategy
Show pop-up and banner
Refreshing your site with festive pop-ups and banners is the best way to advertise holiday sales. Let's take a look at the websites of two famous brands – Chubbies and Shinesty for Christmas 2019: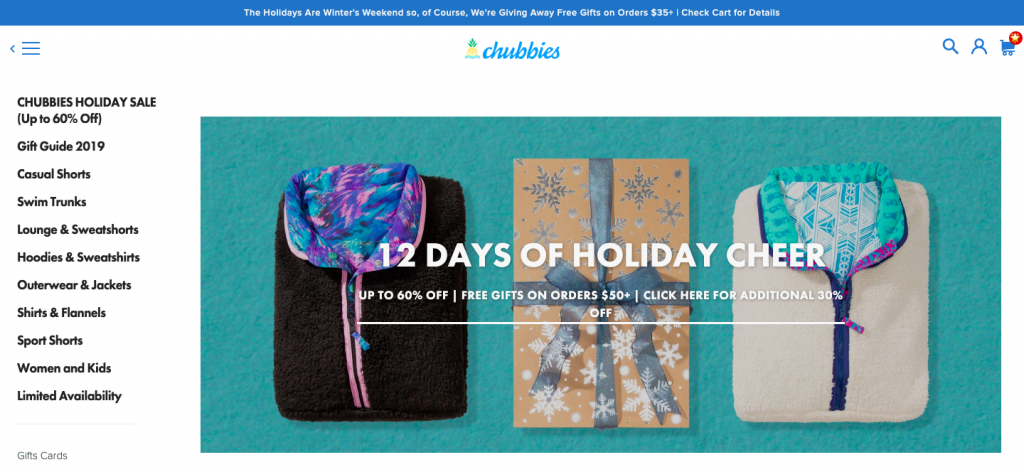 Source: Chubbies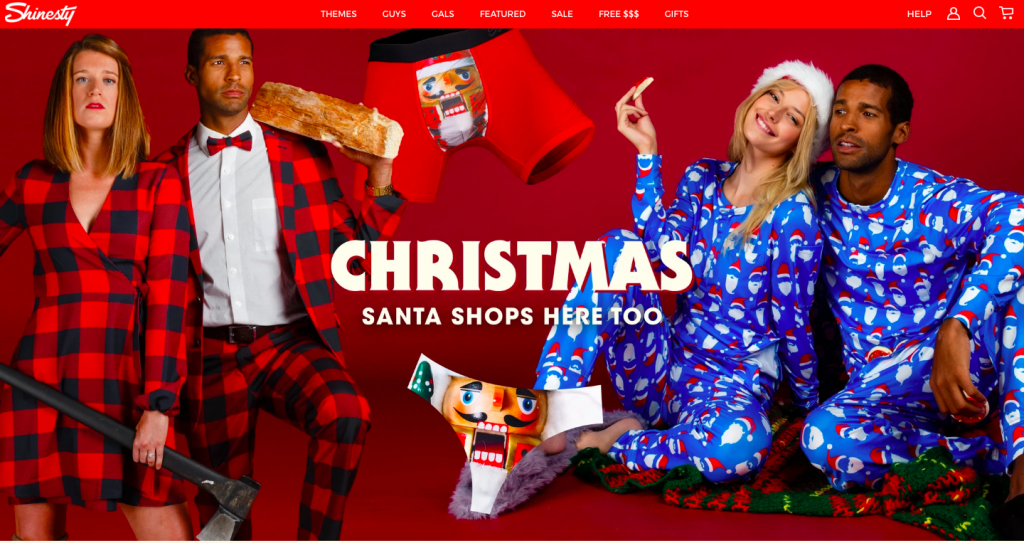 Source: Shinesty
Run a holiday contest 
This is a good opportunity to run a small contest related to the theme of the holiday. By this way,
you can attract more customers by not only organizing some small games but also giving them some cool gifts.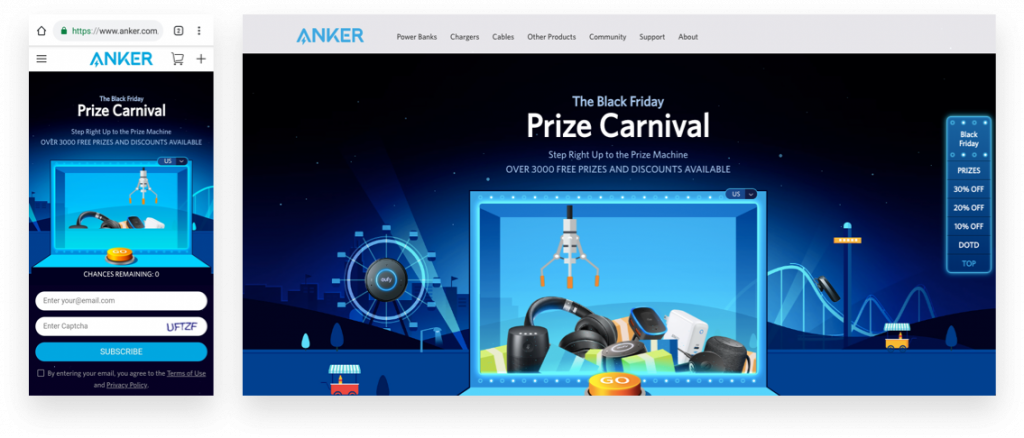 Source: Common Thread
Anker, for instance, built a digital "Prize Carnival" that dealt out special discounts and prizes in exchange for shoppers' email subscriptions. 
Run special holiday promotions
Promo codes for each essential dates.

Special offers for loyal customers.

Tiered discounts (Eg: 15% off orders $75+, 25% off orders $175+, etc.).

Combo discounts (Eg: Buy 2 get 20% off, Buy 3 get 30% off, etc.).
Boost Upsell, Boost Convert, and Site Kit are effective apps to increase order value that you can't ignore at this lucrative time.
Use email and SMS abandoned cart recovery
By using only 2 useful tools from ShopBase – Abandoned email card and Abandoned SMS card at extremely low prices ($0.02/ text message), you can recover a good number of upcoming abandoned carts and boost sales by 20%.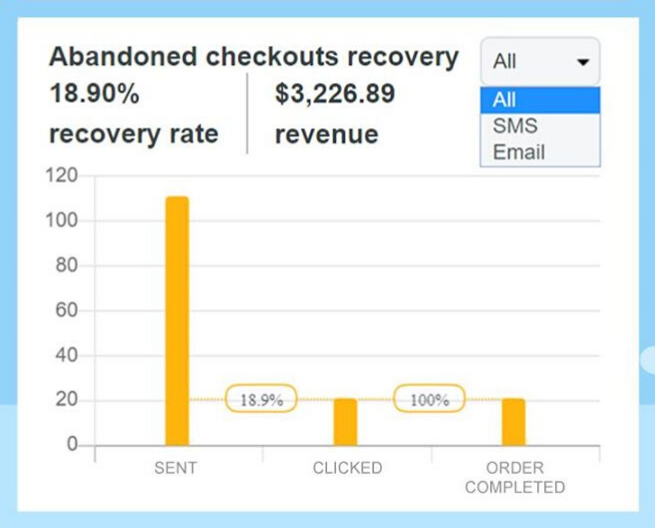 Source: ShopBase Vietnam group
Your turn!
The above is our summary of the important holidays and things you should do for the coming 2020. Start planning ahead, and we wish you a successful year with ShopBase!